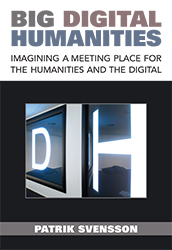 Big Digital Humanities: Imagining a Meeting Place for the Humanities and the Digital
Skip other details (including permanent urls, DOI, citation information)
Series: Digital Humanities
: Ann Arbor, MI: University of Michigan Press, 2016.
Permissions: This work is licensed under a Creative Commons Attribution-NonCommercial-NoDerivatives 3.0 License. Please contact digital-culture@umich.edu to use this work in a way not covered by the license. The print version of this book is available for sale from the University of Michigan Press.
For more information, read Michigan Publishing's access and usage policy.
5. Making Digital Humanities
This chapter outlines a set of strategies and parameters relevant to implementing the digital humanities—in particular, big digital humanities. In doing so, it builds on the notion of big digital humanities developed in chapter 3 and the infrastructural thinking discussed in chapter 4, but this chapter also draws together many threads running throughout the book and connects them to the implementation of the digital humanities.
I use making in the chapter title to accentuate the idea that implementing the digital humanities must be grounded in down-to-earth practice, material-intellectual engagement, and institutional strategy. Making happens on many levels at the same time, and the digital humanities needs to convincingly address these multiple levels. Scholarly motivation cannot really be separated from institutional structures, and the development of a field cannot occur in isolation from the rest of the university and the outside world. While the digital humanities is not a panacea, we should not underestimate the field's capacity to imagine futures and to give scholars, teachers, students, technologists, librarians, and other experts an opportunity to make a difference and be seen as important.
This chapter discusses factors relevant to the making of the digital humanities: building institutions, curatorial work, empowering individuals and groups, and making spaces and infrastructure. These factors can help create conditions for the digital humanities as a site for learning and knowledge building and for critically interweaving conceptual and technological making on a deep level.
Top of page