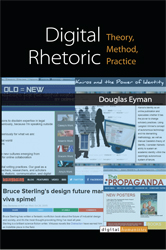 Digital Rhetoric: Theory, Method, Practice
Skip other details (including permanent urls, DOI, citation information)
Series: Digital Humanities
: Ann Arbor, MI: University of Michigan Press, 2015.
Permissions: This work is licensed under a Creative Commons Attribution-NonCommercial-NoDerivatives 3.0 License. Please contact digital-culture@umich.edu to use this work in a way not covered by the license. The print version of this book is available for sale from the University of Michigan Press.
For more information, read Michigan Publishing's access and usage policy.
// one // Defining and Locating Digital Rhetoric
Because the term "digital rhetoric" appears in a wide range of locations—scholarly articles; in the title of courses offered in departments of communication, English, and writing; academic and popular blogs; discussion lists such as H-DigiRhet; and theses and dissertations in many fields of study—my initial impulse was to resist defining the field of digital rhetoric and instead to follow Sullivan and Porter (1993) and focus on "locating" it with respect to current fields of study. As Sullivan and Porter argue, "defining a concept is a limiting activity; trying to establish a common meaning can have the effect of excluding enriching diversities" (391). This approach, although appropriate for an interdisciplinary field like digital rhetoric, presupposes an established community of researchers and practitioners: in Sullivan and Porter's case, the field of professional writing has a significant body of research and the members of the field had engaged in arguments about how (or whether) it should be defined. Digital rhetoric, in contrast, has not yet become established as a field. An additional consideration is that digital rhetoric draws its theory and methods first and foremost from the tradition of rhetoric itself—and this poses a dilemma because rhetoric is both an analytic method and a heuristic for production, and, critically for our purposes, can be structured as a kind of meta-discipline. The definition of rhetoric is taken up in more detail below, but Kenneth Burke's (1969) commentary on the scope of rhetorical practice is instructive:
If nearly all human acts of communication engage rhetorical practice (whether explicitly acknowledged or not), then rhetoric-as-method can be applied to all communication events.[1] While I do take a very broad view of the scope of rhetoric, I also believe that articulating a definition of the field provides a focus for future deliberation upon the acceptable methods (derived from the epistemological assumptions underlying such a definition) and practices that may constitute digital rhetoric as a field.
Unlike "rhetoric," a term that has been subject to extensive debate since well before Aristotle published his Rhetoric between 336 and 330 BCE, only a few scholars (notably Ian Bogost [2007] and Elizabeth Losh [2009]) have undertaken the task of developing a comprehensive definition of digital rhetoric. The term "digital rhetoric" is perhaps most simply defined as the application of rhetorical theory (as analytic method or heuristic for production) to digital texts and performances. However, this approach is complicated by the question of what constitutes a digital text, and how one defines rhetoric. In the first part of this chapter, I will examine these core terms ("rhetoric," "digital," and "text") and provide an overview and critique of current approaches to defining digital rhetoric. In the second part, I return to the question of location as I examine the relationship between my construction of digital rhetoric and related fields such as digital literacy and new media and other emerging fields such as critical code studies and digital humanities.
Top of page