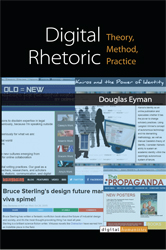 Digital Rhetoric: Theory, Method, Practice
Skip other details (including permanent urls, DOI, citation information)
Series: Digital Humanities
: Ann Arbor, MI: University of Michigan Press, 2015.
Permissions: This work is licensed under a Creative Commons Attribution-NonCommercial-NoDerivatives 3.0 License. Please contact digital-culture@umich.edu to use this work in a way not covered by the license. The print version of this book is available for sale from the University of Michigan Press.
For more information, read Michigan Publishing's access and usage policy.
Introduction
A common exercise in the first-year composition course is the literacy narrative—an autobiographical reflection upon the paths, interests, and practices that led the writer to the very moment of writing the narrative, focusing in particular on reading and writing as the pillars of literacy. A variation on this assignment, first introduced to me by Dickie Selfe (see Kitalong, Bridgeford, Moore, & Selfe, 2003), is the technology literacy narrative, which shifts focus from reading and writing to using and producing digital texts and the ways in which the writer has learned to use the technologies that support those digital literacies. I have chosen to begin this introduction with a version of my own technology literacy narrative, not because I believe that it is particularly unique or enlightening, but because it relates my intellectual development from writing teacher to digital rhetorician and in doing so serves the twin purposes of establishing my ethos as developer of this project and acknowledging that my approach to defining and locating "digital rhetoric" through the lenses of theory, method, and practice are necessarily both idiosyncratic and rooted in the disciplines through which I've traveled.[1]
Through my reading and research, I am aware that more than one academic discipline and intellectual tradition can make claims to being the "home" of digital rhetoric, and I've worked to make sure that I don't let my own history and bias situate it only in those traditions with which I am most familiar. In fact, I believe that digital rhetoric is an interdisciplinary endeavor that can as easily be situated in departments of communication or English studies and that can be performed within both broad, well-established fields, like media studies, and newer, more narrowly focused approaches such as critical code studies (the relationship between digital rhetoric and these and other disciplines and fields is taken up in chapter 1, "Defining and Locating Digital Rhetoric").
My technology literacy narrative wends its way from the early days of the personal computer, through a detour into using the mainframe systems in college, to writing my first web page and joining a community of scholars whose interests and work focused on the intersections of rhetoric, writing, and technology.[2] I will spend some time detailing my work as the editor of an online journal and the ways that my understanding of rhetoric (and digital rhetoric more specifically) were shaped by my doctoral program and the friends and mentors that inhabited it. Each of these elements serves as a building block in the long process that leads me to claim "digital rhetoric" as both location and scholarly identity. Following this history, I'll touch upon the problem of defining "digital rhetoric," address the question of audience for this work, and finally provide an overview of the goals and structure of the project.
Top of page