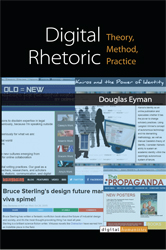 Digital Rhetoric: Theory, Method, Practice
Skip other details (including permanent urls, DOI, citation information)
Series: Digital Humanities
: Ann Arbor, MI: University of Michigan Press, 2015.
Permissions: This work is licensed under a Creative Commons Attribution-NonCommercial-NoDerivatives 3.0 License. Please contact digital-culture@umich.edu to use this work in a way not covered by the license. The print version of this book is available for sale from the University of Michigan Press.
For more information, read Michigan Publishing's access and usage policy.
// three // Digital Rhetoric: Method
In addition to addressing the roles and activities of the speaker/writer, communication/text, and audience/reader, definitions of rhetoric that address digital communication need to account for context, interactivity, and circulation (via internetworked systems). Lloyd Bitzer's (1968) articulation of rhetoric as "a mode of altering reality, not by the direct application of energy to objects, but by the creation of discourse which changes reality through the mediation of thought and action" (4) provides a useful starting point for digital rhetoric by virtue of being an abstraction that does not explicitly address or evoke specific practices or media associated with rhetorical production while simultaneously acknowledging the power of rhetoric as a meaning-making activity. Hauser (1986) provides a more streamlined general definition of modern rhetoric as "the management of symbols in order to coordinate social action" (3); for both Bitzer and Hauser, rhetoric is an activity and not just an analytic framework.
In the case of the definitions I draw on above, none of the theorists address the complications of digital circulation or the possibilities of nonhuman agents becoming rhetorical actors. And while Hauser acknowledges that symbolic modes need not be constrained to the verbal, he does not address these other modes in his work (moreover, it is important to understand how multimedia and multimodality function at the intersection of multiple symbolic modes, and how this might complicate the "management of symbols"). Digital rhetoric, then, should take into account the complications of the affordances of digital practices, including circulation, interaction, and the engagement of multiple symbol systems within rhetorical objects, and its methods need to explicitly engage those complications and affordances.
Because I situate my professional identity at the same nexus as the point of origin for digital rhetoric as a field of study, I see composition/rhetoric, computers and writing, and professional writing as the fields that best understand how to research rhetoric and writing, and by extension, that provide the most effective starting points for assembling digital rhetoric methods. In this chapter, I will first address the traditional rhetorical method of close reading and the relatively new inverse of that method, which Franco Moretti (2000) calls "distant reading." I then cover the methods from fields in writing studies and then go on to examine methods from fields that do not take rhetoric as their theoretical or methodological foundations.
Top of page