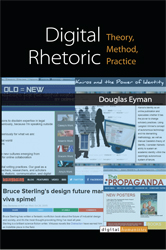 Digital Rhetoric: Theory, Method, Practice
Skip other details (including permanent urls, DOI, citation information)
Series: Digital Humanities
: Ann Arbor, MI: University of Michigan Press, 2015.
Permissions: This work is licensed under a Creative Commons Attribution-NonCommercial-NoDerivatives 3.0 License. Please contact digital-culture@umich.edu to use this work in a way not covered by the license. The print version of this book is available for sale from the University of Michigan Press.
For more information, read Michigan Publishing's access and usage policy.
// two // Digital Rhetoric: Theory
When I began the project that eventually led to this book, I was interested in developing a theory of digital rhetoric, following Zappen (2005), who had suggested that scholars of rhetoric and technology should seek to craft a coherent digital rhetoric theory by synthesizing the various approaches that he cataloged in "Digital Rhetoric: Toward an Integrated Theory." However, there is such a wide range of digital domains and contexts that digital rhetoric may engage that I am instead convinced that, like visual rhetoric, digital rhetoric should be viewed as a field that engages multiple theories and methods rather than as a singular theory framework.
In the sections that follow, I will be reviewing current work on the development and extension of digital rhetoric theory. Generally, scholars have chosen to either apply the well-established theories of classical and contemporary rhetoric to digital texts and contexts or they have argued that the digital, networked, communication requires a revision or rearticulation of said theories. In other cases, the suggestion has been made that new forms of digital communication may require the development of a new rhetorical theory altogether, and several attempts have also been made to reframe theory from other disciplines and fields as inherently rhetorical (even if not explicitly understood as such except by rhetoricians). Because of the rapid pace of technological development and the relative youth of digital rhetoric as a field, I believe that there is value in each of these approaches, and I do not intend to privilege one over another; however, there are currently more examples of application and revision than there are of reframing and inventing new theories.
In terms of applying and revising traditional rhetorical theory, there is a distinct division between scholars who focus on classical rhetoric and those who prefer to engage contemporary theory. In this chapter, I will begin by reviewing approaches to classical rhetoric in terms of revising or reframing the five canons of rhetoric and then move to contemporary rhetorics by looking at the rhetorical situation, identity, networks, and digital ecologies, economies, and circulation. I have provided an overview of selected works in each of these areas in order to show a range of approaches and applications, but these references are certainly not exhaustive. As with digital rhetoric methods and practices, it is possible to claim that nearly all work that addresses digital communication can be considered part of digital rhetoric; however, I have endeavored to principally focus on work that explicitly situates itself within digital rhetoric and closely related fields.
Top of page