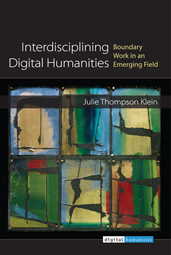 Interdisciplining Digital Humanities: Boundary Work in an Emerging Field
Skip other details (including permanent urls, DOI, citation information)
Series: Digital Humanities
: Ann Arbor, MI: University of Michigan Press, 2014.
Permissions: This work is licensed under a Creative Commons Attribution-NonCommercial-NoDerivatives 3.0 License. Please contact digital-culture@umich.edu to use this work in a way not covered by the license. The print version of this book is available for sale from the University of Michigan Press.
For more information, read Michigan Publishing's access and usage policy.
Chapter 3: Institutionalizing
Digital Humanities is not some airy Lyceum. It is a series of concrete instantiations involving money, students, funding agencies, big schools, little schools, programs, curricula, old guards, new guards, gatekeepers, and prestige.
In an environment where scholars identify with their disciplines rather than with their department, and where significant professional affiliations or communities of interest may transcend the boundaries of scholars' colleges and universities, centers offer interdisciplinary "third places"–a term sociologist Ray Oldenburg has used to identify a social space, distinct from home and workplace.
—Amy Friedlander. "Foreword," in A Survey of Digital Humanities Centers in the United States, ed. Diane Zorich (Washington, D.C.: Council on Library and Information Resources, 2008), vi


Keywords: institutionalization, critical mass, overt versus concealed interdisciplinarity, location, migration, leveraging, partnership, infrastructure


Institutionalization is a process of establishing something within an organization or a social sphere, whether it is an idea, such as democracy, or an occupation, such as teaching. Categories of knowledge are also institutions, Steven Shapin suggested, not in the conventional sense of buildings and structures but a set of marks constructed and maintained in cultural space. They enable collectivities to instruct their members on where they are and how to conduct themselves (355). This chapter launches a three-part examination of how Digital Humanities is located within the cultural space of the academy through the processes of institutionalizing, professionalizing, and educating. It begins by providing a conceptual framework for thinking about institutionalization of interdisciplinarity. It then identifies patterns of affiliation among scholars and educators, followed by examination of the most prestigious structure, DH research centers, and closing reflections on the challenge of sustainability. This chapter does not present a detailed inventory of examples because the final section of this book, on "Resourcing," offers advice for finding them. Instead, it draws insights from representative models, providing a way of reading all examples through the lens of interdisciplinarity.
Institutionalizing Interdisciplinary Fields
The academic press routinely heralds the rise of new interdisciplinary fields. Their trajectories differ, however. Some develop a shared framework and visible presence, while others have fragmented identities and only limited influence. One question inevitably follows: Where do they fit? The metaphor of "fit," Lynton Caldwell replied in tracking environmental studies, prejudges the epistemological problem at stake in the emergence of new fields: many arose because of a perceived misfit among need, experience, information, and the structure of knowledge embodied in disciplinary organization (247–49). Institutionalizing new fields is a means of securing a place for them. Yet, the topic is hotly debated in humanities.
Ethan Kleinberg called institutionalization a Faustian bargain. "The beauty and utility of interdisciplinary studies," he maintained, "reside not in their institutional strength but their protean nature and their ability to build bridges and make connections'' (10). Stanley Fish also contended any strategy that calls into question the foundations of disciplines theoretically negates itself if it becomes institutionalized. As an agenda, interdisciplinarity seemed to flow naturally from imperatives of left culturalist theory, deconstruction, Marxism, feminism, radical neopragmatism, and new historicism. They all critiqued the institutional structures by which disciplines establish and extend territorial claims. Yet, he countered, the multitude of studies and projects do not transgress boundaries through a revolution tout court. They center on straightforward tasks requiring information and techniques from other disciplines. Or, they expand imperialistically into other territories. Or, they establish a new discipline composed of a new breed of counter-professionals ("Being Interdisciplinary"). In the ensuing debate, Fish was criticized for perpetuating the dualism of disciplinarity and interdisciplinarity, presuming disciplines are coherent or homogenous, and aligning interdisciplinarity with a quest for ultimate synthesis. He also failed, Alan Liu charged, to offer terms of analysis for the pragmatics of interdisciplinarity. New fields produce protocols, practices, conventions, and closures. Yet, they also facilitate new formulations of knowledge barred by previous configurations (Local Transcendance, 173–79).
Facilitating new formulations is neither easy nor simple. When Irwin Feller examined a number of leading U.S. research universities, he found checkered patterns of growth, stasis, and decline in interdisciplinary initiatives, with discernible variations in the willingness of administrators or faculty to accept them. Even where new initiatives take hold, he added, they tend to survive mainly as enclaves or showpieces within the historically determined disciplinary structure of higher education. As a result, they have limited staying power, engendering only marginal changes in performance norms, resource allocations, and outcomes promulgated in strategic plans. Lacking deep roots within core functions of hard money budgets, tenure lines, and space, they remain vulnerable. Even institutions with strong programs face persistent impediments, and uneven development leaves some initiatives at the margins ("Multiple Actors," "New Organizations"). Yet, studies of higher education indicate that institutional cultures are protean by nature.
In an international comparison of research universities, Burton Clark found that modern systems of higher education are confronted by a gap between older, simple expectations and complex realities that outrun those expectations. Definitions that depict one part or function of the university as its essence or essential mission obscure changes that are transforming research and education (155, 246). Trowler and Knight's studies of institutional change shed further light on the gap that Clark identified. The standard model of "contextual simplification" assumes that organizations are culturally simple, fitting into a small number of pigeonholes. Yet, they found, "any university possesses a unique and dynamic multiple cultural configuration which renders depiction difficult and simple depictions erroneous." Viewed from an analytical telescope, differences in values, attitudes, assumptions, and taken-for-granted practices look small. Viewed from an analytical microscope, they loom large (143). Recalling experiments in the 1960s and 1970s, Keith Clayton suggested the "concealed reality" of interdisciplinarity may in fact be greater than the "overt reality." Some activities even flourish most readily when they are not labeled "interdisciplinary" (196).
Turning more specifically to the overt and concealed realities of Digital Humanities, John Seely Brown and Paul Duguid contend the relatively static nature of canonical practices in organizations cannot keep up with the complexity and variability of events on the ground, in the rough terrain missed by large-scale maps and official documents. The dynamic character of knowledge and expertise, they exhort, "drives divergence with the emergence of new ideas, understandings, modes of work, and reinterpretations and reconstructions of tasks, projects, and roles" ("Universities"). Mindful of implications for the future of learning, Cathy Davidson and David Theo Goldberg propose a new definition of "institution" as a "mobilizing network." Institutions develop structures and bureaucracies designed to stabilize, but they cannot contain and constrain all of the energies of individuals who constitute a bureaucracy (Future). It takes collective work, however, to channel those energies into sustainable programs.
Anne Balsamo invokes Michel de Certeau's distinction between "place" and "space" (de Certeau, 117). A "place," such as school, has stable boundaries and a fixed location. Space is "a practiced place," created through actions and practices (Balsamo, 143). This conception bridges spatial and organic dynamics through actions and practices that may be likened to a concept in physics. "Critical mass" is the minimum quantity of nuclear fuel required for a chain reaction to start. Elements of critical mass in interdisciplinary fields are grouped roughly by kind:
adequate number of individuals sharing common interests at the national level
adequate number of curricular programs and research centers
adequate inter/national infrastructure for communication and publication
a scholarly body of knowledge
full-time faculty lines in a local program, center, or department
secure location and report line in the organizational hierarchy of a campus
autonomy in decision making for administration, budget, staffing, curriculum
coordinated infrastructure and communication across campus
flexible policies for approval of new programs and courses
top- and mid-level administrative support of presidents, provosts, deans, chairs
adequate funding for research and curriculum
support for student and faculty fellowships
seed money, incentives, and faculty development opportunities
adequate space and equipment
adequate access to library, information technology, computing resources
recognition in the reward system of tenure, promotion, salary, awards
guidelines for program review and individual evaluation
guidelines for research collaboration, indirect cost recovery
favorable policies for allocation of workload credit in teaching
awareness of interdisciplinary literature and resources
(Composite of Rich and Warren, 56, 59; Caldwell, 255; Klein, Crossing Boundaries, 34–35; Klein, Creating Interdisciplinary Campus Cultures, 106)


The magnitude of critical-mass factors checks the unfettered rhetoric of "revolution" and "transformation." The radical model of institutionalization favors Wátzlawick, Weakland, and Fisch's notion of "second-order change." It can shift the paradigm of understanding while allowing space for new thought and action through rapid and discontinuous approaches to existing structures and practices. In contrast, "first-order change" simply "moves the furniture around" (Change). Moreover, even though the stature of a field at the national level is a strong factor in its legitimation, the amount of critical mass varies from campus to campus. Institutional specificity matters, Katherine Hayles advises, and is key to deciding which strategies will be more effective and robust (How We Think, 52). The possibilities vary by institutional type, administrative culture, research environment, teaching traditions, and distribution of economic and social capital.
Digital Humanities is no exception to this general pattern. Interests may be stalled for lack of resources or resistance to new modes of research and education. Or, spatializing practices might gain traction. At the New York City College of Technology, Digital Humanities has grown from individual projects to a media lab, a graduate certificate, a fellows program in instructional technology, a unified Academic Commons for digital technologies and pedagogies, a conference leading to a dedicated initiative, a role in redesign of general education, and expanding conversations across the City University of New York (CUNY) system (Waltzer, 344–45; Brier, 396–97). At Saint Louis University, DH was one of six areas benefiting from a new High Performance Computing (HPC) research cluster. At Texas A&M University, the Initiative for Digital Humanities, Media, and Culture was one of eight sponsored Landmark Research Areas to receive major funding as part of a master plan. And, at the University of Rochester and the University of North Carolina, support from the Mellon Foundation has been a catalyst for expansion. In North Carolina, a university-wide commitment to a Carolina Digital Humanities Initiative is fostering a transformative practice encompassing research, training, fellowships, undergraduate learning, a Digital Innovation Lab, tenure-track faculty hires and hires in technology and management. Moreover, the new design is linked with UNC's strategic priority for interdisciplinary research and an initiative to create a culture of collaborative work. Promotion and tenure policies are being reviewed as well, to reflect the value of engaged scholarship benefiting the public good, effective use of digital technologies, and interdisciplinary collaboration.
In thinking about specificity, it is helpful to have a fuller picture of the structures and forms that interdisciplinarity typically takes on campuses and are all present in Digital Humanities (adapted from Klein, Crossing Boundaries, 56–57):
Affiliating
"The typical digital humanist," Rafael C. Alvarado observes, "is a literary scholar, historian, or librarian—all traditional fields concerned with the management and interpretation of written documents" (51). The affiliations of contributors to the 2004 Blackwell Companion to Digital Humanities furnish a fuller picture of locations. Some authors identified with particular subfields, including computational linguistics, Humanities Computing, and computer-mediated communications. Others named interdisciplinary fields, including cinema studies, media studies, digital studies, and hybrid specializations of medieval studies and classics. The largest number of contributors held appointments in departments of history, philosophy, English, music, art history, and Romance languages, with additional individuals in archaeology and mathematics. Some were also affiliated with dedicated centers and institutes, including units for Computing in the Humanities, Literary and Linguistic Computing, and Advanced Technology in the Humanities. And, some held dual titles including English and Digital Studies, a professorship in English and directorship of Media Studies, a position in Humanities Computing and Multimedia located in a school of arts and another in a philosophy department, and a national research chair in Humanities Computing held by an associate professor of English.
The Companion's authors were also active in building the infrastructure of the field. Many worked on major projects, including archives and websites dedicated to William Blake, Dante Gabriel Rossetti, Thomas McGreevy, and Emily Dickinson, as well as the Perseus Project devoted to the classical era, the Civil War–era The Valley of the Shadow, and Forced Migration Online. Some were involved in communication venues for the field, including the Humanist listserv and journals dedicated to Digital Humanities. Others provided leadership in major advances such as the Text Encoding Initiative. Some contributed to the field's professional organizations—including the Consortium for Computers in the Humanities, Association for Computers and the Humanities, Association for Literary and Linguistic Computing, and the Consortium for Computers in the Humanities. And, some were active in networks—such as the Electronic Publishing Research Group and the Open eBook Publication Structure Working Group. Contributors also declared interests in such diverse areas as modeling historical data in computer systems and statistical methods in language processing and analysis, Internet research ethics and intellectual integrity, electronic literature and computer games, performance theory and practice, information visualization, and electronic publishing.
A very recent anthology in the field, Matthew Gold's 2012 Debates in Digital Humanities, reflects both continuing and expanding patterns of affiliation. Authors still hold positions in traditional departments, especially English and history, and some are in art, Germanic languages and literatures, philosophy, and anthropology. The most frequently reported professions are librarianship and education, with instructional technology included in the latter. Affiliations with interdisciplinary fields include medieval studies, information studies, cinematic arts, and an increase since the Companion in media studies. Centers listed in 2004 also appear, though other sites have gained visibility, including a Culture, Arts, and Technology program, an Interactive Technology and Pedagogy Certificate Program, new appointments focused on scholarly communication/scholarship, the Roy Rosenzweig Center for History and New Media, the University of Nebraska-Lincoln's Center for Digital Research in the Humanities, and the HUMlab at Umeå University in Sweden. In addition, several networks had gained prominence, including HASTAC (Humanities, Arts, Science, and Technology Alliance and Collaboratory) and SHANTI (Sciences, Humanities, and Arts Network of Technological Initiatives).
The location of HASTAC scholars is of particular significance because the majority are graduate students with future career commitments to innovative use of new technologies and media. English and history departments were prominent in the 2010–11 academic year. The scope, though, is wide. Affiliations with English, for example, spanned literary and textual cultures, rhetoric and composition, digital writing and publishing, gaming, race, and new media. The number of co-listings is another indicator of the growing plurality of interests. In English, they included affiliations with women's studies and with education. In history, individuals cited co-affiliation with education and philosophy. A smaller number of scholars were in art and art history, though also listed couplings in visual studies, arts administration, and in a third case triangulating art, engineering, and computer science. Students also listed theater, philosophy co-listed with neuroscience, and computer music. The highest number affiliating with a profession were in library and information science, though several reported education. Affiliations with computer sciences included a coupling with modern culture and new media. And, scholars in communications cited journalism, mass media, comparative media studies, and a combination of technology, communications, and society. The largest number citing interdisciplinary fields were in film/media studies, and visual/cultural studies, plus a co-listing with cinematic arts and critical studies. In addition, individuals identified with American civilization, comparative ethnic studies, comparative literature, and cultural studies. Several also cited social science disciplines as well as human and community development, urban planning, international development policy, leadership, and change.
Hiring is a further index of where Digital Humanities is taking root, based on job listings from 2010 to 2013 identified by a Google Alerts feed for "digital humanities" and ads in the Chronicle of Higher Education. Some universities sought DH specialties in traditional disciplines, to develop digital capacity in particular areas and increase use of new technology and media across campus. Given previous findings, it is not surprising to find English prominent. The Cardiff School of English, for example, sought a professor of English with expertise in the history of the book and material culture as well as Digital Humanities, with the expectation of contributing to the Center for Editorial and Intertextual Research. Communications was also prominent, and other positions targeted library and information sciences. The increased visibility of DH in libraries is not surprising. Libraries have long invested in building and curating collections, archives, and corpora. They have been logical locations for DH centers and initiatives, because they serve units across campus and are at the forefront of working with new technologies. In tallying institutional resources for Humanities Computing units, McCarty and Kirschenbaum found that electronic text centers and comparable units have tended to be located in libraries. Moreover, DH and libraries have a common stake in "open access" to information (see also Warwick, "Institutional Models," 194–95).
Even so, in introducing a special issue of the Journal of Library Administration on Digital Humanities, Barbara Rockenbach reports that despite a large literature on DH and specialized jobs for librarians, few articles in the library literature and fewer in the DH literature focus on the role of libraries. Echoing early concerns, libraries are also still regarded as service units for departments. One of the most striking recent increases in this sphere is the number of librarians dedicated to DH as part of their existing duties or new positions. One job listing combined an English and DH librarian, and libraries at the University of Illinois and universities at Stanford, Brown, York, Yale, Rutgers, and Ohio State University all advertised for specialists. The DH Librarian at Rutgers, for instance, was expected to support faculty and students in integrating digital and traditional resources and approaches, while also being a liaison for departments, strengthening core infrastructure, and fostering collaborations among stakeholders across campus. The DH Developer at Stanford Library was charged with general Digital Humanities support along with developing and supporting digital library efforts and strengthening collaborations across units of the libraries system.
Prestigious positions were also on the market, including McGill University's Canada Research Chair in Digital Humanities and the Alexander von Humboldt Chair of Digital Humanities at the University of Leipzig. Full-time faculty positions were available too, many to lead new initiatives. The University of Western Sydney sought a professor affiliated with the Digital Humanities Research Group. Elsewhere in Australia, the University of Tasmania advertised for a professor or associate professor to lead research, teaching, and creative practice in DH, with the added expectation of facilitating interdisciplinary research. The most powerful development in the interdisciplinary job market has been the cluster hire. Positions typically reside within separate multiple departments but revert to centralized control if vacated, usually the provost's office (Klein, Creating Interdisciplinary Campus Cultures, 130–31). Although science and medicine were prioritized in early clusters, DH is becoming more prominent, including hirings at Georgia State University and the University of Maryland. The University of Michigan cluster in Digital Environments/Digital Humanities added faculty in departments of English and Communication Studies, the School of Information, and the Program in American Culture. The University of Wisconsin-Madison's Digital Studies cluster is funded by an undergraduate curriculum initiative including English, communication arts, and library and information studies. The University of Iowa cluster aims to hire six faculty in Public Humanities in a Digital World and the University of Nebraska-Lincoln six tenure-track assistant professors and additional staff.
Lest this snapshot give the impression the Digital Humanities market is booming, when checking the Chronicle of Higher Education for jobs in "humanities + technology," Andy Engel found more calls for administrative and technical-service jobs than scholarly positions. The Job Slam at the Digital Humanities 2011 conference included tenure-track positions, but they were outnumbered by administrative and management posts (e-mail, July 13, 2010). Some were in institutions with established reputations in the field. The University of Maryland's Institute for Technology in the Humanities (MITH) sought an assistant director, and the University of Virginia advertised for a "hybrid" humanities design architect for the Scholars' Lab to design and implement digital resources while working with faculty and graduate students across campus. Other positions were in start-up mode. Arizona State University's Institute for Humanities Research (IHR) sought a director of the Digital Humanities Seed Lab, to help develop a campus-wide initiative, build external networks, secure funding, evaluate tools and technologies, provide training, and provide technical support for programs and projects.
The Arizona State example raises a general concern about workload expectations, especially when interdisciplinarity is factored in. The salary level for the director of the Seed Lab, at $45,000–$60,000, was below the magnitude of desired qualifications, including a PhD in a humanities field. The minimum qualifications also included experience in interdisciplinary humanities environments. Comparably, Pennsylvania State University Libraries sought a DH research designer who could "translate and share ideas and concepts effectively across diverse interdisciplinary audiences." The appointment was part of the university's "Humanities in a Digital Age" (HDA) initiative, aimed in part at enriching and promoting cross-disciplinary humanities scholarship and research while building a community of practice. Degree qualifications differ by position, an important determinant of the balance of technology and humanities. The Penn State ad, for example, listed proficiency or fluency with one or more technologies and an advanced degree in a humanities field. In contrast, the DH programmer sought by the University of Rochester could have a degree in software engineering or computer science, or an equivalent combination of education and experience. Knowledge of humanities was not required.
The #alt-academic movement has heightened awareness of alternative careers. Bethany Nowviskie locates this movement transversally across academic and cultural-heritage institutions. In a bleak job market for humanities, #alt-act positions raise hope for employment, including DH specialists at sites as diverse as the American Antiquarian Society and the Extreme Science and Engineering Discovery Environment (XSEDE). Research associate and postdoctoral fellowships are also part of the jobscape, and here too the balance of interests differs. The research associate in East Asian Digital Humanities in the Department of History at King's College London was expected to conduct research in and publish on a specific project, China and the Historical Sociology of Empire. The postdoctoral scholar at Case Western Reserve University was also expected to work in a specialized discipline but do additional research and teaching in association with the interdisciplinary Culture, Creativity, and Design Project. Echoing the pattern in faculty and administrative jobs, postdocs are also expected to be agents for change. At Dickinson College, the postdoc in DH was required to teach one or two courses a year in a specialty on top of catalyzing faculty innovation in pedagogy, e-learning tools, integrating digital media into teaching and scholarship, guiding and participating in workshops, and working with library and information science staff to train students for research collaborations with faculty.
Centering Digital Humanities
The most prominent institutional structure in advancing Digital Humanities has been the research center. During the 1980s, humanities institutes were established on the model of scientific research institutes, but with far less economic capital (Herbert, 549, n32). The word center is ironic, since most are modest in size and reputation. They exist typically on soft money or the largess of their local hosts. They are also primarily places for research, though some offer coursework. Centers provide an "in between" or "shadow" space within discipline-dominated organizations. Classified in organizational theory as "matrix structures" and "ORUs" (organized research units), these enclaves are simultaneously social formations and physical sites that exhibit a "semi-liminal" character, operating partially as countercultures and partially as components of new cultures. They provide interstitial space for boundary crossing and collaboration, bridging gaps between domains while stimulating new alliances, identities, and professional roles (Klein, Interdisciplinarity, 123–26). As Friedlander commented in the opening epigraphs, they embody Ray Oldenburg's notion of alternative "third places," fostering ties critical to the life of a community. Oldenburg did not include digital environments, but the analogy holds (vi).
The formation of Digital Humanities centers is an international phenomenon, although Neil Fraistat notes important differences. North American centers, he reports, have been more likely to rise from the bottom up, in contrast to a top-down pattern in Europe and Asia. In North America, centers have also tended to focus exclusively on humanities and sometimes interpretive social sciences. In contrast, centers in Europe and Asia are more likely to be dispersed through disciplines, or were virtual instead of physically located (283). Diane Zorich's 2008 overview of Digital Humanities Centers (DHCs) in the United States is the most comprehensive study of DHCs. Zorich examined their governance, organizational structures, funding models, missions, projects, and research foci. Based on her findings, Zorich offers a composite definition:
A digital humanities center is an entity where new media and technologies are used for humanities-based research, teaching, and intellectual engagement and experimentation. The goals of the center are to further humanities scholarship, create new forms of knowledge, and explore technology's impact on humanities-based disciplines. (Zorich, 4)
Zorich classifies DHCs into two general categories: center-focused and resource-focused in virtual space. The former outnumber the latter, with the oldest one founded in 1978 and the mean year of founding 1992. Catalysts differ. A particular event may initiate a process leading to formation of a center, such as a key discussion in a meeting or a casual conversation with administrators or funders. Grants also play a role, and many projects generated other activities subsequently gathered under a single structure for effective management. In addition, individuals who organize centers to meet their personal needs sometimes begin to encompass the interests of others. Some centers have also emerged from campus-wide initiatives focused on humanities or pedagogy, while others began in computing units that evolved over time from being "purveyors" of services to "incubators" and "managers" of projects (1, 8–10). The University of Victoria illustrates the latter model. Efforts began in 1989 with a unit established to support language teaching and research. In 2001, a permanent office was formed, the Humanities Computing and Media Centre. In 2004, an Electronic Textual Cultures Lab and a Digital Summer Institute were added, then in 2012, a Digital L2 Learning Lab and a Maker Lab.
The mission statements of DHCs overlap with the general goals of humanities centers, foremost among them creating a community for humanities work, sharing experiences, providing infrastructure and expertise, offering programs for academic and general audiences, and promoting public and civic engagement. They also address interdisciplinary-specific goals, including providing an environment where members of different disciplines can interact and collaborate, developing new pedagogies and research tools, engaging in experiment and creativity, and advancing emerging fields. The impact of technology varies greatly, Zorich adds, from "prosaic" use of new media in research or teaching to "transformative" developments such as a new products and processes that alter existing knowledge and create new forms of scholarship. The scope of DH-specific missions Zorich identified are regrouped here roughly by kind:
Production and Experimentation: creating tools, contents, standards, approaches, and methodologies; designing innovation; building collections, archives, and repositories
Service: training, networking, and collaborative support for individuals and units; providing technology solutions for departments, information portal, and repository; leveraging networked resources, managing the research process
Scholarship: analyzing and critiquing how digital technologies are changing research and education; advancing new forms of learning, literacy, and media; bridging gaps with science, technology, and social sciences.
Programming: hosting lectures, conferences, seminars, and workshops.
As the last grouping indicates, DH centers provide professional development opportunities. In addition to modeling interdisciplinarity and collaboration, Neil Fraistat also reports, DH centers facilitate mutual learning among graduate students and faculty in the course of working together on projects (281). To illustrate the variety of programming, the Digital Humanities Seminar at the University of Kansas Institute for Digital Research in the Humanities provides a multi-tiered forum, including Digital Jumpstart Workshops with hands-on introductions to tools and practices. The University of Victoria's Digital Humanities Summer Institute covers tools and methods, project planning and management, digitization, digital pedagogy, and databases. The Digital Humanities@Oxford summer school has included combined plenary lectures and work sessions with tutors for a wide audience. And, the Maryland Institute for Technology in the Humanities Digital Humanities Winter Institute offered a weeklong intensive combination of coursework, social events, and lectures. The Humanities High Performance Computing Collaboratory's (HpC) summer institute also offered two five-day workshops, one in collaboration with the University of Illinois' Institute for Computing in Humanities, Arts, and Social Science, and the other at the University of South Carolina's Center for Digital Humanities. In addition to comprehensive education in computation, project design and management, hands-on experience with technical platforms, and work with technical staff, HpC has a yearlong virtual community where scholars support peers in authoring projects.
Although many centers serve similar functions, they have local signatures. To echo Tanya Clement's observation about incorporating multiliteracies into the undergraduate DH curriculum, "Value is clearly dependent on venue" (68). Digital projects in the library may be the focus on one campus, textual analysis or historical research on another, media studies on yet another. The Institute for Advanced Technology in the Humanities (IATH) at the University of Virginia built on its reputation for technical support and advanced computer technology, while the University of Southern California's Institute for Multimedia Literacy has a sustained interest in multimedia literacy and pedagogies now amplified by work on electronic publication. The Center for Textual Studies and Digital Humanities at Loyola University Chicago continues a long-standing commitment to textual studies, while the Center for Public History at Cleveland State University is committed to public history and the Roy Rosenzweig Center for History and New Media (CHNM) at George Mason University is a leader in producing tools and materials for digital history and new forms of digital scholarship and publication.
Centers also tend to host a multidisciplinary range of projects, especially large established sites. Their variety might seem at first blush to be eclectic, with digitizing of an ancient manuscript or 3-D restoring of an archaeological site hosted along with curating electronic literature or gathering oral histories of indigenous peoples. This range is the result of serving the multiple interests of local faculty, external fellows, and partnerships with other centers. A selective snapshot of projects at IATH, for example, includes the Chaco Canyon Research Archive, Virtual Williamsburg, Rome Reborn, Mapping the Dalai Lamas, The Melville Electronic Library, and The Valley of the Shadow Civil War project. Likewise, the Center for Digital Scholarship at Brown University maintains diverse projects, including the signature collection Lincolniana and a close relationship with the Women Writers Project. These examples reaffirm, too, the vital link between centers and libraries. IATH and MITH are both located in libraries, and the Alabama Digital Humanities Center at the University of Alabama is a program of the university libraries providing space and community for over forty faculty across campus.
DH centers also facilitate the laboratory model of humanities. Fraistat describes MITH as an "applied think tank, a place where theory and practice met on a daily and a broadly interdisciplinary basis" (286). The same may be said of other sites. The Digital Scholarship Lab at the University of Richmond has been experimenting with modeling techniques for analyzing data from 19th-century America. And, a jointly organized forum of MIT's HyperStudio and Harvard's metaLAB featured new work in digital musicology. In their presentation on "Listening Faster," Michael Cuthbert and Matthias Röder demonstrated techniques and tools that enable scholars to analyze large repertories of compositions in the time it would take to look at and hear a single work. Together, computational analysis, clustering techniques, visualization tools, and data mining of musical works are fostering a new kind of "wired music scholar." DH centers also illustrate how early projects and resources can be leveraged into robust multidisciplinary portfolios.
Founded in 1994, MATRIX is the Center for Digital Humanities and Social Sciences at Michigan State University (MSU). A self-described "Humanities Computing" center, it began in 1994 when Mark Kornbluh persuaded the College of Arts and Letters to host H-Net, the Humanities and Social Sciences online network. Within two years, MATRIX had obtained two NEH grants for H-Net, and in 1997 hosted a national conference on humanities teaching in the digital age. Over the ensuing years, the center was also able to gain new space and parlay resources from the Provost's office into new projects, external grants, staff, and a stronger infrastructure. Today, the center houses digital library repositories and partners with other units at MSU and external organizations to digitize collections. Its local signature includes a commitment to best practices built on open-source, inexpensive hardware and software that support training initiatives with under-resourced teachers in the Great Lakes region and in Western and South Africa. MATRIX has also built greater "capacitation" with a National Science Foundation Digital Libraries II grant to develop a National Gallery of the Spoken Word. The grant positioned the center within a wider community of science practitioners and a global movement aimed at creating standardized, interoperable digital repositories.
The Simpson Center for the Humanities at the University of Washington (UW) exemplifies the strategy of leveraging in an endowment campaign boosted by a $625,000 NEH Challenge Grant and a $600,000 grant from the Mellon Foundation. The Commons will support innovative and experimental research with three primary objectives: animation of knowledge with visualization tools, dynamic databases, and aural tracks; public circulation of scholarship; and historical, social, and cross-cultural understanding of digital culture. During the academic year, it will augment campus-wide opportunities for graduate students by offering three one-credit courses, bringing a seminal scholar or innovator for an intensive two-day visit, and sponsoring Digital Research Summer Institute (DRSI) workshops and seminars. The centerpiece will be an annual eight-week summer program of fellowships for UW faculty and doctoral students focused on collaborative projects. In advance of the first institute, the center built local infrastructure. "Most important for the long run," Director Kathleen Woodward emphasizes," are the connections and collaborations with other units," including partnerships with the UW Libraries Digital Initiatives Program, Information Technology's Academic & Collaborative Applications, a graduate certificate program in textual studies, and the master of communication in digital media. A session of the fellows program was also devoted to digital humanities, with presenters from English, women's studies, and geography. And, a graduate short-credit course on cultural research and digital collections was taught by members of women's studies, English, and MITH (e-mail, Kathleen Woodward, June 20, 2011).
The Center for Digital Research in the Humanities (CDRH) at the University of Nebraska-Lincoln furnishes added lessons about leveraging. Recalling its creation, Richard Edwards emphasizes that neither initial opportunities nor subsequent successes would have existed without having outstanding digital scholars already on campus. They contributed a vision, commitments to developing the Willa Cather and Walt Whitman Archives, and leadership in pressing for the university's commitment. The quality of their work received national attention from outside funding agencies and the wider scholarly community, and their presence enticed other scholars that Nebraska was attempting to recruit. When the university decided to invest designated funds in selected areas, digital scholarship in humanities was designated as one of nineteen promising "Programs of Excellence." Administrators in charge of information technology, the research office, space allocation, and other pertinent facilities and services were also encouraged to undertake support within their operations and budgets. The university libraries reallocated space to make room for the center, and deans of arts and sciences and university libraries agreed to designate certain vacant faculty lines or assign time of current faculty members to digital scholarship and in some cases directly to the center.
Stepping back from individual examples to assess the overall state of DH centers, Zorich considers their proliferation to be a positive sign. Yet, she raises concern about continuing threats to interdisciplinarity, collaboration, and partnership. Centers have reached a level of maturity, but they face ongoing challenges of sustainability and preservation of content. She also likens them to silos favoring individual projects, resulting in "untethered digital production." Many projects, Luke Waltzer likewise cautions, rarely take steps needed for "generalizable value" or create conditions for "broad adoption" (342). Claire Warwick further cites the contradictory demands of service and research, a tension linked historically to many centers' emergence from service computing. To this day, association with support units of computing service or libraries reinforces the impression that DH is service and the research function thereby vulnerable (194, 196). Moreover, some question whether the "stars" of the system are creating another kind of "digital divide," between the haves and have-nots (282). Karen Sword asks in the Journal of American History online forum whether Digital Humanities is genuinely growing or only consolidating at a few institutions. The larger sums of money needed for centers reinforce the Matthew effect of the rich getting richer. Neil Fraistat urges DHCs to become integrated into a larger network to make them more widely known and available, leverage resources and services, and avoid redundancy.
The history of institutionalizing interdisciplinarity furnishes yet another caveat. Experimental programs, William Newell advises in a volume on The Politics of Interdisciplinary Studies, are always at political risk. Even when embraced, they may be vulnerable to budget crises or the departure of key supporters. Because they run against the grain of hierarchical discipline-based structures, they are "low hanging fruit" (48). Even when a Digital Humanities center or academic program gains a foothold, it may be subject to the departure of key personnel, shifts in administrative support, and declines in financial support. McCarty and Kirschenbaum cite the closing and radical reformation of several prominent units, including the Humanities Computing Unit at Oxford University and the Center for Computing in the Humanities at the University of Toronto. At Oxford, the unit was based in Computing Services. Organizational changes and budget cuts resulted in reduction of research-oriented activities to instrumentalities of technical support in a reorganization that refocused activities in support of teaching and learning throughout the university and a national humanities hub. At Toronto, humanities evolved from the Faculty of Arts and Science. This type of space, however, did not disturb the existing power structure, no tenure-track positions were created, no new departments set up, and, McCarty emphasized, "nothing done that could not be undone" ("Humanities Computing").
Sustainability, Allen Repko advises in The Politics of Interdisciplinary Studies, means "the capacity to function indefinitely" (145). "Indefinitely," however, is not necessarily forever. Even traditional disciplinary departments such as classics and German have learned this painful lesson in recent budget cuts. And, even admired "edge projects" such as the Institute for Multimedia Literacy at the University of Southern California, Balsamo warns, are always in danger of disappearing in the political economy of budget decisions (244, n28). Colleagues and students involved in the ACT Lab (Advanced Communication Technology) at the University of Texas considered being "nomadics" vital to the free play of creativity, practicing a strategy of living under the "institutional radar" and a "codeswitching umbrella." Yet, Sandra Stone admits, the pressure of institutional structuring and "dire necessities" are constant (qtd. in Svensson, "Landscape").
The strength of Digital Humanities at the University of Nebraska-Lincoln is due to a combination of support at top-down, mid-level administrative, and center and individual unit levels. Claire Warwick credits success at the University College London (UCL) to a combination of provost-level strategic development funding, synchrony with the University's Grand Challenge campaign focusing interdisciplinary research on global problems, support from the deans of both Arts & Humanities and Engineering Science, and her own dual role as co-director of UCLDH and vice dean of research for Faculty of Arts and Humanities (210). Matthew Kirschenbaum reminds readers, as well, that institutional structures tend to have "long half-lives." The academic infrastructure of Digital Humanities now includes a major journal, professional organization, and funding support. Moreover, behind these components of infrastructure lie "some very deep investments–of reputation, process, and labor, as well as actual capital" ("Tactical Turn," 416). Even when projects end, they may catalyze change. "What if there is zest in the crevices?" Davidson asks. Projects can prevail in ways that "taunt" and "temper" the institutions housing them, inspiring passion that continues after a project fades and leading to other activities.
At the broadest level, the new alliance between CenterNet and the Consortium of Humanities Centers and Institutes aims to enhance interoperability, accessibility, and sustainability across a wide interconnected grid. Two themes frame the alliance: "Digital Disciplines" focuses on the relation of digital technologies to disciplines, and "Digital Publics" on formation of new collaborations and publics. "Digital Disciplines," in particular, raises several questions central to this book. It asks whether digital techniques and methods should be granted autonomous disciplinary status, to what extent their impact should be distributed in existing or emergent disciplines, to what extent digital practices are affecting how research is performed in humanities and arts, and how relationships between disciplines have been transformed. It also asks how newer disciplines and fields are shaped and enabled, at the same time traditional disciplines and fields are challenged to renew themselves. In order to continue answering those questions, it is necessary to examine the topic of the next chapter: how Digital Humanities is being professionalized.
Clustered Links for Chapter 3 in Order of Appearance
Mellon Foundation support for DH expansion at the University of Rochester: http://www.rochester.edu/news/show.php?id=7752
Carolina Digital Humanities Initiative: http://college.unc.edu/2012/07/06/digitalhumanitiesmellon/ and http://digitalhumanities.unc.edu/about/
St. Louis University DH initiative: http://www.slu.edu/news-rel-research-cluster-grant-417
Texas A&M University's Initiative for Digital Humanities, Media, and Culture: http://idhmc.tamu.edu
Cardiff School of English: http://tinyurl.com/cardiffrarebooks
Willard McCarty and Matthew Kirschenbaum, "Institutional Models for Humanities Computing". Association for Literary and Linguistic Computing (ALLC) founded in 1973 and now under the name European Association for Digital Humanities (EADH): http://eadh.org/
DH Librarian at Rutgers University: http://newjersey.sla.org/2013/08/08/digital-humanities-librarian-rutgers-university-libraries-nj/
DH Librarian at Stanford University: http://library.stanford.edu/news/2013/02/welcome-jacqueline-hettel-digital-humanities-developer
Humboldt Chair of Digital Humanities at Leipzig: http://sites.tufts.edu/perseusupdates/2013/04/04/the-open-philology-project-and-humboldt-chair-of-digital-humanities-at-leipzig/
Barbara Rockenbach's "Introduction," Journal of Library Administration 53, no. 1 (2013): 1–9: link to DOI: http://dx.doi.org/10.1080/01930826.2013.756676 and Taylor & Francis online: http://www.tandfonline.com/doi/abs/10.1080/01930826.2013.756676 - .UshCOZiJWmA
Ad for Director of Arizona State University Digital Humanities Seed Lab: http://jobs.code4lib.org/job/8276/
Pennsylvania State University's Digital Research Designer: jobs.code4lib.org/job/9002/
University of Rochester's DH Programmer
#alt-academy: http://nowviskie.org/2011/announcing-alt-academy/ and http://mediacommons.futureofthebook.org/alt-ac/
King's College London Postdoc in East Asian DH: http://jobs.lofhm.org/2012/05/16/Kings-College-Research-Associate.html
Case Western University's Postdoctoral Scholar: http://hastac.org/opportunities/digital-humanities-postdoctoral-scholar-case-western-reserve-university-0
DH Postdoc at Dickinson College: http://blogs.dickinson.edu/digitalhumanities/2013/02/12/postdoctoral-fellowship-in-digital-humanities-at-dickinson/
DH at the University of Victoria: http://web.uvic.ca/humanities/aboutus/digital_humanities.php, www.dhsi.org
Digital Humanities Seminar at the University of Kansas: http://idrh.ku.edu/digital-humanities-seminar
Digital Humanities@Oxford Summer School: http://digital.humanities.ox.ac.uk/dhoxss/
Digital Humanities Winter Institute at the University of Maryland: http://mith.umd.edu/announcingdhwi/
Humanities High-Performance Computing Collaboratory: www.dhhpc.org
Institute for Advanced Technology in the Humanities at the University of Virginia: http://www.iath.virginia.edu/
University of Southern California School of Cinematic Arts: http://iml.usc.edu/
Center for Textual Studies and Digital Humanities at Loyola University Chicago: http://ctsdh.luc.edu/
Center for Public History at Cleveland State University: http://csudigitalhumanities.org/
Center for History and New Media at George Mason University: http://chnm.gmu.edu/
Center for Digital Scholarship at Brown University: http://library.brown.edu/cds/
Alabama Digital Humanities Center: http://www.lib.ua.edu/digitalhumanities
UMass Amherst Digital Humanities Initiative: http://digitalhumanities.umass.edu/
Digital Scholarship Lab at the University of Richmond: http://dsl.richmond.edu/
Hyperstudio/Digital Humanities at MIT: http://hyperstudio.mit.edu/
metaLAB at Harvard University: http://metalab.harvard.edu/
MATRIX center at Michigan State University: http://www2.matrix.msu.edu/
Digital Humanities Commons at the University of Washington: http://depts.washington.edu/uwch/programs/initiatives/digital-humanities/digital-humanities-commons
Center for Digital Research in Humanities: http://cdrh.unl.edu/
Richard Edwards, "Creating the CDRH at University of Nebraska-Lincoln": http://cdrh.unl.edu/articles/creatingcdrh.php
Karen Sword comment on divide in Digital Humanities: http://www.journalofamericanhistory.org/issues/952/interchange/index.html
Oxford University computing services: http://www.oucs.ox.ac.uk/internal/annrep/annrep0001/index.xml?ID=body.1_div.8
Willard McCarty and Matthew Kirschenbaum. "Institutional Models for Humanities Computing," Literary and Linguistic Computing 18, no. 4 (2003): 465–89. http://www.informatik.uni-trier.de/~ley/pers/hd/k/Kirschenbaum:Matthew_G=
Willard McCarty's "Humanities Computing as Interdiscipline": http://www.iath.virginia.edu/hcs/mccarty.html
Cathy Davidson's blog comment on "zest in the crevices": http://hastac.org/blogs/cathy-davidson/sustainability-institutions-prevail-projects-fail
CenterNet alliance with CHCI: http://www.hastac.org/blogs/cathy-davidson/chci-centernet-future-digital-humanities, http://digitalhumanities.org/centernet
Top of page