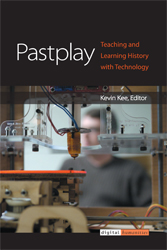 Pastplay: Teaching and Learning History with Technology
Skip other details (including permanent urls, DOI, citation information)
Series: Digital Humanities
: Ann Arbor, MI: University of Michigan Press, 2014.
Permissions: This work is licensed under a Creative Commons Attribution-NonCommercial-NoDerivatives 3.0 License. Please contact digital-culture@umich.edu to use this work in a way not covered by the license. The print version of this book is available for sale from the University of Michigan Press.
For more information, read Michigan Publishing's access and usage policy.
Page  175
8. Making and Playing with Models: Using Rapid Prototyping to Explore the History and Technology of Stage Magic
At sites around the world, self-identified makers, crafters, hackers, "edupunks," and DIY (do-it-yourself) fabricators are forming a community that is in the process of taking on all of the hallmarks of a new social movement.[1] The campaign is probably best summed up by MAKE magazine: "we celebrate your right to tweak, hack, and bend any technology to your will." MAKE is published by O'Reilly Media, whose motto is "spreading the knowledge of technology innovators." In addition to MAKE, O'Reilly also publishes a popular series of books on hacking (e.g., Tom Igoe's Making Things Talk) and hosts blogs and forums.[2] Articles in MAKE profile prominent makers, crafters, and hackers and provide step-by-step instruction in building projects at a variety of skill levels. Themagazine also editorializes against practices like the copy restriction of software and media and the confiscation of Swiss army knives and multi-tools in airports, and in favor of the open source ethos and of products that invite users "to look inside and see the moving parts . . . make repairs and improvements, and even harvest components once the product ceases to be useful."[3]
O'Reilly sponsors a national meeting (the Maker Faire) and provides publicity for local hacker-artist groups like Dorkbot, which meets in about eighty cities worldwide, including Vancouver, Toronto, Ottawa, and Montreal.[4] In addition to participating in real-world activities, community members are able to perform online in a variety of forums—including a do-it-yourself instruction website called Instructables—rehearsing core values of sharing and openness, resourcefulness, a can-do attitude, and a willingness Page  176to open the black box. If they wish, they can even buy T-shirts with slogans like "If you can't open it, you don't own it," "re-use, re-cycle, re-make," "hacking is not a crime!" and "Make: void your warranty, violate a user agreement, fry a circuit, blow a fuse, poke an eye out . . ." When President Barack Obama celebrated "the risk-takers, the doers, the makers of things" in his 2009 inaugural address, O'Reilly immediately emblazoned the phrase on a T-shirt.[5]
The maker community extends far outside the ambit of O'Reilly Media, of course, overlapping with many other interest groups. It includes a global network of hackerspaces, workshops operated by community members who wish to share ideas, tools, and techniques, and to work collaboratively on projects.[6] It includes efforts to crowdsource the production of everything from automobiles to prosthetics.[7] And, most relevant to the work we describe here, it includes groups of people dedicated to producing software (like the programming language Processing), hardware platforms (like Arduino), and computer-controlled machines that are able to print small 3D objects (like RepRap).[8] We discuss all three of these technologies below. In each case, the designers and makers profess an ethic of open source, making tutorials, plans, software, and construction details freely available online.[9]
The present conjuncture—of making as a new social movement, of easy-to-use and freely available platforms that invite modification, of detailed online instructions for doing just about anything—makes it almost costless for historians and other humanists to research, teach, learn, play, and experiment with new technologies. These include digital technologies, of course, the blogs, wikis, podcasts, games, immersive worlds, and social media described by other contributors to this volume.[10] We argue that the time is right for humanists to play and experiment with technologies of material production, too.
Top of page