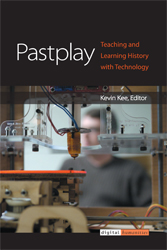 Pastplay: Teaching and Learning History with Technology
Skip other details (including permanent urls, DOI, citation information)
Series: Digital Humanities
: Ann Arbor, MI: University of Michigan Press, 2014.
Permissions: This work is licensed under a Creative Commons Attribution-NonCommercial-NoDerivatives 3.0 License. Please contact digital-culture@umich.edu to use this work in a way not covered by the license. The print version of this book is available for sale from the University of Michigan Press.
For more information, read Michigan Publishing's access and usage policy.
Page  121
6. Abort, Retry, Pass, Fail: Games as Teaching Tools
Games and play have always served an educational function. Computer games are only the latest incarnation in a vast history of playful learning environments and educational game tools. Three particular threads interweave in this general introduction. First, play and games are ancient elements of human learning. The former instills basic social cues that facilitate human interaction and group cohesions, while the latter improve complex skill acquisition, abstract thinking, and peer cohesion. Johan Huizinga, who described play as an essential (although not sufficient) element to cultural development, paid tribute to this dual nature by titling his book Homo Ludens, or "Man the Player."[1] His oft-quoted opening line is worth citing again: "Play is older than culture, for culture, however inadequately defined, always presupposes human society, and animals have not waited for man to teach them their playing."[2]
Second, a simple dichotomy between "play" and "game" belies the complexity that exists between them. Roger Caillois places the tension between play and game on a spectrum with paidia at one end of the axis, reflecting unstructured, spontaneous play, and ludus at the other, reflecting rule-based, explicit games.[3] The ancient Romans understood the spectrum between play and game. The Latin word ludus meant both play and sport, but also training, as the word was used to describe primary schools for boys and girls. And, reflecting the seriousness with which some games were taken, ludus also described gladiatorial schools. Generally, humanity tends to formalize play into games, at both the individual level as children become adults, and at the cultural level as cultures become increasingly complex and economically Page  122developed. As seen in the differences between children kicking stones on a playground and professionals earning a living on the soccer pitch, this spectrum reflects instantiations of cultural formation. Indeed, the tendency to translate the paidic into the ludic, from the organic to the planned and structured, may reflect the very essence of cultural development.
Third, the spectrum between play and game in terms of definition mirrors the playfulness in which people participate in games. Players can "game" a system by adapting, bending, or breaking the rules, resulting in a completely satisfying gaming experience for them that readily thwarts the intentions of the designer or instructor.[4] With respect to education, this playfulness means, in part, that the prescribed educational message may be completely ignored or subverted by the student ­game-player. The medium may not effectively impart the desired message. A parallel to television may help. Some of the earliest critics of television, for example, saw it as a tool of cultural and industrial domination as the viewers passively absorbed the privileged message of capitalistic giants.[5] Television, like games, however, is a heavily mediated environment with complex modes and messages that are actively constructed by an active audience.[6] It is a demanding ephemeral medium requiring conscious construction of meaning but does so through a series of images and conventions that are deeply familiar—close, but not quite, like reality. Games are similar. What is learned from playing a game may not reflect the desired outcome of the game designer.
This chapter surveys the history of games and how they have been used in teaching, especially teaching the liberal arts. While there is a long history of games and research into the history of gaming, there is less research into how serious games can enhance learning. We are at an experimental stage where games are being designed, often without much educational theory behind them. We propose that one promising area, especially in history, is to teach through game design where students do not just play games, but have to design games and through the design of games, learn about the subject matter being simulated.
Top of page