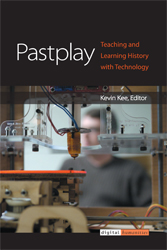 Pastplay: Teaching and Learning History with Technology
Skip other details (including permanent urls, DOI, citation information)
Series: Digital Humanities
: Ann Arbor, MI: University of Michigan Press, 2014.
Permissions: This work is licensed under a Creative Commons Attribution-NonCommercial-NoDerivatives 3.0 License. Please contact digital-culture@umich.edu to use this work in a way not covered by the license. The print version of this book is available for sale from the University of Michigan Press.
For more information, read Michigan Publishing's access and usage policy.
Page  292
14. Victorian SimCities: Playful Technology on Google Earth
The best vantage point for viewing a landscape is from above. That is the premise of Google Earth, which opens from a vantage point high in space, and then zooms down through the atmosphere to a point on the earth. Nineteenth-century visual image makers also knew that high places offered the best perspectives on the landscape. In a pre-airplane era, they imagined how landscapes would appear if they were seen from the perspective of a bird, flying high in the sky, or from a balloon floating over the land. They developed their imagined perspectives in panoramic lithographic views, which are commonly called bird's-eye views. When advances in photographic technology permitted, Victorian image makers perched on high buildings, whence they created a sequence of images that created panoramic photographs. These images—bird's-eye views and panoramic photographs—offer a remarkable picture of urban landscapes of the past, and a fascinating perspective for historians. The images also provide an engaging platform where students can play with the past. When these images are deployed with interactive digital technologies, our muse Clio is more playful than ever before.
We are using panoramic views in conjunction with Google SketchUp, the popular 3D modeling program, and Google Earth technology to engage secondary school students and undergraduate history students and draw them into the work of history by literally asking them to draw history. We are focusing on the city of Victoria, British Columbia, ca. 1890, for our proto­type, but as we will explain, the historical resources that we have deployed can be utilized in other cities. Students are invited to become historical detectives and by building up documentation and inferences, re-create part of the lost landscape of Victorian Victoria. The more they play, creating Page  293buildings with Google SketchUp and uploading them to Google Earth, the more we expand our SimCity—Virtual Victoria.
Our method is to present history as a mystery, and the recovery of past landscapes as a particular mystery that students can help solve. Our objective is to introduce students to broad topics in historical geography and urban history, and our premise is that students learn best when they can see and experience the urban places. We cannot transport students back to Victoria, ca. 1890, via a Holodeck, but we can facilitate a process whereby they deploy historical records in a way that will enable them to see a world that is now gone and engage closely with this past.[1] Consider the process of a biographer, who reads extensively on his subject and manages to get "under the skin" or "inside the mind" of his subject. Or consider the words G. Kitson Clark, the distinguished Cambridge historian of Victorian England, used to exhort his students to read voraciously in order to connect to the historical period they were studying: "Read, read, read—until you can hear them [Victorians] speak."[2] Our students follow a similar regimen as they study and re-create buildings and streetscapes. At the end of the day, using playful technologies, we hope they will be able to experience the sights, sounds, and possibly the smells of a Victorian city.
We developed the project with encouragement of the new literature, which shows that students like digital technologies and are adept at acquiring and utilizing knowledge and skills in an electronic environment. A growing body of literature suggests that history students relate easily with primary documents in digital formats, and that students engage readily in self-directed learning activities when these opportunities are presented within a web environment.[3] The literature also suggests that critical reasoning skills increase when students understand how different kinds of primary records are related and can be used to better understand historical questions or events. In such cases, students learn to "think like a historian."[4] The challenge of teaching undergraduate students to think like historians was a catalyst in the creation of The History Education Network, a consortium of some of Canada's leading history education researchers.[5] Studies completed by these and other scholars confirm our view that teaching is enlivened if we can turn students into researchers and learning is enhanced if we enable students to answer historical questions themselves.[6] This pedagogy is sometimes called inquiry-based learning. Its growth parallels the exponential growth of primary sources that are available in digital formats online.[7]
In our own work we have observed that students find the past intriguing, are motivated to solve puzzles, and given a choice prefer to work on assignments that have real-world applications. They also put more effort into projects where they will be seen by a wide audience and for which they can claim Page  294some credit for the creation. We have designed our Victorian SimCity project to capitalize on all these motivating factors. While providing a background to the project we want to introduce four elements that link homo discens (the learner) to homo ludens (the playful). These elements involve detecting spatial perspectives, researching biographies of historical structures, re-creating lost urban environments, and repopulating historical landscapes.
Top of page