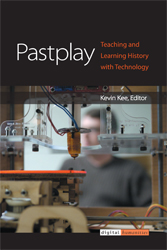 Pastplay: Teaching and Learning History with Technology
Skip other details (including permanent urls, DOI, citation information)
Series: Digital Humanities
: Ann Arbor, MI: University of Michigan Press, 2014.
Permissions: This work is licensed under a Creative Commons Attribution-NonCommercial-NoDerivatives 3.0 License. Please contact digital-culture@umich.edu to use this work in a way not covered by the license. The print version of this book is available for sale from the University of Michigan Press.
For more information, read Michigan Publishing's access and usage policy.
Page  214
10. Rolling Your Own: On Modding Commercial Games for Educational Goals
Members of online communities dedicated to the modification of commercial games debate and develop scenarios with fine attention to authenticity and realism, practices that we seek to cultivate in the students taking our history courses. While self-organized modding communities succeed at creating and playing history, the same activities, approached by educators, have not shown the same degree of success. In this chapter I explore why enthusiasts experience a high degree of success in their modifications, while formal classrooms do not—in this case, set in the context of an online, undergraduate, distance-education classroom.
The communities that make modifications to existing commercial games have created strong and vibrant subcultures in modern video gaming. Strictly speaking, "modding" refers to a change in the rules by which a game operates, but in a less rigorous definition can involve scenario building and the staging of pieces on the game board. Many game publishers, recognizing the importance of modding, now provide modification tools with the release of a game as part of their marketing strategy. They have also reaped the benefits: publishers have recruited talented individuals from these communities and given them jobs as game developers, hoping to make use of the creative ingenuity that the modders have shown. Jon Shafer, the lead designer of Civilization V, is one notable example of a former fan, now paid developer, of a popular game franchise.
Some academic studies of Civilization have critically addressed its narrative of technological progress and American exceptionalism, while others have concentrated on its anachronisms, its theoretical presentation of Page  215history, and its potential for implementation in classroom settings.[1] I wish to focus attention on a different aspect of the Civilization franchise: on fan sites as loci for learning, which can inform the use of modifications in an online classroom.
In my pedagogical approach with my first-year undergraduate online classroom, I hoped to draw from a growing movement in which Civilization modifications are implemented to expand the possibilities for experience with history.[2] Using the modification, I sought to enhance the engagement of my online distance learners with the material, and cultivate an improvement of their critical historical thinking skills. With the help of participants on Civfanatics, I created a scenario with one change in the rules of the original Civilization (making it a mod) to address a problem I was having in my fully online, first-year Introduction to Roman History class concerning causality and contingency in Roman politics. The carefully crafted scenario reflected the events of 69 c.e., the Year of the Four Emperors; I devised an assignment to accompany it, and delivered it to my students. Unfortunately, their response was less than ideal. Its lack of success is due partly to the "creepy treehouse" phenomenon,[3] an urban legend in which treehouses are built with no other purpose but to lure children by appealing to their adolescent culture. In online learning, the "creepy treehouse" metaphor can be defined as the use of some aspect of social media, or of a "nontraditional" approach, that does not emerge naturally from the class dynamic but is imposed from the top and feels artificial to the participants. For instance, an instructor who "friends" students on a social network and requires every student to post three times a week to the class blog is transgressing into "their" space. This transgression imposes an unnatural behavior on the students, despite their familiarity and affinity for social networking and blogs.
In this chapter I explore why my experiment with modding and scenario building in an online classroom was unsuccessful and how it became a form of "creepy treehouse." That experience compelled me to focus my attention on the fan sites themselves and the participants who helped me build my scenario. Like the game publishers who seek out expertise in fan communities, educators must utilize the natural environment of online fan communities as spaces in which historically motivated modifications can have a desirable level of involvement. When we create modifications of a commercial game, or "roll our own," it is the aspect of creating it in public that might have the greatest educational impact. The nature of the fan sites promotes the kind of learning we labor to facilitate in our online classrooms; it is spontaneous and builds from the bottom up. It is also, notably, teaching without teachers.
Top of page