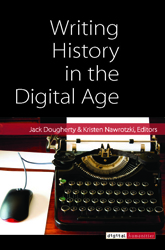 Writing History in the Digital Age
Skip other details (including permanent urls, DOI, citation information)
Series: Digital Humanities
: Ann Arbor, MI: University of Michigan Press, 2013.
Permissions: This work is licensed under a Creative Commons Attribution-NonCommercial-NoDerivatives 3.0 License. Please contact digital-culture@umich.edu to use this work in a way not covered by the license. The print version of this book is available for sale from the University of Michigan Press.
For more information, read Michigan Publishing's access and usage policy.
Part 6. Public History on the Web: If You Build It, Will They Come?
The potential of public history has been profoundly altered by the democratization of the web. Oscar Rosales Castañeda's essay "Writing Chicana/o History with the Seattle Civil Rights and Labor History Project" describes how students and faculty created a digital public history project to document local activism, indicating the vivid role it played in shaping their lives as well as historical knowledge on the contemporary Pacific Northwest. In "Citizen Scholars: Facebook and the Co-creation of Knowledge," Amanda Grace Sikarskie draws on her experience with the Quilt Index to make a case for lay historians actively contributing to research through social media. Finally, Shawn Graham, Guy Massie, and Nadine Feuerherm offer a behind-the-scenes look and some early conclusions on documenting Canadian memories, in "The HeritageCrowd Project: A Case Study in Crowdsourcing Public History."
Writing Chicana/o History with the Seattle Civil Rights and Labor History Project
The Seattle Civil Rights and Labor History Project (hereafter referred to as the Seattle Civil Rights Project) has allowed a city to retell its rich, multicultural civil rights narrative. Since its inception in 2004, it has produced a wealth of information that allows Seattle's history to be retold through research reports, digitized documents, and dozens of oral history videos, allowing the fusion of oral history tradition with the newly emergent medium of the digital research project.[1] In 2005, coming off the initial release of the newly minted Seattle Civil Rights Project, a group of undergraduate students, myself included, met with University of Washington (UW) history professor Dr. Jim Gregory and UW PhD candidate Trevor Griffey to dialogue on expanding the civil rights project to include the local ethnic Mexican/Latino community in Seattle. This meeting resulted in what became the largest archive documenting the Chicana/o Movement[2] outside of Southwest United States. Nationwide, this reverberated throughout academic circles as a model for undergraduates to use when producing and writing digital history for K–12, college, and public audiences. (See the images on the web version of this essay at http://WritingHistory.trincoll.edu.)
From the outset, the Chicana/o Movement in Washington State History Project (hereafter referred to as the Chicana/o Movement Project) was intended as a point of departure, an exploration of a local narrative long relegated to obscure, unpublished materials and oral histories passed down from one generation to another. For many Latinos in Seattle and the Pacific Northwest, the thirst for knowledge was tempered by a sense of isolation from the ethnic Mexican/Latino cultural hubs in the Southwest and East Coast, as well as a sense of historical omission in regional narratives. The need for addressing this dual marginalization proved to be the impetus for initiating the Chicana/o Movement Project research.
Citizen Scholars: Facebook and the Co­creation of Knowledge
Doing historical research and writing on Facebook or Twitter may still seem like a strange notion to some. Social networks once had a reputation as frivolous spaces in which young people entered into and out of romantic relationships faster than one can click the "like" button and where "older" people (read "over 25") posted incessantly about the rare finds they made at the local organic farmer's market and consumed in their latest meal. While these uses of social media have not gone away (stop telling me about your arugula!), the value of social media sites such as Facebook for historians, both academics and those outside academia, has become increasingly apparent. This essay seeks to present and contextualize the role of the lay historian—what I am calling the "citizen scholar"[1]—in the production of historical research and writing through social media.
In her 2011 blog post "More Crowdsourced Scholarship: Citizen History," Elissa Frankle wrote, "In the history museum of the future, curators' work will be driven by our audiences' curiosity, and their preference for inquiry over certainty."[2] This growing preference for inquiry over certainty, for co-creation of content rather than consumption of content, is the basis of citizen scholarship in social media. Through the lens of a case study of interactions with citizen scholars on Facebook, I seek to illustrate the small yet profound ways in which lay historians are crowdsourcing the production of historical knowledge.
Connecting through "Quilts of the Day"
I am currently a faculty member in public history at Western Michigan University. Previously, from 2008 to 2011, I worked as a doctoral research assistant for the Quilt Index, a digital repository providing preservation and access to images and metadata for over 50,000 quilts.[3] In addition to my regular work, I also managed the project's social media campaign, including a Twitter feed, a blog, a wiki, and our most popular social media channel, a fan page on Facebook.[4]
As of this writing, in January 2012, the Facebook fan page has over 2,250 fans, most of whom seem to be middle-aged to older women who are either hobbyist quiltmakers or self-styled lay quilt historians, though we do, of course, have many fans who do not meet this description. It is a geographically diverse group, with around 20 percent of our fans living outside the United States, in such far-flung places as Ethiopia and Pakistan, and with huge followings in Canada, Italy, the United Kingdom, and South Africa.[5]
The Quilt Index social media strategy on Facebook includes engaging with the audience via trivia questions, which are designed to foster a personal connection to content, and by posting a "Quilt of the Day" daily. Themes for the Quilt of the Day (a particular pattern, period, region, etc.) are often suggested by the fans themselves. I facilitated this collective curatorial choice by posing several similar options the week before and inviting fans to use the comment feature to make their choice. For example, in July 2010, I asked the audience to choose from among five "quilt-specific" fabric colors (each of which are very much rooted in specific historical periods): cheddar orange, chocolate brown, indigo blue, Nile green, and Turkey red.
Negotiating this mass curatorial process and engaging in the co-creation of knowledge with the audience on Facebook has been fascinating. On several occasions, fans have demonstrated strong historical knowledge of a particular historical period or type of quilt or have even suggested ways in which a quilt's metadata record might be more complete. This has then prompted me and other Quilt Index staff to do additional research and post the findings. Comments posted on the Quilt Index Facebook page often provide obscure information about pattern origins and early or out-of-print publications.
Citizen Scholars and Collective Knowledge
One out-of-print publication that we learned more about through our Facebook page is Roderick Kiracofe's Homage to Amanda.[6] In June 2011, I posted a Quilt of the Day and noted in my post that according to the quilt's metadata record, the quilt had been published in a book called Homage to Amanda. I inquired if anyone had ever heard of it, and several people reported that they had, including the author of the book, who happened to be our fan. The author even offered to send me a free copy of the book, as it is out of print. Skeptics might argue that those with such historical knowledge to share are the exception, rather than the rule, and that the majority of those on the Quilt Index Facebook page are there just to look at quilts or because they simply wanted more pages to "like." Indeed, many of our fans do come to the page to self-identify with a quilt-related community or to gain intellectual or emotional uplift from the quilts (both of which are worthy outcomes as well), rather than to engage in some form of knowledge production.
Referring to the dynamic of a teacher and student (or a Facebook manager and Facebook fan) is perhaps a more apt way of describing the work we are doing on Facebook with this population of "self-identifiers." However, even this top-down model of scholarly communication is still a process of co-creation of knowledge to an extent. As Elissa Frankle noted,
In the age of the twenty-four hour news cycle and a well-researched, well-policed Wikipedia, museums like to believe that we still have the advantage of being Authorities. We know how to do Research. We know how to pose the Right Questions. We know, most importantly, how to Give Our Visitors The Answers. Citizen History is an experiment in finding out what happens if we trust our visitors enough to allow them to bring their diverse perspectives and boundless enthusiasm into the research work of the museum and share our authority. . . . Citizen History opens up a museum's existing data to participants and, through scaffolded inquiry, invites participants to draw conclusions to answer big questions.[7]
This sort of "scaffolded inquiry,"[8] which allows for a sharing but not a relinquishing of authority, provides a space in which those who might be better defined as simply citizens, rather than citizen scholars, can still work alongside us.
The Quilt Index fan page does have several individuals who are clearly visiting the fan page for the purpose of participation in research. In fact, one of our fans in Pakistan (another indicator of the very international nature of this scholarly exchange) alerted me that a ralli quilt[9] that I had posted during "International Week" had an incorrect provenance. According to its donor-submitted metadata, the quilt was made in India. However, the fan argued that it was actually made in Pakistan. I was later able to do some research to prove the fan's assertion, resulting in the updating of the quilt's record. (See the image in the web version of this essay at http://WritingHistory.trincoll.edu.)
Taken together, these short anecdotes on co-curating Quilts of the Day, crowdsourcing the ralli quilt record, and connecting with the author of Homage to Amanda (culled from numerous examples of such interactions on the Quilt Index Facebook page) may be understood in the context of what cybertheorist Pierre Lévy termed "collective intelligence." In Cyberculture, Lévy describes the collective intelligence brought about by online communication.
My hypothesis is that cyberculture reinstates the copresence of messages and their context, which had been the current of oral societies, but on a different scale and on a different plane. The new universality no longer depends on self-sufficient texts, on the fixity and independence of signification. It is constructed and extended by interconnecting messages with one another, by their continuous ramification through virtual communities, which instills in them varied meanings that are continuously renewed.[10]
One can understand the collective intelligence of lay scholars' crowdsourcing of history in this way: no one historian knows everything, and everyone actively posting content has something slightly different to offer the community. All of the content produced and posted by lay quilt scholars amounts to the collective intelligence of the quilt world, a body of knowledge that no one individual can ever know in its entirety, for it is simply too vast. Collectively, these social citizen scholars have created a massive, fairly cohesive body of knowledge online. I see this collaborative, corporate way of producing and sharing knowledge as a new genre of historical writing and research,[11] a genre that challenges but need not overthrow traditional academic assumptions about single authorship and the roles of lay scholars.
Social media shifts the role of authority from being vested solely in a historical cultural domain, such as the museum or the university history department, to being shared with a community- or user-generated body of information that is critiqued within the community. Academic historians are beginning to recognize that this outpouring of lay scholarship on Facebook and through other social media outlets is neither to be ignored nor to be feared. The ability of citizen scholars to engage in historical inquiry on Facebook pages such as the Quilt Index's fan page is strengthening, rather than eroding, the connection between lay historians and museum professionals and other academics. In fact, I myself (an academic historian) have cited Facebook comments before. Facebook is challenging the traditional channels of scholarly communication, and crowdsourcing is changing the way in which I approach the writing of history.


Acknowledgments: I am grateful to my colleagues at the Quilt Index—Marsha MacDowell, Mary Worrall, Justine Richardson, and Amy Milne—for their help and guidance with this project. I also very much thank those who provided comments and questions during the open peer review, especially Timothy Burke, Bethany Nowviskie, and Barbara Rockenbach. A big thank-you goes to Beth Donaldson, herself a lay quilt historian, who recently took over for me as Quilt Index social media manager after I accepted my current faculty position.
Notes
1. In this essay, the terms lay scholar, lay historian, and citizen scholar are all used more or less interchangeably, to indicate someone who produces (historical) scholarship without having attained a postbaccalaureate academic degree, the MA or PhD in history or a related discipline. These terms are all used to contrast such scholars to the academic historian, who possesses such a credential and often works within a university or museum setting. When used on its own in this essay, the term scholar refers simply to a person who participates in historical research and writing.

2. Elissa Frankle, "More Crowdsourced Scholarship: Citizen History," blog of the Center for the Future of Museums, July 28, 2011, http://futureofmuseums.blogspot.com/2011/07/more-crowdsourced-scholarship-citizen.html.

3. The Quilt Index (http://www.quiltindex.org) is a partnership project between Michigan State University's MATRIX: The Center for Humane Arts, Letters, and Social Sciences Online, the Michigan State University Museum, and the Alliance for American Quilts. It has been funded in part by grants from the National Endowment for the Humanities and the Institute for Museum and Library Services.

4. Quilt Index Twitter feed, http://www.twitter.com/quiltindex; blog, http://www.quiltindex.org/news; wiki page, http://www.quiltindex.org/~quilti/wiki/index.php/Main_Page; Facebook fan page, http://www.facebook.com/quiltindex.

5. Statistics and countries given are according to Insights, Facebook's internal analytics application for managers of fan pages.

6. Roderick Kiracofe, Homage to Amanda: Two Hundred Years of American Quilts (San Francisco: R K Press, 1984).

7. Frankle, "More Crowdsourced Scholarship."

8. In learning theory, the term scaffolded inquiry refers to a social constructivist idea in which learning is facilitated by a framework, or scaffold, constructed by the content expert. Scaffolded inquiry can also facilitate collaboration with peers.

9. Ralli quilts are a traditional form of quilted patchwork produced in Pakistan and northwestern India.

10. Pierre Lévy, Cyberculture (Minneapolis: University of Minnesota Press, 2011), xiv.

11. Bethany Nowviskie, comment on Amanda Grace Sikarskie, "Citizen Scholars," in Writing History in the Digital Age, web-book ed., Fall 2011 version.

The HeritageCrowd Project: A Case Study in Crowdsourcing Public History
Digital history is public history: when we put materials online, we enter into a conversation with individuals from all walks of life, with various voices and degrees of professionalism. In this essay, we discuss our experience in relinquishing control of the historical voice in order to crowdsource cultural heritage and history. What is the role of the historian when we crowdsource history? Whose history is it anyway—the historian's or the crowd's? Which crowd can lay claim to it?
Wikipedia, the exemplar par excellence of what crowdsourcing can accomplish, has perhaps the most succinct and elegant definition of the term: "a distributed problem-solving and production model."[1] This definition dovetails nicely with recent polemics about the nature of the digital humanities more generally, where digital work is not just about solving a problem but also about "building things," as Steven Ramsay has argued.[2] Notice that this definition says nothing about the nature of the crowd, its professionalism, or its training; there is an implicit suggestion that "anyone" can be part of the crowd. Notable projects that crowdsource historical problems range from Ancient Lives, a project to transcribe the Oxyrhynchus papyri; to Transcribe Bentham, a project to transcribe the papers of Jeremy Bentham; to the National Geographic Society's Field Expedition: Mongolia, where contributors study satellite images of Mongolia to help direct the archaeological survey team on the ground.[3]
Roy Rosenzweig has made the case for the need for historians to engage audiences outside the discipline, as well as for the power of historical narratives to bring about social justice.[4] On a similar note, in 1932, Carl Becker, taking part in what was already an old discussion about the professionalization of history, wrote, "If the essence of history is the memory of things said and done, then it is obvious that every normal person, Mr. Everyman, knows some history."[5] In the age of Wikipedia as the go-to place for historical knowledge and of increased funding cuts to humanities research, the need to reach out to the public has never been greater. Edward L. Ayers argued that while a "democratization of history" has taken place since the emergence of new historical fields in academia, a "democratization of audience" has yet to come.[6] Digital history has the potential to address these concerns by linking members of a community together to collaborate on historical projects.
Nevertheless, the Internet is not an inherently even playing field; to digitize is not to democratize.[7] Technical literacy, closed algorithms for search engines, unequal access to quality hardware, and poor Internet connections mean that there is a disparity among users in their ability to manipulate the Internet for their own purposes.[8] Colleen Morgan points out that "when even considered," the audience for digital work "is almost always assumed to be male, white, western users of technology, a broadly defined 'public' for whom digitality is an obvious boon."[9] To put historical materials online is not a neutral process; to ask the crowd to solve a problem has the effect of creating self-selected groups, people who participate not just by interest but also by technological proficiency.
Our own project, which we christened HeritageCrowd, attempts to take these issues into account as we provide tools for the group expression of local history and heritage in certain rural communities in Eastern Canada, using low-tech "old digital media," such as short message service (SMS) and voice mail, built into a web-based system.[10] We wanted to bring the potential of digital technology to bear on a region with relatively low Internet access but also a relatively high interest in local history. (See the images in the web version of this essay at http://WritingHistory.trincoll.edu.)
Canadians may lead the world in Internet use,[11] but this usage is not distributed equitably—for instance, across the rural and urban divide.[12] Many rural museums and cultural heritage organizations do not have the technical expertise, human resources, or funding to effectively curate and interpret their materials, let alone to present them in a comprehensive manner over the Internet. These organizations constituted our ideal "crowds" for this project. We used two web-based platforms. The first platform is Ushahidi, a system developed in Kenya in the wake of the 2008 election violence, allowing for quick "reports" to be posted to a map via SMS messaging, voice mail (using voice-to-text software), Twitter, e-mail, and web forms.[13] The second platform is Omeka, from the Rosenzweig Center for History and New Media at George Mason University, which we use to archive and tell "stories" built around the contributions submitted on the Ushahidi platform.[14]
Local history associations and other heritage groups form the backbone of a community's collective memory, preserving and performing their sense of historicity. At its more elementary level, the goal of our project was simply to assist local heritage initiatives by creating a web-based system that could store and accept short, text contributions. The submissions that came in were then approved by members of the project team and enabled on the Ushahidi-powered site, where they were placed as reports on a map of the region.[15]
Top of page