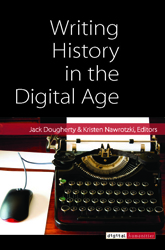 Writing History in the Digital Age
Skip other details (including permanent urls, DOI, citation information)
Series: Digital Humanities
: Ann Arbor, MI: University of Michigan Press, 2013.
Permissions: This work is licensed under a Creative Commons Attribution-NonCommercial-NoDerivatives 3.0 License. Please contact digital-culture@umich.edu to use this work in a way not covered by the license. The print version of this book is available for sale from the University of Michigan Press.
For more information, read Michigan Publishing's access and usage policy.
Introduction
Has the digital revolution transformed how we write about the past? Have new technologies changed our essential work-craft as scholars and the way in which we think, teach, author, and publish? Does the digital age have broader implications for individual writing processes or for the historical profession at large? These are the questions addressed in this collection of essays. Here, historians discuss how our means of creating interpretations about the past are challenged and reshaped by a range of electronic tools and techniques, including crowdsourcing, blogging, databases, spatial analysis, visual media, gaming simulations, and online collaborations. Bound together as a book in paper and electronic forms, our essays seek to explicate and embody the promise that the digital age holds for writers of history, while at the same time upending conventional beliefs about and practices of publishing scholarship.
Embedded within this book are arguments for rethinking how we academics create and share knowledge, particularly in history and other humanities fields that have been relatively slow to embrace change in this new era of digital tools and publishing. We historians tend to research and write in isolation. Hiding behind our respective curtains, we typically author long monographs that may take several years to reach any sort of audience at all. Then, after such a long period of investment, the stakes are often especially high for the newly revealed work to be well received within its field. Even when we do share shorter works, such as a chapter in a collection of essays, the results can be disappointing. Reviewers politely refer to poorly implemented volumes as having "uneven quality" or, less politely, as "staple jobs." Although individual essays in conventional edited volumes may represent good scholarship, the lack of intellectual relationship or at least of recognition between them often results in volume-level flaws ranging from sheer repetitiveness to perplexing contradiction, with many steps in between.
Part of the problem traces back to conventional practices of creating this knowledge. Traditionally, a "call for papers" announcement is circulated, individual contributors submit completed chapters, and volume editors make cuts, suggest revisions, and strive to package the compilation as a whole. Under this model, authors typically have little access to each other's ideas or drafts during the generative or revision periods and therefore lack the capacity to share comments and build connections across the volume. A common result is a whole that is not greater than the sum of its parts. To challenge convention, we asked ourselves: Could technology help us to create a more intellectually collaborative volume, with a more transparent process, in a relatively shorter period of time? And if so, would it produce a better book?
This volume represents the results of our experiment and, in three ways, exemplifies for historians a radically different approach to publishing. First, the book is born digital, meaning that we published it on the web in stages, as it developed, and relied on collaborative web tools for contributors to share ideas, drafts, and comments. Some even coauthored their essays on the web. What better way for historians to reflect on digital tools than to use them to write a book? In the spirit of the open web, we made the normally behind-the-scenes development of the book more transparent. In the section "How this book evolved" on our project website, we trace the development of the volume, beginning with our fall 2010 pilot project and continuing through our subsequent correspondence and contract with the University of Michigan Press and early exchanges between authors during the essay idea phase in the spring of 2011. Similarly, the "How it works" section of our website shares details on the open-source WordPress platform that hosts our essays and commentary.
Second, instead of being subjected to anonymous private review, this book benefited from open peer review on the web. During an eight-week period in the fall of 2011, four experts appointed by the press, along with general readers and many of our authors, posted over 940 online comments on our essays. As our "How to comment" tutorial on the website explained, we invited public responses on three levels: general comments on the book as a whole, an individual essay page, or a specific paragraph. All commenters had to identify themselves, using a full name; no anonymous feedback was permitted. The objective was to encourage all readers—invited experts and general audiences, senior scholars and students alike, regardless of professional status or institutional affiliation —to openly participate in the process of peer review and to engage in dialogues about what "good writing" means in history. Our approach draws from open peer review innovations in other humanities fields, such as Kathleen Fitzpatrick and Katherine Rowe's reflections on their experience with Shakespeare Quarterly.[1] Furthermore, to publicly recognize the work of the open peer reviewers, we invited two of the most thoughtfully engaged commentators to collaborate with us in writing this volume's concluding reflections about the process.
Finally, the digital version of this volume is open-access, shared freely with readers on the public web. Unlike proprietary models, no subscription fee or password is required to view or comment on our scholarship. Based on open-source software, the web-book version of this volume can be read on current versions of all major browsers for desktop or laptop computers (and on most tablet and phone devices, though with limited ability to post comments). We embrace the arguments, advanced by historian Roy Rosenzweig and others, that open-access scholarship is more widely discoverable, useful, and consistent with the principles of our scholarly societies.[2] As described in our "Editorial and intellectual property policy" on the website, all contributors agreed to distribute the content of their essays under the Creative Commons Attribution-Noncommercial (BY-NC) license for the site, whereby authors retain the copyright to their work while making a nonexclusive agreement to freely share it with others, as long as the original source is cited.[3] Furthermore, as outlined in our book contract, upon approval of the final manuscript, the University of Michigan Press also agreed to publish it under a Creative Commons license in at least two formats: a print edition (for sale) and an online version (for free).
Wrapping all three qualities—born digital, open peer review, and open access—into one volume makes a unique contribution to our field and illustrates our rethinking of the meaning of "publishing," how we do it, and why. In Writing History in the Digital Age, our proposition is simply that wisely implemented web technology can help us to collaboratively create, constructively criticize, and widely circulate our writing in ways more consistent with our scholarly values. Our challenge was to openly test and demonstrate a different way of working together as writers to build a better-quality edited volume. Our call for essay ideas, conducted in the spring of 2011, required prospective contributors to express their initial ideas on the public web, where others could respond and cross-fertilization could take place before essays were fully drafted. Welcoming invited experts and general readers to participate in our open peer review in the fall of 2011 allowed the "wisdom of the crowd" to shape our developmental editing and our final decisions on which essays should advance to the final round. Finally, partnering with an innovative academic press to publish the volume in dual formats (paper for sale and online for free) vastly increases its audience beyond the typical high-priced hardbound-only edition. In all of this, we have seen technology not as the goal but, rather, as a tool that enables us to rethink scholarship-as-usual.
Top of page