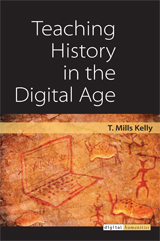 Teaching History in the Digital Age
Skip other details (including permanent urls, DOI, citation information)
Series: Digital Humanities
: Ann Arbor, MI: University of Michigan Press, 2013.
Permissions: This work is licensed under a Creative Commons Attribution-NonCommercial-NoDerivatives 3.0 License. Please contact digital-culture@umich.edu to use this work in a way not covered by the license. The print version of this book is available for sale from the University of Michigan Press.
For more information, read Michigan Publishing's access and usage policy.
5. Making: DIY History?
A 0 survey by Robert Townsend of the American Historical Association makes it abundantly clear that historians teaching at American colleges and universities remain profoundly skeptical of the value of using digital media to teach their students about the past. Although wide majorities of those teaching undergraduates have adopted slideware such as PowerPoint to display images or outlines on a screen, only a tiny fraction use any of the new digital platforms that offer users the opportunity to engage one another or to generate their own online content (blogs, wikis, social-networking platforms like Facebook or Twitter).[3] Only slightly more than half of those responding to Townsend's survey indicated that they use any online sources in their undergraduate courses. These findings stand in stark contrast to what we know about how students seek out and work with historical content—online sources are almost always their first (and perhaps even second and third) choice before turning to more traditional media like printed sources. Townsend's findings also stand in stark contrast to historians' use of digital media in their own work. Almost 70 percent of the more than 4,000 historians responding to his survey say they regularly use online sources. The disconnect between historians' attitudes about their own use of online content and their students' use of content in that same medium is surprising at best, shocking at worst.
But the problem goes deeper than this disconnect. It is not just that those teaching history courses at American colleges and universities to undergraduates discourage their students from doing what they themselves do. Those same historians are watching from the dock as the ship called Web 2.0 sails away, carrying our students off to a distant shore that we almost never visit. Surveys of American young people, such as those conducted by the Pew Research Center, demonstrate just how actively the students in our classrooms participate in the Web 2.0 world that is all about connections between users (social networks), users creating content instead of passively consuming content, and users bending the technology to their own needs.[4] Townsend's data indicate that fewer than 10 percent of faculty teaching undergraduate history courses in the United States use Web 2.0 media such as blogs, Twitter, wikis, or Facebook, or other social-networking platforms in their classes. The data cited earlier (from the Pew Internet project) indicate that more than 75 percent of all Americans between the ages of 18 and 29 have created one or more profiles on a social-networking site, and that while only 14 percent have used Twitter, this age group represents the most active among Twitter users.[5] As these two very different surveys indicate, history teachers are using technology to teach their students about the past in ways that are very far removed from the reality of students' lives—at least the technologically mediated aspects of those lives. We already know that students are voting with their feet when it comes to using or not using digital media—and they are voting in favor of the digital world despite any disinclination their professors might show.
In addition to the fact that students are much more avid users of digital media for learning than we might prefer, historians need to consider the many ways that students are beginning to use those media to create new and often quite different forms of history. I have already described the newsreel that one of my undergraduate students "fixed" for me in a Western Civilization class half a decade ago, and how that student's work seemed to me to be a precursor of an emerging sensibility about the malleability of historical content among undergraduate students. It is worth remembering that students live in a remix culture—where popular music, film, and fiction all draw on multiple sources—many of them created by other authors, directors, or musicians, and repackage that content in new ways to create cultural artifacts that often have large audiences. It is from this culture that we get media such as Sophia Coppola's 200 film Marie Antoinette (2006), which combined such historical moments as a masquerade ball in prerevolutionary Versailles with a soundtrack featuring Souixsie and the Banshees, novels such as Seth Grahame-Smith's Abraham Lincoln: Vampire Hunter, and Ben H. Winters's literary mash-up, Sense and Sensibility and Sea Monsters.[6] While historians might be tempted to scoff at such mash-ups and remixes as ahistorical or simply silly, the popularity of such work cannot be denied. Grahame-Smith's Lincoln novel debuted at number four on the New York Times best-seller list and has been made into a feature film. Film remixes of the past have been around for as long as feature films have existed. As Princeton University's Natalie Zemon-Davis has argued, historical feature films are better seen as "thought experiments," rather than necessarily historically accurate, and so should be judged by a different set of standards than historical accuracy.[7] After all, as Davis points out, historians have a long history of using "made up, but appropriate speeches" by prominent historical figures.[8] Only in the past several centuries has this practice fallen out of favor. How many students of the ancient world have read Pericles's oration after the battle of Marathon without having any idea that this speech—considered by many to be one of the great moments in Western oratory—was Thucydides's imaginative mash-up of what he imagined Pericles might have, or should have, said?[9]
Already, we are seeing signs—more than just the "fixed" newsreel that my student brought to my Western Civilization class—that historians and their students are creating new and different ways to represent their research about the past. For instance, Canadian educator Neil Stephenson has created something called the "Cigar Box Project," in which his grade-seven students tell the story of Canadian history with cigar box panels they create in digital media (eventually building their own boxes). The mash-ups of Canadian history they create are rooted in notions of the past that any historian would understand and approve of, but also reveal a playful sensibility about design, historical presentation, and originality that might make many history teachers uncomfortable.[10] Similarly, the popular video-sharing and social-networking website YouTube is filled with remixes of historical video. To cite but one example, a fruitful hour could be spent examining all the ways the story of the "Tank Man" of Tiananmen Square in 1989 is being told on YouTube. You can watch American television news footage of his courageous act of standing in front of a line of tanks (an original source of sorts). One can watch Chinese state news footage of this same event (the same video, but a very a different version of the narrative of his actions), or one can watch remixes of those broadcasts with entirely new audio tracks—everything from classical piano to rock and roll. Perhaps the most interesting version currently available is one that mashes up the now-iconic footage of the Tank Man facing down a line of tanks with a speech by the American student activist Mario Savio on the steps of Sproul Hall at the University of California, Berkeley, on December 2, 1964. As we watch the events in China, we hear Savio speaking.
This particular version of the Tank Man story is "Little Man vs. Big Machine," and is set to Boards of Canada's "Music is Math"—a far cry from the audio tracks of CNN or Chinese state television. Since this particular version of the Tank Man video appeared on YouTube it has had more than 360,000 views (as of January 1, 2012). How many historians of the events of 1989 in China can claim an audience of that size? Moreover, this video remix of the Tank Man's exploits is just one of dozens of remixes of that same short video clip—everything from a short clip on how to dance the "Tank Man Tango," to a serious eight-part documentary film on Tiananmen Square and the Tank Man's role in it. Each of these is an authentic, if not original, representation of those events—in their own way "thought experiments," to use Natalie Zemon Davis's way of describing what filmmakers do when they make history on film.[12] My own student's remix of that Nuremberg video was of a piece with these other thought experiments. Lest you doubt the power of video sharing websites such as YouTube, according to Michael Wesch, since 1948 the three major American television networks (ABC, NBC, CBS) have delivered approximately 1.5 million hours of programming over the airwaves, while YouTube users uploaded more than that in the first six months of 2008.[13]
Of course, the majority of what is uploaded to YouTube is not what we might call quality programming, but somewhere in the 9,000-plus hours of video uploaded to the website each day, some of that material is of a quality equal to or better than what appears on the legacy networks—and almost all of that content is created not by studios, but by individuals. While historical video would not make any Top Ten list of tomorrow's uploads, the thousands, if not tens of thousands, of historical videos—remixes and original versions—attest to the power of this medium to shape students' understanding of the past. Among the more popular historical video channels on YouTube at the moment when I wrote the final draft of this book was "Music for History Lovers," the creation of high school history teachers Amy Burvall and Herb Mahelona. Burvall and Mahelona have converted the history of Western Civilization into a series of MTV-like music videos that combine a very playful sensibility with a serious teaching purpose. Between April 2008 and December 2011 their YouTube channel had registered more than 4.2 million views of videos ranging from the history of the Trojan Wars set to a song by Culture Club, to a history of the French Revolution set to a song by Lady Gaga. As Burvall and Mahelona explain in a TED talk in November 2011, their work includes a significant amount of collaboration with their students—everything from photography to lyrics—and that by opening their work to a global audience through digital media, that work has been transformed by feedback received from their increasingly huge audience.[14] At least in the realm of digital video, we have already reached the stage where Carl Becker's Mr. Everyman has indeed become his own historian.
What is a historian to do when faced by this emerging sensibility about a malleable past? One option is to ignore it, deny its existence, or simply forbid students to have anything to do with it, as the members of Middlebury College's department of history did several years ago when they banned the use of Wikipedia in their courses.[15] The other option is to take a more forward approach to teaching students about the past and at least make an attempt to meet them where they live. Instead of assuming that "students don't benefit from the use of many types of technology" as the anonymous professor quoted at the outset of this chapter believes, we should do our best to teach them how to make the most of digital media by taking advantage of their creative impulses. We need to give them room to create, even as we teach them to think like historians.[16] What follows is one example of how I have approached the challenges posed by students' views of how the past can, or should, be used, analyzed, and presented. The course described below evolved from several years of thinking about how best to address both the pervasive problem of students' lack of skepticism about sources—online or analog—and their interest in creating content for the Internet, rather than merely consuming it and regurgitating what they consumed in a five-, seven-, or ten-page paper. I also wanted my students to have some fun while they were confronting real historical issues. The results of this teaching experiment have not been without controversy. More than a few historians and librarians (and even someone posting on my blog under the name Jimmy Wales—the founder of Wikipedia) were not amused. I have been called "pond scum," "sociopathic," and even received one death threat after a writer for the Atlantic.com wrote a story about the second iteration of the course.[17] Others found the exercise thought provoking and worthy of deeper consideration. Wikipedia editors had an energetic debate about what to do about the way my students decided to use Wikipedia in their projects—a debate that offers some very interesting insights into the thinking processes and community standards of the world's largest encyclopedia.[18] The point I would like to make with this example is not that it should be emulated in the specific, but rather, in the general sense, by which I mean it demonstrates the power of meeting students where they live in the digital world. If they make history using digital media, they are much more likely to understand history, and to embrace it as more than just a subject they are interested in. They will become historians themselves, some of them in ways we have not yet thought of.
Top of page