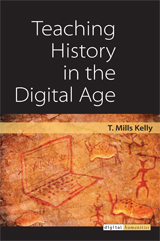 Teaching History in the Digital Age
Skip other details (including permanent urls, DOI, citation information)
Series: Digital Humanities
: Ann Arbor, MI: University of Michigan Press, 2013.
Permissions: This work is licensed under a Creative Commons Attribution-NonCommercial-NoDerivatives 3.0 License. Please contact digital-culture@umich.edu to use this work in a way not covered by the license. The print version of this book is available for sale from the University of Michigan Press.
For more information, read Michigan Publishing's access and usage policy.
2. Finding: Search Engine–Dependent Learning
As recently as fifteen years ago, historians were trapped in what John McClymer calls a pedagogy of scarcity.[1] With only so many historical sources available for students to work with; that is, those in print and those available at whatever archive or library might be close-by, the scope of our teaching about the past was limited to that which our students could reasonably study. In my own teaching on the history of Eastern Europe (from Poland south to Bulgaria), the scarcity of available sources was particularly acute because only a tiny fraction of my students could read any of the languages of the region, and East European history is such a small corner of the historical profession that only a few document readers were available that offered sources in translation. As a result, I had to design my teaching around what was available. I could talk about other topics, could refer students to the paragraph or two in a textbook that dealt with this or that issue, and could even assign a good monograph or two on just about any topic they were interested in. But my students could not do much, if any, real historical research on a topic in East European history unless that issue or event in some way included Americans or British citizens or interests, and so was therefore covered in the English-language press or government documents. Were it not for the heroic efforts of my dissertation advisor to have more than two dozen important documents from the history of East European nationalism translated into English, my options as a teacher and my students' options as historians would have been even more limited than they were.
As anyone who has ever searched for historical information online knows, those days of scarcity are gone forever.[2] Today, a student searching for information on any historical topic will find more primary sources than he or she can possibly cope with, and if this student waits a day or two, the volume of available primary source information will have increased significantly. As Roy Rosenzweig warned in 2003, "historians need to be thinking simultaneously about how to research, write, and teach in a world of unheard-of historical abundance."[3] The magnitude of that abundance is all around us online. The American Memory Project at the Library of Congress now offers more than 15 million primary sources for anyone to use in their research. The online image database Flickr contains more than 4.5 billion photographs, and the Library of Congress has announced that it will begin archiving everything posted to Twitter—approximately 50 million tweets per day (over 18 billion per year if the traffic on that website does not increase).[4] These are but three examples of the almost unlimited supply of historical primary sources posted online. Are you interested in Karl Marx? The website Marxists.org offers virtually everything Karl Marx ever wrote, plus works from almost 600 other authors representing a total of more than 53,000 documents from the history of the political left.[5] How about the history of consumer culture in the United States? The Ad*Access database at the Duke University Library offers high-resolution images of more than 7,000 print advertisements for everything from airlines to televisions.[6] Do you need a high-quality image of a rare eighteenth- or nineteenth-century map? The David Rumsey Map Collection offers users access to more than 22,000 high-resolution scans of such maps—some of which are available online only at this website, and the Perry-Castañeda Library at the University of Texas offers an additional 11,000 map images on their website.[7]
What does this incredible abundance mean for historical pedagogy? The most important result of the changes this abundance brings to the history classroom is that we can no longer control the information students have access to. Our students are no longer forced to rely on what we assign to them as the essential sources of information for the problems posed in a course. Instead, they wander off into the digital forest looking for additional information that may help them answer a question we pose, write a paper, come to class prepared to discuss a topic, or just pursue a line of personal inquiry suggested by something that came up in class. George Landow—one of the most prolific early adopters of digital media for his courses in literature—says that when students pursue their own lines of inquiry, they embark on unmediated intellectual quests, free from the control of faculty, textbook publishers, or others who might have controlled their inquiries in prior years.[8] This freedom to inquire turns the traditional relationship between student and teacher on its head, because with essentially unlimited access to historical information—for good or ill—students are no longer dependent upon their teachers for access to information that was once doled out to them. Even if we assume that in prior decades, students could go to the library and browse the stacks as a means to pursuing their own lines of inquiry, now, those libraries—where so many historians found a home in their own student years—could not rival the abundance now available on students' computer screens. For example: a delimited Google search run on January 5, 2011, on the name "Abraham Lincoln" produced 7,540,000 websites; 1,670,000 images; 10,600 videos; 1,320,000 books; and 121,000 scholarly articles. A further search on Lincoln across the multiple databases of newspapers provided by ProQuest Historical Newspapers produces another 80,252 citations. Together these add up to 10,741,852 possible resources for a student interested in Lincoln, his life, and his career. By contrast, a similar search of the catalog of the Library of Congress produced 4,277 citations, and such a search in the catalog of my university's fairly small library produced 871. Even allowing for significant duplication in the Google search returns, it is clear that there is just too much information online to work with in a practical way at this moment in the life of the Internet, and this problem of abundance gets worse with each passing day.
Clearly no one, not even the most experienced Lincoln scholars, can make sense of all those sources, and I am not suggesting that our students do anything like that. In fact, my own research on students' use of the Internet indicates that most do not embark on anything so prosaic as an "intellectual quest" as Landow envisioned it. Instead, they are most likely to be quite instrumental in the ways that they search for, retrieve, and use historical information available online.[9] Regardless of how deeply they delve into the digital archive, what is clear, however, is that with each passing year they rely less and less on conventional sources of information provided to them by their instructors (just ask your bookstore manager how many students bother to purchase a textbook), and more and more on readily available (and increasingly free) sources of information online. This removal of hierarchical controls over information in the digital realm is called disintermediation, and it has profound implications for how we teach students about the past.[10] A simple example of how disintermediation has transformed an industry is airline travel. Two decades ago a significant majority of airline travelers relied on professional travel agents to find and book flights for them. Recent research on the travel industry shows that almost 60 percent of all airline flights are booked online, and that traditional travel agencies have been relegated to niche players—booking complicated multi-destination trips; arranging group travel; or catering to wealthy, older, or very frequent flyers.[11] Passengers booking straightforward trips, especially those who have grown up with the Internet, use traditional travel agencies less and less each year. While I do not expect the history teacher to go the way of the travel agent any time soon, disintermediation is now a reality in our industry, just as it is in the travel industry, and we cannot ignore it, no matter how much we might want to. Already, we see the results of our loss of control over the information our students use whenever one of our students turns in a paper citing sources that, upon closer inspection, make us wince and the student blush when we point out the deficiencies in those sources. Conversations about these "oops moments" abound at professional conferences and among colleagues over coffee, but only rarely do these conversations take into account the ways that disintermediation has already transformed our field.
Because we have largely left our students to their own devices when it comes to finding historical information online, they have had to draw their own conclusions about how to proceed. Along the way, and almost entirely on their own, they have learned some lessons.
Top of page