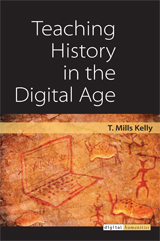 Teaching History in the Digital Age
Skip other details (including permanent urls, DOI, citation information)
Series: Digital Humanities
: Ann Arbor, MI: University of Michigan Press, 2013.
Permissions: This work is licensed under a Creative Commons Attribution-NonCommercial-NoDerivatives 3.0 License. Please contact digital-culture@umich.edu to use this work in a way not covered by the license. The print version of this book is available for sale from the University of Michigan Press.
For more information, read Michigan Publishing's access and usage policy.
33. Peter Novick, That Noble Dream: The "Objectivity Question" and the American Historical Profession (Cambridge: Cambridge University Press, 1988), 26–30; George G. Iggers and James M. Powell, eds., Leopold Von Ranke and the Shaping of the Historical Discipline, 1st ed. (Syracuse, NY: Syracuse University Press, 1990), xix–xx.
 [ 
return to text
 ] 
Top of page