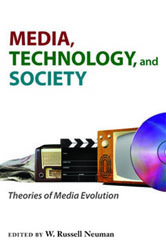 Media, Technology, and Society: Theories of Media Evolution
Skip other details (including permanent urls, DOI, citation information)
Series: digitalculturebooks
: Ann Arbor, MI: University of Michigan Press, 2010.
Permissions: This work is licensed under a Creative Commons Attribution-NonCommercial-NoDerivatives 3.0 License. Please contact digital-culture@umich.edu to use this work in a way not covered by the license. The print version of this book is available for sale from the University of Michigan Press.
For more information, read Michigan Publishing's access and usage policy.
Page  141
Some Say the Internet Should Never Have Happened
Nobody who reads this book will need to be told that the Internet is among the modern wonders of the world, a technological marvel that now underpins much of global commerce, communication, and knowledge. Like all wonders, and precisely because of its pervasive presence in every corner of modern life, the Internet's history lies shrouded in myth. The truth-value of such founding myths rarely matters as much as their dramatic and moral qualities, and the Internet is no exception.
Good myths need lonely heroes, visionaries embarked on long and arduous journeys in search of sacred grails, which they win through struggle and ordeal. The Internet's origin myth does not disappoint. Once upon a time, it goes, a tiny cadre of computer scientists at elite universities and think tanks realized that connecting computers into a giant network would bring untold benefits, all the way from sharing machines, files, data, and programs to serving as a new Alexandrian library. They knew it would take decades, but they persevered against all odds. Enduring great resistance, they built the first computer networks and then linked them together into the Internet. Funded by the U.S. Defense Department's Advanced Research Projects Agency (ARPA), and blessed by enlightened project managers who trusted their brilliance, their project survived and progressed only because of their dedication and persistence. Their community thrived on an open, meritocratic philosophy, which they embedded in the Internet's technology. In the 1980s, their hard-won victories faced a final peril, when international standards negotiations threatened to recentralize networking and sub- Page  142 ject it to government control. In the 1990s, our heroes' generation-long struggle was finally rewarded. The Internet's crown jewel, the World Wide Web, shone forth, bringing a new age of enlightenment in which billions could access the sum of human knowledge. The exponential growth of the Internet and the World Wide Web was unprecedented, unique in human history, world-transforming.
In this story, the Internet should never have happened. The forces arrayed against these lonely heroes seemed invincible. No commercial firm would have invested in internetworking, since it would undermine companies' interests in securing a customer base. Yet in the end, through stealth, persistence, and brilliant ideas, the heroes prevailed at last. According to this myth, without ARPA's long-term vision and massive financial support, computer networking might have been locked into a much more restrictive, centralized form, controlled by byzantine bureaucracies and giant corporations, preventing the flowering of innovation.
Like all good myths, this one has some basis in reality. Brilliant scientists really did spend decades working out Internet protocols and software. Enlightened managers at ARPA really did invest enormous sums and permit researchers to work almost without constraint. Early ARPANET, Internet, and web communities really did enshrine open and meritocratic (if not democratic) principles. Today's descendants of those principles guide the most vital, energetic forms of information technology, especially open-source software (Linux, Firefox), open-access knowledge (Wikipedia), and social networking (MySpace, Facebook). The Internet really has grown explosively, now reaching over a billion people—given a very generous definition of "reach"—and changing the way we live and think.
But all good myths also sacrifice details of reality in the service of exciting plots. There is always more to the story, and the Internet story is no exception.
So I will tell a different version. This tale places the ARPANET and Internet in the wider context of their times: the computing environment and the prevailing beliefs about the economics, the purpose, and the technology of computing and networking. This is not a story of technological determinism, in which one technology begets another as a matter of pure technical logic. Instead, my tale is driven by the conflicting motives of computer users and manufacturers; the incentives (financial, social, etc.) that led to sociotechnical change; visions and principles that differed from those of the ARPANET's designers; and the striking parallels between the Internet and earlier network technologies. Adding miss- Page  143 ing pieces reveals a surprisingly different picture—perhaps less exciting, but fuller, more complex, and more useful as a model for future sociotechnical systems. In my story, the Internet (or something much like it) had to happen, sooner or later.
Top of page