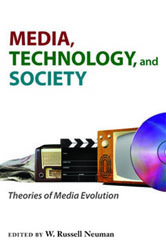 Media, Technology, and Society: Theories of Media Evolution
Skip other details (including permanent urls, DOI, citation information)
Series: digitalculturebooks
: Ann Arbor, MI: University of Michigan Press, 2010.
Permissions: This work is licensed under a Creative Commons Attribution-NonCommercial-NoDerivatives 3.0 License. Please contact digital-culture@umich.edu to use this work in a way not covered by the license. The print version of this book is available for sale from the University of Michigan Press.
For more information, read Michigan Publishing's access and usage policy.
Page  92
Inventing Television: Citizen Sarnoff and One Philo T. Farnsworth
Some believe we are undergoing a fundamental transformation of mass communication as the Internet replaces TV as the primary means of public communication and entertainment. This could have important consequences for the distribution of political and cultural power in society. Recently Nielsen//NetRatings reported that the average American online household is actively online over an hour a day and that Internet advertising is growing faster than any other medium. One way to better understand the political, technical, and economic character of these possible transitions is to look back at the issues that arose in the early days of radio and television broadcasting. One story comes immediately to mind.
It is the story of the invention and commercialization of television. Independent inventor Philo Farnsworth will play the role of our protagonist in our little teleplay. The antagonist is General David Sarnoff, the chairman of RCA and founder of NBC. He was a shrewd and ruthless businessman but also a visionary who laid the groundwork for our modern media system.
Whereas Farnsworth viewed Sarnoff as a gigantic but surmountable obstacle, Sarnoff viewed Farnsworth as just one more inventor to be held under his thumb. Buy him out cheap and reap the rewards. He did not realize that Farnsworth was different from all the other scientists and engineers he controlled, that this inventor was a throwback to an earlier Page  93 era. Out of the confrontation between these two mismatched men, the modern television tube would emerge, ingesting images of reality deep inside itself, then spitting out reordered flickers of phosphorescence into living rooms everywhere. By the time the inventor and mogul would die, in the very same year, the number of homes with televisions would surpass the number of homes with indoor plumbing. Philo T. Farnsworth and David Sarnoff were fighting over something more than just a box of lights and wires.
This chapter includes material used by permission from the author's book, The Last Lone Inventor: A Tale of Genius, Deceit and the Birth of Television (HarperCollins)
Top of page