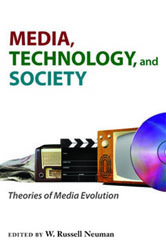 Media, Technology, and Society: Theories of Media Evolution
Skip other details (including permanent urls, DOI, citation information)
Series: digitalculturebooks
: Ann Arbor, MI: University of Michigan Press, 2010.
Permissions: This work is licensed under a Creative Commons Attribution-NonCommercial-NoDerivatives 3.0 License. Please contact digital-culture@umich.edu to use this work in a way not covered by the license. The print version of this book is available for sale from the University of Michigan Press.
For more information, read Michigan Publishing's access and usage policy.
Page  161
Privacy and Security Policy in the Digital Age
This may be in sharp contrast with the conventional wisdom, but I have come to conclude that privacy is better protected now by technical means than it ever has been in human history. How could this be so?
If you think about how messages have been traditionally sent by messenger, by carrier pigeon, by phone or fax—all before encryption— they were easily intercepted. These messages could be read by a casual observer, a postmaster and, of course, the police. Strong encryption, however, typically used in day-to-day communication, prevents routine violation of privacy. The capacity of strong encryption technologies to protect communication represents a significant factor of change— increasing the individual's power to protect privacy by a factor of a thousand, perhaps a million. This same principle applies as well to databases. Take health records, for example, databases often full of intimate details. Until rather recently, most patient medical records were kept on paper in file folders protected only by the lock on the file room door—a level of security easily overcome with a little effort. Now with the transfer to digital records, when encryption is engaged and the data is protected by access audit trails, the information is much more secure. The electronic audit trail provides an important level of security by identifying who entered the data as well as who accessed it and when it was accessed. It is not a matter of technological determinism, of course; it represents a technical affordance. In order to take advantage of the protective shield of encryption, one has to take the initiative to encrypt one's communication, whether routine or otherwise.
Page  162
In the wake of 9/11, however, some of this new potential for privacy has been diluted. The reasons for this are complex and require us to carefully examine the trade-offs between privacy, clearly an important and fundamental right, and other important values and rights. I have argued elsewhere that the implicit assumption that personal privacy trumps all other claims needs to be carefully examined. It may require a carefully crafted balance among core values. Perhaps it is best to understand this as a dynamic process akin to an arms race between technologies. Every year new technical means for invading privacy are invented as are new countermeasures. Government agencies such as the National Security Agency may become more intrusive, but private citizens have new and sophisticated security techniques available to them as well—it's a tug of war. The war has not been won or lost by either side; it is ongoing and that is the focus of this chapter. I will review the technical developments related to personal privacy in several technical domains—three that enhance personal privacy (I refer to them as liberalizing technologies): cellular phones, Internet communications, and strong encryption; and two developments that enhance surveillance (I label them public protective): technologies for intercepting digital communication, and technologies for intercepting actual computer keystrokes.
I argue that both individual rights and public safety must be protected. Given that on many occasions advancing one requires some curtailment of the other, the key question is what the proper balance between these two cardinal values should be. The concept of balance is found in the Fourth Amendment. It refers to the right not to be subjected to unreasonable search and seizure. Thus, it recognizes a category of searches that are fully compatible with the Constitution—those that are reasonable. Historically, courts have found searches to be reasonable when they serve a compelling public interest, such as public safety or public health.
The counterclaims of advocates on both sides are best understood within a historical context. Societies tend to lean excessively toward the public interest or toward liberty. Corrections to such imbalances then tend to lead to overcorrections. For example, following the civil rights abuses that occurred during the years J. Edgar Hoover was the director of the FBI, the attorney general imposed severe limitations on the agency in the 1970s. These limitations excessively curbed the agency's work in the following decades. The public safety measures enacted after September 11 removed many of these restrictions and granted law enforcement agencies and the military new powers. These changes arguably tilted excessively in the other direction. This overcorrection was Page  163 soon followed by an attempt to correct it (for example, by limiting the conditions under which military tribunals can be used and spelling out procedures not included in their preliminary authorization). Historical conditions also change the point at which we find a proper balance. The 2001 assault on America and the threat of additional attacks have brought about such a change. This chapter argues that we should strive to achieve a balance by focusing on accountability.
Top of page