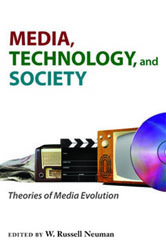 Media, Technology, and Society: Theories of Media Evolution
Skip other details (including permanent urls, DOI, citation information)
Series: digitalculturebooks
: Ann Arbor, MI: University of Michigan Press, 2010.
Permissions: This work is licensed under a Creative Commons Attribution-NonCommercial-NoDerivatives 3.0 License. Please contact digital-culture@umich.edu to use this work in a way not covered by the license. The print version of this book is available for sale from the University of Michigan Press.
For more information, read Michigan Publishing's access and usage policy.
Page  214
Contributors
pablo j. boczkowski is Associate Professor in the Program of Media, Technology, and Society at Northwestern University. His research examines transformations in the institutions and technologies of print culture in the digital age. His publications include the multi-award winning Digitizing the News: Innovation in Online Newspapers (MIT Press, 2004), the forthcoming News at Work: Imitation in an Age of Information Abundance (University of Chicago Press, 2010), and papers in numerous journals and edited volumes. He is currently writing up the results of recent studies about news, culture, and politics in Europe, Latin America, and the United States, and beginning to work on his next book, tentatively entitled How Institutions Decay: What the Demise of Print Newspapers Tells Us About the Unravelling of Social Formations.
john carey is Professor in Communications and Media Management at Fordham Business School. For many years he has directed the telecommunications consulting firm Greystone Communications. His current research focuses on broadband telecommunication networks and interactive television. Publications include "Plato at the Keyboard: Telecommunications Technology and Education Policy," "How Communication Technologies Enter American Households," "How New Media Affect TV Viewing," and "Interactive Media." His B.A. is from Fordham University, and his M.A. and Ph.D. from Annenberg School for Communications, University of Pennsylvania.
paul n. edwards is Associate Professor in the School of Information at the University of Michigan, where he writes and teaches on the history, politics, and culture of information technology and infrastructure. Page  215 Edwards is the author of The Closed World: Computers and the Politics of Discourse in Cold War America (MIT Press, 1996) and coeditor of Changing the Atmosphere: Expert Knowledge and Environmental Governance (MIT Press, 2001), as well as numerous articles, reports, and web sites. He founded the University of Michigan Science, Technology and Society Program and directed it from 2000 to 2003. With Gabrielle Hecht, Edwards is presently writing a book on the technopolitics of information infrastructure in South Africa. He is also leading the Monitoring, Modeling, and Memory Project ([monmodmem.org]), a three-year comparative study of large-scale cyberinfrastructure efforts in the earth and environmental sciences. Edwards' most recent book is The World in a Machine: Computer Models, Data Networks, and Global Atmospheric Politics (MIT Press, 2010).
amitai etzioni received his Ph.D. in sociology from the University of California, Berkeley, in 1958 and served as a Professor of Sociology at Columbia University for twenty years; part of that time as the Chairman of the department. He was a guest scholar at the Brookings Institution in 1978 before serving as a Senior Advisor to the White House on domestic affairs from 1979 to 1980. In 1980, Etzioni was named the first University Professor at The George Washington University, where he is the Director of the Institute for Communitarian Policy Studies. From 1987 to 1989 he served as the Thomas Henry Carroll Ford Foundation Professor at the Harvard Business School. Etzioni served as President of the American Sociological Association in 1994–95, and in 1989–90 was the founding president of the international Society for the Advancement of Socio-Economics. In 1990, he founded the Communitarian Network, a not-for-profit, nonpartisan organization dedicated to shoring up the moral, social, and political foundations of society. He was the editor of The Responsive Community: Rights and Responsibilities, the organization's quarterly journal, from 1991 to 2004 (in 1991, the press began referring to Etzioni as the "guru" of the communitarian movement). Etzioni is the author of more than twenty books, including The Monochrome Society (Princeton University Press, 2001), The Limits of Privacy (Basic Books, 1999), The New Golden Rule (Basic Books, 1996), which received the Simon Wiesenthal Center's 1997 Tolerance Book Award, The Spirit of Community (Crown Books, 1993), and The Moral Dimension: Toward a New Economics (Free Press, 1988). His most recent books include My Brother's Keeper: A Memoir and a Message (Rowman and Littlefield, 2003), From Empire to Community: A New Approach to International Relations (Palgrave Macmillan, 2004), Security First: For a Muscular, Moral Foreign Policy (Yale Page  216 University Press, 2007), and New Common Ground: A New America, a New World (Potomac Books, 2009).
Outside of academia, Etzioni's voice is frequently heard in the media. In 2001, Etzioni was named among the top one hundred American intellectuals as measured by academic citations in Richard Posner's book Public Intellectuals. In the same year Etzioni was awarded the John P. McGovern Award in Behavioral Sciences as well as the Officer's Cross of the Order of Merit of the Federal Republic of Germany. He was also the recipient of the Seventh James Wilbur Award for Extraordinary Contributions to the Appreciation and Advancement of Human Values by the Conference on Value Inquiry, as well as the Sociological Practice Association's Outstanding Contribution Award.
rich ling is a sociologist at Telenor's research institute located near Oslo, Norway, and is also a Visiting Professor at the IT University of Copenhagen. He has also been the Pohs visiting professor of communication studies at the University of Michigan in Ann Arbor, Michigan, and now he holds an adjunct position in that department. He is the author of the book New Tech, New Ties: How Mobile Communication Is Reshaping Social Cohesion (MIT, 2008). He is also the author of a book on the social consequences of mobile telephony entitled The Mobile Connection: The Cell Phone's Impact on Society (Morgan Kaufmann, 2004) and along with Per E. Pederson the editor of the book Mobile Communications: Re-negotiation of the Social Sphere (Springer, 2005). Along with Scott Campbell he is the editor of The Mobile Communication Research Series and he is an associate editor for The Information Society.
Rich Ling received his Ph.D. in sociology from the University of Colorado, Boulder, in his native United States. Upon completion of his doctorate, he taught at the University of Wyoming in Laramie before going to Norway on a Marshall Foundation grant. Since that time he has worked at the Gruppen for Ressursstudier (the resource study group), and he has been a partner in a consulting firm, Ressurskonsult, which focused on studies of energy, technology, and society. For the past thirteen years, he has worked at Telenor R&D and has been active in researching issues associated with new information communication technology and society with a particular focus on mobile telephony. He has led projects in Norway and participated in projects at the European level.
Ling has published numerous articles, held posts at and lectured at universities in Europe and the United States, and has particpated in academic conferences in Europe, Asia, Africa, Australia, and in the United Page  217 States. He has been responsible for organizing scholarly meetings and editing both academic journals and proceedings from academic conferences. He has received recognition as an outstanding scholar from Rutgers University and Telenor (more recently with the Telenor research award for 250,000 Norske Kroner). His analysis has appeared in Norwegian newspapers. He has been interviewed on The Discovery Channel, National Public Radio, and Norwegian TV as well as for periodicals such as the New York Times, the Economist, the Los Angeles Times, Der Speigel, News-week, Epoca (Brazil), the Toronto Globe and Mail, and Norwegian publications such as Aftenposten, VG, and Dagbladet. He has also had photographs used on the cover of Norsk Medietidsskrift and as a part of the Ex Ungue Leonem exhibition in San Francisco at the Ampersand International Arts Gallery, January 2009.
w. russell neuman is the John Derby Evans Professor of Media Technology in Communication Studies and Research Professor at the Institute for Social Research, University of Michigan. He recently returned from serving as a senior policy analyst in the White House Office of Science and Technology Policy, working in the areas of information technology, broadband policy, and technologies for border security. Coauthored books include The Gordian Knot: Political Gridlock on the Information Highway (MIT Press, 1997), Affective Intelligence (University of Chicago Press, 2000), and The Affect Effect (University of Chicago Press, 2007). Dr. Neuman taught at the University of Pennsylvania, where he directed the Information and Society Program of the Annenberg Public Policy Center. He also taught at Harvard and Yale and was one of the founding faculty of the MIT Media Laboratory. His Ph.D. is from the University of California, Berkeley, and his undergraduate degree is from Cornell University.
eli noam has been Professor of Economics and Finance at the Columbia Business School since 1976. In 1990, after having served for three years as Commissioner with the New York State Public Service Commission, he returned to Columbia. He is the Director of the Columbia Institute for Tele-Information. CITI is a university-based research center focusing on strategy, management, and policy issues in telecommunications, computing, and electronic mass media. In addition to leading CITI's research activities, Noam initiated the M.B.A. concentration in the Management of Media, Communications, and Information at the Business School and the Virtual Institute of Information, an indepen- Page  218 dent, web-based research facility. Besides over 300 articles in economics, legal, communications, and other journals on subjects such as communications, information, public choice, public finance, and general regulation, Professor Noam has authored, edited, and coedited some 25 books. His Harvard degrees include A.B. 1970 (Phi Beta Kappa, summa cum laude thesis); A.M., 1972; J.D. ,1975; Ph.D. in economics, 1975. He was awarded honorary doctorates from the University of Marseille and the University of Munich.
harmeet sawhney is Professor in the Department of Telecommunications at Indiana University and Editor-in-Chief of the highly influential journal The Information Society. He brings a broad and varied background that includes a B.S. in electrical engineering, an M.B.A., and a Ph.D. in communication (from the University of Texas, Austin) to the study of telecommunications policy issues. His research interests focus on areas such as telecommunications infrastructure planning and policy, rural telecommunications, and universal service. He has published numerous research articles in Telecommunications Policy; Journal of Broadcasting and Electronic Media; Media, Culture, and Society; and Entrepreneurship and Regional Development. As he puts it: "I like to work on the intersections of the profound and the pragmatic where complex reality disrupts the tidy logic of established thought and forces new ways of thinking. I was drawn toward Telecommunications because it offers many such points of intersection."
timothy schneider is an associate at Pierce Atwood LLP, Portland, Maine. He received his J.D. from New York University School of Law in 2008 and his B.A., magna cum laude, in social studies from Harvard University in 2003. While a student at NYU he served as an intern at Public Knowledge in Washington, DC.
evan i. schwartz writes and speaks about invention and creativity. His latest book is Finding Oz: How L. Frank Baum Discovered the Great American Story (Houghton Mifflin, 2009). His previous book, Juice: The Creative Fuel That Drives World-Class Inventors (Harvard Business School Press, 2004), explores the mix of unconventional thinking patterns that are practiced by some of the world's most creative and successful inventors. He is also the author of The Last Lone Inventor: A Tale of Genius, Deceit, and the Birth of Television (HarperCollins, 2002), which tells the true story of Philo T. Farnsworth, the farm boy who invented electronic television in Page  219 the 1920s. A Discover magazine top 10 science bestseller, the book follows Farnsworth's Depression-era battle against RCA tycoon and NBC founder David Sarnoff, and shows how their clash symbolized a turning point in the way innovation happens in our economy. Fortune, in the magazine's seventy-fifth anniversary issue (March 2005), named The Last Lone Inventor one of the seventy-five best business books of all time. The New Yorker called it "a wonderful tale, riveting and bittersweet." Schwartz is a former editor at BusinessWeek, where he was part of a team that won a National Magazine Award. He has also written for the New York Times, Wired, and MIT's Technology Review. He holds a bachelor of science degree from Union College in Schenectady, New York.
gigi sohn is the President and co-founder of Public Knowledge, a nonprofit organization that addresses the public's stake in the convergence of communications policy and intellectual property law. Public Knowledge seeks to ensure that the three layers of our communications system— the physical infrastructure, the systems, and the content layer—promote fundamental democratic principles and cultural values including openness, access, and the capacity to create and compete. Sohn serves as the chief strategist, fund-raiser, and public face of Public Knowledge. She is frequently quoted in the New York Times, Washington Post, and Wall Street Journal, as well as in trade and local press. She has had articles published in the Washington Post, Variety, CNET, and Legal Times. In addition, she has appeared on numerous national and local cable, broadcast television, and radio programs, including the Today Show, McNeil-Lehrer Report, Fox News Channel, C-SPAN's Washington Journal, and National Public Radio's All Things Considered and Morning Edition. She is a Senior Fellow at the University of Melbourne Faculty of Law, Graduate Studies Program in Melbourne, Australia. In 2002 she was Adjunct Professor at Georgetown University, and in 2001 was Adjunct Professor at the Benjamin N. Cardozo School of Law, Yeshiva University, in New York City. Sohn previously served as a Project Specialist in the Ford Foundation's Media, Arts and Culture unit. In that capacity, she developed the strategic vision and oversaw grantmaking for the Foundation's first-ever media policy and technology portfolio. Prior to joining the Ford Foundation, she served as Executive Director of the Media Access Project (MAP), a Washington, DC–based public interest telecommunications law firm that represents citizens' rights before the Federal Communications Commission and the courts. In recognition of her work at MAP, President Clinton appointed her to serve as a member of his Advisory Committee on the Public Inter- Page  220 est Obligations of Digital Television Broadcasters ("Gore Commission") in October 1997. In that same year, she was selected by American Lawyer magazine as one of the leading public sector lawyers in the country under the age of forty-five. She holds a B.S. in Broadcasting and Film, summa cum laude, from the Boston University College of Communication and a J.D. from the University of Pennsylvania Law School.
Page  221
Page  222
Top of page