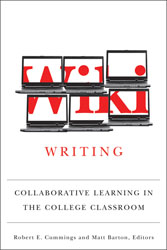 Wiki Writing: Collaborative Learning in the College Classroom
Skip other details (including permanent urls, DOI, citation information)
Series: digitalculturebooks
: Ann Arbor, MI: University of Michigan Press, 2008.
Permissions: This work is licensed under a Creative Commons Attribution-NonCommercial-NoDerivatives 3.0 License. Please contact digital-culture@umich.edu to use this work in a way not covered by the license. The print version of this book is available for sale from the University of Michigan Press.
For more information, read Michigan Publishing's access and usage policy.
Contributors
Matt Barton is an assistant professor of English at St. Cloud State University in St. Cloud, Minnesota, where he teaches undergraduate and graduate courses in composition, rhetoric, technology, and professional writing. He has published scholarly articles and book chapters on wikis, content management systems, blogs, video games, and virtual workplaces. He is the author of Dungeons & Desktops, a monograph on the history of computer role-playing games published by A. K. Peters Press.
Jonah Bossewitch is a PhD student in communications at Columbia's School of Journalism and is also a full-time technology architect at the Columbia Center for New Media Teaching and Learning. He has over a decade of experience as a professional software architect, designer, and developer. He is an active open source contributor whose technical interests include Linux, Python, content management, and social software. He graduated from Princeton University with a BA in philosophy and has an MA in communication and education from Teachers College, Columbia University.
D. A. Caeton is pursuing a PhD in the Cultural Studies Graduate Group at the University of California, Davis. His work is situated at the nexus between disability studies and technocultural studies, with an emphasis on the technologies of the body. Currently, his research explores the convergences of tactile information technologies with digital information technologies, as well as the ways by which bodies are choreographed through somanormative modes of discourse. Prior to his work at UCD, D. A. Caeton taught introductory composition courses at California State University, Fresno, and at Fresno City College.
Helen L. Chen is a research scientist at the Stanford Center for Innovations in Learning and a founding member of Electronic Portfolio Action and Communication International (EPAC), a community of practice focusing on pedagogical and technological issues related to electronic learning portfolios. Her current research focuses on the evaluation of ePortfolios and other social software tools to facilitate teaching, learning, and assessment for students, faculty, departments, and institutions.
Robert E. Cummings teaches writing at Columbus State University in Columbus, Georgia, as an assistant professor of English. In addition to coediting Wiki Writing, he will soon complete Lazy Virtues: Teaching Writing in the Age of Wikipedia (Vanderbilt University Press, 2008). Beyond researching electronic writing platforms, he works as CSU's director of first-year composition and serves as the program specialist of its Quality Enhancement Plan, a five-year Writing Across the Curriculum/Writing in the Disciplines effort to revitalize writing in the college's classrooms.
Jennifer deWinter is a PhD candidate in rhetoric, composition, and the teaching of English at the University of Arizona. She studies the global circulation of new media and the rhetorics of media convergence. Her pedagogical interests focus on the power relationships that computerized technologies introduce into the writing classroom, from computer games to wikis. She works closely with the Learning Games Initiative, a research consortium at the University of Arizona, to theorize the cultural and pedagogical impact of computer games.
Lisa Dusenberry is a PhD student in English at the University of Florida and an IT specialist for UF's Networked Writing Environment. Aside from teaching composition and technical writing, she helps instructors develop and implement pedagogies for networked classrooms. Her research focuses on the intersections between developing digital forms and children's literatures and cultures. She is especially interested in the play of power within texts and how it is reflected in their historical and material changes.
David Elfving is pursuing an MA from the University of Illinois at Chicago. His research focuses on social interactions through collaborative software. When not thinking about wikis, he works as a user experience designer in San Francisco, California.
Michael Felczak is a PhD student in the School of Communication at Simon Fraser University and the online editor at the Canadian Journal of Communication. He is also a researcher for the Public Knowledge Project, Centre for Policy Research on Science and Technology, and the Applied Communication Technology Lab at SFU. His research interests intersect technology with its social, political, and economic contexts and include Internet development and policy, free/open source software, and new media.
John Frankfurt is a project manager at the Columbia Center for New Media Teaching and Learning. He has worked with faculty at Columbia to implement wikis in classes ranging from architecture, political science, and creative writing to sustainable development. He is also an adjunct assistant professor at Columbia's School of the Arts and Hunter College's Department of Film and Media.
Dan Gilbert is an academic technology specialist at the Stanford Center for Innovations in Learning and a lecturer in the Stanford School of Education. He works on designing learning spaces and exploring the intersection of physical and virtual spaces.
Robin D. G. Kelley is a professor of history and American studies and ethnicity at the University of Southern California. His recent publications include A Disjointed Search for the Will to Live (2003); Freedom Dreams: The Black Radical Imagination (2002); White Architects of Black Education: Ideology and Power in America, 1865–1954 (2001); Ellen Gallagher: Preserve (2001); and Discourse on Colonialism (2000).
Will Lakeman is an independent scholar living in England.
Cathlena Martin, a PhD candidate at the University of Florida, teaches professional communication at the University of Florida and communication arts at Samford University. She researches children's culture through literature, comics, film, and new media. Her dissertation work focuses on the intertextual nature of children's literature and culture in a digital age.
John W. Maxwell is a faculty member of the Master of Publishing Program at Simon Fraser University, where his focus is on the impact of digital technologies in the Canadian book and magazine industries. His PhD work (curriculum and instruction) focuses on the cultural trajectory of personal computing over the past three decades. John has worked in new media since the early 1990s, in Web design, content management, electronic publishing, learning technologies, and virtual community building. His current research interests include the history of computing and new media and contemporary myth making in the face of digital media.
Ben McCorkle is an assistant professor of English in the Rhetoric, Composition, and Literacy program at Ohio State University's Marion campus. His research interests involve the historical interplay between writing technologies and the rhetorical canon of delivery, and he is the founding editor of the wiki-based bibliography GlossaTechnologia.
Ericka Menchen-Trevino is a PhD student in the Media, Technology, and Society program in the School of Communication at Northwestern University. Her research interests include perceptions of privacy and the social aspects of information seeking on the Web.
Michael C. Morgan is a professor of English at Bemidji State University in Minnesota. He teaches courses in digital rhetoric, Web content writing, technical writing, and Weblogs and wikis.
Thomas J. Nelson is an assistant professor in the University College of Virginia Commonwealth University. He has written on technology and learning and twentieth-century American poetry.
Mark Phillipson is a senior program specialist at the Columbia Center for New Media Teaching and Learning and an adjunct assistant professor in the Department of English and Comparative Literature at Columbia. Previously, he taught at the University of California, Berkeley, where he earned a PhD in English, and at Bowdoin College. He also holds an MS from the Graduate School of Library and Information Science at Simmons College.
Jeremy Sabol is an academic technology specialist at Stanford's Center for Teaching and Learning and a lecturer in the Structured Liberal Education program. His work at the Center for Teaching and Learning centers around helping faculty and graduate student teaching assistants integrate technology into their teaching.
Alexander Sherman consults to the nonprofit sector, focusing on urban life and culture. With environmental, educational, and arts organizations, his consulting practice has included governance, fund-raising, finance, marketing, exhibit and experience design, and entrepreneurial initiatives. Applying collaborative and analytical methods, he has helped leading U.S. and U.K. organizations enhance the impact of their missions and improve the world.
Stephanie Vie is an assistant professor of composition and rhetoric in the Writing Program at Fort Lewis College, Durango, Colorado. Her current research focuses on the uses of online social networking spaces such as MySpace and Facebook in composition pedagogy.
Bob Whipple holds the A. F. Jacobson Chair in Communication at Creighton University. He writes on cognitive and administrative issues in multimediated composition and teaches literacy and technology, workplace writing, and first-year writing.
Top of page