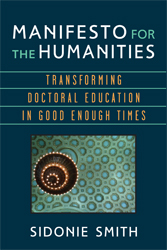 Manifesto for the Humanities: Transforming Doctoral Education in Good Enough Times
Skip other details (including permanent urls, DOI, citation information)
Series: digitalculturebooks
: Ann Arbor, MI: University of Michigan Press, 2015.
Permissions: This work is licensed under a Creative Commons Attribution-NonCommercial-NoDerivatives 3.0 License. Please contact digital-culture@umich.edu to use this work in a way not covered by the license. The print version of this book is available for sale from the University of Michigan Press.
For more information, read Michigan Publishing's access and usage policy.
What Is to Be Done?
Academic humanists respond to this query—"What is to be done?"—in various ways. Some put their heads in the sand and bemoan crises that are just too big and intractable to tackle. Well, yes, some of them may be. But, really, there's much to tackle. Some play the victim of an ignorant public and its various representatives who just can't understand the centrality of humanities inquiry to higher education and the world. Okay, where exactly does that petulance lead? And what kind of politics is enacted when faculty expect others to assume that theirs is a privileged position? Others turn back in nostalgia and talk of a time when the humanities were the revered core of a liberal arts education. Not me. No way.
Let's stay in the present moment and go forward from here. To suggest why I cleave to my mantra that the times are good enough, I offer my registry of actions for surviving, even thriving in these times: beware the route of nostalgia; avoid the blame game of theory and identity politics; hold the vision of inclusive excellence in sight; muster data for evidence-based counternarratives to commonplaces about the sorry state of the academic humanities; recognize the larger community of activists throughout the academy and the resources they mobilize for making change happen; remember all the humanists and allies out there; and act to make doctoral education forward-looking for future humanists.
Top of page