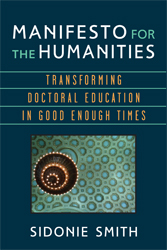 Manifesto for the Humanities: Transforming Doctoral Education in Good Enough Times
Skip other details (including permanent urls, DOI, citation information)
Series: digitalculturebooks
: Ann Arbor, MI: University of Michigan Press, 2015.
Permissions: This work is licensed under a Creative Commons Attribution-NonCommercial-NoDerivatives 3.0 License. Please contact digital-culture@umich.edu to use this work in a way not covered by the license. The print version of this book is available for sale from the University of Michigan Press.
For more information, read Michigan Publishing's access and usage policy.
Part 1: The Times Are Good Enough
Let me begin with my mantra. "The times are good enough" to transform doctoral education in the humanities.
I like this mantra. It's compatible with my glass-half-full disposition. It invokes the history of change in the academy over the long span of my career. It prompts a slight uptake in posture, observable nods of appreciation and expectancy, in conversations with doctoral students. It sustains a sense of possibility when confronting the distressing trends of these times of higher education.
And, indeed, the challenges of these times for higher education writ large are contentious, urgent, and seemingly intractable.
My project in this manifesto is to make the case for a 21st-century doctoral education; but I would be remiss if I didn't assay, at the outset and in summary mode, the current times, the realities on the ground, of higher education. The transformation of doctoral education in the humanities is at once driven by and responsive to these conditions. Faculty and administrators are all too familiar with these conditions; they live them. Doctoral students glimpse them early if they don't already know them when they arrive to begin their studies. And so, with the mantra in mind, let me offer an abbreviated list of particulars related to the concatenation of forces that humanists, seasoned and emergent, will want to historicize, track, and engage over the next decade as their careers unfold.
Top of page