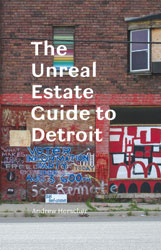 The Unreal Estate Guide to Detroit
Skip other details (including permanent urls, DOI, citation information)
Series: digitalculturebooks
: Ann Arbor, MI: University of Michigan Press, 2012.
Permissions: This work is licensed under a Creative Commons Attribution-NonCommercial-NoDerivatives 3.0 License. Please contact digital-culture@umich.edu to use this work in a way not covered by the license. The print version of this book is available for sale from the University of Michigan Press.
For more information, read Michigan Publishing's access and usage policy.
Unreal Estate: An Introduction
unreal (ŭn-rē'əl, -rēl')
adjective
not corresponding to acknowledged facts or criteria;
being or seeming fanciful or imaginary;
lacking material form or substance;
contrived by art rather than nature;
Slang: so remarkable as to elicit disbelief.
Detroit: a city seemingly so deep in decline that, to some, it is scarcely recognizable as a city at all.
And so, to most observers, and more than a few residents, what's there in Detroit is what's no longer there. Theirs is a city characterized by loss: of population, property values, jobs, infrastructure, investment, security, urbanity itself. What results is vacancy, absence, emptiness, catastrophe and ruin. These are conditions of the "shrinking city," a city that by now seem so apparent in Detroit as to prompt not verification but measurement, not questions but responses, not doubts but solutions.[1]
Built into the framing of Detroit as a shrinking city, though, are a host of problematic assumptions about what a city is and should be. On the basis of these assumptions, change is understood as loss, difference is understood as decline, and the unprecedented is understood as the undesirable. These understandings presume the city as a site of development and progress, a site defined by the capitalist economy that drives and profits from urban growth. The contraction of such a site, therefore, provokes corrective urbanisms that are designed to fix, solve or improve a city in decline.
What corrective responses to shrinkage reciprocally pre-empt, however, are the possibilities and potentials that decline brings—the ways in which the shrinking city is also an incredible city, saturated with urban opportunities that are precluded or even unthinkable in cities that function according to plan. Taking advantage of these opportunities requires an approach to the shrinking city not so much as a problem to solve than as a prompt to new understandings of the city's spatial and cultural possibilities.
Especially in the United States, architecture and urbanism almost always have learned their lessons from cities where the capitalist economy is flourishing, from interwar New York (Delirious New York), through postwar Las Vegas (Learning from Las Vegas), to late 20th century Houston (After the City) and beyond.[2] Cities where the economy is faltering, by contrast, are places where architecture and urban planning deploy what they already have learned. These apparent opportunities for assistance and amelioration thereby provide architecture and planning with precious chances to prove themselves as in-the-know, both to themselves and to larger publics, as well. Relinquishing the desire to repair the shrinking city may thus present excruciating challenges to architecture and planning. It might compel the humbling realization that these disciplines might have more to learn from the shrinking city than the shrinking city has to learn from them. It might also compel the even more humbling realization that any specialized kind of knowledge production, whether disciplinary or interdisciplinary, is inadequate to grasp the contemporary city, and that this grasp would have to lead towards a new transdisciplinary knowledge production with a necessarily hybrid, experimental and indeterminate form.[3]
But the shrinking city can teach not only professionals; it also can and does teach its own inhabitants—with "inhabitation" here posed as a political act rather than a geographically based condition.[4] The shrinking city is neither empty nor populated only by the impoverished and disempowered; rather, the challenges of this city have inspired many of its inhabitants to re-think their relationship to the city and to each other. This re-thinking throws into question the urban ambitions and capacities that the "creative class" has been endowed with, if not arrogated to itself.[5] Most postulations of a "creative class" imagine that group as wholly different—by socio-economic level, by education, and by other parameters of entitlement—from the socio-economically marginal communities that inhabit cities like Detroit. This imagination has allowed the "creative class" to pose itself as the heroic savior, engaged educator, or sympathetic interlocutor of what some have called the urban "underclass."[6] It has also yielded the race- and class-inflected portrayal of members of the "creative class" as the fundamental harbinger of change in Detroit, a portrayal that has played out in media exposure, access to grants, and a host of other forms, as well.
Socio-economic marginality, however, should be understood not as a call for creative others but as a condition of possibility for the emergence of creativity itself. In this sense, marginality allows for the formulation of new and innovative ways to imagine and inhabit the city. This is not to suggest that the mantle of heroism be transferred from a "creative class" to an "underclass"; it is, rather, to recognize the unique capacity of Detroit's inhabitants and communities to understand and transform their city. Indeed, for many in Detroit, hope for the city's problems to be solved by others has not been relinquished so much as ignored as in utter contradiction to the city as both history and lived experience. In Detroit, that is, urban crisis not only solicits skills of endurance, but also yields conditions favorable for invention and experiment—for the imagination of an urban realm that parallels the realm of concern to urban professionals and experts.
What if Detroit has lost population, jobs, infrastructure, investment, and all else that the conventional narratives point to—but, precisely as a result of those losses, has gained opportunities to understand and engage novel urban conditions? What if one sort of property value has decreased in Detroit—the exchange value brokered by the failing market economy—but other sorts of values have reciprocally increased, use values that lack salience or even existence in that economy? What if Detroit has not only fallen apart, emptied out, disappeared and/or shrunk, but has also transformed, becoming a new sort of urban formation that only appears depleted, voided or abjected through the lenses of conventional architecture and urbanism? The Unreal Estate Guide to Detroit is dedicated to exploring these and related propositions and, in so doing, the cultural, social and political possibilities that ensue from urban crisis.
Top of page