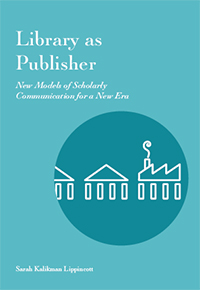 Library as Publisher: New Models of Scholarly Communication for a New Era
Skip other details (including permanent urls, DOI, citation information)
: United States of America: ATG LLC (Media), 2017.
Permissions: This work is licensed under a Creative Commons Attribution-NonCommercial-NoDerivatives 4.0 International License. Please contact mpub-help@umich.edu to use this work in a way not covered by the license.
For more information, read Michigan Publishing's access and usage policy.
Final Thoughts
Library publishing addresses critical needs on campus and in the scholarly publishing marketplace. As a campus service, it aligns well with the values and skills at the core of the library profession and represents a strategic means of fulfilling the library's commitment to access and stewardship. It is a natural complement to institutional repositories, data curation, digital scholarship, scholarly communications, and information literacy programs and often leverages the existing skills and networks of librarians to build deeper partnerships. In the marketplace, library publishing addresses unmet needs and gaps that other publishers are uninterested in filling. Library publishing provides a home for content that might not otherwise see the light of day, regardless of its scholarly merit or potential impact. From gray literature and student work, to journals on arcane topics, to encyclopedic collections of primary source material, libraries embrace the unprofitable, the informal, and the esoteric. Their entrepreneurial bent also provides space for experimentation, producing new and innovative publications that leverage the possibilities of networked information.
No matter how lightweight the workflows or how lean the staffing, viable library publishing requires a considerable investment, planning, and iteration. It also requires deep and mutually beneficial partnerships with stakeholders on campus and off. The growth of library publishing as a strong and sustainable field requires the development of a robust community to share best practices, undertake research of mutual interest, and promote the interests of library publishers.
While not all libraries will find that publishing aligns with their service portfolios or their institutional missions, there are a wealth of ways they can contribute to a more open and innovative scholarly communications environment. In their roles as advisors and educators, they can continue to provide guidance to their communities. They can also redirect resources from collecting commercial publications to supporting new OA initiatives. Finally, they can partner with other publishers on and off their campuses. Libraries' relationships with university presses, whether or not they are on the same campus, can be particularly fruitful.
Over the past few decades, library publishing has emerged as a distinctive subfield of publishing, complete with its own values, priorities, and practices. In his influential book Books in a Digital Age, sociologist John Thompson (2005) elaborates the idea that publishing cannot be adequately characterized as one monolithic field. Thompson proposes that publishing can be best understood as a set of distinct fields, each with its own unique "logic," which Thompson explains is "the outcome of a specific set of forces and pressures which shapes the activities of particular agents and organizations" (2005, p. 6). Library publishing and its measures of success, its challenges, its potential, and its best practices are therefore most productively evaluated not in comparison to other scholarly publishers but rather in how they infuse library values and take into account libraries' unique circumstances. Even within the subfield of library publishing, a diverse range of models has taken root, reflecting the creativity and ingenuity of librarians responding to transformations on their own campuses and throughout the ecosystem of scholarly publishing.
Top of page