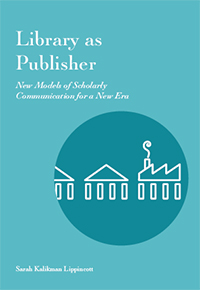 Library as Publisher: New Models of Scholarly Communication for a New Era
Skip other details (including permanent urls, DOI, citation information)
: United States of America: ATG LLC (Media), 2017.
Permissions: This work is licensed under a Creative Commons Attribution-NonCommercial-NoDerivatives 4.0 International License. Please contact mpub-help@umich.edu to use this work in a way not covered by the license.
For more information, read Michigan Publishing's access and usage policy.
Starting or Growing a Publishing Program
Considerations and Recommendations
This section offers a quick-­start guide to library publishing, including recommendations for gaining traction for your initiative, selecting appropriate technologies, developing thoughtful policies and procedures, and developing organizational and business models that position you for success. The underlying theme of this section is the need for each library publisher to clearly and thoroughly define its mission and objectives. As Karla Hahn noted in 2008, "Library-­based publishing programs are pragmatic responses to evident needs, not services in search of clients" (p. 24). Thoughtful evaluation of campus needs is a critical first step in building a successful service that is tailored to the institutional context. A publishing program optimized for publishing undergraduate journals may look very different from one designed primarily to publish scholarly monographs. It is clear from the variety of emerging models and the seemingly infinite permutations of services, business models, staffing, and policies, that a one-­size-­fits-­all approach will not work for library publishing. Library publishing is, by definition, experimental. It is also deeply sensitive to the needs of its stakeholders, which vary significantly depending on the institutional context. The following recommendations are therefore intended to provide general guidance on the considerations any would-­be library publisher should bear in mind and are not meant as a road map for implementation. Each section below incorporates advice and perspective from practicing library publishers and concludes with a brief list of further readings and resources relevant to each topic.
Top of page