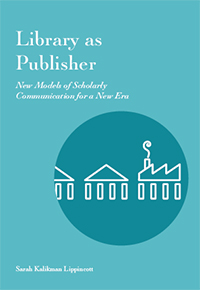 Library as Publisher: New Models of Scholarly Communication for a New Era
Skip other details (including permanent urls, DOI, citation information)
: United States of America: ATG LLC (Media), 2017.
Permissions: This work is licensed under a Creative Commons Attribution-NonCommercial-NoDerivatives 4.0 International License. Please contact mpub-help@umich.edu to use this work in a way not covered by the license.
For more information, read Michigan Publishing's access and usage policy.
Why Library Publishing?
In a post on library publishing for the influential Scholarly Kitchen blog, publishing consultant Joe Esposito (2013) asked rhetorically, "Why would anyone want to get into this business when those of us who were already there were trying desperately to get out?" The publishing community has established that publishing is not easy, it is not usually profitable at a small scale, it is in a constant state of "crisis," and it is dealing with a variety of challenges and tensions, from changes in technology to changes in the marketplace. So why don't libraries leave this up to the existing players? Charlotte Roh, scholarly communication librarian at the University of San Francisco, offers an explanation: Publishing is a natural fulfillment of librarians' role as information disseminators. Roh elaborates, "The easiest way to explain my job is to relate it to the traditional duty of librarians: making knowledge available now and for the future. Publishing is an extension of what a librarian has always done" (personal communication, January 30, 2017). Beyond its natural alignment with librarianship, the reasons for library publishing's growing popularity are manifold and nuanced. This section summarizes the major motivations behind this trend, from responding to frustrations with traditional scholarly publishing to showcasing libraries' unique collections.
Opening Access to Scholarship
The emergence of library publishing can be directly correlated with perceived failures of and inequities in the contemporary scholarly publishing ecosystem. As Thomas (2006) observed, "The disconnection between the producers of scholarly literature and the intermediaries who purchase it for consumption by others has generated a dysfunctional economic relationship" (p. 9). Scholarly, and especially scientific, publishing is increasingly dominated by a small number of large commercial publishers (Larivière, Haustein, & Mongeon, 2015). The costs of journal subscriptions, particularly for high-­prestige science and engineering journals, have risen precipitously over the last couple of decades, squeezing library budgets and having a ripple effect on the broader scholarly publishing market. Libraries spend a greater share of their budgets on journal subscriptions, leaving less and less for monographs. University presses, which produce many of these monographs, especially in the humanities and social sciences, are being dually squeezed by shrinking subsidies from their parent institutions. Meanwhile, as commercial scholarly publishers begin to experiment with OA publication, libraries may also foot the bill for author fees or article processing charges (APCs).
"The disconnection between the producers of scholarly literature and the intermediaries who purchase it for consumption by others has generated a dysfunctional economic relationship"
In addition to escalating prices, librarians cite a number of other frustrations with the scholarly publishing marketplace. Commercial scholarly publishers typically protect their content with restrictive licenses and author agreements in conjunction with digital rights management (DRM) protections that aim to prevent unauthorized distribution or piracy. Authors retain limited rights to their work and limited control over how to distribute it. Scholars frequently experience long delays between submission and publication, potentially slowing the pace of innovation (Björk & Solomon, 2013). Scholars and librarians have also leveled substantial critiques against the traditional peer-review process, which may contribute to publication delays and has been accused of bias, ineffectiveness, and inconsistency (Smith, 2006). Commercial scholarly publishers have also been slow to integrate technologies that facilitate multimedia publication and place artificial limits on page numbers, figures, and other elements of a publication based on legacy print production requirements. Finally, commercial scholarly publishers and university presses have not provided solutions for publishing vast quantities of significant scholarship in the form of gray literature, data, learning objects, digital humanities projects, and other nontraditional forms of scholarly and creative output.
As these criticisms multiplied, librarians and others recognized opportunities, and even obligations, to address them. Many libraries have established OA publishing funds, contributed financially to a range of nonprofits dedicated to new publishing models, and created offices of scholarly communications and copyright to help authors on their campuses make informed publishing decisions. Library publishing is a natural outgrowth of this commitment to a more open and transparent scholarly communications environment.
Along with a commitment to more openness and transparency at the ecosystem level, libraries have seized opportunities to address local needs by working with faculty and students on their campuses. Where traditional publishers have left gaps or contributed to frustration, libraries see the potential for new services. Library publishers have actively addressed many faculty concerns, from restrictive licenses to long publication delays and limited support for new media. Specifically, library publishers provide alternative solutions for authors and editors looking for OA publication and permissive licensing.
OA advocates see an inherent conflict in commercial scholarly publishing. Faculty authors effectively give away their scholarship, produced with the resources made available by their institutions, to large corporations, who proceed to sell or lease it back to those same institutions at elevated prices. Scholars, librarians, funders, and other stakeholders have grown increasingly impatient with this model and have advanced a variety of alternative models to cover the costs of scholarly publishing while providing free and unhindered access to content. OA publishing in a variety of forms is garnering increasing support from faculty authors who are frustrated with the perceived inequities in commercial publishing and interested in ensuring that their work has the greatest possible impact and broadest possible reach. Studies have demonstrated a variety of advantages of OA publishing for authors, including increased citations (Wagner, 2010) and shorter delays between submission and publication (Van Noorden, 2013).
Libraries, which have long been at the forefront of OA advocacy, are increasingly investing in efforts that address these frustrations head on. A growing number of start-­ups and nonprofit initiatives, such as Knowledge Unlatched, Ubiquity Press, and the Open Library of the Humanities, are experimenting with models that fund the cost of publishing up front (through institutional/funder commitments, author fees, or a combination of the two) and make the end products freely and openly available. In addition to funding these and other initiatives, libraries also see a role for themselves in providing high-­quality OA content and in empowering scholars to exert their influence in the publishing process. Giving authors control over their scholarship is a common promise from library publishers. The California Digital Library's eScholarship service prominently advertises that it "provides a suite of open access, scholarly publishing services and research tools that enable departments, research units, publishing programs, and individual scholars associated with the University of California to have direct control over the creation and dissemination of the full range of their scholarship" (University of California Office of Scholarly Communication, 2014).
In traditional publishing models, authors also cede much of the control over their scholarship through restrictive licenses that limit how authors can use and distribute their own work once it has been published. These licenses protect the publisher's investment in the content but can hinder access, especially to readers in developing nations or readers who have no academic affiliation. Restrictive licenses and digital rights management also prevent or impede activities like large-­scale text mining of scholarly literature. Unlike commercial scholarly publishers, libraries "are based on a service model of sharing resources and free exchange . . . Library publishers are not gatekeepers; their mission is dissemination" (Royster, 2014, p. 96). As champions of dissemination, library publishers typically allow, encourage, or even require Creative Commons licenses for their publications. Permissive licensing practices facilitate the free and rapid flow of information and ensure that any interested reader can access content.
Libraries simultaneously facilitate informal publishing (such as collections of technical reports) and OA publishing that adheres to the highest scholarly standards. Scholarly publishers, researchers, and even librarians commonly repeat the misconception that library publications are not peer reviewed. In fact, Busher and Kamotsky (2016) found in a study of journals published on the Digital Commons platform that nearly all took advantage of the platform's built-­in blind submission and peer-­review features.
By supporting OA publication models and permissive licenses, library publishers are contributing to the volume of reputable, high-­quality OA scholarship, providing models for sustainable OA publishing that can be adopted by other communities, and giving authors greater control over how their work is published and disseminated. Library publishing therefore provides an important alternative and complementary option to commercial scholarly publishing, an alternative that has growing appeal.
Supporting Niche and Experimental Publications
Many library publishers have found a niche in catering to publications that break the mold. They embrace projects with limited readership and unconventional subjects and seek out high-­quality content, regardless of its format or the logistical challenges of publication. Beginning in the early 2000s, libraries grasped the potential of institutional repositories to "apply serious, systematic leverage to accelerate changes taking place in scholarship and scholarly communication" (Lynch, 2003, p. 1). Early institutional and disciplinary repositories focused on faculty preprints and electronic theses and dissertations (ETDs) but increasingly showcase and steward a broad range of creative and intellectual outputs. Library publishing has enthusiastically taken up the charge of transforming scholarly communication by providing a home for the range of content that is routinely ignored by other scholarly publishers. Royster (2014) says of the University of Nebraska–­Lincoln (UNL) library publishing program, "Our mission, as we see it, is to provide a publishing outlet for scholarly work that does not fit other available publication models, either because it is too long, too short, too esoteric, too expensive, too complicated, or just too strange" (p. 100).
Work that "does not fit" often includes journals and monographs on niche or interdisciplinary topics; gray literature (e.g., preprints, dissertations, conference proceedings, white papers, and technical reports); and newer forms of research output that often go unpublished (e.g., research data, digital humanities projects, websites, teaching materials, audiovisual materials, maps, and three-­dimensional models). Although articles and monographs remain the primary vehicles of scholarly communication, scholars increasingly rely on this broad array of other formal and informal publications to advance discourse in their fields. Historically, these nontraditional products of academic research lacked proper dissemination channels, despite their academic merit and potential readership. Libraries found them challenging to obtain and make available to readers. Library publishers increasingly provide a stable, citable, and discoverable home that ensures that these important research outputs do not disappear from the scholarly record. The Purdue University Libraries, for example, publishes a highly consulted series of technical reports in partnership with the Joint Transportation Research Program. The reports in the series, which have been downloaded more than 400,000 times, represent "a treasure trove of invaluable information for transportation professionals" (Newton, Bullock, Watkinson, Bracke, & Horton, 2011). ArXiv, a preprint server for physics and related disciplines administered and partially funded by the Cornell University Library (https://​arxiv​.org/), has become one of the most prominent and well-­used collections of gray literature.
At the other end of the spectrum from gray literature and other informal publications, libraries have also embraced experimental, multimedia publications and digital humanities projects. For these custom, often highly technical projects, libraries see an advantage in being small and entrepreneurial. Large commercial publishers benefit from economies of scale, but large publishing portfolios can also necessitate standardization and a lack of flexibility. Libraries, without the pressures of generating revenue or increasing efficiency, may be more open to customizing many aspects of a publication, from its policies to the look and feel of its templates, based on the wishes of authors and editors. Harriett Green of the University of Illinois at Urbana-­Champaign (UIUC), who previously worked in university press publishing, observes that library publishing "allows for flexible, non-­traditional formats and is much more lightweight. Some might call it bare bones, but I think it's much more agile" (personal communication, January 31, 2017). Authors and editors, she says, benefit from increased transparency and more input throughout the publishing process. Libraries can also take on multimedia projects that require sophisticated technology and a willingness to experiment. The Emory University Libraries, for example, have long published a pioneering multimedia journal, Southern Spaces (https://​southernspaces​.org/), which takes full advantage of the digital medium. Other notable examples of multimedia publications include Public (http://​public​.imaginingamerica​.org/​welcome/), a multimedia journal published by Syracuse University Libraries, and The Joy of Sanskrit (http://​press​.anu​.edu​.au/​titles/​anu​-etext/​the​-joy​-of​-sanskrit), a multimedia textbook published by the Australian National University. Digital humanities projects can, however, become liabilities. They require substantial initial investment and significant ongoing maintenance and updating. Their impact may be limited both by libraries' marketing capacity and by technological challenges to the long-­term viability of complex digital objects. Vinopal and McCormick (2013) provide excellent guidance on how libraries can position services and triage digital publishing projects to help maximize impact and build a sustainable portfolio.
Libraries' tolerance for experimentation means that new projects can be launched without intensive assessment and planning. New publications can get off the ground with minimal lead time and evolve over time in response to successes and failures. As Charlotte Roh of the University of San Francisco observes, "The great thing about library publishing is that it's such a flexible endeavor. You can start a new journal without considering whether there's a market for it. If a faculty member proposes publishing a journal on human rights, we can take on the project just because we know the topic is important" (personal communication, February 1, 2017). Green, English and digital humanities librarian at UIUC, underscores the value of providing faculty with "opportunities for rapid, dynamic publishing that supports the evolving ways that scholars communicate within and across disciplines" (personal communication, January 31, 2017).
Libraries have also found a niche supporting journals and monographs on esoteric topics with extremely limited audiences. Though their readership may be small, these publications often represent the foremost (or only) venues for scholarship in their niche. Ohio State University's International Journal of Screendance (http://​screendancejournal​.org/), for example, purports to be "the first-­ever scholarly journal wholly dedicated to this growing area of worldwide interdisciplinary practice." Despite its particularly narrow focus, the Journal of Muslim Mental Health (http://​www​.journalofmuslimmentalhealth​.org/), published by Michigan Publishing Services, is an important and well-­respected publication whose articles routinely receive high altmetrics scores. Libraries also embrace interdisciplinary publications, such as Penn State University's Indigenous Knowledge: Other Ways of Knowing (https://​journals​.psu​.edu/​ik) or the University of Windsor's Informal Logic (http://​informallogic​.ca/), which may not fit neatly into traditional publishers' editorial programs.
In 2011, October Ivins and Judy Luther elaborated a proposal for the libraries of large research universities to adopt small society publications, which were, especially at the time, often print only and struggling to maintain a financial foothold. Though the authors found that there was rarely a one-­to-­one match between libraries with the capacity to publish and society journals with some affiliation with the campus, the idea remains promising. Jones (2014) observes that "librarian publishers have already begun to make a positive difference in the publishing landscape by rescuing small, print-­only journals from historical oblivion and providing the technical support and platform services to get them online and more importantly, discoverable." Library publishing services for these types of journals may include digitization of the publication's backfiles as well as the development and maintenance of the journal website. Libraries often provide extensive support to journal editors by offering training in using publishing platforms, guidance on policy and legal issues, and support for publishing workflows.
Royster (2014) offers two compelling examples of how libraries can provide a home for high-­quality scholarly work that goes unpublished for financial and logistical reasons and not based on its scholarly merit or potential impact. In Royster's first example, a dictionary of invertebrate zoology authored by a faculty member at UNL was accepted for publication and had undergone peer review at a university press only to be dropped when the publisher "decided to get out of zoology publishing" (2014, p. 99). Two other scholarly publishers declined to publish the work for logistical reasons before it was ultimately published by UNL's library publishing imprint, Zea Books. Royster also details the struggle of an anthology of essays and illustrations relating to Hopi art, culture, and history, also ultimately published by UNL. Royster (2014) explains that the book's 75 color illustrations deterred commercial publishers, while "digital production made it possible for [Zea Books] to do the work as both an ebook and a print-­on-­demand hardcover" (p. 99). These and other peer-­reviewed, high-­quality publications may not be profitable or marketable through traditional channels but nevertheless warrant dissemination. Libraries can decide to take on these projects based exclusively on their merits rather than on market forces.
Aligning With Library Services and Values
Publishing can fit well within an existing portfolio of library activities as disparate as data curation and undergraduate information literacy, institutional repository programs, and digital scholarship centers. It also aligns with libraries' commitment to equity and access. New modes of scholarship and new communication channels have blurred the lines between formal and informal scholarly communication (Brown, Griffiths, Rascoff, & Guthrie, 2007) and have disrupted our very notions of publication. Perhaps the clearest connections can be drawn between library publishing and other library services aimed at creating and stewarding digital content, such as data curation services and digital scholarship centers. Journal publishing programs fit neatly alongside many libraries' existing investments in data publishing services. Data and journal publishing can often be accommodated through the same publishing platform, and workflows and vendor relationships (such as those required for DOI minting) apply in both cases. Digital scholarship units can also productively complement library publishing programs, as both types of services engage librarians and faculty as partners in the creation and dissemination of scholarship. Both publishing and digital scholarship support require coding and design staff and robust content management and web publishing expertise. Staff with experience in scholarly journal and monograph publishing may also be helpful in supporting the vetting, review, and preservation of digital scholarship.
As data curation, digital scholarship programs, special collections digitization programs, and other emerging services demonstrate, libraries see highlighting and stewarding unique content as increasingly strategic. Redirecting resources from collecting to producing content is a natural response to information ubiquity (Gilman, 2015). Building vast collections of print and electronic resources has grown less strategic in a networked environment, in which libraries routinely share resources within consortia and around the world. This same environment allows libraries to showcase and disseminate the unique content their campuses produce and collect, from digitized manuscripts to faculty working papers. Holly Mercer of the University of Tennessee Libraries believes many untapped possibilities for library publishers remain, even within their walls. She proposes that libraries "look inward to our special collections and see what's there that might make publications that have broad interest" (personal communication, January 30, 2017). Thomas (2006) describes a vision in which libraries host "interconnected centers of excellence that link scholarship in various subject domains: labor history, nanofabrication, Islamic studies, philosophy, and others," building on the individual research strengths of their institutions (p. 10).
Publishing programs can align equally well with libraries' teaching and learning missions. Open Educational Resource (OER) or open textbook publishing engages libraries directly in the process of ensuring that all students have access to high-­quality learning materials. The Open SUNY Textbooks program, for example, funds the publication of a series of textbooks published by State University of New York faculty for high-enrollment classes in the SUNY system. Oregon State University (OSU) Libraries launched a similar program in 2013 that provided a $15,000 stipend to OSU faculty (via a budget transfer) to produce an open textbook. The competitive application process emphasized the "use of extensive, original multimedia and interactive content" (Sutton & Chadwell, 2014, p. 41).
In addition to publishing content aimed at an undergraduate audience, libraries are also helping their students gain a deeper understanding of scholarly communication as an integral part of the academic endeavor. Duckett and Warren (2013) argue, "If librarians are to help students become information literate within an academic context—­one in which they must find, understand, and use scholarly sources—­teaching students about how scholars communicate seems like a pretty fundamental undertaking" (p. 26). By incorporating scholarly communication literacy into instruction sessions, librarians help students become savvier information consumers and producers.
Some libraries are taking this approach a step further by engaging their students in the publishing process as editors and producers of undergraduate research journals. This hands-­on approach can help undergraduates develop a deeper understanding of how scholarship is created and disseminated and illustrate the abstract concepts that librarians already teach in information literacy sessions. Supporting undergraduate research journals entails an ongoing and intensive commitment to combat the constant turnover inherent in any student-­run activity. Weiner and Watkinson (2014) found, in an examination of undergraduate research journals inventoried on the website of the Council for Undergraduate Research, that "a consistent feature of the journals that were struggling was that they appeared to be entirely student run, with the inevitable problems of staff turnover, while successful and sustainable publications always had a permanent home within the institution" (p. 3). Libraries can provide the stability and mentoring needed to run student research journals that showcase undergraduate scholarship and build information literacy and other relevant skills.
Indeed, library publishing leverages many of libraries' existing strengths, including instruction and advisory roles, organization of information, knowledge of the scholarly publishing landscape, and access to and discovery of resources. Many of the skills librarians cultivate are transferable between traditional library responsibilities and publishing activities. Thomas (2006) specifically identifies librarians' "knowledge of information management, organization, and sources" (p. 10). She observes, "With their experience in the digital domain and their familiarity with a broad spectrum of the end products of research, scholarly publications, they are well placed to facilitate innovative models of scholarly communication" (p. 10).
Robertson and Simser (2013) describe how the skills they developed as serials librarians inform their current roles, which have increasingly transitioned to support their libraries' publishing programs. They cite a strong "understanding [of] the role of serials, articles and monographs in scholarly publishing; familiarity with standards (existing and developing); familiarity with technology including work on administrative clients of the ILS [integrated library system] or using a variety of vendor platforms to manage e-journal knowledge bases or to customize database front ends for users; organizational skills and attention to details; familiarity with issues related to scholarly communication, open access and licensing; [and] experience working with vendors" (p. 126).
Relationships, like skills, can also be transferable. Charlotte Roh at the University of San Francisco says that faculty partners value the "library's connection with lots of parts of campus, in both research and administration, which offer connections to resources beyond their department" (personal communication, February 1, 2017). Green at UIUC also found that existing relationships with faculty, cultivated as a departmental liaison, translated into trust and an interest in deeper partnerships. Green found that despite having worked in publishing before going into libraries, she relies heavily on the soft skills she has developed as a librarian. In particular, she cites librarians' experience with "working with patrons to guide them to information they need" as critical to her work building author-­driven publications (personal communication, January 30, 2017).
Finally, library publishers have also increasingly recognized an opportunity to address systemic inequities in scholarly publishing by explicitly adopting social justice values and actively publishing work by and about underrepresented groups. This philosophy aligns well with libraries' commitment to the public good and to promoting the creation and discovery of knowledge. Roh (2016) challenges the library profession to ask itself, "Are we perpetuating the biases and power structures of traditional scholarly publishing? Or are we using library publishing to interrogate, educate, and establish more equitable models of scholarly communication?" Library publishers who have made social justice a part of their mission will encourage their journal editors to examine the demographics of their editorial boards, the scholars who submit articles to their publication, and those whose work is ultimately published. Failing to address systemic inequities harms both "the authors who are not being published and therefore do not achieve tenure and promotion, and . . . the researchers who do not have access to the full range of possible scholarship" (Roh, 2016).
Libraries enjoy a unique and advantageous position on their campuses that makes them particularly well suited for scholarly publishing.
Libraries enjoy a unique and advantageous position on their campuses that makes them particularly well suited for scholarly publishing. They cultivate deep connections across campus with faculty, students, research centers, and other units and have experience working in partnership with their constituents. They have extensive knowledge of the processes and products of scholarly communication and have experience managing content, from vendor-­supplied print and electronic collections to the original content in their institutional repositories. Libraries' service orientation, their commitment to supporting the research and teaching missions of their universities, may represent their greatest asset. As service providers, libraries are constantly evolving and experimenting to meet their constituents' needs and have their fingers on the pulse of the academy.
Top of page