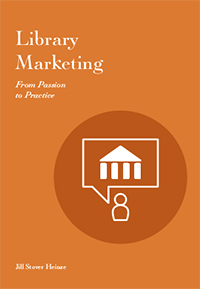 Library Marketing: From Passion to Practice
Skip other details (including permanent urls, DOI, citation information)
: United States of America: ATG LLC (Media), 2017.
Permissions: This work is licensed under a Creative Commons Attribution-NonCommercial-NoDerivatives 4.0 International License. Please contact mpub-help@umich.edu to use this work in a way not covered by the license.
For more information, read Michigan Publishing's access and usage policy.
Starting Where We Are
The Uneasy Library-­Marketing Relationship
In fairness to librarians, marketing is an ongoing challenge for all organizations in that nearly everyone is trying to figure out innovative ways to connect with customers who are increasingly savvy and saturated with information. But in libraries, the challenge is compounded by the historical baggage librarians attach to marketing itself. The problem with introducing marketing into libraries is not that there is a dearth of tools, talent, thought leaders, education, or activity. Anemic budgets can be a limiting factor, but a lot of beneficial marketing can be done inexpensively. The more entrenched source of library marketing malfunction is deeply rooted in our professional identity and, subsequently, difficult to resolve. Namely, librarians distrust marketing. Of course, there are exceptions, but for many of us, putting on our business hats feels like wearing an ill-­fitting garment—­it is uncomfortable, awkward, and off-­putting.
To be sure, marketing and libraries are not natural allies; some would argue that they are antagonists. While marketing draws from other disciplines like psychology and education, at its core, it is chiefly and traditionally a business activity—­a means of getting products to customers while making profits for the companies that create them. Librarianship, at least philosophically, is nearly the mirror opposite. Libraries are generally publicly and/or university-­supported institutions that exist to provide a societal good. The "profits" we seek are an informed, empowered citizenry. We are dedicated to making information as widely and freely available as possible. Circulation, but not of currency, fuels the library ethos. Overlaying business imperatives onto libraries can feel like a betrayal of our core values, our users, and our place in society.
Even with this endemic trepidation, marketing activities are commonplace in libraries and library organizations. More than a third of recent library job postings required some sort of marketing duties (McClelland, 2014, p. 362), and marketing competencies are part of many library science curriculums. Our myriad professional associations have also embraced marketing in the form of awards and recognitions, interest groups, committees, dedicated conferences and conference tracks, and shared marketing resources like planning templates, collateral, tool kits, tips, best practices, and consultant directories. In addition, this investment in marketing thought and materials has been fruitful for some libraries. One noteworthy example is the Association of College and Research Libraries' (ACRL) 2017 Excellence in Academic Libraries Award winner, Santa Clara University Library. The library was recognized for its successful assessment of user needs resulting in service development including "a personal librarian service, a robust information literacy program (incorporating Special Collections), and faculty workshops series on integrating research into assignments" (American Library Association, 2017), all of which resulted from applying a marketing-­savvy perspective.
Despite all of the marketing activities librarians have increasingly taken on, it seems that collectively we are still searching for the perfect marketing recipe. Even in our successes, we are still left wanting in recognition and visibility. In the series of ACRL-­commissioned essays New Roles for the Road Ahead, contributor Steven Bell (2015) related an incident about the Middle States Commission on Higher Education's (MSCHE) efforts to revamp its college and university education standards in 2014. Surprisingly, the body that once championed information literacy standards nearly eliminated them solely because its members assumed information literacy was so intrinsic that it no longer merited special attention. Bell elaborated on this irony, speculating,
As higher education experiences radical change, in what other ways will academic librarians demonstrate the curse of being too successful for their own good? Faculty and students are so accustomed to the highly efficient delivery of digital scholarly content to their desktops and devices that they no longer question its point of origin and simply think that it flows effortlessly through the institution network as electricity flows magically out of wall outlets. (p. 13)
Bell's point about lack of proper attribution rings familiar with those of us who are weary of hearing stakeholders question the utility of libraries, since "everything's online anyway."
On the other side of this marketing problem is the more straightforward inability to apply marketing in a meaningful way. As one university library administrator lamented when he attempted to incorporate marketing more fully into his organization:
One hundred years after the early pioneers' efforts at library marketing, many librarians are still figuratively sticking flyers in laundry bags or putting up billboards to promote products and services. Our promotional materials may be more sophisticated and we may use advanced electronic tools to create and transmit the message, but the object is the same: to draw users toward underutilized services that we have designed based on our professional perceptions of their needs. (Almquist, 2014, p. 45)
In this case, the source of marketing failure is old-­fashioned marketing thinking, which is predicated on the conviction that we are already doing the right things but are just not talking about them enough.
Complicating matters is the longstanding and uncomfortable reality that stakeholders often demand that we apply the philosophies of profit-­oriented corporations to nonprofit library operations. There are ranges of economic reasons: slow rebound from near economic collapse in 2008, population and demographic shifts, climbing college tuition, and a continuing trend to replace waning public support with private funds. Consequently, librarians find themselves precariously balancing private-sector interests with public-sector welfare. Though not mutually exclusive, these requirements are often at odds. Regardless of library environment—­public, academic, government, special, or corporate—­stakeholders are intensifying demands for librarians to justify how we run our operations using terms that can chafe, such as "return on investment" and "cost center."
Though it does not refer to the private sector specifically, the State of America's Libraries Report 2016 (American Library Association, 2016) conveys the tensions brought about by these corporate-­like expectations as it describes the goals of its new "Libraries Transform" promotional campaign:
Intuitively, we understand that libraries have value and are worthy of support by the community and government. At the same time, current economic challenges increasingly demand that the value of libraries be demonstrated through performance measurement. Historically, libraries have measured performance by counts of circulation, visits, and program attendance. Today there is shift in expectation that libraries will measure not just counts, but outcomes. Outcomes are results, measured by changes in patron behavior. One of the biggest challenges for libraries today is to demonstrate how people's lives are changed through library resources, programs, and services. (p. 6)
Similar forces have exerted pressure in higher education for decades in the oft-­derided "corporatization" of academia, which some have portrayed as an outright, purposeful assault on liberal public education. As one librarian decries in a library-­focused article on the topic,
Academic libraries and librarians are desperate to stay relevant and be valued, and fairly powerless to do so on their own terms . . . And some of us are willing, even happy, to absorb the values of the larger corporate institution by serving the big money programs while serving scones to undergrads, and some of us are not. Maybe we just haven't figured out how best to resist. (Eisenhower, 2011, para. 7)
Further evidence of this library–­marketing discord surfaced in a 2007 study among members of the New Jersey Library Association (NJLA; Parker, Kaufman-­Scarborough, & Parker, 2007). In the study, NJLA members were asked to rate their level of agreement with statements like "Marketing is relevant to the needs of libraries" and "Libraries should market themselves more like businesses do" (p. 325). Results showed that, overall, respondents held positive views of marketing. However, the results also revealed hostility in certain subsegments. College and university librarians, who the authors argue are more insulated from market pressures than their public librarian counterparts, as well as those in reference and technical services had the least positive views of marketing. Rumblings of antipathy made their way into comments, with some arguing that applying business-­style marketing does not work in libraries. One complained that "glitzy marketing has no place in a serious intellectual setting" (Parker, Kaufman-­Scarborough, & Parker, 2007, p. 331), while another respondent who appreciated marketing nevertheless felt it siphoned resources from "essential activities of collection development" (p. 334).
With such ambivalence toward marketing inherent in the library profession even among librarians who do marketing well, is it any surprise that marketing is not as successful as it could be in libraries? When substantive marketing fails to flourish, there is evidence that we should pay attention to the disparity between our outward-­facing marketing actions and our internal structures and cultural predispositions. When we do not enjoy doing something or believe in it beyond a superficial level, it is unlikely that we will persevere in doing it or do as good a job as possible. It is even more unlikely that we will promulgate that activity effectively within our organizations. Instead, the result is halfhearted and reactive; such intermittent efforts do not contain the requisite sustained support to achieve demonstrable outcomes.
Top of page