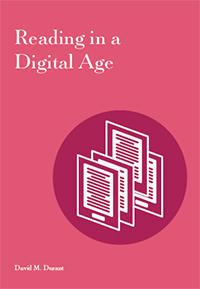 Reading in a Digital Age
Skip other details (including permanent urls, DOI, citation information)
: United States of America: ATG LLC (Media), 2017.
Permissions: This work is licensed under a Creative Commons Attribution-NonCommercial-NoDerivatives 4.0 International License. Please contact mpub-help@umich.edu to use this work in a way not covered by the license.
For more information, read Michigan Publishing's access and usage policy.
The Plateauing of E-book Sales
Based on these trends, many have assumed that we are well on our way to an all-­digital future. A deeper look at the data, however, indicates that such predictions might well be premature. For example, recent sales data show that the growth of e-books has substantially slowed in the last several years. According to an August 2013 study by the Book Industry Study Group, sales of new e-books have leveled off at 30 percent of overall book unit sales and about 15 percent of dollar sales. The same study showed that the percentage of book buyers who have bought an e-book has stagnated at around 25 percent. More recently, the New York Times reported on September 22, 2015, that e-book sales declined 10 percent in the first five months of 2015, according to the Association of American Publishers (AAP), while "digital books accounted last year for around 20 percent of the market, roughly the same as they did a few years ago."[69] While sales of independently published e-books may have balanced out declining sales from major publishers, the Times also noted that many independent booksellers are seeing increased print sales, driven in part by a return to print among many of their customers. And while hardcover sales may be lagging, paperback sales grew by 8.4 percent in the first five months of 2015.[70] As Jeremy Greenfield noted at Digital Book World, "E-books have stalled out on their way up to higher altitude."[71]
Sales figures for 2016 have further confirmed this trend. AAP figures for January–­July 2016 show that sales of paperback books grew 8.4 percent over the same period in 2015, and hardback sales increased by 2.6 percent. E-book sales, in contrast, declined by 19.2 percent.[72]
E-books have stalled out on their way up to higher altitude.
Some observers have questioned the significance of this trend. Ingram, in a piece for Fortune, argues that the trend of falling e-book sales is deceptive, as it does not reflect independently published non-AAP e-books, whose sales have increased in large part because they tend to be much cheaper than e-books published by mainstream publishers.[73] His point is reinforced by news that Amazon reported an increase in its e-book sales in 2015.[74] In a similar vein, Andrew Richard Albanese has argued in Publishers Weekly that "just as the e-book market started to boom, the major publishers put a collective thumb on the scales to tip readers back toward print, with efforts that included a scheme with Apple to raise e-book prices, and burdensome restrictions on library e-books."[75] However, even factoring in an increase in major-publisher e-book prices, if users truly preferred e-books as a rule, this should not make that big a difference. After all, the other advantages of e-books (portability, immediacy of purchase, etc.) still apply. In other words, if major-publisher e-book sales are this price sensitive, this would indicate that many users do indeed prefer print if prices are comparable. As the Times noted in September 2015, "With little difference in price between a $13 e-book and a paperback, some consumers may be opting for the print version."[76] The dramatic growth in the popularity of e-books, followed by their equally dramatic leveling off, strongly suggests that the e-book market has found its level for now.
This is not just the case in the United States. As the BBC reported on August 14, 2015, British e-book sales have likewise plateaued, leveling off at a 30 percent market share. Overall, British e-book sales amounted to 393 million pounds in 2014 versus 1.7 billion pounds worth of print sales. In fact, two major U.K. booksellers actually saw a year-­over-­year increase in their print book sales during the 2014 holiday season.[77] Continuing this trend, the five largest U.K. publishers saw a decline in e-book sales in 2015, with a cumulative average drop of 2.4 percent. While this trend is somewhat offset by increased sales of independent e-books, as in the United States, this does not seem to be enough to disprove the overall phenomenon. As Philip Jones, editor of the U.K. magazine The Bookseller, told The Guardian, "I think overall, the digital market has certainly gone up, if you include smaller publishers and self-­published books and digital-­only publishers. But I don't think that changes the overall picture of the ebook marketplace, which has slowed down from 2012 to 2014, and which will, I think, continue to slow as readers migrate from dedicated e-ink reading devices to tablets and mobile phones."[78]
At the same time that e-book sales have stalled, sales of dedicated e-readers such as Kindles and Nooks have actually declined. According to the BBC, "Kindle sales—­peaking at 13.44 million in 2011—­fell back to 9.7 million in 2012 and have plateaued since. Barnes & Noble's Nook e-reader has been losing about $70m (£45m) a year and the US bookseller has been trying—­and failing—­to find a buyer for the division."[79]
To be honest, the decline in e-reader sales is likely due not only to reduced e-book sales but also to a change in how people are reading e-books. The natural tendency in the digital era has been for single-­purpose devices to be relegated to boutique status by general multipurpose devices, such as digital cameras being superseded by smartphones. This now appears to be happening in the digital reading environment. Global e-reader sales are estimated to have fallen 36 percent from 2011 to 2012, going from twenty-­three million units sold to fewer than fifteen million. The September 2015 Times piece, citing data from Forrester Research, reports that e-reader sales have dropped from almost twenty million sold in 2011 to some twelve million sold in 2014.[80] This trend away from dedicated e-readers is now supported by polling data as well as sales figures. In October 2015, Pew reported that only 19 percent of Americans owned a dedicated e-book reader, a sharp decline from the 32 percent reported in early 2014.[81] The 2016 Pew survey noted that only 8 percent of respondents had read a book using a dedicated e-reader. By contrast, 15 percent had read a book using a tablet and 13 percent had read a book on a cell phone.[82]
As the above passages indicate, there are growing indications that digital reading is increasingly being done on multipurpose devices such as tablets and even smartphones. In June 2014, for example, the website Mashable predicted that e-readers were destined to become the "next iPod," becoming redundant for most users due to tablets.[83] In August 2015, the Wall Street Journal, citing Nielsen data, reported that "the percentage of e-book buyers who read primarily on tablets was 41% in the first quarter of 2015, compared with 30% in 2012."[84] Yet the Journal argued that, in fact, "it's not the e-reader that will be driving future book sales, but the phone."[85] According to Nielsen, 54 percent of e-book buyers in 2014 used a smartphone for at least some of their reading, compared to 24 percent in 2012. In the words of one publishing executive, "The future of digital reading is on the phone."[86] Or, as Pew Research's Lee Rainie told Publishers Weekly in October 2016, "There is a big uptick in people using tablets and phones, and not so much dedicated e-book readers."[87]
Market research firm IHS noted back in 2012 where we were headed: "Single-­task devices like the e-book are being replaced without remorse in the lives of consumers by their multifunction equivalents, in this case by media tablets."[88]
The leveling off of e-book and e-reader sales indicates that readers are not quite ready to completely forsake print. Surveys of reader preferences lend further credence to this interpretation. According to the latest annual Pew research study on book reading habits, published in September 2016, the percentage of those who read an e-book in the previous year has remained flat since 2014, the figure for both years being 28 percent, with a slight drop to 27 percent in 2015. To be certain, the percentage who indicated that they had read a print book has fluctuated a bit more, going from 69 percent in 2014 to 63 percent in 2015, then rebounding to 65 percent last year.[89] This relative stability likewise suggests that readers are not abandoning print for e-books. As Pew's Rainie told Publishers Weekly, "One of the things we hear when we talk to consumers about print books is that print is a fabulous technology. Ink on a page is amazingly portable, long-­lasting, sharable. Print is still amazingly attractive to people. And, my general sense is that readers are happy with their pathways to books."[90]
Pew's findings are backed up by numerous other surveys of reader preferences. It seems to be a common belief that reading habits will change once "digital natives," those who have grown up with digital reading technology, come to the fore. Most of the evidence we have so far, however, does not indicate that this is happening. Contrary to conventional wisdom about "digital natives," it appears that even many millennials prefer print when engaged in intensive linear reading. In December 2013, Ricoh Americas Corporation reported that "most consumers do not see themselves giving up printed books, due to the benefits the physical form offers."[91] Among the study's findings were that nearly 70 percent of readers were unlikely to abandon print by 2016 and that "college students prefer printed textbooks to eBooks as they help students to concentrate on the subject matter at hand; electronic display devices such as tablet PCs tempt students to distraction."[92]
These findings are amply supported by sources both popular and scholarly. A February 2015 Washington Post article noted that "textbook makers, bookstore owners and college student surveys all say millennials still strongly prefer print for pleasure and learning, a bias that surprises reading experts given the same group's proclivity to consume most other content digitally."[93]
A 2010 user survey conducted by the University of California (UC) Libraries found that 44 percent of all respondents to the UC survey who had used e-books still preferred print, while 35 percent preferred digital texts.[94] This preference held for both students and faculty. Despite the shift from print to e-reading in the last decade, a number of studies of university students have found that the majority still prefer print books to digital, at least for certain purposes. For example, 53 percent of undergraduate respondents to the survey said that they preferred print books to electronic (27 percent preferred e-books).[95] As the survey report put it, "Many undergraduate respondents commented on the difficulty they have learning, retaining, and concentrating while in front of a computer."[96] A 2012 survey conducted at a college in Pennsylvania found that half the students twenty-­two or younger preferred print to e-books. Among their reasons for preferring print were that it was "easier to focus on content/task at hand," "easier to absorb/comprehend information on paper rather than from a monitor," and "easier to remember content" in print than in digital format.[97] That same year, Staiger analyzed more than two dozen studies of e-book use in academic libraries. He found "a salient preference across all of the studies for physical books for extended or immersive reading."[98] More recently, Baron found in her survey conducted for Words Onscreen that the length of a text plays a major role in student reading preferences. Ninety-­two percent of the American undergraduates she asked preferred print for long schoolwork texts, and 85 percent preferred print for long pleasure readings. The results for German and Japanese students were comparable. Baron summarized her findings as follows: "Does length matter when it comes to choice of reading platform? Absolutely. If the text is short, medium preference is not particularly strong—­a mixture of hardcopy, digital screen, or no preference. Reading longer texts is an entirely different story."[99]
Returning to Pew's 2016 findings, they report that while 28 percent of U.S. adults read an e-book in the past year, just 6 percent read only e-books. By contrast, 38 percent read books exclusively in print, while 28 percent read in both formats. Interestingly, they found that only 6 percent of respondents in the eighteen-to-twenty-nine age group were e-book only readers. In Pew's words, "Young adults are no more likely than older adults to be 'digital-­only' book readers."[100]
Perhaps the most fascinating recent study of reader preferences was an April 2016 survey of 4,992 book buyers by the Codex Group, a publishing industry research firm. In the words of Publishers Weekly, the Codex Group found that "e-book units purchased as a share of total books purchased fell from 35.9% in April 2015 to 32.4% in April 2016." This included "e-books published by traditional publishers and self-­publishers and sold across all channels and in all categories."[101] Among other implications, this would suggest that independent e-book sales might not be making up for the decline in major publisher e-book sales, contrary to what some have argued. For our purposes, though, it is the Codex Group's findings on the demographics of print versus digital reading that are most interesting. According to the survey, 25 percent of book buyers expressed a desire to spend less time using electronic devices. It was the youngest demographic, eighteen-­ to twenty-­four-­year-­olds, who most wanted to reduce their screen time, with 37 percent indicating such a desire. Nineteen percent of eighteen-­ to twenty-­four-­year-­olds reported reading fewer e-books than before, again the highest response among all age groups. Of the total number of respondents reading fewer e-books (14 percent), 59 percent said it was because they preferred print. Perhaps the most telling piece of information from the survey was that, as Publishers Weekly put it, the "share of print books purchased was also the highest among the heaviest screen users, the so-­called digital natives, ages 18–24 (83%), and lowest (61%) among 55-­to-­64-­year-­olds." In the words of Codex Group president Peter Hildick-­Smith, a sort of "digital fatigue" seems to have set in among many millennials, manifested, among other ways, by a desire to pursue long-­form linear reading primarily in print format.[102]
Even among K–­12 students, whom one would think would be most receptive to primarily reading e-books, there is evidence that many still prefer print for certain forms of reading. According to Scholastic's 2015 Kids and Family Reading Report, 65 percent of kids between six and seventeen said that they would always want to read in print, an increase from 2012's 60 percent. Contrary to what you might expect, it is the youngest readers who are most likely to read in print; 84 percent of six-­ to eight-­year-­olds did most of their pleasure reading in print, compared to 62 percent of fifteen- to seventeen-year-olds [103]
In short, it appears likely that the current plateauing of e-book sales is not simply a result of major publishers manipulating prices. Nor can the growing body of reader survey data showing a continued desire for print texts, especially among younger readers, be easily dismissed. It does look to be more than a temporary blip reflecting cultural prejudices that will disappear as digital reading takes a deeper hold in society. Rather, digital skeptics would argue that all of this evidence taken together reflects an instinctive understanding of the differences between print reading and e-reading. Staiger, for example, believes that the research he describes "indicates that print books are preferred for what we typically think of as the kind of reading on which sustained intellectual inquiry depends, let alone the life of the mind."[104] Or, as one publishing executive told the New York Times, "People talked about the demise of physical books as if it was only a matter of time, but even 50 to 100 years from now, print will be a big chunk of our business."[105]
Top of page