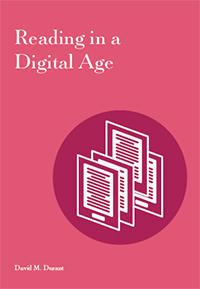 Reading in a Digital Age
Skip other details (including permanent urls, DOI, citation information)
: United States of America: ATG LLC (Media), 2017.
Permissions: This work is licensed under a Creative Commons Attribution-NonCommercial-NoDerivatives 4.0 International License. Please contact mpub-help@umich.edu to use this work in a way not covered by the license.
For more information, read Michigan Publishing's access and usage policy.
What Do Readers Say?
The growth of digital reading has been rapid and undeniable. According to a January 2014 Pew Internet study, 28 percent of all Americans sixteen or older had read an e-book in the previous twelve months, up from a figure of 16 percent in late 2011 and 23 percent at the end of 2012. Forty-­two percent of Americans owned a tablet, up from 10 percent in late 2011 and 24 percent in late 2012, while 32 percent owned a dedicated e-reading device such as a Kindle or Nook—­a major increase from the 19 percent figure for 2012. In all, 50 percent of Americans owned either a tablet or a designated e-reader.[64]
The same Pew study offered insights as to which e-reading devices were being used for e-books. Among all those who read at least one e-book, 57 percent used a dedicated e-reader, 55 percent used a tablet, and, interestingly, 32 percent used a smartphone.[65]
E-­book sales figures further illustrate this trend. In 2011, Amazon announced that its e-book sales had exceeded its print sales.[66] In 2012, a survey of American publishers revealed that e-books made up 20 percent of the trade market, with 457 million e-books sold during the year, a massive increase on the ten million sold in 2008.[67]
Library circulation figures add yet more clarity to the overall picture. In a 2011 piece for Library Journal, Rick Anderson of the University of Utah analyzed circulation rates per student at ten Association of Research Libraries member institutions. In his view, his findings indicate that "the trend away from print books is even more pronounced than we've often understood or assumed."[68]
Top of page