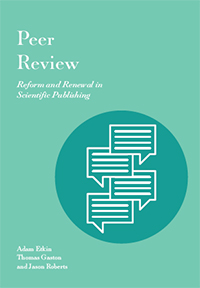 Peer Review: Reform and Renewal in Scientific Publishing
Skip other details (including permanent urls, DOI, citation information)
: United States of America: ATG LLC (Media), 2017.
Permissions: This work is licensed under a Creative Commons Attribution-NonCommercial-NoDerivatives 4.0 International License. Please contact mpub-help@umich.edu to use this work in a way not covered by the license.
For more information, read Michigan Publishing's access and usage policy.
Types of Peer Review
For a number of decades, peer review generally operated with either one of two main models: single blind or double blind. Though there were variations of approach, almost all peer-­reviewed journals could be classified in this way. However, since the late 1990s, a plethora of alternatives to the traditional models have emerged. The various kinds of peer review now available do not fit neatly into discrete categories, as the types might differ in only one aspect (or in many).
The question of anonymity in peer review, for instance, differs across models. Under single-­blind review, the identities of the reviewers are kept secret from the authors; under double-­blind review, the identities of the authors are also kept secret from the reviewers. There is also triple-­blind review, though this is rarer, where the identities of the authors are kept secret from the editors. Opposing these blind forms of peer review is open peer review, where the identities of the reviewers are revealed to the authors. Open peer review might then be extended to the publication of the reviewers' names as well as the content of their reviews alongside the final article.
Another aspect of peer review is whether it should operate discretely for each journal or whether reviews can be transferred between journals to accelerate the review process and reduce redundancy. A third aspect is whether reviewers operate separately from each other and from the authors or whether the process should be more collaborative. Finally, there is the question of whether peer review should be conducted prior to publication or whether there is a role for postpublication review, either in addition to or instead of prepublication review.
One of the unexplained phenomena related to the development of peer review is the split between single-­ and double-­blind review across subject areas. For example, across Wiley journals, 95 percent of physical science and health science journals operate single-­blind peer review, 72 percent of life sciences journals are single blind, but only 15 percent of social sciences and humanities journals. Social sciences and humanities journals are also the only subject category employing triple-­blind review (1 percent). There seems no obvious factor or factors that should lead to a preference for author anonymity in these subject areas. Indeed, one might argue that author anonymity would be more important in fields where the potential incentives for bias were more numerous, such as for medical journals. The Wiley statistics also indicate that although the world is changing, it is changing slowly. Of their 1,593 journals, only 8 now offer some form of open peer review and only 4 others offer collaborative review. Single and double blind remain the dominant paradigms for peer review.
Top of page