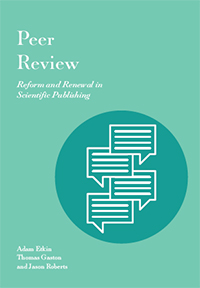 Peer Review: Reform and Renewal in Scientific Publishing
Skip other details (including permanent urls, DOI, citation information)
: United States of America: ATG LLC (Media), 2017.
Permissions: This work is licensed under a Creative Commons Attribution-NonCommercial-NoDerivatives 4.0 International License. Please contact mpub-help@umich.edu to use this work in a way not covered by the license.
For more information, read Michigan Publishing's access and usage policy.
What Is Peer Review?
The term "peer review" means different things to different people and in different contexts. In its most basic sense, peer review is simply the evaluation of one's work by one's peers. What distinguishes peer review in the realm of scholarly communication from simply asking for the opinion of your friends, family, or coworkers, however, is that it is a more formal mechanism—­sometimes blinded, sometimes not—­whereby an official decision is made to designate which peers should be asked to assess a body of work. Within academia and other research milieus, the identity of that additional party varies. The peer reviewer could be a grant-­awarding body, a research ethics committee, or a journal. (Though books also constitute a great deal of peer-­reviewed, research-­directed publishing, this book primarily concerns itself with the work of scientific or research journals.)
Peer review typically serves two purposes:
To function as a gatekeeper, determining which papers should be accepted for publication and thus become a part of the body of literature for a specific field of study.
To burnish papers, ensuring that an article realizes its full potential. Burnishing a paper also means ensuring that sufficient information is included in the published article to enable both the validation of results and the replication of the study.
This chapter will explore both of these objectives of peer review and also identify the roles and responsibilities of a peer reviewer and the commonplace expectations various stakeholders in the publication process place on peer review. Very importantly, we will question how the peer reviewers themselves have come to be trusted as appropriately qualified experts in their fields.
Top of page