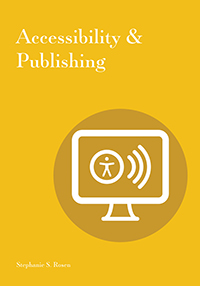 Accessibility & Publishing
Skip other details (including permanent urls, DOI, citation information)
: United States of America: ATG LLC (Media), 2018.
Permissions: This work is licensed under a Creative Commons Attribution-NonCommercial-NoDerivatives 4.0 International License. Please contact mpub-help@umich.edu to use this work in a way not covered by the license.
For more information, read Michigan Publishing's access and usage policy.
Chapter 5. Conversion
Since print is not accessible to a range of people with disabilities that affect reading, making texts accessible has long meant remediating print by reading it aloud or converting it into other stable media that may be used independently by print-disabled readers. Reading to the blind was a staple charitable activity, often performed by upper-class women, around the turn of the twentieth century, and human readers have remained an important accommodation, especially in educational contexts, well into the present age. Meanwhile, large-scale investment in the conversion of publications into accessible formats (especially braille and audio recordings) has built up a significant collection of special format publications and a library system to distribute them to readers with qualifying disabilities in the United States. Today, the National Library Service for the Blind and Physically Handicapped continues to operate—making its constantly growing collection of accessible publications available to readers with print disabilities—alongside newer, digital databases of accessible texts and publisher-driven initiatives for born-accessible content. Even as the publishing industry shifts to digital-first and born-accessible publications, conversion remains a necessary accommodation and common practice to adapt existing publications to meet the needs of readers who cannot access them in their current format.
National Library Service
In the United States, the large-scale program for converting print books into formats for readers with print disabilities is the National Library Service for the Blind and Physically Handicapped (NLS). This service was established in 1931 through the Pratt-Smoot Act, which authorized the Librarian of Congress to select an annual list of titles to be converted, appropriated funds for conversion into braille by specialized printers such as the American Printing House for the Blind, and designated regional libraries as distribution centers for special format works for blind readers (NLS, n.d.). Throughout its long history, this service has been marked by expansion and innovation. First designated for "blind adults," the service was expanded to include children in 1952 and "individuals with other physical disabilities that prevent reading regular print" in 1966 (NLS, n.d.). Today it serves more than 800,000 users[1] across 100 regional libraries and outreach centers in all 50 states with a catalog of more than 269,000 books (NLS, n.d.).
While it began as a braille book program, research and development on "talking books" was already under way at the outset of the NLS. The service expanded to include the production and distribution of talking books, recorded audio of a human reader on vinyl records, starting in 1934, and experimented with a variety of record sizes and speeds through the 1960s. By 1969, the service adopted cassette tapes for its recordings and, by 2000, adopted the newly developed DAISY (Digital Accessible Information SYstem) standard for digital talking books (NLS, n.d.). With each change in formats, the NLS was not merely an early adopter but a major driver and developer of emerging technology—in terms of both the recording media and their specialized playback machines. Today, the NLS collects and distributes publications in braille and audio formats on various media: physical materials in embossed braille, audiobooks or magazines on digital cartridges for use with the talking book player, and digital braille or audio files available for download from the NLS Web-based services (NLS, n.d.).
The NLS remains a key service for U.S. readers with print disabilities, and similar organizations providing specialized library services for print-disabled readers exist in a number of countries, though at differing scales, across the Americas, Europe, Asia, the Middle East, and Africa.[2] However, because "[b]ooks are selected for the NLS collection on the basis of their appeal across a wide range of interests," the collection may not readily support individual research or upper-level education (NLS, n.d.). The collection is 65 percent fiction and 35 percent nonfiction and must meet a high demand for bestsellers, biographies, fiction, and how-to books, as well as the demand for youth books and for all works in Spanish and other languages (NLS, n.d.). Individuals with print disabilities who are reading for research, education, or work may have to look elsewhere for their materials.
Colleges and Universities
Conversion of text into accessible formats still takes place on an as-needed basis in contexts where accessibility is legally mandated and especially where individuals need to read for their education or employment. One such context is higher education. Colleges and universities do a significant amount of work converting publications and education materials into accessible formats.
Most U.S. colleges and universities have a dedicated office to support the accessibility needs of students with disabilities. Postsecondary disability service offices provide a range of services—for example, alternate testing facilities, American Sign Language interpreters—and most "have set up in-house shops to create or attain alternative media" in accessible formats (Dallas & Upton, 2011, p. 39). Colleges and universities have a legal obligation to effectively provide students with learning materials in accessible formats. According to the Department of Education's Office of Civil Rights, the effective provision of accessible formats has three basic components: "timeliness of delivery, accuracy of the translation, and provision in a manner and medium appropriate to the significance of the message and the abilities of the individual with the disability" (OCR, 1998, p.1). The disability services office often acts as a liaison between the student and instructor, communicating with the instructor about the need for accessible document formats and converting course documents (including "textbooks, PowerPoints, assignments, online readings, scanned readings, handouts" [Bromley, 2017, p. 3]) whenever the instructor is unable to select or produce them in already accessible formats.
Disability service offices use an adaptable workflow of physical scanning, optical character recognition, manual cleanup and, where needed, image description, to deliver the students an accessible format that best meets their needs and technical proficiencies (Bromley, 2017). "Common equipment for this process include high speed and flatbed scanners, a guillotine for cutting book bindings, optical character recognition (OCR) software, and braille embossers. Plastic comb binding machines can be used for rebinding books. Multiple computers and trained staff will be needed to handle large requests for alternative media" (Dallas & Upton, 2011, p. 40).
These offices are not libraries, and they generally do not build collections, preserve materials, or provide cost-free access. Rather, they convert individual materials that instructors have provided or students have acquired, and students usually must provide proof-of-purchase of textbooks before an accessible copy can be given to them from the office (Wolfe & Lee, 2007). Academic libraries may supplement these offices with their own services, converting items from the collection into accessible formats (Spina & Cohen, 2018). All academic libraries may, "with strong confidence … provide access to digitized texts for the print-disabled" under the latest interpretations of copyright law (Adler, 2015). However, the extent to which they actually support, publicize, and perform this work varies. Eighty-seven percent of libraries recently surveyed by the Association of Research Libraries reported that they provide staff assistance in copying/scanning/printing library materials for users with disabilities (Spina & Cohen, 2018). Only a few libraries specifically mentioned converting, creating, or obtaining alternate format materials for users with disabilities among the additional services they provide (Spina & Cohen, 2018).
The conversion and creation of accessible-format learning materials, whether performed by libraries or disability service offices, are crucial to the equal participation of students with disabilities, and the work of disability service offices in particular is a keystone of equitable access to postsecondary education. However the work of these offices also represents some of the least optimized and most duplicated work among strategies for accessible publishing. The conversion that takes place within an individual office may repeat conversion work that has already been done elsewhere and, for materials published from around year 2000 and later, may essentially recreate an accessible digital file that already existed at some earlier point in the digital publication workflow. Disability service offices may be aware of this frustrating reality but are nonetheless tasked with meeting the immediate need of the students they serve. Where publishers, media organizations, and individuals have failed to create accessible content, these offices must step in to fill the gap.
There is a growing demand for born-accessible materials within the higher education context, especially as materials become increasingly digital and the benefits of accessible content become more apparent. Born-accessible materials would provide timely and equitable access for students identified with print disabilities; students who experience disability but have not registered with the campus disability service office or disclosed their need for accommodations to their current instructors (usually prerequisites to receiving accessible copies); and students without diagnosed disabilities who may benefit from accessible reading technologies like text-to-speech, increased navigability, and flexibility.
In the meantime—between a future in which all learning materials are accessible and the present in which most are converted locally on demand—there is a growing collection of digital databases of accessible content to supplement local conversion. Some of these databases, begun only a few decades ago, have already built collections of accessible content as large as and larger than the NLS itself.
¤
1. The Report of the National Library Service for the Blind and Physically Handicapped (NLS, 2012) records "more than 800,000 reader accounts (reader accounts include institutional accounts and multiple service records for patrons using multiple services)."

2. The organizations surveyed in the Global Library Survey Final Report (2009) serve as a representative sample, see Section 7: Organizational Responses.

Top of page