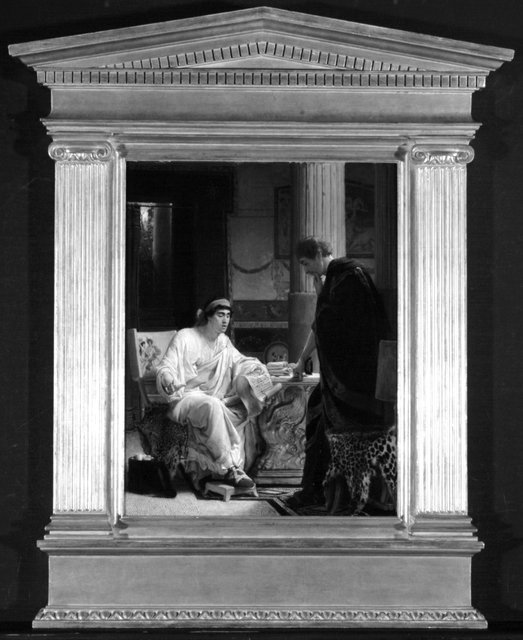 Sir Lawrence Alma-Tadema. Dutch, 1836-1912.
Vespasian hearing from one of his generals of the taking of Jerusalem by Titus
, 1866. Oil on panel, 51 × 38 cm. Museum purchase made possible with funds from the W. Hawkins Ferry Fund, 2004/2.143
The Dutch-born painter Lawrence Alma-Tadema made his reputation in Victorian England as a painter of distant historical epochs depicted with photographic lifelikeness and exacting attention to detail. The painting of a classical subject recently acquired by the Museum of Art is a wonderful example of Alma-Tadema's power to evoke an earlier period through artful invention and technical mastery.
Alma-Tadema demonstrated an interest in drawing at an early age, and even as a youth he was interested in history; some of his earliest surviving drawings depict Greek gods and goddesses (Swanson 1994, ch. 1). He received instruction at the Royal Academy of Antwerp before joining his early mentor, the Dutch painter Louis Jan de Taeye, whose studio assistant Alma-Tadema became in 1855. Alma-Tadema's paintings executed during his three years with de Taeye portrayed Frankish and Merovingian history, a subject of keen interest in the Low Countries at that time, combined with a high level of finish. In 1858, Alma-Tadema was hired by the Belgian academic painter Baron Hendrik Leys to assist Leys's mural project as a specialist in architectural perspective.[1] Alma-Tadema's commitment to historical subjects found its defining focus during his honeymoon in Italy.
In January 1863, Alma-Tadema married Marie Pauline Gressin Dumoulin de Boisgirard. The newlyweds traveled to Florence, Rome, Naples, and Pompeii, ostensibly to allow Alma-Tadema to study Byzantine and Early Christian buildings. It was his visits to Pompeii and Rome, however, that set the direction for much of Alma-Tadema's future work. His visit to Pompeii coincided with the first systematic excavations there, begun in 1860 by the director of excavations, Giuseppe Fiorelli. Since the discoveries of Herculaneum in 1738 and Pompeii ten years later, two Roman towns buried during the eruption of Mt. Vesuvius in 79 CE, scholars had been fascinated by the rich record of daily life these sites revealed. For Alma-Tadema the exquisite works on view in the Naples Museum and wall paintings found at Pompeii affirmed his dedication to the scientific depiction of even the most ordinary details of antique life. He amassed a significant photographic collection that is now part of the University of Birmingham.[2] This archive provides useful insight into the aspects of antiquity that captured the painter's imagination. His paintings reflect the current state of archaeology, and the numerous photographs in his collection reveal an archaeologist's interest in Graeco-Roman design.
The impact of Pompeii on Alma-Tadema's work was profound, and the years 1865–1870 are known as his "Pompeian" period. Works executed during these years are characterized by prominent use of the deep red he admired in Pompeian murals, rich tonalities, and the skillful application of paint. Alma-Tadema frequently used his encyclopedic knowledge of antique life to create works that have an intimate character, even when depicting—or imagining—historical events. Such is the case with the Museum of Art's Vespasian. Here the Roman emperor reads a communiqué describing the sack of Jerusalem by his son, Titus. Although this important historical event was celebrated in carved reliefs on the Arch of Titus in Rome, Alma-Tadema's portrayal is one not of imperial conquest and grandeur but of a private, even domestic, character. As with other paintings executed in 1866, Alma-Tadema has incorporated accurate details of Roman wall decoration, furniture design, and drapery. All of this rich and exacting observation is subordinated to the dramatic moment—albeit understated: the news recounted in the dispatch. Vespasian, seated on a painted chair lined with a leopard skin, is illuminated by an unseen light source to his left. Standing with his face in shadow is the courier, waiting in deference as the emperor absorbs the information he is reading. Alma-Tadema's works are carefully composed so that the balance of decorative elements, figures, and color accents results in an overall harmony of design that underscores the stillness and intimacy of his scenes.
Alma-Tadema spent many years living in England, and his work found an appreciative market. His reputation in Great Britain was formed with the support of the prominent Belgian publisher and art dealer Ernest Gambart, whom he met in 1864 in Antwerp. Although Gambart, who had offices in London and other cities in Europe, initially asked for works such as the artist's earlier Merovingian-inspired canvases, he quickly conceded to Alma-Tadema's recent preference for antique subjects. He offered Alma-Tadema a contract commissioning twenty-four canvases; the final painting of that series was delivered in 1868. The Michigan painting, executed in 1866, was among this important first group of works commissioned by Gambart.
Critics of Alma-Tadema's painting saw such works as shallow and focused on surfaces; others saw the artist's genre paintings as consummate reflections of Victorian mores. The critic John Ruskin, who was in the former group, noted in 1875, "the artistic skill has succeeded with all its objects in the degree of their unimportance. The piece of silver plate is painted best; the griffin bas-relief it stands on, second best; the statue of the empress worse than the griffins, and the living personages worse than the statue" (quoted in Barrow 2001, 79). Such assessments deny the lyrical beauty of Alma-Tadema's compositions, the intellectual challenge found in the array of classical detail, and the beautifully applied and dense paint surfaces. The Museum of Art's painting of Vespasian demonstrates the aesthetics of beauty and inventive skill that underlie the Pompeii-inspired work of Lawrence Alma-Tadema.
Works Cited
Barrow, R. J. 2001. Lawrence Alma-Tadema. New York: Phaidon Press Inc.
Lippincott, L. 1990. Lawrence Alma-Tadema: Spring. Malibu: J. Paul Getty Museum.
Prettejohn, E. 1997. Sir Lawrence Alma-Tadema. Exh. cat. New York: Rizzoli.
Swanson, V. G. 1994. Biography of Sir Lawrence Alma-Tadema. http://www.artrenewal.org/articles/2001/Alma-Tadema/tadema1.asp. Accessed 8/10/06.
Notes
Leys's work was also influential on James Tissot's early career. See Swanson 1994, ch. 2.

Alma-Tadema's photographic archive, amassed from about 1860 to 1910, remained intact following his death. From the scope of its holdings it is clear that the photographs, arranged thematically to facilitate his use of them, provided a wealth of archaeological detail that Alma-Tadema mined for his paintings. These images, along with his own drawings, served as inspiring aide-mémoires in the construction of his paintings. Another use he made of photographs, which began in 1866—the year the Museum of Art's painting was executed—was to have his friend, the photographer J. Dupont, whose studio was in the same building as Alma-Tadema's, photograph his works in progress. The painter used the photograph much as a printmaker would use an artist's proof, to check the tonal balances within the painting. After some adjustment to the painting by the artist, Dupont would photograph the painting again for Alma-Tadema to review. This process, which began with The Armourer's Shop in Ancient Rome, was one on which Alma-Tadema relied for the remainder of his career. For a discussion of Alma-Tadema's use of photographs in his paintings, see Swanson 1994, ch. 3 and Ulrich Pohlmann's essay "Alma-Tadema and Photography" in Prettejohn 1977, 111–124.
Top of page