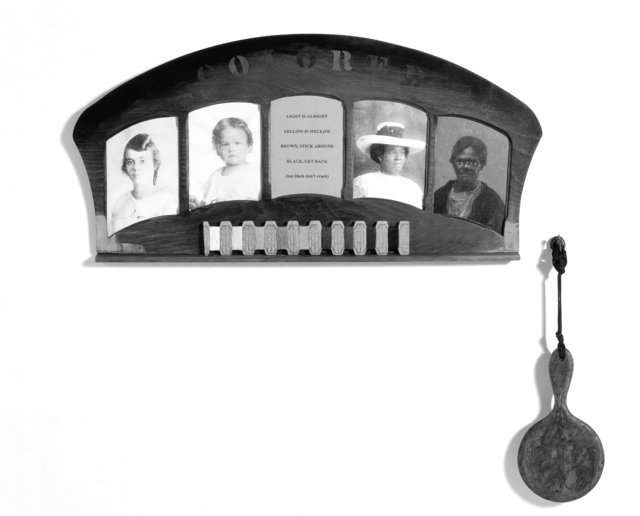 Betye Saar. American, born 1926.
Colored
, 2002. Mixed-media assemblage with hand mirror, 36.8 × 76.2 × 3.8 cm. Museum of Art purchase made possible through the generosity of Dr. James and Vivian Curtis and the W. Hawkins Ferry Fund, 2003/1.406
Since the early 1960s, Betye Saar has produced a profound body of work that confronts a variety of issues ranging from mysticism to race to personal and collective memory. Her engaging assemblages often incorporate personal items and evocative found objects, including photography of African Americans.
Born in 1926 in Los Angeles, Saar has firmly established herself in the contemporary art world with her assemblages and installations. In the earliest stages of her career, she found success with ceramics and printmaking, but upon visiting an exhibition of Joseph Cornell's assemblages, in late 1967, Saar was introduced to a method that would allow her to utilize the found materials she had been collecting over the years. Saar was also well acquainted with Simon Rodia's Watts Towers—a thirty-three-year-long project constructed from seashells, dismantled pipes, bed frames, broken tiles, and bottles. The influence of both Cornell's and Rodia's work is evident in an early assemblage, Omen, which dates from 1967.
While Saar's assemblages of the late 1960s dealt with her interest in mysticism and ritual, her work of the early 1970s focused more on issues of race. Her seminal Liberation of Aunt Jemima takes an appropriated memo-pad holder featuring the figure of a stereotypical mammy and replaces her pencil with a rifle—transforming her image, empowering her, readying her for combat. In 1975, Saar inherited her beloved aunt's collection of accumulated personal objects—photographs, gloves, fans, lace, brooches—all of which became the basis for her work of the late 1970s and early 1980s, which dealt intimately with personal family histories and memories.
In the 1980s Saar contemporized her fascination with mysticism by incorporating computer components into her work, exploiting advances made in photocopiers, and manipulating Polaroid photographs. In the late 1990s, feeling that her investigations into race were still unfinished, Saar produced a body of work that again made use of racially stereotypical images and addressed the need for continued vigilance in this area. Her 1998 series Workers + Warriors: The Return of Aunt Jemima featured vintage washboards, onto which the artist transferred photographic images of black women at work as domestic servants and washerwomen. The series served to underscore the limited economic opportunities available to black women. Her 2000 series In Service: A Version of Survival also addressed the issue of servitude, this time with serving trays and shoeshine kits. Ideas born from both of these series led Saar into a new body of work that formed the basis of the 2001 exhibition Colored: Consider the Rainbow, from which UMMA's recent acquisition came.[1]
Colored: Consider the Rainbow focused on a different form of racism—one that occurs within a race. The works created by Saar for this series—Cream, Blend, Honey, Sandy, Miss Ruby Brown, Molasses, Coffee, and Blackbird—all reference names African Americans sometimes use to describe one another acccording to skin tone. Saar described this body of work as one that investigates
how our past has programmed us to judge ourselves and each other by skin color as well as class and occupation. By defining who we are by the color of our skin, by calling each other names from rude insults to terms of endearment, is in a way, a continuation of slavery. In reality, all the things that hold us together as African American are as varied as the things that make us unique. (King-Hammond 2002, 7)
The "Skin Game," as described by Leslie King-Hammond, is a more current euphemism for "color struck," which is a term applied to the rise of the mulatto population in America as a result of early unions between enslaved Africans and European indentured servants from Ireland, England, and Scotland (King-Hammond 2002, 15 n. 3). This term is particularly meaningful for Saar, who herself has ancestry that is Irish, African, and Native American.
In Colored, Saar has utilized a found, vintage wood frame, into which she has inserted four photocopies of photographs of African Americans of varying skin tones. Along the bottom ledge, the artist includes an old paper spool holding different colored threads. In both the photographs and the threads, the colors or shades are arranged from lightest to darkest—a range of color values used by African Americans and others to judge and discriminate. Extending the metaphor, Saar also includes a vintage mirror, attached to the wall, so viewers can judge themselves against the color spectrum.
The overall arrangement of the work, with its arc of colored photographs, recalls the shape of a rainbow, a colored arc, which lent the exhibition its subtitle "consider the rainbow." In her own words introducing the accompanying exhibition catalogue, Saar stated: "It is my goal as an artist to create works that expose injustice and reveal beauty. The rainbow is literally a spectrum of color while spiritually a symbol of hope and promise."
N.B. The Museum of Art is currently organizing a major retrospective exhibition of the work of Betye Saar, entitled Betye Saar: Extending the Frozen Moment. After its showing in Ann Arbor in the autumn of 2005, the exhibition will begin a national tour. A scholarly catalogue will accompany the exhibition, with essays by Lowery Stokes Sims (Studio Museum of Harlem), Richard Cándida Smith (University of California at Berkeley), Kellie Jones (Yale University), Deborah Willis (New York University) and James Christen Steward (University of Michigan Museum of Art).
Note
For more on Betye Saar's life, see Carpenter with Saar 2003.
Works Cited
Carpenter, J. H., with B. Saar. 2003. Betye Saar. San Francisco: Pomegranate Books.
King-Hammond, L. 2002. "Bitter Sweets: Considering the Colored Rainbow Universe of Betye Saar." In Betye Saar. Colored: Consider the Rainbow, exhibition catalogue, 7–15. New York: Michael Rosenfeld Gallery.
Top of page