Each year since 1991, the Frankel Center has brought a prestigious scholar to campus to address diverse dimensions of American Jewish culture. The lecture was established through a generous gift from the late David W. Belin, an alumnus of the College of Literature, Science and the Arts, the Business School, and the Law School of the University of Michigan. More...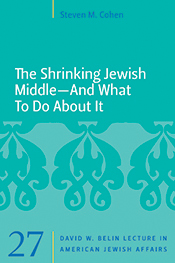 The Shrinking Jewish Middle—And What to Do About It (2017)
Steven M. Cohen
The number of non-Orthodox Jews engaged in American Jewish life is poised to drop sharply within the next 20 to 40 years. Low rates of marriages and births, along with high rates of intermarriage among Conservative, Reform, and Reconstructionist Jews, are generating a shrinkage of what may be termed the "Jewish Middle." Steven Cohen, Research Professor of Jewish Social Policy at Hebrew Union College-Jewish Institute and Director of the Berman Jewish Policy Archive at Stanford University, discusses the kinds of policies that could slow these trends at the 27th annual Belin Lecture in American Jewish Affairs.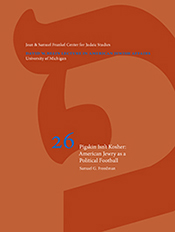 Pigskin Isn't Kosher: American Jewry as a Political Football (2016)
Samuel G. Freedman
In an era when American political discourse is marked by deep polarization along partisan and ideological lines, American Jewry has found itself sought out, or manipulated, as a potential swing vote. More than ever during the years of the Obama presidency and Netanyahu prime ministership, political conservatives in both the United States and Israel have looked for wedge issues that can move American Jewish voters away from their tradition fealty to the Democratic Party and liberal values. The current vitriolic debate over the Iran nuclear deal is, in many ways, the logical extension of mobilizing efforts that go back to 2008 and have antecedents decades earlier. This lecture, and the essay that will arise from it, will look at the religious, cultural, demographic, and generational forces that underlay the currently fractious and embittered state of American Jewry and its Israeli brethren – a blow-up that is not nearly as sudden or unexpected as one might believe.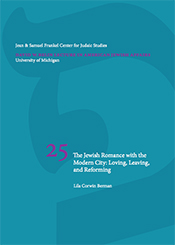 The Jewish Romance with the Modern City: Loving, Leaving, and Reforming (2015)
Lila Corwin Berman
In modern times, Jews emerged as the consummate urban dwellers. Urbanism imprinted itself upon Jewish political, cultural, economic, and spiritual life, just as Jews imprinted themselves on city space. What happened, then, to cities and to Jews, when Jews joined the droves of Americans who left urban space after World War II? Drawing from her extensive research on Detroit, Lila Corwin Berman suggests that contrary to the history of white flight, the story of Jewish migration away from cities is not one of urban disinvestment. As Jews moved away from cities, they remained invested, even if ambivalently, in urban life. American Jews' enduring urbanism reflected their historical entanglement with modern urban formation. In recent years, Jews have returned to city spaces once considered inhospitable to Jewish life, helping to set in motion new political and economic structures that are remaking urban life as we know it.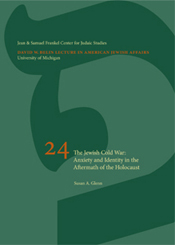 The Jewish Cold War: Anxiety and Identity in the Aftermath of the Holocaust (2014)
Susan A. Glenn
At mid-century, a contentious Jewish war of words took place over questions of intra-group loyalty, the meaning of Jewish identity in the aftermath of the Holocaust, and prospects for Jewish group "survival" in the United States. This intra-Jewish conflict, which paralleled and drew rhetorical energy from America's Cold War era preoccupations with the evils of Communism and "totalitarianism," pitted liberal Jewish intellectuals against Jewish ethnic particularists and nationalists, forcing liberals to defend their principles in the face of charges of disloyalty to the Jewish people.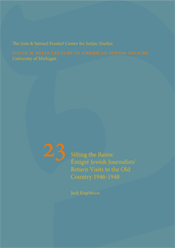 Sifting the Ruins: Émigré Jewish Journalists' Return Visits to the Old Country, 1946–1948 (2013)
Jack Kugelmass
Toward the end of World War II, émigré Polish Jews were particularly eager for information about their homes—information that could only be provided by "boots on the ground." The American Yiddish press sponsored return trips to Poland by prominent social activists and journalists, and their correspondence was prominently displayed and advertised, often re-published as books and sometimes published also in English translation. Sifting the Ruins examines a number of these volumes while focusing on the untranslated material.
Volume 23 follows Volume 18 in the Belin Lecture Series. Beginning with Volume 23, the series has been numbered to correspond to the year of the lecture.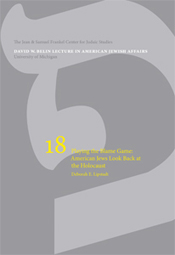 Playing the Blame Game: American Jews Look Back at the Holocaust (2011)
Deborah E. Lipstadt
Over the years since World War II, scholars and popular writers have closely analyzed Franklin D. Roosevelt's policies regarding the rescue of European Jewry during the Holocaust. Most have severely criticized FDR while others have defended him and his policies. This lecture explores to what degree these analyses have become intertwined with contemporary issues facing the Jewish community. After tracing both the scholarly and popular historiography of America and Holocaust, Lipstadt asks: When are we reading history and when is history being used as a metonym for what is really a conversation about contemporary political issues facing the Jewish community? When is this conversation about the 1930s and 1940s, and when is it really about what is happening in the 21st century?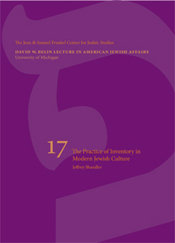 Keepers of Accounts: The Practice of Inventory in Modern Jewish Life (2010)
Jeffrey Shandler
How does modern Jewish culture work? One vital yet largely overlooked activity is inventory: creating lists of people, books, artworks, songs, jokes, and implementing these lists in such practices as literary canons, collectible cards, halls of fame, and websites. Shandler argues that, through inventory, Jews respond to the challenges posed by making culture with this quintessentially modern idiom.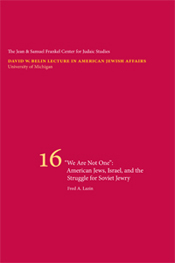 "We Are Not One": American Jews, Israel, and the Struggle for Soviet Jewry (2009)
Fred A. Lazin
Following the Six Day War, in the late 1960s, American Jews joined hands in fund-raising efforts to benefit Israel. At the same time, great effort was being made toward resettlement of Soviet Jews. Some American Jews supported the notion that Israel was more deserving of the population of Soviet Jews, while others argued that a maximum number of Soviet Jewish émigrés were needed to replenish the dwindling American Jewish population. Fred Lazin traces the history of the movement in support of Soviet Jews and its impact on American Jewish identity.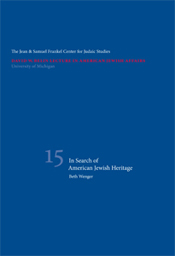 In Search of American Jewish Heritage (2008)
Beth Wenger
When Jews arrived in the United States, they found themselves in a country that offered unprecedented freedoms and opportunities, but also in a nation with no Jewish past. As successive generations of Jews settled in the United States, they gradually invented new renditions of Jewish collective history, uniquely suited to the American environment.
Beth Wenger explores the ways that Jews wrote America into Jewish history and Jews into American history, shaping a distinct Jewish heritage in the United States.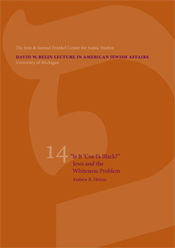 "Is It 'Cos I's Black?" Jews and the Whiteness Problem (2007)
Andrew R. Heinze
Starting with reflections on the comedy of Sasha Baron Cohen, specifically his infamous "Ali G" persona, Andrew R. Heinze discusses the heated question of "cultural exploitation" in America (the use of African-American idioms by white entertainers), especially as it pertains to Jewish performers past and present.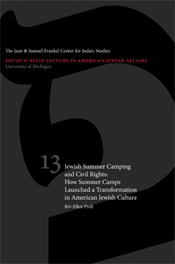 Jewish Summer Camping and Civil Rights: How Summer Camps Launched a Transformation in American Jewish Culture (2006)
Riv-Ellen Prell
Summer camping was and remains a dynamic form of Jewish socialization in the United States. During the 1960s, many of these camps made the Civil Rights Movement an important aspect of summer programming. How and why Civil Rights served as a way to rethink American Judaism and American Jewish identity is a fascinating and untold story of the experience of an important group of Jewish Baby Boomers.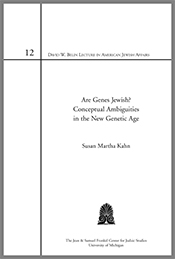 Are Genes Jewish? Conceptual Ambiguities in the New Genetic Age (2005)
Susan Martha Kahn
The notion of a biological basis for Jewishness may be regaining traction among contemporary Jews. Susan Martha Kahn seeks to illustrate why by parsing the logic and appeal of new genetic technologies in three discursive domains: population genetics, medical genetics, and rabbinic discourse on reproductive technologies.
Edited by Deborah Dash Moore
Belin Lectures from 1990-2004 are freely available to search and read in this book.
Top of page