Abstract
This essay explores local, individual expressions of religious belief in a burial context, using the evidence of funerary dress and burial practices from the late fourth-­ to early ninth-­century CE cemeteries of Matmar and Mostagedda, in Middle Egypt. It proposes that the communities at Matmar and Mostagedda, although most probably nominally Christian, developed particular practices and beliefs that to a large extent continued older local traditions. The mixing of elements of traditional and Christian beliefs is best described in terms of religious syncretism, engendered by concerns related to salvation, protection in the afterlife, or a desire to express the piety of, and veneration practiced by, members of these agricultural communities.
The study of late antique Christianity in Egypt has developed considerably over the past decades, shifting from a predominantly textual approach to the inclusion of archaeological and documentary evidence.[1] This change has created a significantly richer understanding of the locality, regionalism, and particularity of conversion to Christianity, as well as of the development and survival of traditional Egyptian and Hellenistic cults. Archaeology has often proven to be an effective tool for inquiry into local and regional communities, and its inclusion in the study of Christianity has been repeatedly advocated over the last decades.[2] These developments have resulted not only in an array of archaeological studies of religious belief and practice, drawing their evidence mainly from burial or cultic settings,[3] but also in a shift in textual research, toward the analysis of local and individual expressions of belief.[4] Similar developments are noticeable in historical, art historical, and archaeological scholarship, with an increasing number of studies in these fields focusing on the relationship between dress and the manifestation of group or individual identity, religious or otherwise.[5] Late antique religious beliefs, Christian or non-­Christian, are now understood as nuanced, deeply local phenomena, the peculiarities of which are highly dependent on social, cultural, and environmental realities.
In this context, the present essay explores local and individual expressions of religious belief in a burial context, using as evidence the late fourth-­ to early ninth-­century CE cemeteries at Matmar and Mostagedda, in Middle Egypt (fig. 1). By taking a nuanced approach to religious differentiation and identification, it proposes that the communities at Matmar and Mostagedda, although most probably nominally Christian, developed particular burial practices and beliefs that were strongly linked to old local traditions, mixing elements of traditional and Christian beliefs. The resulting mélange was engendered by local concerns related to salvation and protection in the afterlife, as well as a desire to express the piety of and veneration practiced by these agricultural communities. The study begins with an overview of the discovery of the necropolises and of excavation practices, as well as the ways in which the latter influenced the preservation of material, leading to considerable methodological limitations. It proposes a chronological framework for the use of the necropolises by reviewing the excavator's dating in light of surviving museum material and the results of recent radiocarbon dating. The burial practices are analyzed based on the evidence of ninety-­six recorded tombs, focusing on the use of dress items—­jewelry, accessories, and textiles—­in conjunction with other grave goods. The problematic question of the social, economic, and religious identities of the communities at Matmar and Mostagedda is touched upon, and is further explored in a detailed inquiry into the material evidence for expressions of belief. The evidence of the archaeological record is contextualized with the use of existing archaeological and textual research on Christianity in Egypt. Conversely, ideas commonly circulating in archaeological research are challenged by setting them against the evidence on-­site.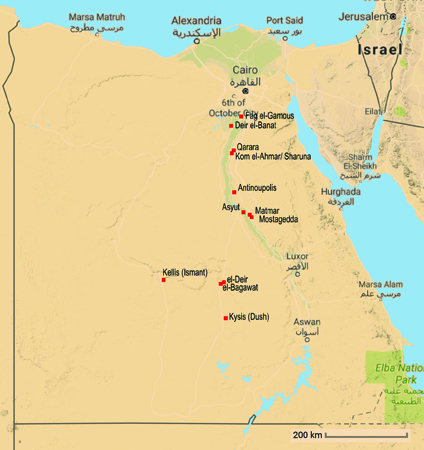 Figure 1. General map of Egypt, including the sites mentioned in the text. © 2016 Google, Inst. Geogr. Nacional, Mapa GISrael, ORION-­ME
The Discovery and Excavations of the Common Era Cemeteries
The sites of Matmar and Mostagedda are located on the east bank of the Nile, south of Asyūṭ, on a narrow strip of low desert that separates the agricultural fields of the river valley from the higher desert plateau (figs. 2–­4). At the beginning of the twentieth century, extensive excavations were organized in this area—­also known as the Badari District—­under the auspices of the Egypt Exploration Society and the direction of William M. Flinders Petrie. When the Society moved its fieldwork to Palestine in the late 1920s, Petrie's longtime collaborators, the well-­known Egyptologists Guy Brunton (1878–­1948) and his wife Winifred (1880–­1959), decided to continue self-­funded excavations in a previously unexplored, yet "very promising,"[6] area close to the contemporary villages al-Matmar and al-Nazla al-Mustagidda.[7]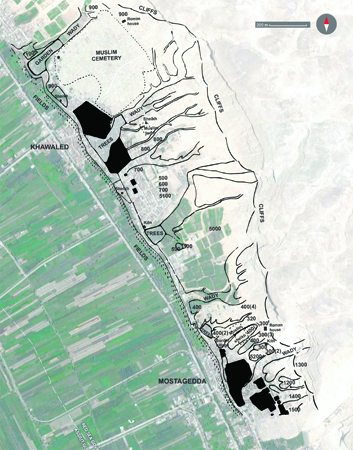 Figure 2. Brunton's excavations north of Mostagedda. Reconstruction of the published map overlapping the contemporary site. Background image: © 2016 DigitalGlobe, Map data © 2016 Google, ORION-­ME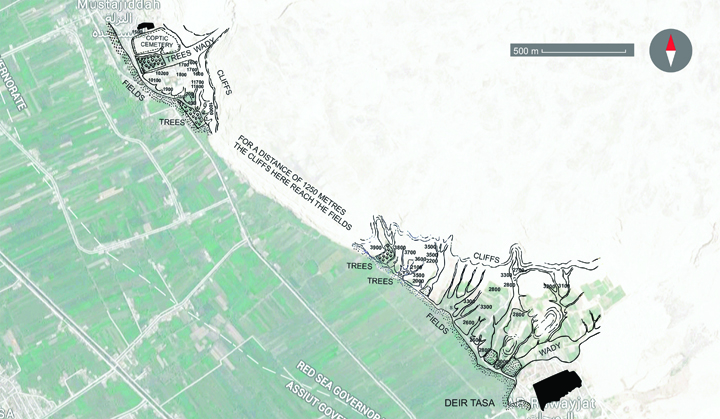 Figure 3. Brunton's excavations south of Mostagedda. Reconstruction of the published map overlapping the contemporary site. Background image: © 2016 DigitalGlobe, Map data © 2016 Google, ORION-­ME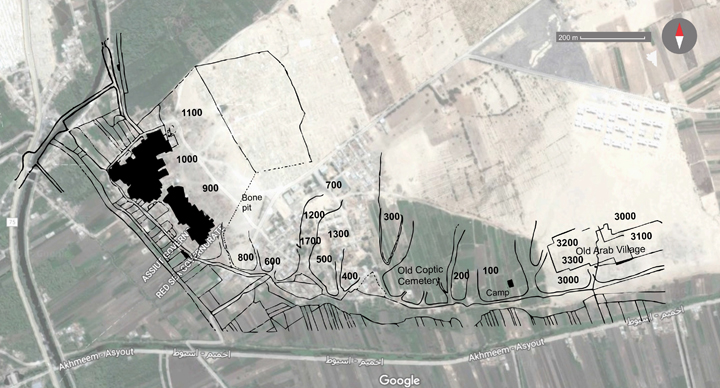 Figure 4. Brunton's excavations at Matmar. Partial reconstruction of the published map overlapping the contemporary site. Background image: © 2016 DigitalGlobe, Map data © 2016 Google, ORION-­ME
Between 1927 and 1931, the couple conducted three seasons of excavation at each site, uncovering vestiges dating to almost every period of Egyptian history. (Badarian settlements and necropolises were repeatedly reused as burial grounds in later times.) Despite extensive excavations, only a few isolated architectural structures dating to later times were found, and the corresponding settlements were not (yet) discovered. In the burial grounds, extensive cemeteries assumed to date from the "Ptolemaic or early Roman" to "early Arab" times were found. An unknown number of burials, probably in the order of hundreds, were excavated here, of which 115 were deemed most important and were recorded in two subsequent publications, Mostagedda and the Tasian Culture and Matmar; their grave goods were shipped to over twenty institutions and private individuals. Only about three hundred items of an original group of more than six hundred[8] survive, primarily in museums in the United Kingdom and Germany. A smaller number belong to museum collections in Australia, New Zealand, and South Africa, to name the most important. Almost nothing can be said about the missing half. Some artifacts may have been returned to the grounds where they were discovered,[9] while others may have been kept by Brunton himself, then sold or donated.[10] These objects, and the cemeteries in which they were found, are the focus of the following discussion.[11]
Methodological Limitations
When dealing with material excavated in the early twentieth century, a series of methodological difficulties related to insufficient and selective recording becomes apparent; in that regard, this study is no exception. Compared to the archaeological practice of his day, Guy Brunton's excavation and recording methods were models of systematic scrutiny and precision. A fair amount of documentation about his excavation methodology, as well as the contexts and characteristics of both burials and their grave goods, is still available. Nonetheless, Brunton made a number of decisions that produced serious biases in the recorded data, foremost among which was his avoidance of poor and previously looted burials. When excavated by chance, such burials were not properly documented in the publications, leading to an overrepresentation of rich burials at the expense of burials without goods. Assuming that the number and quality of burial goods testify to the economic situation of the dead, the poorer population from Matmar and Mostagedda is practically absent from the record.
A second aspect that poses problems is the limited and often selective documentation of burials and their grave goods. The orientations and positions of bodies were recorded for the majority of burials at Matmar but for only a few at Mostagedda. Likewise, the specific position of grave goods was rarely recorded, hindering an in-­depth analysis of burial practices. The identification of sex was performed without the presence of a specialist, which raises questions about its reliability. On many occasions, insufficient descriptions of artifacts and the lack of illustrations make the identification of items in museums impossible.
In analyzing this rather incomplete and inconsistent data, Brunton's own publications were used as a point of departure, then set against information available in the much-­diminished and scattered Brunton archive, as well as against the evidence garnered from surviving artifacts in museums. For quantification purposes, several tombs and artifacts with incomplete or biased records were set aside; the practicalities of selection are described in the endnotes. This study is based on the information presently known about the burials at Matmar and Mostagedda. Once more data becomes available, knowledge about the burial dress, practices, and religious beliefs of these communities may undergo considerable revision.
The Late Antique to Early Islamic Cemeteries (Fourth-­ to Early Ninth-­century)
Location and Dating
Of the approximately 115 recorded graves, eighteen tombs from area 3900 at Mostagedda were dated by Brunton to "Ptolemaic or early Roman times." The remaining ninety-­six graves—­sixty from Matmar and thirty-­six from Mostagedda[12]—­were dated to "Roman," "Coptic," and "early Arab" times. At Mostagedda, "Roman and Coptic" burials "were scattered about in most of the areas north of the headland, especially in [area] 1400."[13] The necropolises in areas 300, 400, 500, 800, 900, and 1100, although assumed to date generally to early Roman times, also contained two "Coptic" graves. The necropolises in areas 1400, 1800, 1900, 10100, and 11700 were assumed to date to "Coptic times" but included three "early Arab" graves as well (see figs. 2–­3). At Matmar, graves of the "Roman and Coptic" times were mainly scattered in areas 600, 800, 900, 1000, and 1100, and to a lesser extent in areas 1300, 3200, and 5200 (see fig. 4). It is not entirely clear what Brunton meant by these period labels since he did not define them chronologically; most probably, he used the accepted periodization of the day, which labeled material assumed to date to the first three centuries of the Common Era "early Roman" and "Roman." The material dating from the fourth to the seventh or eighth century was connected to the Christianized Egyptian society, being termed "Coptic." As for the label "Early Arab," Brunton most probably referred to tombs dating to the period after the Arab conquest of Egypt, rather than to those of Muslims or Arabs.
Compared to the typology, style, and decoration of the material surviving in museums, and set against the radiocarbon dates obtained for twenty textiles,[14] Brunton's periodization is generally slightly earlier. Judging from three textiles coming from area 3900 at Mostagedda that have been radiocarbon-­dated to early Islamic and Mamluk times,[15] Brunton's dating of cemetery 3900 as "Ptolemaic" or "early Roman" is questionable, if not entirely flawed. The typology and iconography of the surviving material, in agreement with the range of radiocarbon dates obtained from the textile samples, indicates that the "Ptolemaic," "(early) Roman," and "Coptic" cemeteries at Matmar and Mostagedda were used roughly from the late fourth to the end of the eighth, or possibly the early ninth, century, with notable differences in the span and peak of use at each site. Interestingly, area 3900 at Mostagedda was used in early Islamic and Mamluk times as well.
At Mostagedda, areas 1400 to 11700 contained burials datable from the fourth to the end of the eighth or beginning of the ninth century, with numbers peaking during the seventh and eighth centuries.[16] Most of the textiles found in these cemeteries have applied decorative bands on their edges, as well as applied clavi, orbiculi, and cuff bands, features generally datable from the fifth to the ninth century.[17] Several tailored tunics with short sleeves and widened bottoms—­types commonly produced during the same centuries and later—­also have been found.[18] Their tapestry decoration, whether applied or woven in, commonly includes vegetal designs or repetitive plant and animal motifs executed in a highly stylized manner. Unfortunately, no coins were found in burial contexts or other deposits, although the pottery recovered represents almost all types common during Late Antiquity and early Islamic times.[19]
The Matmar cemeteries were most likely in use slightly earlier, from the fourth to the seventh century, with a peak in activity during the fifth and the sixth century. Several coins found in unidentified poor burials of areas 800 and 1000, as well as in tombs 831 and 847, date from the second half of the fourth century. Likewise, coins found on the surface date from the second half of the fourth century, with only one example dating to the early fifth. How long the coins were in circulation before being deposited is difficult to determine, but they do provide a terminus post quem for the burials. A fragment of an ostrakon in Coptic—­dated to the seventh to eighth century on paleographical grounds by W. E. Crum—­appears to be one of the latest vestiges on-­site. As for the burial textiles, the majority have decorations that correspond to styles commonly dated from the fourth to the sixth century: tapestry bands with geometrical decoration realized in flying needle technique[20] and gamma motifs. In agreement with the typological assessment, the radiocarbon dates of seven textile samples from Matmar, corresponding to tombs in areas 800 and 1000, range from 410 to 665 CE, with only one textile (Bolton Museum, 1931.46.12) dating earlier, to 1738±29BP (230–­390 CE, RICH-­23471, 95.4%).[21]
The Burial Practices
As in many other parts of Egypt at the time, the body of the deceased was placed in a rectangular or oval pit. Apart from two exceptions—­burials 826 at Matmar and 1400 at Mostagedda, where an adult female and an adult male, respectively, were each buried with a child—­all pits represent individual burials. The body was wrapped in one or multiple shrouds; garments sometimes were used for wrapping the body instead. Little can be said about the wrapping process, or the succession of layers and their positions, as Brunton's descriptions are often laconic or leave room for interpretation. Judging from the evidence elsewhere, the number of shrouds used in each burial may have been considerable.[22] Red and white crisscross or lattice "bandages" occasionally were used for wrapping the entire body or the head alone.[23] The practice of padding the head and feet to create protrusions, which were then fastened with colored tapes, is well attested at other sites, Fag el-­Gamūs[24] and el-­Kom el-­Aḥmar/Sharūna[25] among them. How widespread the practice was at Matmar and Mostagedda is not entirely clear, although—­judging from the description of the dead in area 600 at Matmar, who were "mostly wrapped in red and white criss-­cross bandages" and had "masses of cloth round the head"—­it may have been quite common. Additionally, remains of cloth rags on textiles surviving in museums suggest the same practice (fig. 5). Reed and rush stalks or palm leaves occasionally were placed next to the head, and along or between the legs of the deceased, to support the body during the wrapping process.[26] In several instances the exterior wrapping layer consisted of a mat, possibly added for extra protection.[27]
The wrapped body was placed at the bottom of the pit without further protection. This must have been the most common practice at the two sites, as Brunton mentions "wood" as coffin material only for tombs 1011 and 1012 at Matmar. Judging from the circumstantial evidence, it is likely that he referred to wooden boards that supported the body rather than to wooden structures. The construction of bricked loculi seems to have been practiced in earlier Roman times and did not continue later on.[28] Only two adjoining tombs—­1414 and 1415 from Mostagedda, dating to "early Arab" times—­had bricked loculi, oriented to the north and south, respectively. Additionally, a female in tomb 623 at Matmar was buried in a "cylindrical pottery coffin." Although the tomb was listed in the "Roman and Coptic graves" section, the burial goods suggest an earlier date, possibly Ptolemaic or early Roman. The vast majority of the deceased were laid in a supine position, with hands clasped or placed side by side on the pelvis, or, less commonly, placed beside the body (table 1).[29] The deceased in a single tomb—­917 from Matmar, dated to the "Coptic" period—­was found lying on her right side. Typically, the bodies were oriented with their heads facing west, although five were oriented differently.
It is unclear to what extent the deceased were provided with garments. Brunton was either brief in describing burial attire or skipped it completely. Whether textile descriptions are absent due to Brunton's lack of interest in them or to the deceased being wrapped only in shrouds remains a question. Burying the deceased naked and wrapped in shrouds was not at all uncommon, judging from the evidence at Dūsh, or el-­Deir, further south in the Kharga Oasis.[30] Reading Brunton's descriptions of burial attire, it is often impossible to differentiate among the garments that wrapped, covered, or clothed the bodies, let alone to establish the succession of layers. Up to five garments accompanied the bodies,[31] and textiles surviving in museum collections indicate that, most often, these were various types of woolen tunics with woven-­in or applied tapestry decoration, occasionally accompanied by shawls, headbands, or hairnets. The burial textiles often bear signs of wear, reuse, and mending, indicating that they had been in use long before being placed in the grave. Others, such as a brown woolen tunic with woven-­in tapestry clavi from tomb 10106 at Mostagedda, may have been readjusted for burial purposes (fig. 6).[32]
The majority of the deceased were buried barefoot; only five of them wear shoes. Tomb 1006 at Matmar is unique in that the female mummy wore shoes on her feet, and five shoes of different sizes, as well as five pairs of sandals, were placed alongside her body (fig. 7). The head often received special attention, being individually wrapped in cloth, then bound by straps of wool. Although details of how the head was specifically treated were recorded only selectively, it seems that blue textile headbands with white geometrical decorations in brocading weft were preferred for wrapping the head[33]; shawls of various colors[34] and, more rarely, sprang caps[35] also were used (fig. 8).
As to the burial goods, items of personal or household use are sometimes present (table 2). Tomb 11713 at Mostagedda was unique in that it contained fish vertebrae. Pottery was used as a grave good infrequently, only three tombs being provided with two pots and a clay net sinker, respectively. Jewelry, either placed on the body or worn, is the most common type of grave good. The deceased were most often adorned with bead necklaces, metal torques, or strings with pendants. Necklaces, appearing in at least sixty-­three tombs, represent the item of jewelry most often encountered at both sites, followed by bangles of common metals (most often iron and copper alloys), which appear in thirty-­seven tombs. Earrings were as frequently used as bangles, while finger rings and anklets appear to a lesser extent. Items of jewelry were not only worn but also were placed on the chest, body, and pelvic area. Interestingly, a series of mummies wore, or had placed on the chest area, torques and bangles with rings strung on them. The symbolic use of grave goods will be discussed later. It is useful to ask in that respect who the people buried at Matmar and Mostagedda were and what can be inferred about their social, economic, and religious identities from the evidence on-­site as well as from other sources.
Whose Burials?
The absence of settlements connected to the necropolises diminishes considerably what can be said about the social, economic, and religious composition of these communities. The people burying their dead in the grounds near Matmar and Mostagedda may have lived in villages further down the Nile Valley, a reasonable explanation for the absence of settlements on-­site. These unidentified villages were probably dependent on agriculture for subsistence, as was the entire Valley. The inhabitants, at least those buried at Matmar and Mostagedda, seem to have come from (what can be understood as) the lower and middle classes. However, there seems to have been a considerable population that could afford being buried with fine garments, personal adornments, and other valuable goods.
The cemeteries contain a disproportionately large number of women and children. This feature, which also has been remarked upon in relation to earlier burials from the Old and Middle Kingdoms, may have been the result of males being buried separately, in unexplored areas of the cemeteries.[36] Although this suggestion seems plausible in the absence of any other evidence, it is important to note that Brunton's sex identification methods may have led to a number of males being classified as female.
Turning to the religious background of these communities, an idea about their beliefs can be gained by considering research on religious conversion in Egypt. Studies that tackle the issue based on naming practices, although questionable to some extent, have shown that Christianity grew steadily over the fourth century, from roughly twenty to thirty percent of the population around 315 to approximately seventy percent toward the end of the century.[37] The Christianization process was paralleled by the gradual abandonment of pagan temples during the fourth century.[38] By the mid-­fifth century, the number of Christians amounted to about eighty-­five percent of the population; in the early sixth century, almost all Egyptians considered themselves Christian. At the two sites, evidence from burial contexts, architectural structures, and surface finds confirms that a Christian community was present. At Mostagedda, stone blocks, quarried from the neighboring cliffs in Roman times, bore the remains of incised crosses, which led Brunton to think that they were reused in "Coptic" times.[39] The base of a pottery vessel discovered in the rubbish fill of a structure in area 300 was decorated with a "circle of stamped crosses."[40] Similarly, a pot found loose in area 3200 at Matmar bore a cross, judging from the catalogue illustration.[41] The presence of a Christian community is most clearly discernible from the funerary stelae retrieved at Matmar, the largest of which attest to the Christianity of the deceased for whom they were used, as well as from a total of fifteen tombs containing items with symbols that can be understood as Christian (see table 2).
When and to what extent Christianity was adopted by these communities remain daunting questions. The Matmar stelae help little in establishing a chronology of the Christian presence on-­site, due to the lack of any archaeological context for them. None of the tombs from areas 800 and 1000 at Matmar, datable on numismatic evidence to as early as the late fourth or fifth century, contain items with Christian symbolism. Neither do tombs 1008 and 1013, for which the radiocarbon-­dated textiles offer a terminus post quem as early as the first decades of the fifth century. Given that all of the coins found in these two areas are dated to the late fourth century, and taking into account the similarity of artifacts from tombs with Christian symbols and those in securely datable tombs, it is possible to suggest that at least some of the Matmar tombs containing items with Christian symbolism may date as early as the late fourth or fifth century. The Christian community that buried their deceased in the necropolises probably made use of chapels adjoining the cemeteries. Although no remains of cultic structures, Christian or otherwise, were found at either site, vestiges of three chapels adjoining cemeteries at the neighboring sites of Qaw and Badari suggest that chapels may have existed at Matmar and Mostagedda as well[42]; the fact that no temple was found is hardly surprising, given that the settlements themselves are missing. Only a few kilometers away, Asyūṭ was an urban center with a considerable Christian community, a number of thriving monasteries in its surroundings, and a few well-­attested bishops.[43] Although the presence of a Christian community starting at the end of the fourth century can be proposed, very little can be said about the veneration of traditional gods, Hellenistic or Egyptian. No tomb contains items that would lead to its identification as "pagan."
Drawing on all of these points, it is likely that a Christian population was present at Matmar and Mostagedda by the end of the fourth century, and that its numbers may have grown steadily later on. Whether and how affiliation to Christianity was expressed in a burial context, and what other concerns may have played a role in the practice of interring the dead, is the focus of the following section.
Religious Belief in Burial
The graves contain surprisingly scant explicit evidence of religious affiliation. Only ten of the dead at Mostagedda and seven at Matmar were provided with items with overtly Christian symbols: cross pendants, decorations in the shape of crosses, or images of saints (see table 2). Additionally, tomb 848 at Matmar had the Christian stela mentioned above yet contained no other item of Christian symbolism. Most of the Christian symbols that were found decorated items of jewelry: necklaces with cross pendants of metal, bone, wood, and mother-­of-­pearl, cross pendants either on strings or alone, and wirework earrings with decorative crosses. Such jewelry was worn, especially in the case of earrings, or was placed on the chest and body. A metal plaque incised with a cross was strung together with other rings and crosses on an iron torque worn by the child in tomb 1441 at Mostagedda. A second metal plaque, embossed with a figure interpreted as a saint, was placed on the body of another child, in tomb 1440 at the same site. Small crosses are embedded in the vegetal decoration carved on a wooden casket found next to the body of the female in tomb 1006 at Matmar (fig. 9). Apart from jewelry and accessories, two textiles present cross-­like decorations. The first—­probably a fragment of a decorative band on a tunic, buried with one of the dead in area 3900 at Mostagedda—­has a pattern of round medallions with cross-­like motifs.[44] The second, a woolen weave of unknown function accompanying the child in tomb 1012 at Matmar, features a similar pattern of oval and rosette medallions containing cross-­like shapes surrounded by vegetal motifs (fig. 10). It is difficult to assess whether the cross-­like motifs on the two textiles were understood as such, as they are not visually prominent but seem to be part of the decorative composition.[45]
What precise role crosses played in tombs, and whether they marked the religious identity of the dead, acknowledged their devotion, or were apotropaic devices, is yet another problematic issue. Generally, wearing the cross was considered an act of piety and devotion toward God[46]—­in addition to offering protection against evil and all kinds of misfortune.[47] Most likely, their devotional and protective meanings were equally envisaged when they were placed in graves. The fact that crosses were believed to hold protective powers is apparent from their burial association with other items traditionally used for their apotropaic value. A lead pendant in the shape of a cross was placed on the body of the deceased in tomb 1844 at Mostagedda, together with other items, including two bells, commonly believed to have protective value and used especially for children (fig. 11).[48] In a few cases, crosses were associated with torques and bangles that were strung with pendants and rings. Such was the case for the child in tomb 874 and the female buried in tomb 917 at Matmar. In tomb 1822 at Mostagedda, the set of items put on the child's body was considerably larger: an iron and a smaller copper alloy cross, an iron torque with four rings strung on it, an iron bracelet and a seal, and "three little disks of thin glass backed with plaster and set in lead." The three disks are probably mirrors,[49] of which other examples from burial contexts can be documented. A body in tomb 3203 at Matmar was found with a wooden mirror covered with plaster and fitted with a central glass piece. Similarly, a round wooden mirror found on the surface in the "Ptolemaic or early Roman" area 3900 at Mostagedda may very well belong to a Byzantine or later burial, considering the evidence provided by radiocarbon-­dated textiles. Finally, a piece of plaster-­backed glass encrusted on a plaster "human bust" was found beside the body of the female in tomb 1006 at Matmar, next to the casket with crosses mentioned above. This central glass piece may have functioned in a manner similar to mirrors, which, apart from being objects of personal grooming, were also believed to offer protection.[50] The precise chronology and meaning of the practice of providing the dead with glass-­fitted objects cannot be precisely established from the evidence on-­site. Generally, items of toiletry and personal adornment, including mirrors, are encountered in tombs at many other Egyptian sites,[51] and may be connected with providing the deceased with all personal items needed in the afterlife. The custom dates to dynastic times and seems to have regained its popularity from early Roman times onward.[52] A discussion about the joined use of crosses and traditional talismans in the context of what appears to be a Christian community, and how this practice should be interpreted, will occur later. At present, it is important to note that the practice of joining Christian symbols with traditional talismans and toiletry items is commonly found at such neighboring necropolises as Badari[53] and at numerous other sites, Fag el-­Gamūs and Antinoopolis being two examples.[54]
The presence of traditional talismans is by no means restricted to the graves containing Christian symbols. Reused dynastic scarabs, one phallic pendant, and a glass cylinder are only a few examples of pendants worn or placed on the bodies of the deceased (fig. 12).[55] Like jewelry and items of personal grooming, headgear with a symbolic meaning also was used. A sprang cap was placed next to the shoulder of a female in tomb 1414 at Mostagedda. Sprang caps were part of the everyday attire of adult women, indicating their married status—­and possibly their motherhood. Sprang caps seem to be associated only with female burials, and their presence in young girls' burials has been connected with unattained adulthood and fertility.[56]
In addition to items of dress and personal grooming, the vessels, broken or whole, placed in several tombs at both sites may have had a symbolic meaning. A broken glass "vase"—­rather, a bowl—­was placed over the feet of the male mummy in tomb 1410 at Mostagedda. The dead also had the lid of a basket placed over the pelvis, and the basket's body over the feet. Similarly, male mummies in tombs 1415 and 1421 at the same site had whole ceramic vessels placed near the head and over the pelvic area, respectively. Although these are the only three examples from the two sites, baskets and broken pots often were encountered in burial contexts elsewhere—­at Kellis and Antinoopolis, for example.[57] Ceramic or glass vessels placed on the pelvic or feet areas of the deceased, whether broken purposely or not, were probably assumed to protect against the evil eye.
In sum, the deceased at the two sites often were provided with crosses meant to express their piety and devotion, which—­together with other traditional apotropaic items, such as pendants and amulets, baskets and vessels—­were also meant to protect them from danger and evil. Indicating (attained or unattained) adulthood and fertility appears to have been another concern of those burying their dead on-­site. This situation, far from unique, is paralleled by similar customs at sites both in the vicinity and farther away, as the parallels above indicate.
Christian Burial Practices: An Archaeological Critique
The section above concentrated on the material evidence that demonstrates religious affiliation as well as the particular beliefs that may have prompted the use of artifacts with Christian or traditional symbolism. One further step in assessing the religious beliefs of the communities at Matmar and Mostagedda is to address those burial features that traditionally have been considered as providing indirect evidence for the (Christian) religious beliefs of the deceased, and to set them against the evidence available on-­site.
Two features often connected with Christian burial practices are the orientation of the body on the east-­west axis, with the head facing toward the west, and the supine position of the deceased. A connection between the emergence of Christianity and changes to the orientation of the head has been suggested in relation to a number of cemeteries, among them Fag el-­Gamūs—­where the dead in "earlier" tombs were positioned with their heads toward the east, while those in later tombs almost always were placed with their heads toward the west[60]—­and el-­Kom el-­Aḥmar/Sharūna.[61] The suggestion that a religious change may have led to the shift in tomb orientation at Fag el-­Gamūs loses strength considering that the cemeteries are dated only approximately, to the second to seventh centuries, and that earlier burials are not dated with certainty. As for the same practice at el-­Kom el-­Aḥmar/Sharūna, comparative evidence points toward a less clear association between religious change and tomb orientation. Generally, many Christian tombs in other necropolises have other orientations, to such extent that cemeteries are thought to have lacked rules on orientation.[62] A good proportion of the deceased buried in earlier tombs at Matmar and Mostagedda, dated to Ptolemaic or early Roman times—­of which, as seen above, some may in fact date to early Islamic and Mamluk times—­have their heads oriented westward. The head orientation of the five bodies buried after the end of the fourth century is not westward (see table 1). From what can be assessed based on the evidence of the ninety-­six recorded tombs, the communities at Matmar and Mostagedda did not follow definitive norms related to the orientation of the dead, nor can the existence of Christian beliefs be clearly connected to a westward orientation of the head. What seems to best explain the situation is the continuation of a possibly centuries-­old tradition regarding the orientation of the body.
Additional characteristics traditionally linked with Christianity are the enlargement of the head and feet areas and the fastening of the wrapped body with criss-­cross bandages.[63] The head area was deemed important and received special attention at all times in Egyptian history. Earlier anthropoid sarcophagi had enlarged head and feet sections,[64] which suggests that, far from being innovative, the augmentation of these areas in late antique burials may have continued this tradition. Similarly, plain, uncolored crisscross bandages were used in earlier Egyptian times. Although colored, purpose-­woven bands replaced these earlier versions, the practice can be equally explained as a continuation of the earlier tradition.
Table 1. Deceased position and orientation at the late antique and early Islamic necropolises of Matmar and Mostagedda
| Deceased position and orientation | C | F | M | AD (F, M, NK sex) | NK age and sex | Total number tombs |
| --- | --- | --- | --- | --- | --- | --- |
| Head W | 45 | 16 | 2 | 20 | 2 | 67 |
| Head N | 1 | - | - | - | - | 1 |
| Head E | 1 | - | - | - | - | 1 |
| Head S | 2 | - | 1 | 1 | - | 3 |
| NK Orientation | 19 | 4 | 1 | 6 | - | 24 |
| Supine position, hands placed on pelvis | 19 | 4 | - | 4 | - | 23 |
| Supine position, hands beside body | 4 | 1 | - | 1 | - | 5 |
| On right side, hands placed on pelvis | - | 1 | 1 | 1 | - | 1 |
| NK position | 36 | 15 | 4 | 20 | 3 | 67 |
Table 2. Personal adornments and grave goods at the late antique and early Islamic necropolises of Matmar and Mostagedda
| Item[58] | Total number of items | Number of graves | C | A | MA | FA | Worn | Deposited | Unknown position |
| --- | --- | --- | --- | --- | --- | --- | --- | --- | --- |
| Necklaces[59] (incl. pendant necklaces | 71 | 62 | 57 | 11 | 1 | 8 | 13 | 5 | 53 |
| Bracelets | ≥138 | 37 | ≥80 | ≥52 | - | ≥45 | 90 | ≥18 | ≥30 |
| Earrings | 68 | 37 | 45 | 16 | - | 16 | 19 | - | 49 |
| Rings | ≥69 | 18 | ≥28 | ≥41 | 2 | ≥37 | 8 | ≥43 | ≥18 |
| Vessels (pottery, glass, wood, bone, basketry) | 7 | 6 | 2 | 5 | 4 | 1 | - | 6 | 1 |
| Mirrors | 4 | 1 | 3 | 1 | | 1 | | 4 | - |
| Items with inserted glass | 1 | 1 | - | 1 | - | 1 | - | 1 | - |
| Shoes (numbered individually) | 27 | 6 | 8 | 19 | - | 19 | 10 | 17 | - |
| Hairpins | 3 | 3 | - | 3 | - | 3 | 1 | 1 | 1 |
| Items bearing crosses | 27 | 17 | 15 | 10 | - | 9 | 4 | 4 | 18 |
| Coins | 8 | 4 | 8 | - | - | - | - | - | 8 |
The differentiation between Christians and "pagans" is sometimes made on the basis of separated cemeteries. Much academic effort has been devoted to the identification of pagan versus Christian cemeteries, to the extent that switching to a new place for burying the deceased is assumed to have been the result of Christianization. While there are good reasons to believe that "pagan" cemeteries were at times abandoned in favor of burial in a newly confined Christian area, as was the case in fourth-­ to fifth-­century Kellis,[65] the custom finds little support from written sources, or from the evidence at other sites. The Christian Church did not develop a specific burial liturgy or rules related to burial until roughly the seventh to eighth centuries, leaving the practice under the care of the deceased's family. Moreover, it also kept silent with regards to mixed burials of pagans and Christians.[66] Numerous other cemeteries, such as those at Hawāra, el-­Bagawāt, and Qarāra, exhibit side by side pagan and Christian burials.[67] The distribution of graves at Matmar and Mostagedda suggests that several necropolises were in use concomitantly, and that older necropolises were not automatically abandoned when communities shifted to the use of new burial grounds. At Mostagedda, areas 400, 500, 800, 1100, and 3900 were used for burial during Ptolemaic and early Roman times. The graves from the end of the fourth century and later were found especially in areas 1400, 1800, 1900, 3900, 10100, and 11700. However, graves from these dates were also found in areas with earlier cemeteries—­800, 1100, and 3900—­which demonstrates that the community used previous burial grounds while expanding into new areas. The situation is similar at Matmar. The "Late Dynastic and Ptolemaic" burials occupied areas 300, 400, 800, 2000, and 5200; post-­fourth-­century burials occupied new areas, such as 900, 1000, 1100, and 3200, while continuing in area 800. Although it is possible that new burial grounds were used by Christians at Matmar and Mostagedda, several areas were clearly in use from as early as the Ptolemaic period until well after the Arab conquest of Egypt.
Finally, the absence of grave goods and adornments is sometimes connected with the desire to express piety and modesty—­and, through these qualities, with Christianity.[68] However, tombs at various other sites assumed to be Christian exhibit a good number of grave goods and jewelry, generally in line with older customs of burial from Ptolemaic and Roman times.[69] The Matmar and Mostagedda burials of both earlier and later times contain a standardized selection of grave goods, to which the tombs with Christian symbolism are no exception. It seems more reasonable to link the absence of grave goods to the lower financial means of the deceased than to an expressed desire for piety and modesty.
Syncretic Practices
The previous discussion analyzed burial practices that archaeological scholarship commonly associates with Christianity, and suggested that such associations find limited support at Matmar and Mostagedda, where the main motivation for a number of practices seems to have been the continuation of older burial traditions. An overview of the characteristics of the Matmar and Mostagedda cemeteries, as well as the burial practices and expressions of belief on-­site, is appropriate at this point. The burials are spread over approximately four centuries at Matmar, and over more than five centuries at Mostagedda, ranging from the end of the fourth to the beginning of the ninth century. Although the earliest burials date to a period of the rapid expansion of Christianity, while the latest may have been contemporary to the first conversions to Islam,[70] the burial practices are relatively uniform with regards to orientation, wrapping process, and the types and position of grave goods. Not only do they echo local burial features from Ptolemaic and early Roman times, they share similarities with burials from other contemporary sites mentioned above. The care in providing the deceased—­at least those whose tombs were recorded—­with items of jewelry, toiletry, and textiles is striking when compared to the rare expression of a clear-­cut religious affiliation: no burial was readily "pagan," while only seventeen contained clear Christian symbols, namely crosses. The use of items corresponding to traditional religious practices is a recurring feature, to which tombs with Christian symbols present no exception.
How can the religious background of the Matmar and Mostagedda communities be better characterized? What were the reasons for using traditional apotropaic items—­pendants, amulets, vessels and baskets, glass-­encrusted objects, and mirrors—­sometimes in conjunction with the use of explicitly Christian items? Finally, is the distinction between these two classes of objects—­"traditional" and "Christian"—­valid for the analysis of local religious beliefs? In order to respond to such questions, the situation at Matmar and Mostagedda must be placed in the larger context of religious change in late antique Egypt. Second, the usefulness of the distinction "traditional" versus "Christian" must be addressed.
It often has been stressed that, while adhering to the new religion, Egyptian Christians retained aspects of their previous beliefs and practices—­and felt no apparent inhibition in doing so. The use of amulets, talismans, and magic spells during this period reveals a continuation of earlier practices,[71] as does the partial survival of pagan festivals, some of which continued well into the sixth century under the tacit acceptance of the Church and were attended by Christians and non-­Christians alike. Interestingly, Éric Rebillard has suggested, based on the concept of ethnical groupness, that during the fourth to fifth centuries Christians embraced their Christian identity intermittently, precisely in those situations in which doing so was advantageous. In other words, Christianness was not "the common framework of interpretation for everyday experience."[72] In light of recent archaeological work, paganism does not appear to have been completely eradicated over the course of the fourth and fifth centuries. Although official pagan veneration in temples stopped de facto in the fourth century, and was banned early in the fifth century,[73] forms of pagan adoration survived in local and domestic spheres,[74] then in a "Christianized" form, throughout the sixth century.[75] Despite the Church Fathers frequently being outspoken against such practices, the Church tolerated and used them to strengthen its position within local communities. Christian priests took over the charismatic role of their pagan counterparts, manufacturing amulets and other devices meant for the day to day comfort and protection of their flock.[76] Turning from the general to the local, the religious practices of communities in villages such as Matmar and Mostagedda were closely related to the realities of agricultural life, and were directed toward solving the challenges of the everyday: birth, marriage, death, maintaining good health, providing for families, the success of crops.
A differentiation between traditional apotropaic items and Christian items is a useful analytic tool, yet its application can foster distinctions that may have not existed. Most likely, the people of Matmar and Mostagedda—­villagers concerned with quotidian activities, most of them situated toward the poorer end of the economic spectrum—­were unaware that their practices were officially contradictory. According to the logic of efficacy and piety, items that appealed to tradition provided security and favor, benefitting their users much in the way that Christian symbols did. A more suitable term to describe the mingling of religious beliefs in this case is "syncretism," understood as the ongoing mixture and bricolage of different religious traditions.[77] The examples of Matmar and Mostagedda demonstrate that assessing clear-­cut religious identities, and tracing boundaries between "traditional" and "Christian," reveals little about the religious universe of these communities. Put differently, case studies such as Matmar and Mostagedda can be fruitfully explored by focusing on the process of religious bricolage, its transformation through time, and its expressions at the level of the individual. It is in this direction that it can "serve the larger questions of Christianization and cultural transformation."[78]
---
Notes
Ars Orientalis Volume 47
Permalink: http://dx.doi.org/10.3998/ars.13441566.0047.002
Permissions: Copyright to the content of the articles published in the Ars Orientalis remains with the journal. Copyright to the images in the articles published in Ars Orientalis remains with the image rights owners. This article may be copied for use by nonprofit educational institutions, and individual scholars and educators, for scholarly or instructional purposes only, provided that (1) copies are distributed at or below cost, (2) the author, the publisher, and the Journal are identified on the copy, and (3) proper notice of the copyright appears on each copy. For other uses, content permission must be obtained from Ars Orientalis and image permission must be obtained from the rights owners.
For more information, read Michigan Publishing's access and usage policy.
Top of page