The Beautiful Data workshop at Harvard's metaLAB was intense. There were twenty-two participants, a diverse group of museum technologists, designers, curators, and educators. A half-dozen metaLAB staff and several interns—with expertise from the history of libraries to software—organized and instructed. A distinguished group of guest speakers offered presentations on graphics, cognition, the public uses of data, libraries, and more.
The workshop asked, "With art museums making both their imagery and collections data open and accessible, a question arises: what to do with it all?" That question was addressed in a most catholic fashion. Beautiful Data examined not just art museums but also other institutions from which art museums might learn. It defined imagery very broadly, data even more broadly. And the organizers were most open-minded about what might be done with those resources.
This might have been the workshop's first lesson: art museums should look beyond their walls, because they can learn a great deal from the way other institutions use data. For example, Nike's fuel band collects information about runners' speeds and distances; nothing could be further from art museum data. But Mark Schifferli and James Grady of Fathom showed how data from runners might be combined with other information (weather, location, etc.) to tell us new things and move us in new ways. Participants heard from experts in libraries, accessibility, even wine, who had found new ways of understanding their subjects by visualizing data about them. Their work inspired us to find similar new ways to understand art history and art museums.
A second lesson was the degree to which data can be misleading. Looking closely at data from a century of planting at Harvard's Arnold Arboretum, Yanni Loukissas, a senior researcher at metaLAB, noticed that many of the patterns were epiphenomena, i.e., artifacts of the creation and recording of the data. Loukissas's analysis revealed the relationship between data and narrative as well as the challenges of evaluating data visualization and the politics associated with it. Talking to the arboretum staff—knowing the story of the way the data was created—was essential to understanding its nuances.
The importance of thinking about users was a third lesson. David Weisenberger, codirector of the Harvard Library Lab, spoke on changing ideas of authority: from objectivity to transparency, from settled to engaged, from certain to fallible. He offered new ways of thinking about the work the library does—not as a collection of books but as the change that a collection works upon the user. Matthew Battles, associate director of metaLAB, offered a related lesson in his presentation on an exhibition at Harvard's Peabody Museum of Archaeology and Ethnology: the necessity of thinking about the changing relationships of museums and subjects and how that shapes the stories exhibitions tell.
Another lesson: data visualization does not have to be high tech. Rahul Bhargava, from the MIT Center for Civic Media, spoke about his low-tech "data murals," community projects that allow local groups tell their own story. He gave us kindergarten toys—pipe cleaners, Legos, bits of cotton—and asked us to use them to visualize data. It was quite remarkable to see the way that activity changed group dynamics.
And a final lesson: museum artifacts can be described in many ways. They offer a far greater depth of information than the fairly simply data fields collected in most museum databases, and we shouldn't allow collections management systems to limit our descriptions or data collection. Jeffrey Schnapp, director of metaLAB, asked provocative questions: What would happen if you described objects as a network of relations? How might you capture the conversation around the artifact? What if you described artifacts with verbs rather than adjectives?
In the second week, participants turned their attention to the application of some of these ideas, devising a range of projects. Some wonderful work came out of this. Just a few examples: Richard Barrett-Small's Colour Lens explored online collections through color searches. Laresse Hall created beautiful small hand-bound books and a video documenting how she learned to make them. Katherine DeVos Devine created a three-dimensional visualization of her process for understanding the transformative works of art as networked objects. Kristina Van Dyke and I considered how we might explore the history of collections based on the open metadata now available from many museums.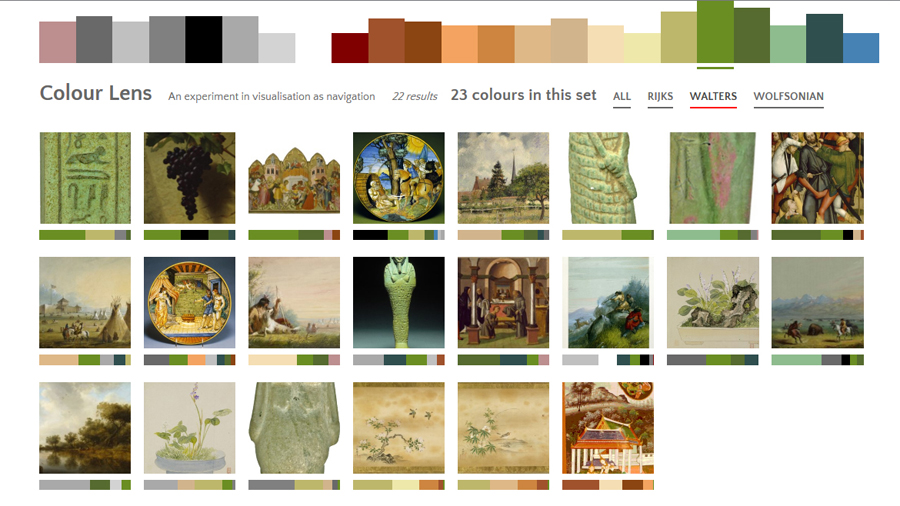 Drawing on the collections of the Rijksmuseum, the Walters Art Museum and the Wolfsonian,
Colour Lens
allows viewers to explore artworks based on color rather than period, style, or artist.
The real result of a workshop like this is seen in the changes in the participants and the work they do. We left tired but inspired, eager to try new things. The participants I've heard from report that their interests broadened, rather than narrowed, after the workshop. They found new subjects and approaches, in addition to new tools. One participant has begun to consider modes of beauty perceived through senses other than sight. Another has explored ways to gamify visual and audio interactions in a natural history museum. Instead of learning about tools to help them do their old projects better, they learned new ways to consider the work of the museum: new topics to explore as well as new methods for exploring traditional topics. That's a success, I think, and a tribute to the way in which metaLAB asked large, fundamental questions about museums and their data.


More information:
metaLAB created an excellent website to host the results of the workshop. It provides resources and tools, and explains many of the workshop activities in enough detail that other groups could reproduce them. A publication, Beautiful Data: A Field Guide for Exploring Open Collections, summarizes the themes and offers an overview of the dialogue on curation, visualization, and design. These materials will be useful both to museum studies students and to museums interested in developing new perspectives on their work. Indeed, any organization interested in artifacts, narrative, data, and audience will find useful material here.
---
Ars Orientalis Volume 44
Permalink: https://doi.org/10.3998/ars.13441566.0044.013
Permissions: Copyright to the content of the articles published in the Ars Orientalis remains with the journal. Copyright to the images in the articles published in Ars Orientalis remains with the image rights owners. This article may be copied for use by nonprofit educational institutions, and individual scholars and educators, for scholarly or instructional purposes only, provided that (1) copies are distributed at or below cost, (2) the author, the publisher, and the Journal are identified on the copy, and (3) proper notice of the copyright appears on each copy. For other uses, content permission must be obtained from Ars Orientalis and image permission must be obtained from the rights owners.
For more information, read Michigan Publishing's access and usage policy.
Top of page