The Alkazi Foundation for the Arts, New Delhi

Skip other details (including permanent urls, DOI, citation information)
Permissions: Copyright to articles published in the Trans-Asia Photography Review remains with the author(s). This article may be copied for use by nonprofit educational institutions, and individual scholars and educators, for scholarly or instructional purposes only, provided that (1) copies are distributed at or below cost, (2) the author, the publisher, and the Journal are identified on the copy, and (3) proper notice of the copyright appears on each copy. For other uses, permission must be obtained from the author.
For more information, read Michigan Publishing's access and usage policy.
Focal Point's brief is to locate non-profit photo institutions with unique programs and vision. For our second installment, our curiosity led us to the Alkazi Foundation for the Arts in New Delhi and to an interview with its curator for the past five years, Rahaab Allana. The accomplished Allana, a Fellow of the Royal Asiatic Society in London, member of the governing board of the Alliance Francaise in Delhi, author of Inherited Spaces, Inhabited Places (a volume on World Heritage Sites/2005), a guest editor of the Indian art magazine Marg (Volume 61: Aperture and Identity—Early Photography in India) and editor of India's first Photography Quarterly, PIX (its second issue, Outsider, to be released in May 2011) is also a photographer in his own right.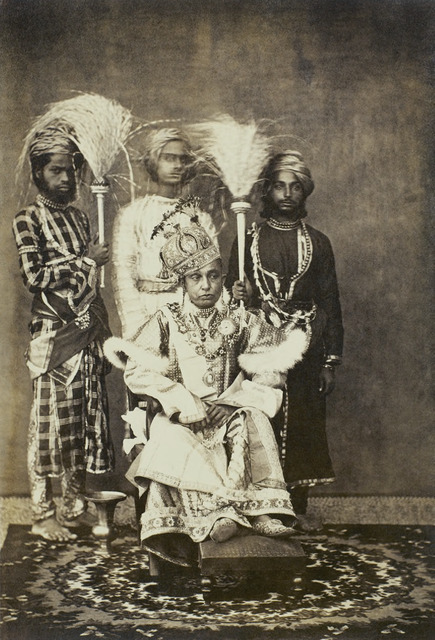 James Waterhouse, 'Her Highness the Nawab Secunder Begum, K.S.I.' (Bhopal, November 1862) Albumen Silver Print, 163 x 110 mm, Courtesy of the Alkazi Collection of Photography.
Published in

The Waterhouse Albums: Central Indian Provinces

, edited by John Falconer, with contributions by Rosemary Crill, John Falconer, Michael Gray and Shaharyar M. Khan, 2009.
Since assuming his post at the Alkazi Foundation for the Arts, Mr. Allana has curated and co-curated exhibitions that have traveled both abroad and in India and include India: Princely Tradition/Modern Vision for the 2008 Arles festival, The Waterhouse Albums, Vijayanagara, Painted Photographs: Coloured Portraiture in India, The Artful Pose: Early Studio Photography in Mumbai, and Historic Delhi: Early Explorations of the Camera, 1860-1910 among others. He is also editor of a Photography Quarterly, called PIX. He was interviewed by Focal Point Editor Abby Robinson.
All images reproduced here have been provided courtesy of the Alkazi Collection of Photography and represent a small sample of the work held by it. Each image represents a book published by the Alkazi Collection of Photography.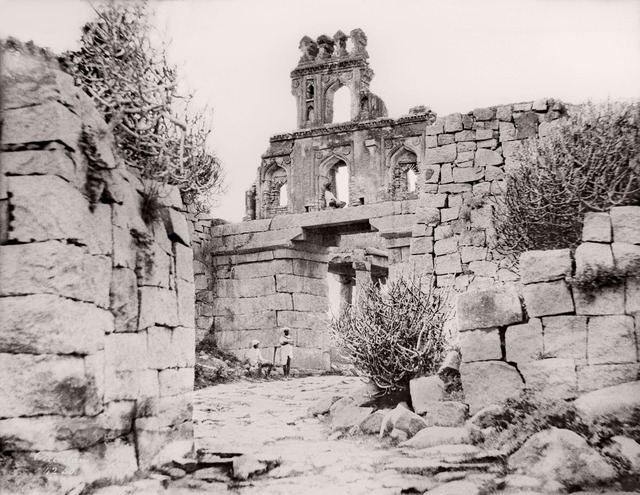 Alexander Greenlaw, 'Talarighat Gateway', modern positive (2007) from waxed paper negative, 1856, 305 x 381 mm., Courtesy of the Alkazi Collection of Photography.
Published in

Vijayanagara: Splender in Ruins

, edited by George Michell, with contributions by Anila Verghese, George Michell, Sophie Gordon and Mike Ware, 2008.
AR: What prompted the founder Ebrahim Alkazi to start this collection and what was the first photograph he acquired?
RA: Mr. Alkazi's professional career was in theater. Starting in 1962 he became one of the first directors of the National School of Drama in New Delhi and held that position for 16 years. It was only in the early 1980's that he began collecting photographs in London, New York and in India through private dealers.
Mr. Alkazi's interests have always been engaged with the cultural history of India through means that are tactile and compelling. Photography served this purpose very well. I imagine that he started the collection with a view toward identifying how images serve as a testimony to the life and times of the people within them.
Though the first acquisition is difficult to pinpoint, it likely was the Tressider Album (1857-64), a private album of the Civil Surgeon in Kapur, India that was shot at the time of the Indian Uprising in 1857.
AR: At what point were books added to the collection?
RA: Publications and books were Mr. Alkazi's passions always. As his background was in the theatre and earlier in a Jesuit school in Pune, literature was always important to him. The antiquarian books were therefore acquired simultaneously with the collection of images, if not before.
AR: How extensive is the collection?
RA: The Alkazi Collection of Photography contains over 90,000 photographs in the form of negatives, loose images, and in albums. Its focus is on India but there are also photographs from other parts of South Asia and Africa. As early photography in the subcontinent arose at the time of imperial rule, those areas affected by British colonialism are represented in the Collection more generally.
AR: When was Sepia International in New York added to the mix?
RA: In 1998 and it housed not only some of his privately owned archive, but a research center and a commercial gallery space as well.
AR: Has the thrust of the collection changed in any way since its inception? If so, how?
RA: The emphasis of the Collection was initially on cataloguing, archiving and publishing. Over the last few years, however, the Collection's attention has been on exhibitions, publications and seminars, in that order.
It meant a great deal that we consolidated all the material we had in the U. S. and England and brought it to India four years ago. And it was important that this occurred in a post 9/11 time when world awareness shifted to the Middle East and Asia, perhaps not for the right reasons. We felt, however, that the building of an archive like ours would draw the attention of a community that would try to look beyond borders and frontiers to find means of creating cross-cultural connections in a fruitful manner.
Another benefit of our consolidation in Delhi shows that we have finally realized scholarship in Asia reached a point where there is a great need for carefully preserved archives of its history. It means that education is of utmost importance and that funding for professionalism in the fields of archiving and curatorial practice is slowly being put in place.
Since the move, an influx of students, professors and practitioners have come to the Collection to draw on its resources for their various and diverse projects. When you're actually surrounded by the subjects featured in the photographs themselves, it allows for a more intimate understanding of history if not the present.
AR: What is the most recent acquisition, and how is new work acquired?
RA: Our most recent acquisition (through permanent loan) is a collection of work by the first woman press photographer of India, Homai Vyarawalla. Acquired with the assistance and support of Ms. Sabeena Gadihoke, her chief biographer, it's comprised of over 5000 medium format negatives, 1500 loose prints made between 1930-1960 and vintage cameras.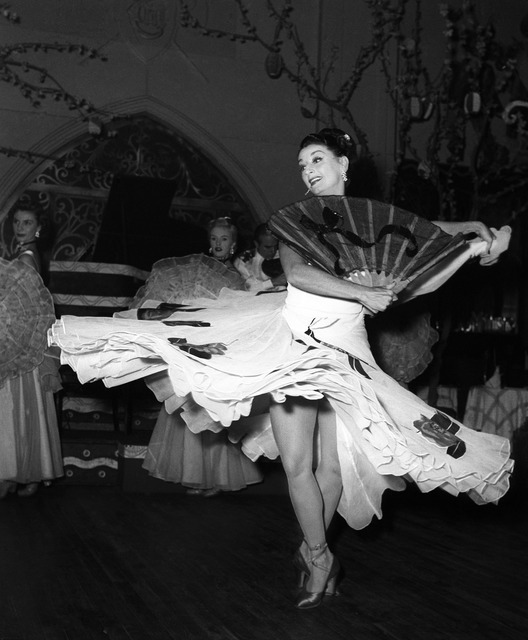 Homai Vyarawalla, 'A Visiting Troupe of Dancers at the Marina Hotel', Delhi, 1947, Courtesy of the Alkazi Collection of Photography.
Published in

India in Focus: Camera Chronicles of Homai Vyarawalla

, by Sabeena Gadihoke, 2010.
Paraphrasing from Ms. Gadihoke's text: Born in 1913 to a Parsi family, Homai Vyarawalla moved to Delhi in 1942, where, as an employee of the British Information Services, she photographed events leading to Independence. She captured the social and political life of a nation in transition, tracing both its triumphs and tribulations. Homai photographed the last days of the British Empire and the birth of a new nation; she shot key events that would have a decisive impact on Indian history, including a meeting where leaders voted for the June 3rd plan to partition India.
AR: Along with photographs by famous, well-known and recognized photographers, the collection includes pictures by unknown photographers and postcards. Were these always collected or are these new inclusions? How are these acquired?
RA: The Collection has been acquiring this type of material over a period of time, with acquisitions often based on the recommendation of scholars and practitioners in the field. They were procured directly by Mr. Alkazi, mainly from auctions. Very often, the most compelling images emerge from unknown photographers. The purchases are therefore often based on the subject within the images rather than the photographer.
AR: Has digital photography changed any of your practice and if so, what?
RA: The archive is being digitized. A lot has already been done under the guidance of Sophie Gordon, Esa Epstein and Stephanie Roy Bharat, our curators in London and NY as well as by scholars who have worked in all three of the Foundation's locations. Over time in India, Anita Jacob, Akshaya Tankha, Pramod Kumar, Joyoti Roy and Jennifer Chowdhry have worked with us.It is an ongoing process, so I imagine we will be doing it for some time to come.
The web has, of course, allowed international access to the collection and the activities of the Foundation at a glance. If you look on our website, you can see that it has already led to collaborations all over the world.
AR: Now that there is a very definite international interest and market in Indian art, has this changed anything in the way the foundation is run or how it acquires work?
RA: The market always exerts pressures on collections, curatorial practice as well as on art criticism. As we are a registered charitable trust, the market has not affected us as much as it has opinions about art and photography.
AR: There was, I think, once a policy for not lending work from the collection? Is that policy still in place? What was/is the reason for it? And what changed the policy?
RA: The policy has not changed, but as every project is unique, the number of works loaned always changes. We now lend/loan work for exhibitions that somehow address the history of photography in the subcontinent and South Asia.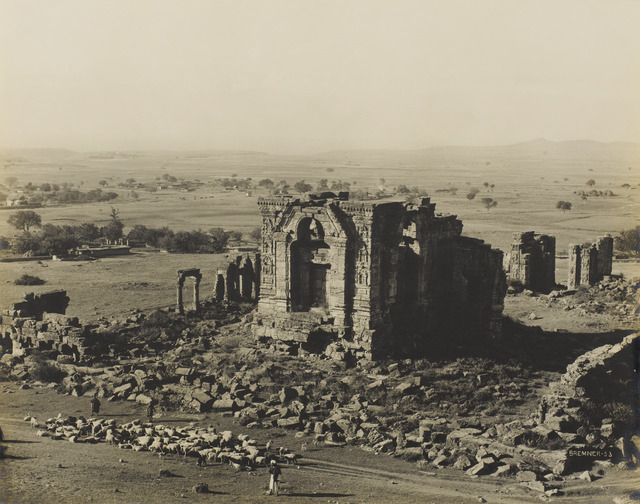 Frederick Bremner, 'View of Surya Temple, Martand' gelatin silver print, c. 1900-10, 231 x 266 mm., Courtesy of the Alkazi Collection of Photography.
Published in

The Marshall Albums: Photography and Archaeology

, edited by Sudeshna Guha, with contributions by Michael Dodson, Sudeshna Guha, Tapati Guha-Thakurta, Christopher Pinney and Robert Harding, 2010
AR: How does a scholar gain access to the collection? What sort of scholarly research has been done and what projects are in the works now?
RA: Access to the Collection is by appointment only. Once the scholar specifies his/her area of interest, the archivist or research scholar at the Foundation searches the database to help with the request. With every exhibition we have a series of lectures. In the past we organized two symposia: Possibilities from the Archive and Frontiers of Photography. They were done with scholars from within and outside the Collection, and addressed areas such as ethnography, art history and anthropology.
We also now have our traveling retrospective of Homai Vyarawalla's work, organized by the National Gallery of Modern Art. We will be publishing two books this year with possible exhibitions as well: The Durbars of Delhi, edited by Julie Codell and Deen Dayal, co-edited by Deepali Dewan and Deborah Hutton.
AR: Your recent publishing ventures look very interesting. How did these come about, and what are your publishing plans for the future?
RA: Some of the publications began well before I joined the Alkazi Collection. They were mutually conceived by scholars abroad and the team of previous Curators; often by Sophie Gordon in London, and Esa Epstein in New York in conjunction with Mr. Alkazi. However, with the passage of time, they grew and were modified with the input and expertise from the team in India as well. Apart from the first book (Lucknow: City of Illusion), all the books are co-published by Mapin Publications in India. On the other hand, publications and exhibitions such as the Painted Photograph, the Artful Pose, Homai Vyarawalla and Historic Delhi were conceptualized in Delhi and held as exhibitions here and abroad.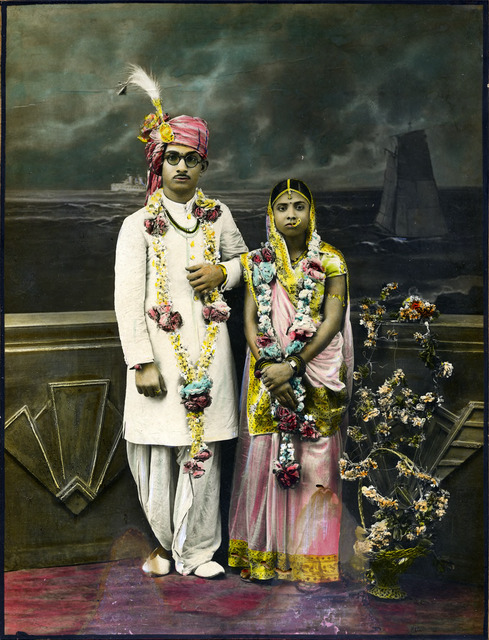 Unknown Photographer & Artist, 'Wedding Portrait of an Indian Couple', gelatin silver print and Watercolor, c. 1920-40, 203 x 153 mm., Courtesy of the Alkazi Collection of Photography.
Published in

Painted Photographs: Coloured Portraiture in India

, with a foreword by Ebrahim Alkazi, and contributions by Rahaab Allana and Pramod Kumar K.G., 2008.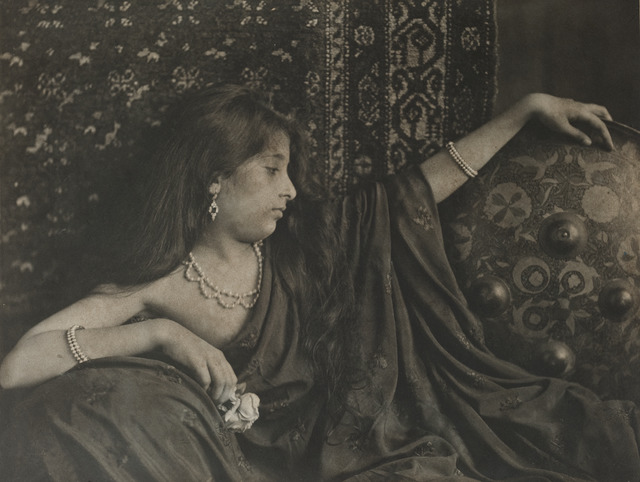 Shapoor N. Bhedwar, 'Gool Guli- A Rose Bud' from

Art Studies

album, carbon print, c. 1890s, 275 x 362 mm., Courtesy of the Alkazi Collection of Photography.
Published in

The Artful Pose- Early Studio Photography in Mumbai, c. 1855-1940

, with a foreword by Tasneem Zakaria Mehta, and contributions by Prof. Partha Mitter, Akshaya Tankha, Suryanandini Sinha and Rahaab Allana, 2010.
With a foreword by Tasneem Zakaria Mehta, and contributions by Prof. Partha Mitter, Akshaya Tankha, Suryanandini Sinha and Rahaab Allana, 2010
Most recently we have entered a co-publishing arrangement with an Italian publishing house, which is printing contemporary images of Lucknow by Antonio Martinelli juxtaposed with images from the Archive. What we publish depends on whether we feel photography from the subcontinent has made a substantial impact, but we do have a pre-decided schedule as well. Please check out our website.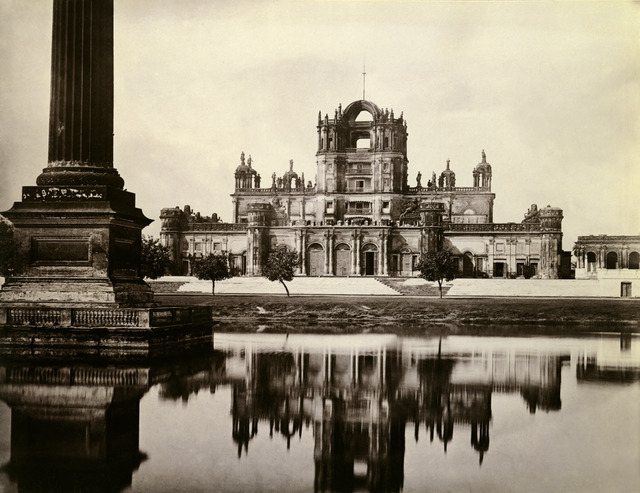 Francis Frith, 'La Martinière and the

Lath

', albumen silver print, 1870s, 160 x 210 mm., Courtesy of the Alkazi Collection of Photography.
Published in

Lucknow: City of Illusion

, edited by Rosie Llewellyn-Jones, with a preface by Ebrahim Alkazi, and contributions by Rosie Llewellyn-Jones, Peter Chelkowski, Neeta Das, Nina David, Sophie Gordon and Stéphanie Roy, 2006.
AR: Ebrahim Alkazi is your grandfather and you have taken over the managing of the Foundation from him. Are there differences in the way you are running the foundation from the way he did?
RA: Mr. Alkazi is a mentor in the true sense of the word, if I may say so myself. Our relationship has been formal and reciprocal. It is with his encouragement that I have been able to achieve any measure of fulfillment at the Foundation.
While our approaches may not be exactly the same, I don't think we have any serious philosophical differences at all. What I have learned from Mr. Alkazi is that we must engage with the time in which we live.
So we agree that the archive needs to acquire subjects that are current and occasionally be nourished in unconventional ways. And our basic thrust is the same: understanding the myriad cultures of Asia in the world today, being critical and clear about what matters and why, and suggesting ways in which we can make a simple photograph speak various tongues across the world.
Abby Robinson's photographic work has been published in The New Yorker, The New York Times, and numerous other publications and is in the collections of the Whitney Museum of American Art and the Museum of Fine Arts, Houston, among other museums. Her articles have been published in The New York Times, Newsday, and Asian Art News. She teaches photograph at the School of Visual Arts in New York.
Top of page