"Ein Tanz auf dem Vulkan": The Legacy of the Jewish Culture League

Skip other details (including permanent urls, DOI, citation information)
This work is licensed under a Creative Commons Attribution-NonCommercial-NoDerivatives 3.0 License. Please contact mpub-help@umich.edu to use this work in a way not covered by the license. :
For more information, read Michigan Publishing's access and usage policy.
Abstract
During the years 1933-1941, there was one significant site in Nazi Germany in which Jews were still allowed and encouraged to participate in music as well as theater. This was the Jewish Culture League (Jüdischer Kulturbund), originally called the Culture League of German Jews (Kulturbund Deutscher Juden). This short article discusses the paradoxical legacy of this Jewish organization as it reflects post-World War II perceptions of the idea of resistance, the Jew as victim, and responses to the Holocaust in former West and East Germany. Specifically, it focuses on the Geschlossene Vorstellung exhibition and discussion of the League with former members, sponsored by the Akademie der Künste in Berlin in 1992.
---
During the years 1933-1941, there was one significant site in Nazi Germany in which Jews were still allowed and encouraged to participate in music as well as theater. This was the Jewish Culture League (Jüdischer Kulturbund), originally called the Culture League of German Jews (Kulturbund Deutscher Juden). In some ways, this organization appears a positive haven for Jews and music during the early years of the Third Reich. Thus, the circumstance may challenge our understanding of the Nazi regime's restrictive policies toward Jews in Germany and general brutality during the Third Reich. However, scholars and former League members have never agreed on the organization's ultimate meaning: was the Jewish Culture League a hard-won victory that enriched the lives of those who touched it, or was it ultimately a deal with the devil? Radically different attitudes towards Jewish culture in the two Germanies after the war has only confounded this question and confused the recouping of this organization's history. In this short article, I will discuss the paradoxical legacy of this Jewish organization as it reflects post-World War II perceptions of the idea of resistance, the Jew as victim, and responses to the Holocaust in former West and East Germany. To do this, I will specifically focus on the Geschlossene Vorstellung exhibition and discussion of the League with former members, sponsored by the Akademie der Künste in Berlin in 1992.
Kurt Baumann, a young German-Jewish former production assistant in Berlin, and Kurt Singer, a well-respected German-Jewish physician, musicologist, and music director, developed the initial League plan in the early months of 1933. The Jewish organization was to be set in Berlin, and, by its premiere, was intended in part as a shelter for the Jews dismissed from various musical posts following the Civil Service Laws of April 7, 1933. After struggling to gain official acceptance, Singer, acting as the organization's primary spokesperson, eventually met with the Nazi administrator Hans Hinkel. Hinkel found several reasons to support the organization: the regime could exploit the League as international propaganda by citing it as supposed proof that Jews were not being mistreated; it could function as a cultural outlet and source of income for Jews which would help to quell social unrest. Finally, the creation of the League could help the Nazis ensure the end of perceived Jewish appropriation of German culture. To this end, Hinkel's office would censor within the League music by composers of German origin and generally encourage the performance of so-called Jewish music.[1]
With these Nazi goals and regime support, the Jewish Culture League gained an immediate following and soon inspired similar organizations throughout Germany. By 1935, the League had forty-six local chapters in various towns and cities, which the Nazi regime put under the umbrella union, the Reichsverband der jüdischen Kulturbünde (Reich Association of Jewish Culture Leagues).[2]
Despite this success, the League was not without conflict. Hinkel's program requirements inspired a heated debate about the idea of Jewish music and what constituted an appropriate repertoire for a Jewish organization among a diverse community—Zionist, assimilated, Eastern, rural, Orthodox, etc. The heterogeneous League community continued this debate for most of its tenure—culminating in the Jewish Culture League Conference in Berlin, September 1936.[3] As conditions worsened for Jews in Germany, however, music of distraction, rather than a distinct nationality—Jewish or otherwise—became the order of the day. Former member Susanne Wisten-Weyl recalled: "the people were so thankful whenever they could laugh."[4] In the League's latter years, after 1938, this laughter and entertainment, as it would be in the concentration camps, acted for some as a coping mechanism—a form of evasion, self-possession, and even liberation.[5]
By moving beyond its earlier debates and responding to the changing situation of Jews in Germany, the League was able to remain relevant until its very end on September 11, 1941. On this date, the League was dissolved "for the protection of people and state."[6] Many League members had already emigrated by 1941. Today some former members credit the League with giving them the financial and emotional support they needed to face leaving their homes. Ernest Lenart, a former actor in the organization, tied this positive function to the League's insignia. This emblem, a torch and the hexagonal Star of David, appeared on the League's monthly publication and many programs. (See Figure 1.) Lenart explains: "Not coincidentally the torch was the symbol of the Culture League." [7] The organization was "a ray of hope in a cloudy time." [8]
But the League has also been viewed in a more critical light. To exist, League leaders had to collaborate with the enemy and even lend legitimacy to the regime's plans as a means of propaganda. Most members were not aware of this function.[9] Not only that, the organization, according to some, may have contributed to the tragedy to come. The historian Alan Steinweis wrote, "By providing Jewish artists and audiences with an outlet for creative expression, the [Culture League] rendered Jewish existence in National Socialist Germany somewhat less desperate than it otherwise might have been, thereby lulling German Jews into a tragically false sense of security about the future." [10] It is this idea that has inspired some of the worst criticism of the League. Martin Goldsmith, who wrote a popular memoir regarding his parents experience in the organization, asks directly: "Had there been no Jewish [Culture League], would there have been fewer Jewish deaths?" [11]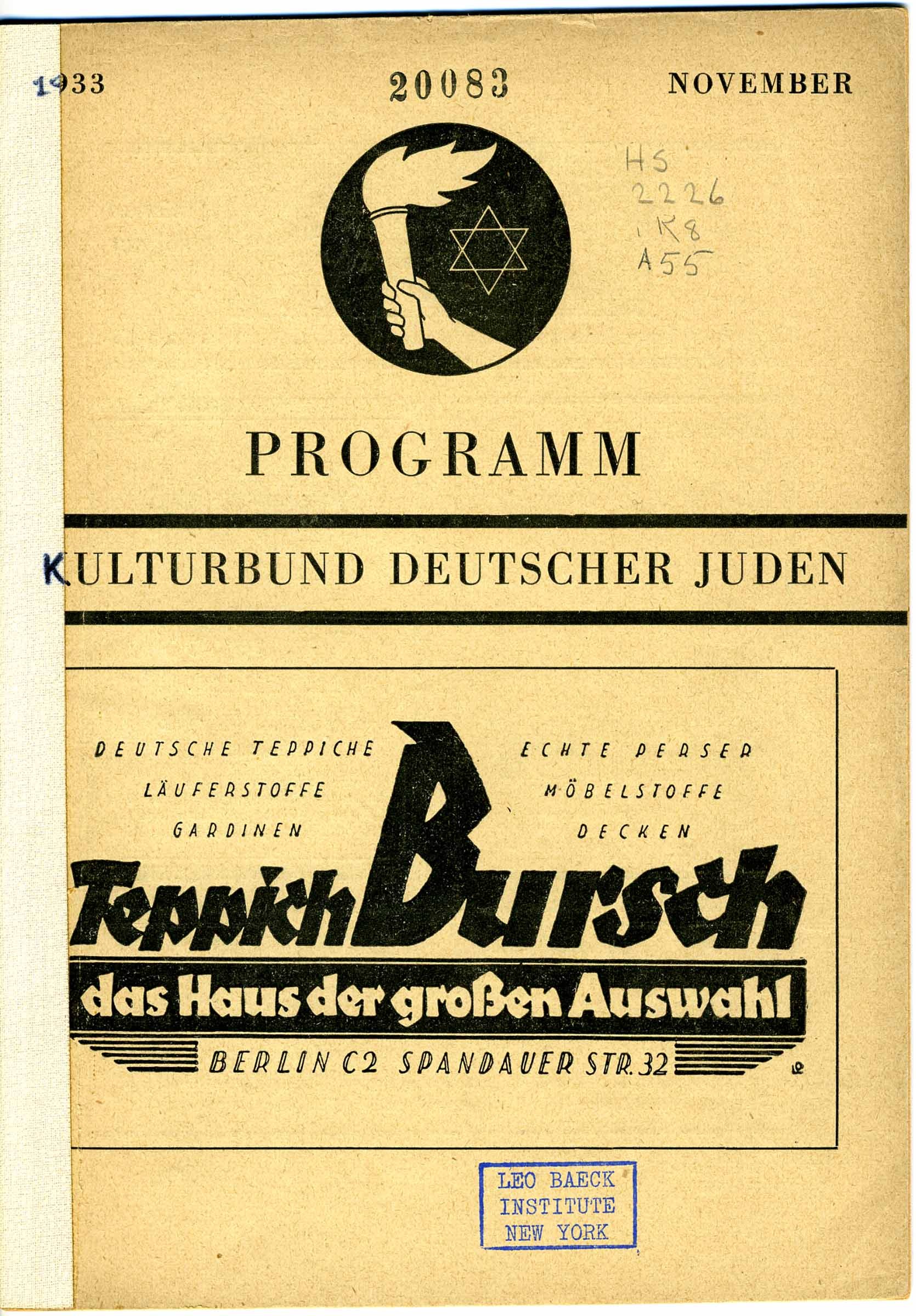 Figure 1.
Cover of the League's Program, November 1933
(Courtesy of the Leo Baeck Institute, New York)
These contrasting points were center stage during a podium discussion held in conjunction with the Geschlossene Vorstellung exhibition in Berlin, which ran from January 26th through April 26th, 1992. The League exhibit was an official offshoot of the popular larger exhibition entitled Jüdische Lebenswelten (Patterns of Jewish Life), which showcased Jewish artifacts, paintings, photos, and videos from various Jewish cultures in the Martin Gropius Building in Berlin.[12]
Just two years after the reunification of the two Germanys in 1990, Patterns of Jewish Life represented an opportunity for former East Germans to learn more about the Nazi period and Jewish culture in general, which was sidestepped in East German education.[13] The GDR was by and large hostile to religion and nationalism, in keeping with Communist ideals, and thus intolerant of Zionism and, with few exceptions, of Jews in general.[14] Not only that, the GDR did not take responsibility for the Holocaust, in part for political reasons, taking shelter in the Communist resistance to Hitler.[15] And thus the East did not attract the Jewish returnees that would populate West Germany.[16] With the reunification, a new sense of nationalism aggravated this attitude of denial, with calls of "We are the people" or "We are one people," that, for many Jews, foretold of a heightened anti-Semitism.[17]
It should be mentioned that this anti-Semitism around 1990 was not the sole province of former East Germans. In the Federal Republic, as Frank Stern explains, following World War II Jews were treated as victims through outward displays of philo-Semitism—though anti-Semitism remained virulent. The public pro-Jewish attitude in some ways substituted for active rejection of anti-Semitic thinking—a reckoning with the fundamental attitudes that, for some, justified the Holocaust.[18] In the late 1960s and 1970s, this expected display of philo-Semitism was slowly replaced with a verbalized desire to overcome collective guilt.[19] In the 1980s, as the United States "educated" Germany about its history, for example, in the Holocaust miniseries with Meryl Streep, some West Germans even reevaluated the exceptionality of Germany's Jewish genocide.[20] In this way, West Germany witnessed different strains of anti-Semitic discourse which replaced the idea of Jewish suffering with a belief in the Jews as a source of suffering.[21] The exhibit of Jewish culture in 1992 thus came at a significant juncture—an opportunity to educate and mold the New Germany at a time of increased intolerance in both former East and West Germany.
Hannah Kroner, once a dancer in the Jewish Culture League, was invited to attend the exhibition, along with 43 other former performing members. They had been contacted by the journalists and organizers Eike Geisel and Henryk Broder, who together had recently interviewed past League members. Upon arrival on March 30th, Kroner was greeted by news cameras and much fanfare. [22] On April 1st, she, along with other members, toured the League exhibit.[23] The following night, the Akademie der Künste sponsored a podium discussion of the League titled, "Actually it was a Good Time—Or Was It?" The event underscored the ambivalence of the League's legacy. With Broder as moderator, the discussion included six former members, among them Kroner, and special guest Herbert Freeden, who had served in the League's theater department and later written the first book on the League, published in 1964. Kroner recalled that, before the discussion, Freeden had threatened to leave the stage if panelists only discussed happy memories.[24] In an earlier interview, Freeden responded to criticism by affirming the League and its function during the Third Reich: "Could it be that someone postponed his emigration because he could go to the opera, theater, concerts? . . . no one gave up or postponed his emigration because the Culture League existed; fundamentally it had been moral support for the Jews." [25] In contrast, during the panel discussion, "playing devil's advocate," Kroner recalls: "[Freeden's] very definite conclusion was that 'we were used,' 'that we were misled by our own leaders into a feeling of false security,' that it was all an 'illusion,' and possibly contributed to a sense of false optimism, preventing many of us from seeking emigration."[26] The other panel members disagreed. Kroner herself defended the League from the stage: "[the organization] most certainly did not deceive me into wanting to stay in Germany, but it provided the opportunity to stay in physical shape, so vital for a dancer . . . it was not a happy time off the stage, but it was constructive and also happy while on stage, for which I am grateful."[27]
Though former members on and off the panel have expressed their own positive opinions of the organization—a luxury perhaps of survival—Freeden's summation of negative charges that night was significant in several ways. For several Berlin Jewish organizations, the larger exhibit—Patterns of Jewish Life—did not "pay enough attention to Jewish suffering."[28] The League exhibition was a prime candidate for such criticism. Of his work on the League with Broder, Geisel explained: "Sometimes we have been accused by critics of showing the entertainment of this theater and that we pushed all the crimes into the background." [29] At showings of their interviews with former members, Geisel continued: "The German audience didn't know how to react. Many didn't talk or say anything. They knew that usually Jews are victims. That's what they learned at school. They cannot bear a picture on TV or conversation when a Jewish actor says, 'I loved this theater. It was the best part of my life and I didn't care about the Nazis.'"[30] The League was a challenge to reigning perceptions of Jewish life under Hitler's rule. In other words, the idea of the League as entertainment, diversion—even a source of laughter or joy—for Jews in Nazi Germany contrasted two potent post-Holocaust tropes of the supposed Jewish experience during the Third Reich: that of resistance and victimization.
The idea of resistance has been fundamental to work on Jewish activity during the period, including discussions of life in the concentration camps and the Judenräte (or Jewish Councils). Of the League, Freeden, in fact, explained that the League's performance of music and theater within a German tradition represented "an element of spiritual resistance."[31] In contrast and complement, Yehoyakim Cochavi has discussed as resistance the embracing of Jewishness within the League.[32] In part, this idea of resistance, in either formulation, grows from the call of the young poet Abba Kovner in January 1942, in the Vilna Ghetto in Lithuania: "Let us not be led like sheep to the slaughter." [33] After the Holocaust, survivors were admonished for failing to adequately respond to this plea.[34] Any evidence of resistance—real or imagined—has been significant to survivors and scholars as a challenge to this claim and a way to regain lost honor.
After World War II, however, past and present Jewish culture in Germany for some had a new role—as living monument—from resistance to reminder. In New York, in December 1945, Leo Baeck, a former influential rabbi in Berlin, envisioned a Germany without Jews. There were moral and psychological reasons to leave, including the constant reminder of guilt and resultant self-contempt related to what has been termed Survival Guilt Syndrome. With the founding of Israel in 1948, Jews were also needed elsewhere.[35] And so, that year's Jewish World Congress declared that soon no Jew would enter Germany again.[36] However, in the 1950s, Zwi Harry Levy, a prominent rabbi in Germany offered a religious justification for Jews to remain: Jews could be a monument for the German people.[37] In this way, the image of Jew as victim—a constant reminder of the past—became valuable as the basis for a so-called "negative symbiosis."[38]
The idea of the League as diversion and amusement—a positive force for Jews in Nazi Germany—does not correspond to either of these influential images of the Jew. And yet, in the Jewish Culture League, there was entertainment, and this entertainment, for some, saved lives. But that is not the whole story either. In way of conclusion, I offer two brief examples.
For some, League membership provided a certain degree of protection—exempting performers from forced labor and ensuring release from arrest following Kristallnacht. This protection for the former League violinist Henry Meyer, later a member of the renowned LaSalle Quartet, continued even in the concentration camp. He recounted how, on the night before he was to be gassed, at the age of only 18, a Jewish prisoner doctor mentioned he was from Breslau. Meyer explained that he had played in Breslau with the Jewish Culture League. The doctor remembered Meyer and quickly left the barrack. A moment later, he returned with a dead body. He exchanged Meyer's information with that of the corpse, left the body, and carried Meyer out of the barrack. Through that act, Meyer recalled, "I was back alive."[39]
Of course, many were not so lucky. In 1938, Kurt Singer, the co-founder and initial League leader, was visiting his sister and lecturing at Harvard University.[40] After Kristallnacht, though he was offered a university position in the United States, Singer returned to Europe out of loyalty and the import he placed on the League.[41] En route in Rotterdam, friends convinced Singer to suspend his homecoming. He remained in Holland and, for a time, participated in musical activities there, including concerts at Amsterdam's Jewish Theater, originally the Hollandsche Schouwburg, which the Nazis established in 1941 based on the model of the Berlin Jewish Culture League.[42] (See figure 2.) With the Nazi occupation of Holland, Singer tried to return to the United States, but was unable to procure a means of departure. Because of his "outstanding service to Germany's artistic community," Singer was eventually sent to the "model" concentration camp Terezín, where he died on February 7, 1944.[43]
Whether or not Singer began this return trip in part because he believed Jews still had a home in Nazi Germany—a fallacy the existence of the League may have fostered—is hard to judge. What is clear from these examples is that the League served different functions for different people in what Freeden called, in 1964, "ein Tanz auf dem Vulkan" ("a dance on the volcano"). [44] As Timothy B. Malchow rightly points out, to reify the Jewish experience as solely that of victim or otherwise threatens to reinforce fixed thinking about the Jew—a practice fundamental to anti-Semitic thought. [45] As Terrence Des Pres writes in his essay "Holocaust Laughter" of 1987: "It's not fear and sorrow we need more of, but undaunted vision."[46]
References
Behrens, Katja. "The Rift and Not the Symbiosis." In Unlikely History: The Changing German-Jewish Symbiosis, 1945-2000, ed. Leslie Morris and Jack Zipes, 31-48. New York: Palgrave, 2002.
Bennett, Rab. Under the Shadow of the Swastika: The Moral Dilemmas of Resistance and Collaboration in Hitler's Europe. New York: New York University Press, 1999.
Benz, Wolfgang. "Anti-Semitism and Philosemitism in the Divided Germany." In The Divided Past: Rewriting Post-War German History, ed. Christoph Klessmann, 149-168. Oxford: Berg, 2001.
Broder, Henryk M., and Eike Geisel. Premiere und Pogrom: der Jüdische Kulturbund 1933-1941. Berlin: Wolf Jobst Siedler Verlag GmbH, 1992.
Brumlik, Micha. "The Situation of the Jews in Today's Germany." In Jews, Germans, Memory: Reconstructions of Jewish Life in Germany, ed. Y. Michal Bodemann, 1-18. Ann Arbor: the University of Michigan Press, 1996.
Cohn, Michael. The Jews in Germany, 1945-1993: The Building of a Minority. Westport, Connecticut: Praeger, 1994.
Des Pres, Terrence. Writing into the World: Essays, 1973-1987. New York: Viking Penguin, 1991.
Fetthauer, Sophie. "Kurt Singer." Lexikon verfolgter Musiker und Musikerinnen der NS-Zeit. Ed. Claudia Maurer Zenck and Peter Petersen. University of Hamburg. [formerly http://www.lexm.unihamburg.de/object/lexm_lexmperson_00001059].
Freeden, Herbert. Jüdisches Theater in Nazideutschland. Tübingen: JCB Mohr, 1964.
Friedman, Susan. "Remembering the Kulturbund: A Blessing and a Curse." Jewish World, 6-12 November 1991, 25. Mascha Benya-Matz Collection, AR 10282, Leo Baeck Institute, Berlin.
Geisel, Eike. "Da Capo in Holland." In Geschlossene Vorstellung: Der Jüdische Kulturbund in Deutschland 1933-1941, ed. Akademie der Künste, 189-214. Berlin: Akademie der Künste, 1992.
Gilman, Sander L. "Is Life Beautiful? Can the Shoah Be Funny? Some Thoughts on Recent and Older Films." Critical Inquiry 26, no. 2 (Winter 2000): 279-308.
———. Jews in Today's German Culture. Bloomington: Indiana University Press, 1995.
Goldsmith, Martin. The Inextinguishable Symphony: A True Story of Music and Love in Nazi Germany. New York: John Wiley & Sons, Inc., 2000.
Hilberg, Raul. The Destruction of the European Jews. 3rd edition. New Haven: Yale University Press, 2003.
Hirsch, Lily E. A Jewish Orchestra in Nazi Germany: Musical Politics and the Berlin Jewish Culture League. Ann Arbor: The University of Michigan Press, 2010.
Letter from Kroner to friends and family, 13 April 1992. Werner Golde Collection, Leo Baeck Institute, New York.
Letter from secret police, 11 September 1941. Vereinsregister Berlin, Leo Baeck Institute, New York.
Lipman, Steve. Laughter in Hell: The Use of Humor during the Holocaust. Northvale, JJ: Jason Aronson Inc., 1991.
Malchow, Timohty B. "George Tabori's Jubilaum: Jokes and Their Relation to the Representation of the Holocaust." The German Quarterly 72, no. 2 (Spring 1999): 167-184.
Meyer, Henry. An interview in "The Inextinguishable Symphony Project: A Video Introduction." Produced by Gail Prensky, executive producer, The Inextinguishable Symphony Project (preliminary video provided to the author).
Nachama, Andreas and Gereon Sievernich, ed. Jüdische Lebenswelten Katolog. Berlin: Berliner Festspiele, 1991.
Patterns of Jewish Life: Jewish Thoughts and Beliefs, Life and Work within the Cultures of the World, A Guide Through the Exhibit. Berlin: Argon, 1992.
Peck, Jeffrey M. Being Jewish in the New Germany. New Brunswick, NJ: Rutgers University Press, 2006.
Rockwell, John. "Exhibition Evokes Past Jewish Life and Grips its German Viewers." New York Times, 30 March 1992, C11.
Rovit, Rebecca. "An Artistic Mission in Nazi Berlin: The Jewish Kulturbund Theater as Sanctuary." In Theatrical Performance during the Holocaust: Texts, Documents, Memoirs, ed. Rebecca Rovit and Alvin Goldfarb, 28-39. Baltimore: Johns Hopkins University Press, 1999.
———."Collaboration or Survival, 1933-1938: Reassessing the Role of the Jüdischer Kulturbund." In Theatre in the Third Reich, the Prewar Years: Essays on Theatre in Nazi Germany, ed.Glen W.Gadberry, 141-156. London: Greenwood Press, 1995.
Schwartz, Donald. "'Who Will Tell Them After We're Gone?': Reflections on Teaching the Holocaust." The History Teacher 23, no. 2 (February 1990): 95-110.
Steinweis, Alan E. "Hans Hinkel and German Jewry, 1933-1941." In Theatrical Performance during the Holocaust: Texts, Documents, Memoirs, ed. Rebecca Rovit and Alvin Goldfarb, 15-27. Baltimore: Johns Hopkins University Press, 1999.
Stern, Frank. "German-Jewish Relations in the Postwar Period: The Ambiguities of Antisemitic and Philosemitic Discourse." In Jews, Germans, Memory: Reconstructions of Jewish Life in Germany, ed. Y. Michal Bodemann, 71-98. Ann Arbor: the University of Michigan Press, 1996.
Notes
Top of page