In West Africa, people with particular social identities and interests often organize themselves into societies and associations. For example, people in small towns who have moved to large urban centers often form hometown associations which meet weekly and provide social support and emergency funds for their members. This practice of organizing associations extends to disabled people as well, so that throughout Nigeria, particularly in towns that have large Hausa communities, there are associations of the lame, referred to in Hausa as kungiyar guragu, literally the association of the lame (pl. guragu). These organizations were formed during the late 1950s and early 1960s to provide services and support to this group of people, many of whom had had polio as children and subsequently were unable to walk. More recently, a national association for the disabled known as the Physically Handicapped Association of Nigeria was established and serves as an umbrella organization for the older kungiyar guragu groups. It also encourages vocational training and Western education for disabled people. This essay, which examines the history of these groups from the perspective of some of their members and their changing concerns during the twentieth century in Nigeria, suggests a connection between the transformation of concepts of disability, the acumen of individual association members, and colonial/postcolonial government programs.
I became aware of these organizations in Nigeria in summer 2005 when conducting research on the polio eradication campaign in Northern Nigeria. Having attended the 50th Anniversary of the Polio Vaccine Announcement held in April 2005 at the University of Michigan, I learned about the U.S.-based organization, Post-Polio International, which provides information about the problems of people who have had polio. I also read Marc Shell's Polio and Its Aftermath,[1] which included a discussion of written polio narratives in the West. I realized that the study of polio in Northern Nigeria would need to include the perspectives of those with polio as well as people's views on polio immunization efforts. Having received a grant from the International Institute's Advanced Study Center,[2] I traveled to Zaria, Nigeria, along with Ms. Viola Allo Allo, a graduate student in the Department of Anthropology, to examine people's experiences of polio as well as the recent polio eradication campaign.
Soon after arriving, we met with a recent graduate of Nuhu Bamalli Polytechnic, Zaria, Mr. Musa Muhammed, who had been paralyzed with polio since he was about three years old. Muhammed invited us to the weekly meeting of the Kungiyar Guragu-Zaria, which is held every Sunday afternoon in Zaria City at the Zaria Local Government Secretariat (Fig. 1). Approximately 40 people attended the meeting; most were middle-aged, although there were several younger men and two small boys, as well as one very old, white-haired man. While all had some type of physical handicap, they were unsure whether polio was always the cause of their disabilities. During these meetings, funds were collected from members to help individuals during illness or when they needed money for naming ceremonies and weddings. Recently, the association leaders have discussed ways to apply for local, state, and federal funds for various projects for their members, including the completion of an unfinished workshop building in Zaria where members will be trained and given employment. They also made plans for visits with other kungiyar guragu groups and to travel to ceremonies, such as the turbaning of a new head for the Kaduna State organization in Kaduna that was to be held in August.
[missing figure]
Fig. 1. Members of the Kungiyar Guragu-Zaria, including the Sarkin Guragu-Zaria, Mallam Mohammed Lawal (on far right), at their weekly meeting in Zaria City (17 July 2005, photo by E. P. Renne).
After introducing ourselves to the assembled members of the organization at this meeting, we made arrangements to meet with individual members in their homes to ask about their experiences of polio and their view on the polio immunization campaign. We eventually spoke with 12 individuals—ten men and 2 women—who had had polio. One older man, Alhaji Garba Hassan (Fig. 2), who lived in the village of Yakasai, just east of Zaria, described his experience of contracting polio and his participation in the polio immunization campaign. Unlike some people in Northern Nigeria, he was a strong supporter of the campaign:
What I want to say here is that we who have children, we should help our children to have the vaccine. It is God who brings the disease and it is He who brings the medicine. Anyone who has children should take them to get the vaccine because it's very useful to us.
You see I have five children who are married and who are in their husbands' houses. Since they were small I used to take them to be vaccinated and they are now giving birth to children. It didn't make them sterile. Because they are saying that people who get it will not give birth. If they say so, how will I believe it?[3]
He is referring here to people who rejected polio immunization for fear that it would cause their children to become infertile. This fear reflects a deep distrust of the intentions of Westerners and a lack of trust in Nigerian political leaders. This distrust has been reinforced by the decline of primary health care in Nigeria, so that in some communities children were dying of measles, while health workers were coming to immunize children—but only for polio.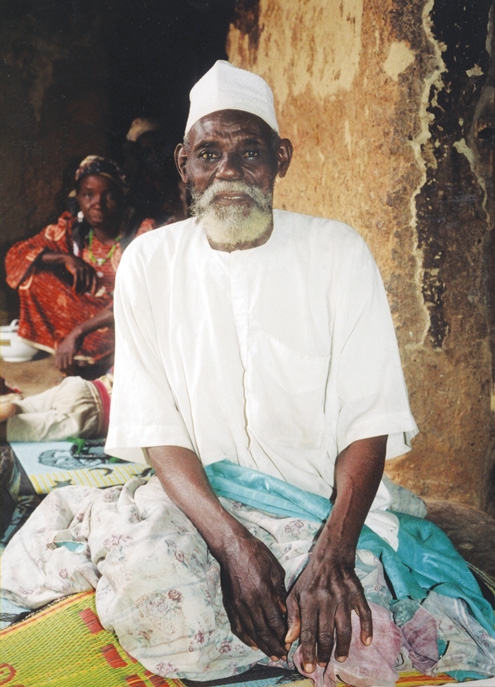 Fig. 2. Alhaji Garba Hassan, one of the organizers of Kungiyar Guragu associations in Nigeria and West Africa, at home in Yakasai (30 August 2005, photo by E. P. Renne).
Alhaji Garba also related his involvement in the establishment of kungiyar guragu associations in Nigeria and West Africa. According to him, the first kungiyar guragu group was founded in Lagos in 1959 by Ekiti State, a Hausa man living in Ikare who became the first Sarkin Guragu [literally, king of the lame]. Alhaji Garba traveled to Ikare and other southern Nigerian towns—Akure, Ilesa, Ile-Ife, Abeokuta, Agege, and Ibadan—to help with the establishment of kungiyar guragu groups there. Indeed, one such group was described by Abner Cohen in his 1962-63 study of the large Hausa migrant community in Ibadan in southern Nigeria: the Ibadan Chief of the Lame, Sarkin Guragu, "who holds a special title and who is officially turbaned by the Chief of the Quarter in a special public ceremony."[4]
In the early 1960s, Alhaji Garba, along with the Sarkin Guragu from Ikare, traveled to Kaduna to help establish groups in Northern Nigeria:
It was Sarkin [Guragu]-Ikare who turbaned the first Sarkin Guragu [in Zaria]. The Sarkin Ikare asked me to be the first Madaki Guragu (a titled office, Commander-in-Chief), but I said no. Because I didn't want to stay in Ikare. I had my wife and children in Yakasai. In 1962, Sarkin Guragu of Kano was turbaned after Ikare—followed by Ibadan, Agege, Sokoto, Katsina, and Ile-Ife.[5]
However, Alhaji Garba's travels were not restricted to Nigeria. Like many Hausa migrant men who work as traders during the dry season when they cannot farm, he traveled to other countries in West Africa, including Ghana and Cote d'Ivoire. However, unlike many Hausa migrants, he did so without the use of his legs which had been paralyzed by polio since he was seven years old.
Establishing Kungiyar Guragu in West Africa
During the colonial period, British officials were anxious to develop the means for bringing needed primary commodities such as cotton to Lagos on the coast where they could be shipped to England. The railroad from Lagos to Kano, completed in 1912, not only provided this function but also became a means of transportation for Northern Nigerians to travel to the south. For disabled people, this was particularly beneficial since they were allowed to travel free of charge. Some traveled this route to Ghana (Fig. 3) where they worked as beggars, a practice documented in the Report on the Enquiry Into Begging and Destitution in the Gold Coast 1954, conducted by Ghanaian sociologists employed by the colonial government.[6]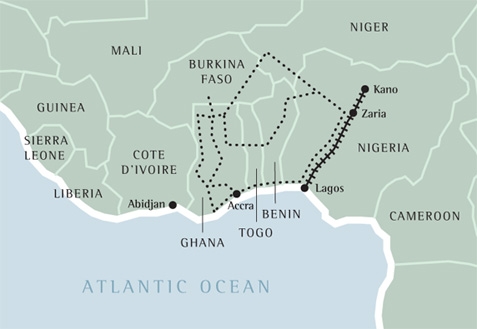 Fig. 3. Contemporary West Africa, with routes used by migrants from Northern Nigeria identified in Gold Coast Government, Report on the Enquiry Into Begging and Destitution in the Gold Coast 1954 (Accra, 1955), iii.
Alhaji Garba traveled this route from Zaria on his way to Ghana in the early 1960s, as he explained:
I went to Dahomey (at Porto Novo), then Togo, then Accra (Ghana), from Accra I went to Kumasi, and I went to Cote d'Ivoire, that is Abidjan. I went to Bamako (Mali), and then Ouagadougou [Burkina Faso]. Then I came back to Kumasi. I went there to put the heads of our people [Hausa disabled people] together so there won't be differences.[7]
He returned to Yakasai in 1963, where he has lived since then doing trading and farm work, as well as begging to support his family.
Organizations for the Disabled in Kano
Around the same time that Alhaji Garba returned to Yakasai, a Sarkin Guragu was turbaned in Kano, the largest city in Northern Nigeria. Since that time, several organizations for disabled people have been established there including an active program for vocational training and support of primary and secondary education for disabled children. As Alhaji Aminu Ahamed, the chairman of the Polio Victims Association of Kano (a successor organization of the Kungiyar Guragu-Kano) explained, these groups are now organized under a federal organization known as the Physically Handicapped Association of Nigeria (PHAN):
This organization involves any disabled persons—whether they have one leg, one hand, they all belong to this organization. Within this organization we met with polio victims and started our own group that is the Polio Victims Association of Kano.[8]
The PHAN group in Kano has organized a workshop for making tricycles for the lame (keke guragu) which they sell along the main road leading to the Kano airport (Fig. 4). The space was donated by a wealthy Kano man, while group members have purchased the materials for making the tricycles themselves (Fig. 5), without any government assistance. This workshop is a model for other groups in Northern Nigeria, and they have sent members to the Kaduna Rehabilitation Center to train them in making tricycles.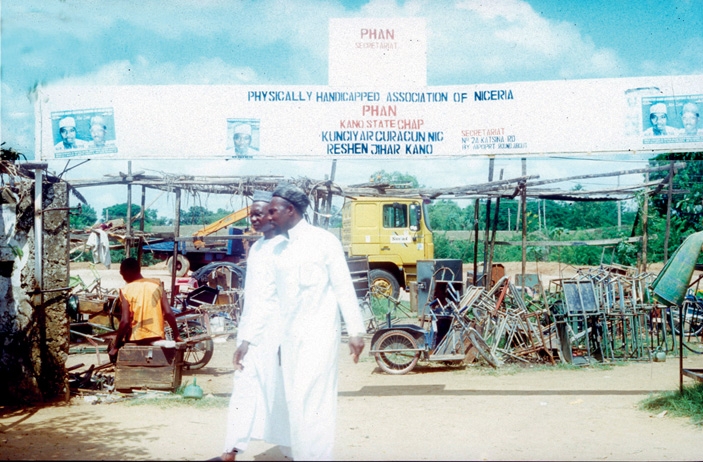 Fig. 4. Tricycles for sale, constructed in the workshop of the Physically Handicapped Association of Nigeria (PHAN), Kano branch (26 August 2005, photo by E. P. Renne).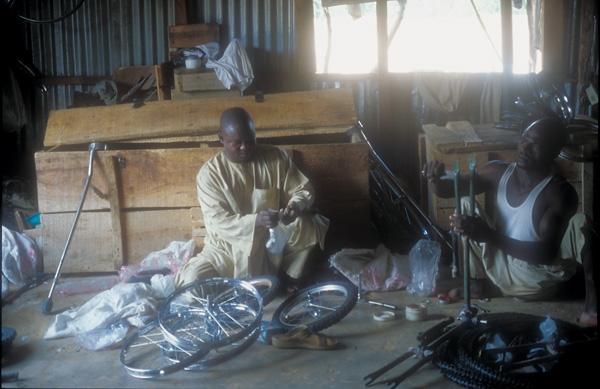 Fig. 5. Man constructing tricycle wheels at the PHAN workshop in Kano (26 August 2005, photo by E. P. Renne).
Members of the Kano PHAN group have also raised funds to support 85 disabled children to attend school up until the secondary school level. The group pays for their school uniforms and books, while prevailing upon school headmasters and principals to defray school fees for these children. They have made these efforts, in part, to provide disabled children with an alternative to begging, which is the past was the most common occupation for Hausa disabled children and adult men. Education has other benefits as well, for it was through their education that group leaders are able to access government programs through state Social Welfare Offices and federal and non-governmental organization rehabilitation programs for the disabled.
Gurgu ba ya koyawa gurgu tafiya
The lame will not teach the lame to walk.[9]
Unlike the message conveyed by the Hausa proverb cited above, it is indeed the lame who are helping the lame to get ahead, to improve their situation. Two factors contributed to disabled people's ability to organize and expand kungiyar guragu groups in Nigeria and West Africa. First, state involvement, either directly or indirectly, played a role in their efforts. While there were certainly disabled people during the precolonial period in Nigeria, it was during the colonial period that kungiyar guragu groups were organized. The relationship of these groups to the colonial Department of Social Welfare and Development requires further research. However, during the post-independence period, groups such as the Kungiyar Guragu-Zaria were formally registered with the Kaduna State Department of Social Welfare. This department helped to provide a focus and legitimacy to these disabled groups, even when material assistance was limited.
The second factor that contributed to the growth of these groups was the building of the railroads and a network of roads. Disabled people, who traveled free of charge on the trains and for reduced fares on buses and taxis, were able to move more easily. The introduction of these new forms of transport during the colonial period allowed people such as Alhaji Garba to travel throughout Nigeria and West Africa to help in the organization of kungiyar guragu groups.
More recently, international initiatives such as the United Nations Decade for the Disabled (1982-92) called attention to the needs of the disabled and the practices, which, inadvertently or not, discriminated against them. This initiative contributed to the organization of the PHAN. Through such initiatives, governments such as Nigeria's, were encouraged to provide programs to assist disabled people as part of the development process. While some states have implemented vocational training programs and have contributed to the building of workshops for the employment of disabled people, political instability and economic problems during the 1990s have limited the Nigerian government's ability to support programs for the disabled. Thus, group projects such as the workshop in Kano have been largely supported by members, local wealthy patrons, and at times, by non-governmental organizations.
Aside from documenting the growth of these groups, this study of disabled groups in Nigeria suggests another process as well. In the 1950s, the lame (guragu)—as a category of people with particular physical conditions—organized themselves into self-help groups with titled chiefs under the patronage of local traditional rulers during the late colonial period. During the 1980s, they appear to have re-considered themselves as a category of people, referring to themselves as disabled (or handicapped), for whom the state is seen as responsible for providing vocational training and support. In future research, I will consider the process whereby people have re-evaluated these categories and their place within them, as individuals with particular disabilities and as members of other—ethnic, religious, regional—social groups in Nigeria.
---
Elisha P. Renne is associate professor of anthropology and Afroamerican and African studies at U-M.
Top of page