Add to bookbag
Authors :

Kathleen Owings-Swan, Mark Hofer

Title:

The Historical Scene Investigation (HSI) Project: Facilitating Historical Thinking with Web-Based, Digital Primary Source Documents

Publication info:

Ann Arbor, MI: MPublishing, University of Michigan Library
April 2008

Availability:

This work is protected by copyright and may be linked to without seeking permission. Permission must be received for subsequent distribution in print or electronically. Please contact mpub-help@umich.edu for more information.

Source:

The Historical Scene Investigation (HSI) Project: Facilitating Historical Thinking with Web-Based, Digital Primary Source Documents
Kathleen Owings-Swan, Mark Hofer

vol. 11, no. 1, April 2008

Article Type:

Article

URL:

http://hdl.handle.net/2027/spo.3310410.0011.101
The Historical Scene Investigation (HSI) Project: Facilitating Historical Thinking with Web-Based, Digital Primary Source Documents
University of Kentucky
Department of Curriculum and Instruction
343 Dickey Hall
Lexington, KY 40506-017
kswan@uky.edu
Fax: (859)257-1602
Phone: (859) 257-1893
College of William and Mary
School of Education
P.O. Box 8795
Williamsburg, VA 23187
mjhofe@wm.edu
757.221.1713
Introduction
Researchers in history education advocate instructional approaches that engage students in the process of "doing history," including building historical knowledge through the use of primary sources, conducting historical inquiry, and encouraging students to think historically.  [1] This approach encourages students to "do" history; to raise questions and to marshal solid evidence in support of their answers. This approach challenges students and teachers to go beyond the facts presented in their textbooks and examine historical documents for themselves; to consult documents, journals, diaries, artifacts, historic sites, works of art, quantitative data, and other evidence from the past. This kind of thinking requires that students take into account the historical context in which these records were created and to compare multiple points of view.  [2]
Opportunities and Challenges
Historical thinking skills have been incorporated into state and national standards as well as district curriculum guides. The National Council of the Social Studies emphasizes, "perspectives from various aspects of history... and [that] students develop the habits of mind that historians and scholars in the humanities and social sciences employ to study the past and its relationship to the present in the United States and other societies."  [3] In Kentucky, for example, the state's curriculum content standards for history stress that "students will use a variety of primary and secondary sources (e.g., artifacts, diaries, timelines) to interpret the past."  [4] While much of the state's standardized testing still focuses on multiple choice questions (e.g., "The Bolshevik Revolution of 1917 introduced which form of government to Russia?") and short answers (e.g., "Describe two conditions in northern cities between 1910 and 1945 that attracted African Americans to the North."), the emphasis on teaching history through the use of documents is unmistakable. National History Day, for example, has promoted document-based history instruction for over 25 years by providing professional development for history teachers and sponsoring contests for students who create historical exhibits, documentaries, performances or papers.  [5] Recent federal funding through the Teaching American History Grant program has brought together historians, social studies educators and the K-12 history teaching community to improve history education, including a more inquiry-based approach using both historical scholarship and documentary sources.  [6]
Simultaneously, there has been a recent proliferation of web sites or archives of historic documents created by libraries, universities and government agencies that allows teachers to access documents for use within the history classroom. Numerous organizations including the National Archives and Records Administration and the American Memory Project have made countless historical documents available online including Civil War diaries, newspapers from the 1920s, and images from the Jim Crow era. Access to historical documents online and the lessons learned from leading investigations in the classroom combine to provide opportunities for teachers to engage students in authentic historical thinking in ways that simply would not have been possible even five years ago.  [7]
While social studies teachers might accept the premise of teaching and "doing" history and appreciate the ever-expanding access to electronic sources, undertaking a historical investigation in the K-12 classroom can present significant obstacles in terms of pedagogy, content coverage, and time.  [8] The most daunting challenge, perhaps, lies in the pedagogical support necessary to assist students in this difficult process.  [9] In order to read, interpret, and synthesize primary source information, students must work through a sophisticated set of specific processes. Van Sledright chronicled his year-long efforts in a fifth grade classroom to work with school children in acquiring and developing the skills necessary to undertake evidentiary reasoning.  [10] While his work demonstrated that elementary-age students are capable of working through these complex processes, the pedagogical challenge he faced when teaching students to question the validity of the sources and to consider multiple perspectives of an event under study quickly became apparent. It is also important to note that using primary sources does not automatically translate into historical thinking.  [11] Rather, it is the teacher who juxtaposes documents against one another, who asks critical thinking questions of a document or who elicits the bias or perspective of the author of the document that allows students to practice historical inquiry skills. While a number of websites provide some guidance on using a primary source in the history classroom  [12], there are few pedagogical models that teachers can employ to create their own investigation activities.
The time necessary to implement a historical investigation in the classroom provides a challenge to teaching sustained history units, as does the increasing number of content standards in the K-12 history curriculum. With increasing demands on teachers to cover an ever-expanding content base, teachers simply lack the time to devote to sustained investigations in the classroom. Van Sledright notes the time and coverage factor as a significant concern of his and the classroom teacher with whom he worked.  [13] And while the teacher noted that
...my students will never forget what they learned; they'll never forget what they were taught about analyzing and exploring history. The approach that he used helped my students learn American history in a new way, one that will stick with them. I've never seen them this excited about studying the past.
[14]
In an era of high-stakes testing, this benefit, while certainly worthy and important, will often be outweighed by the pragmatic concern of preparing students for "the test."
The Historical Scene Investigation (HSI) project was designed to address these pragmatic classroom concerns and to help bridge the gap between the potential of web-based historical documents and the theoretical frameworks that guide historical thinking with an instructional model that scaffolds the analysis process for students. Moreover, our intention was that the exercises might facilitate historical thinking in the K-12 classroom by assisting teachers in the leg work of locating primary sources and, more importantly, in using these sources in a way that fosters historical inquiry. To date, several activities centering primarily on United States history have been developed, including additional teacher materials. These activities are hosted on the HSI website and freely available for use in the classroom.  [15]
HSI: Historical Scene Investigation
In an attempt to clarify the process of historical thinking, many scholars employ the use of metaphors. When working with fifth graders to develop historical thinking skills, Van Sledright crafted the metaphor of becoming a detective, designed to shift the way students understood the study of history from "simply memorizing other people's facts to investigating, interpreting and arguing about the situation themselves."  [16] Students were asked to solve the mysteries of the past through clues found in historical documents. Using the courtroom to describe the use of primary sources and the development of historical thinking skills, Wineburg writes that historians work through documents as if they were "prosecuting attorneys...not merely listening to testimony but actively drawing it out by putting documents side by side, by locating discrepancies and by actively questioning sources and delving into their conscious and unconscious motives."  [17] And finally, Yeager and Foster describe historical interpretation as a process by which students find meaning through a "variety of actors on the historical stage."  [18] The work of these scholars provided the inspiration for the Historical Scene Investigation project.  [19]
The goal of the Historical Scene Investigation (HSI) project is to package discrete online investigation activities, including hyperlinks to valid primary source documents, in a way that supports students through the investigation process. Using the metaphor of a crime scene investigation, teachers can use HSI exercises to guide students in analyzing selected primary source documents to solve a historical problem or question. In doing so, the HSI model follows the following four steps, including 1) Becoming a Detective 2) Investigating the Evidence 3) Searching for Clues and 4) Cracking the Case.
Becoming a Detective
In "Becoming a Detective" students are introduced to the historical scene under investigation within the context of a historical situation that captures student interest. Students are then presented with a task to help guide the exercise and eventually crack the case. For example, in the Finding Aaron exercise on runaway slaves, students are presented with the following information to introduce the case:
A descendent has traced her lineage to an enslaved man named Aaron and is trying to piece together his story. You have agreed to help her. She has provided a series of documents that follow. It is your job to determine the type of evidence included within this file, the credibility of each piece of evidence and how the evidence fits together. Finally, you will be asked to come up with a plausible explanation of what happened to Aaron between December, 1767 and January, 1771 and how you came to that particular conclusion.
Investigating the Evidence
After familiarizing themselves with the task at hand, students move on to the "Investigating the Evidence" section of the exercise. Students are provided hyperlinks to a number of essential digital primary sources that help them begin to piece together a historical narrative, to research multiple renderings of an historical account and to assess the credibility of the evidence. Most importantly, these documents talk to one another and assist teachers in using multiple documents to uncover historical dilemmas and controversies with their students. The evidence might include text files, images, audio, or video clips. In the Finding Aaron case students follow a series of runaway slave ads from the Virginia Gazette beginning on December 1767 and ending on January 1771 and available using the Virginia Center for Digital History's Runaway Slaves online database.  [20] When slaves or servants ran away in the eighteenth century, masters often placed remarkably detailed advertisements for their return. Using the runaway slave advertisements, students in this exercise follow one former slave named Aaron in his attempt to win his freedom from a Central Virginia court. In the following advertisement (Figure 1), a plantation owner in Chesterfield County, Virginia, explains that Aaron sued for his freedom against the owner's father.  [21]
Virginia Gazette Jan. 3, 1771
RUN away from the Subscriber, in Chesterfield, on the 30th of June last, a Mulatto Man Slave named AARON, who brought suit against my Father (Henry Randolph) in the General Court, for his Freedom, in the name of Aaron Griffin. The Suit was determined last October Twelvemonth in my Father's Favour, though probably the said Fellow may change his Name and endeavour to pass for a Freeman, as many of his Colour got their Freedom that Court. He is two and twenty Years of Age, about five Feet nine or ten Inches high, and marked on each Cheek IR, the Letters very dull; he has straight Hair, and a very remarkable Set of Teeth, which ride one above another. The said Fellow is outlawed. Whoever brings me his Head shall have TEN POUNDS reward; and if brought alive, or secured so that I get him, FIVE POUNDS. JOHN RANDOLPH. N.B. All Masters of Vessels are forewarned from carrying any such Fellow out of the Country.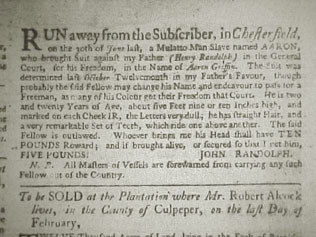 Figure 1:
Virginia Gazette Jan. 3, 1771
Searching for Clues
When "Searching for Clues" students are provided with a set of questions in the form of a Detective's Log to help guide their analysis of the selected documents. Step-by-step instructions, including both an analysis of the individual documents as well as a comparison between documents, assist students through each step of the process. This scaffolding can be very structured or more open-ended, depending on the instructional goals and the abilities of the students and the teacher. For each case, the Detective Log is provided both in the form of a printable handout and a customizable word processing file for students to work from.
In the Finding Aaron case the Detective Log challenges students with a range of essential questions that begin with souring the documents (e.g., authorship, audience, context) and typically end with some sort of judgment as to the reliability of the document. After examining the evidence, students are then asked to summarize frustrations they encountered when trying to piece together the account. For example, students are regularly asked within the exercise, "Based on this investigation and what you know about the process of history, what are some difficulties historians face in reconstructing history?"
Cracking the Case
Finally, in "Cracking the Case" students present their answer to the original question accompanied by a rationale rooted in the evidence. Additionally, students are encouraged to ask new questions that have arisen during the process for future investigation. The answer can take many forms. An Advanced Placement U.S. History teacher might opt for students to write a traditional five paragraph essay supporting their conclusion, using the documents as they would in the requisite document based question (DBQ). An elementary school teacher might choose to have students participate in a structured classroom debate. In the Finding Aaron activity, students are merely asked write a plausible explanation of what happened to Aaron between December 1767 and January 1771, indicating whether they were satisfied with the evidence and listing any additional questions that have been left unanswered. Whatever the end product, it is important that students provide an answer to the original question with supporting documentary evidence.
Teachers Section
In addition to the case file, there is a section for the teacher. Here, objectives for the activities are provided with links to national content and process standards. Additionally, links to additional resources, including related primary source documents, are also provided. The model is intentionally standardized so that teachers can easily browse the activities to quickly understand the process and purpose. All activities include a rich text file which can be downloaded and customized using a word processing program so that teachers can modify the exercise as needed.
An Invitation
A multi-faceted research program is currently underway to examine the effectiveness of the HSI model. Specifically, HSI activities are being implemented in elementary, middle, and high school classrooms to determine the degree to which the model leads students through the analysis process and where it falls short. Since the creation of HSI in 2004, the creators have worked to secure funding that would support academic historians in helping to fill a void in the project. We recognize that in its current state the cases are missing context and commentary on current historical scholarship for each of the developed investigations. To date, we have been unsuccessful in this endeavor. We have, however, partnered with one historian at the University of Kentucky who has been willing (pro bono) to provide additional insights into the Boston Massacre case. We would like to take this opportunity to ask for additional help from the readers of this journal. If there are historians interested in working on any of the cases by providing contextual essays or direction to this project, we would welcome the collaboration. Please feel free to contact us at our respective universities and know that the teachers currently using the site would value your contribution.
Notes
1. David Kobrin, Beyond the Textbook-Teaching History Using Documents and Primary Sources (Portsmouth, New Hampshire: Heinemann, 1996), 10-16.; Linda Levstik and Keith Barton, Doing History-Investigating with Children in Elementary and Middle Schools. (Mahwah, New Jersey: Lawrence Erlbaum Associates, 2000), 22-25; Stephanie van Hover and Elizabeth Yeager, "'Making students better people': A case study of a beginning teacher," The International Studies Forum 3 (2002): 219-232; Samuel Wineburg, "On the reading of historical texts: Notes on the breach between school and academy," American Educational Research Journal 28 (1991): 495-519; American Historical Association, "The Education of Historians for the 21st Century," http://www.historians.org/Perspectives/Issues/2003/0310/0310not1.cfm
2. Linda Levstik, "Negotiating the historical landscape," Theory and Research in Social Education 24 (1996): 393-397; Peter Sexias, "Conceptualizing growth in historical understanding," in David Olson and Nancy Torrance, eds., In Education and Human Development (London: Blackwell, 1996); Wineburg, 496; Elizabeth Yeager and O.L. Davis, Jr. "Classroom teachers' thinking about historical texts," Theory and Research in Social Education 24 (1996): 146.
3. The National Council for the Social Studies, "Curriculum Standards for Social Studies: II. Thematic Strands," http://www.socialstudies.org/standards/strands/
4. Kentucky Department of Education, "Core Content for Assessment version 4.1," http://www.kde.state.ky.us/KDE/Instructional+Resources/Curriculum+Documents+and+Resources/Core+Content+for+Assessment/Core+Content+for+Assessment+4.1/
5. National History Day, "Educators," http://www.nhd.org/Standards.htm.
6. U.S. Department of Education, "Teaching American History," http://www.ed.gov/programs/teachinghistory/index.html
7. Kobrin, 10-16; Linda Levstik, "'Any History is Someone's History': Listening to Multiple Voices from the Past," Social Education 61 (1997): 48-51; Bruce Van Sledright, In Search of America's Past (New York: Teachers College Press, 2002) 41-110.
8. Van Sledright, 103.
9. John Saye and Thomas Brush, "Student Engagement with Social Issues in a Multimedia Supported Learning Environment." Theory and Research in Social Education 27 (1999), 472-504; Kathleen Owings Swan and David Hicks, "Through the democratic lens: The role of purpose in leveraging technology to support historical thinking in the social studies classroom," The International Journal of Social Studies Education 21 (2007), 142-168.
10. Van Sledright, 105.
11. Swan and Hicks.
12. For examples of websites that guide the use of primary sources in the classroom see "Persistent Issues in History" (http://pihnet.org/), "History Matters" (http://historymatters.gmu.edu/), "The Digital History Reader" (http://www.dhr.history.vt.edu/), and the National Archives (http://www.archives.gov/education/index.html).
13. Van Sledright.
14. Ibid., 113.
15. See the HSI website at http://www.hsionline.org
16. Ibid., 41.
17. Wineburg, 511.
18. Elizabeth Yeager and Stuart Foster, "The Role of empathy in the development of historical understanding," in O.L. Davis, Elizabeth Yeager, and Stuart Foster, eds., Historical Empathy and Perspective Taking in the Social Studies (Lanham, MD: Rowman and Littlefield Publishers, 2001), 13.
19. Mark Hofer and Kathleen Owings Swan, "The Historical Scene Investigation Project," http://www.hsionline.org
20. Virginia Center for Digital History, "Virginia Runaways" (Wise, Virginia: VCDH, 2003), http://people.uvawise.edu/runaways
21. Runaway Slave Advertisement by John Randolph. Virginia Gazette, Chesterfield, Virginia, January 3, 1771: Virginia Center for Digital History, "Virginia Runaways," http://etext.virginia.edu/subjects/runaways/allrecords.html