Add to bookbag
Author:

Deborah Lines Anderson

Title:

Historians on the Web: A Study of Academic Historians' Use of the World Wide Web for Teaching

Publication Info:

Ann Arbor, MI: MPublishing, University of Michigan Library
August 2000

Availability:

This work is protected by copyright and may be linked to without seeking permission. Permission must be received for subsequent distribution in print or electronically. Please contact mpub-help@umich.edu for more information.

Source:

Historians on the Web: A Study of Academic Historians' Use of the World Wide Web for Teaching
Deborah Lines Anderson

vol. 3, no. 2, August 2000

Article Type:

Article

URL:

http://hdl.handle.net/2027/spo.3310410.0003.201

PDF:

Download full PDF [54kb ]
Historians on the Web: A Study of Academic Historians' Use of the World Wide Web for Teaching
In 1996 the four State University of New York University Center history departments at Albany, Binghamton, Buffalo, and Stony Brook were all in the process of creating web sites for their programs. In spring 2000 there were departmental web sites at all four schools, and the departments had branched out to provide World Wide Web services and products for students, faculty, graduates, and prospective students. The departmental sites listed a total of 46 course syllabi on the web (1997 through 2000) with 7 courses listed for the spring 2000 semester. This paper reports the results of an analysis of these four departmental sites and associated web syllabi, discussing trends in historians' use of web-based materials for teaching and suggesting questions in web use that could be generalized to a variety of academic departments.
01. INTRODUCTION/PROBLEM STATEMENT
This paper reports the results of an exploration of the four University Center State University of New York history department web sites, and, in particular, the course syllabi which were available online through these departmental home pages. This is exploratory research, and as such it surfaces more questions than it answers. By counting faculty and numbers of courses it was possible to get a sense of the web presence of these four departments—but only a sense. Future research should carefully look at the development and use of web-based syllabi, both to understand the creation of these teaching tools, and to understand how they could better serve the needs of students, faculty, departments, colleges, and universities.
Departmental literature, be it paper- or web-based, is often used as a recruiting tool. Departments advertise their strengths in order to attract strong faculty and students. Web sites are a particularly strong recruiting tool since they can be accessed immediately (and usually for little or no cost) all over the world.
An additional advertising function of these sites is that they can present materials such as syllabi and special programs to prospective faculty and students, making available very detailed information about specific courses and programs. In the case of syllabi, the advertising function is secondary. Faculty put materials on the web for the benefit of students, but unlike the paper syllabus, the web syllabus does indeed reflect the style, strengths and contents of the history program to anyone wishing to access it electronically.
In 1996 the four State University of New York University Center history departments at Albany, Binghamton, Buffalo, and Stony Brook were each planning to create a presence for themselves on the World Wide Web. [1] By 1998 these plans had all come to fruition. Although they varied in format and amount of information, all sites were in place across the four campuses.  [2]
The focus of this paper is on the web presence of the four University Center history departments at the level of course materials available on the web. [3] Are faculty members using this method of information dissemination? Are there stylistic differences among sites? Are there lessons to be learned by comparing and contrasting the information provided across these four departments? The research hypothesis was that there would be widespread use of the World Wide Web, through departmental home pages, for distribution of course materials and syllabi.
A critical set of theoretic and practical issues is important to this research. In particular, these issues center about the diffusion of an innovation across groups (in this case, use of the World Wide Web for course materials), the locus of control of the materials that are on the sites, and, subsequently, the motivation for using university, faculty, and student resources in order to create a web presence for a class.
Diffusion of Innovation [4]
There are numerous examples of diffusion of innovation across university campuses. Personal computers were a rarity and then became ubiquitous both in faculty offices as well as in student dormitories. E-mail similarly started out as a useful tool in the scientific community and has now become extraordinarily commonplace across all university settings. The World Wide Web is a third of these innovations that has now swept across college campuses to the extent that professors and students alike expect access to information on the web. The trading of MP3 files became so wide spread, so quickly, that in the spring of 2000 universities blocked sites in order to preserve bandwidth for other computing operations on campuses. [5] Sometimes the introduction of an innovation can have unintended consequences, as the industrial revolution caused a disintegration of the nuclear family, and the coming of railroads caused a change in agricultural production. [6]
The use of the World Wide Web for presenting and distributing course syllabi would appear to be another innovation waiting to be diffused across college campuses, perhaps with unintended consequences. The technology is in place to easily create web pages and there are centers on many campuses that will help faculty in this process. [7] Nonetheless, the central finding of this research was that for the four University Center history departments there has not been widespread use of this medium for information dissemination.
Locus of Control
There are various levels of information control within universities. Some information such as general requirements for admission, housing, and graduation resides at the level of the administration for the entire university. Other information, such as particular programmatic decisions, course descriptions, and major and minor requirements, resides at the departmental level. Decisions about readings and syllabi for particular courses usually rest with individual faculty members. Often there are multiple levels of decision making, such as when information about a programmatic change will move through the approval process from one level to another at the university.
The locus of control of information can vary from institution to institution. Thomas Davenport suggested that there is a continuum of information control that moves from more central control to less central control. The particular forms of governance that he identified were monarchy, federalism, feudalism, and anarchy. [8] In the course of this research it was apparent that the four University Center history departments used different models of information control in the creation of web sites. Thus, locus of control becomes a critical point of discussion in what information a department has on its web site.
Motivational Issues
Finally, motivational issues are highly important in the creation of web sites for course syllabi. Private sector and governmental agencies that produce web sites assume that they will be able to do their jobs better, faster, and/or cheaper as a result of technological innovation. [9] A university history department or faculty member might have the same motivation—to create a course web page in order to make the job of educating students better, faster, or cheaper. Additionally, as mentioned at the start of this paper, syllabi on the web are a public resource, presenting a department to the world, and, in particular, to prospective new students and faculty.
Nonetheless, there appear to be other forces that might not work in favor of web site creation. In particular, tenure and promotion have traditionally been based upon service, teaching, and research, with the emphasis placed upon the writing of peer reviewed journal articles. Within the work day of a college professor there is just so much time for research, teaching, committee work, and web page creation. If web page creation is not valued by the department in the tenure and review process, it will probably not happen, even if it does improve students' ability to do their course work. [10]
Thus, there is a balance between the benefits that accrue to faculty and students and the price that must be paid in order to make class materials available on the web. If a professor can secure a grant to create a web page, the grant will be a positive mark on his record. Graduate students are often well versed in web page design. They can be used to create course sites, unless graduate students are a scarce resource and faculty members need them instead to do all-critical research.
This cost-benefit analysis is a highly pragmatic approach to information technology investment. Perhaps, unless university faculty are very interested in web technologies, and believe that their investment in time or resources is worthwhile, they will not embrace this innovation and move syllabi to the web. Then again, this innovation is possibly as inevitable as telephones, computers, and e-mail. If that is the case then history faculty will be forced to create web pages by the information culture that surrounds them.
The next sections of this paper look at the web presence, and course syllabi, for the four history departments considered here. Varying in their approaches, they nonetheless present an interesting case study in the ways that the World Wide Web can be used by faculty and departments in academia.
02. THE UNIVERSITY CENTER HISTORY DEPARTMENTS
The four University Center history departments in this study remained very stable between 1996 and 2000. They continued to offer undergraduate and graduate degrees and all maintained approximately the same number of faculty members (see Table 1). For purposes of analysis in this paper, the last column in Table 1 lists the male/female distribution of faculty members across the four history departments and in the aggregate, with 72 percent male and 28 percent female professors overall in spring 2000.
03. FINDINGS: COURSE MATERIALS ON THE WEB
The four University Center history department home pages approached courses and course syllabi in different ways. ?The Albany courses were listed under "History Department Course Websites" as a direct link from the home page (one step). The Binghamton courses were listed first at the home page level under "Department Websites" and at the next level under "Online Syllabi" (two steps). Stony Brook's home page required moving from "Courses" to "Course Websites" to "History" (three steps). Stony Brook's "Course Website" page contained links to all departments at the University, looking administrative rather than departmental, but there were actual syllabi available on line. The more steps the harder it was to find the actual course syllabi.
For the purposes of this study the Buffalo history home page was problematic. Although it contained links to all fall 2000 history courses at the university, the home pages for each course were identical, providing information about professors, enrollments, and registration dates and course numbers. There were no traditional course syllabi, nor was there information about spring 2000 courses to be found as of April 12, 2000.
Table 2 lists the course syllabi that were available across two history departments (Albany, Binghamton) for the spring 2000 semester. Stony Brook's syllabi were either not for the current semester, or undated, and, as mentioned earlier, Buffalo did not have any web syllabi available from its home page. Of the seven spring 2000 courses, two were at the 100 level, two were at the 200 level, one was at the 300 level (but also listed as a 500 level graduate course), one at the 400 level, and one at the 500 (graduate level). Thus the courses were not aimed at any particular level of historical study. Looking at the subject matter of the spring 2000 courses yielded two courses in Asian or Chinese history and culture, two multimedia, and three (double counting the Modern China course) in modern and twentieth century history. Two of the seven sites were for courses taught by female professors, the other five were taught by male professors (with only one individual offering two web-based syllabi). This sample of seven courses was just too small to get any real sense of what was going on in these departments in relation to course syllabi on the web. Or, in other words, there was not a lot of activity in terms of current (spring 2000) syllabi on the web that were available through departmental home pages.
This activity can be measured in terms of the total number of courses offered in a department as opposed to those posted on the web. For spring 2000 the University at Albany history department home page listed 38 undergraduate and 28 graduate courses (not including seminars and dissertation listings). All told there were 66 courses with 4 of them (as seen in Table 2) available on the web—6 percent of all courses had a web presence. At the time of this research Binghamton had updated its history web page, eliminating spring 2000 course listings. Give that Binghamton had approximately the same number of faculty members as Albany, it would be expected that their three courses with a web presence would present an even lower percentage of all courses available.

04. CASTING A WIDER NET
Having started this project looking at spring 2000 course syllabi, and finding, for certain, only seven sites, it seemed more feasible to look at all the course syllabi that were listed for the three departments. That increased the number of syllabi to 46, allowing a large enough sample to look for patterns of subject matter and use. It is interesting to note that departments keep their web syllabi available over time. Perhaps the effort to create them, and their advertising effect, are indeed important factors.
Tables 3, 4, and 5 (see Appendix) display the course number, name, and date for courses, past and present at the University at Albany, Binghamton, and Stony Brook history departments. At the time this research was done there were no course syllabi online (that this researcher could find) at Buffalo's history department for past or present use. Additionally, the tables list the gender of the course professor, the contents of the course, and the number of links (internal and external) that appeared on the course home page. (The count does not include secondary or tertiary links—an impossible task.)
Gender
Table 1 of this paper indicated that overall there were 72 percent male and 28 percent female full time professors listed for these four campuses. One would therefore expect that the same percentages would hold true for course web pages. Of the 39 web sites where gender of the instructor could be determined, 33 were for male instructors and 6 were for female instructors (counting the two dual gender, team-taught courses as .5 female, .5 male). This reduces to 85 percent and 15 percent respectively, indicating that female instructors in this study appeared to be underrepresented in creating course web pages. Nonetheless, a c 2 analysis showed no statistically significant (p<.05) difference between the population and sample in terms of gender representation. Gender did not appear to influence posting syllabi to the web.
Participating Professors
Although Tables 3 through 5 list 46 courses available on web sites, they do not indicate how many different professors made use of this technology. Table 6 displays the total number of web sites, the actual number of participating professors, and the percentage of participating professors for each applicable department. It also displays the number of adjunct faculty who maintained web syllabi for the various history departments. Not all of the instructors with web syllabi were full time faculty in their respective programs. There were, in fact, seven individuals maintaining 13 of the web syllabi who were not tenure track faculty. As seen in the table, approximately 21 percent of history professors across the three campuses participated in web syllabus creation (linked to department home page) with the University at Albany reporting 35 percent, the highest of the three schools.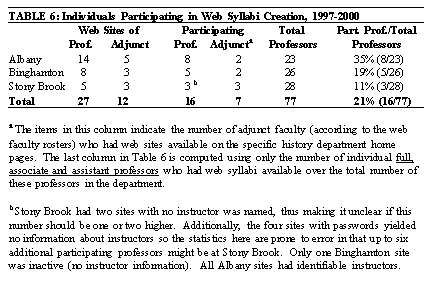 Rank
As well as expecting that web syllabi would be posted proportional to gender (they were), it could be hypothesized that they should also be distributed proportionally across faculty rank. Table 7 displays the rank and number of total faculty for the Albany, Binghamton, and Stony Brook departments, as well as the ranks of faculty with a syllabus presence on their respective department's home page. This table is problematic in that there appear to be 9 web syllabi not attached to full time faculty members at the various schools (see the last column of the table). Thus for the 25 individuals who maintained web syllabi across the three schools, 9 could not be identified as tenure-track faculty members (7 adjunct plus 2 who did not appear in any rosters). In the aggregate this means that of the 100 history department faculty members listed in this study (4 departments), only 16 (16 percent) could be identified as using the World Wide Web for distribution of curricular materials. There may be more who were distributing materials electronically but not linking to their departmental home page. Future studies should look at the identities of faculty members who are using the web for distributing syllabi, assignments, and readings. These figures suggest that the numbers might be very low.
Despite these low numbers that cannot be generalized to larger populations, in should be noted that Table 7 indicates that full and associate professors were using web syllabi. No assistant professors were in this list. Additionally, all of the associate professors (n = 5) were in Albany's department. This finding suggests that there might be a cultural question to ask about why only full professors had web syllabi at two of the universities, and why Albany had 5 associate and 3 full professors posting syllabi to the web. A c 2 analysis showed no statistically significant (p<.05) difference between the actual population of professors and the web syllabi professors in terms of rank. Again, as with gender, there was not enough difference between the population and the sample to say that rank somehow influenced posting syllabi to the web.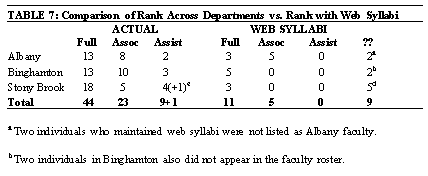 cStony Brook lists one lecturer (+1) as a full time faculty member.
DFive of Stony Brook's history department web syllabi were listed under individuals who did not appear on their full time faculty roster.
Contents
For the most part the sites that were available for study contained standard syllabus information on lecture dates, assignments, and readings. Some sites contained large numbers of readings online (see "links" below) while others listed bibliographies for library reserve readings. One site was a picture gallery for a multimedia course, while another was a listing of interesting web sites for historiography. It is unclear as to whether or not the subject matter across the 46 sites is representative of all history offerings. Are there history areas that have no representation in these web syllabi? Are there areas (such as Asian and Chinese history) that lend themselves to web syllabi? Future studies might look at the appropriateness of various historical subjects for inclusion on the web.
Links
Tables 3 through 5 also present the number of links that each syllabus had, on its home page, to other sites both internal and external to the university or department. There was wide variability in this statistic with a maximum of 120 links at an Albany site, and five sites with no external links. Future studies should look at the kinds of links that are available at these sites, the persistence of these sites, and, most important, whether or not and how students use these for their studying in history.
05. ANSWERED QUESTIONS
This paper started with a series of questions about faculty use of web pages for teaching. There were answers to some of these questions.
Are faculty members using this method of information dissemination?
The answer to this question was "somewhat." There were 46 course web sites listed across three of the four departments starting in summer 1997. (This researcher could find no public Buffalo links to specific course syllabi.) For the spring 2000 schedule, there were seven sites available for inspection by the public and several more that were password protected. This research did not test the notion that faculty have course materials up on web sites, but not web sites accessible from the university's home page.
Are there stylistic differences among sites?
The answer to this question was a definite "yes." Whereas individual web sites, created by faculty members or their students, had wide variation in contents and style, the Buffalo site had a consistent format (locus of control at the university level), but no available individual web pages. The Stony Brook web sites were the most hard to examine since some had passwords and others had no indication of date and last update.
Additionally, an inspection of the links from various course pages showed a major divide in internal versus external links. Many of the University at Albany sites were heavy with external links. The Binghamton and Stony Brook sites tended to rely on internal links to other parts of the syllabus with scattered external links to study materials for students.
Are there lessons to be learned by comparing and contrasting the information provided across these four departments?
The answer to this question depends to a large degree upon the locus of control of web sites, and, thus, to the purpose assigned to these web sites. Recruiting, registration, and teaching are all different purposes for putting class materials on the web. Whereas the teaching function, and subsequent creation of web pages for syllabi or study pictures, is at the level of the professor (Albany, Binghamton, Stony Brook sites), the recruiting function, for faculty or students, tends to be at the level of the school or department (all four sites). Registration (Buffalo site) is normally at the level of the entire college or university.
The four schools displayed very different loci of control, and subsequently very different web site strategies. It would be interesting to ask administrators at the college and department level about the impression they wish to give through their web sites. It would be equally interesting to ask faculty about the purpose of and impetus for creating the few web sites that did exist for the spring 2000 semester.
Does the research support rejection of the null hypothesis?
The null hypothesis, that there would be little or no public display of course syllabi, could not be rejected by this researcher. The research hypothesis, that there would be widespread use of the World Wide Web through departmental home pages for distribution of course materials and syllabi, had to be rejected. Of the large number of courses that these departments administered in the spring 2000 semester, there were seven, across the four campuses, that were obviously available on the web. This was not the kind of diffusion of innovation that this researcher expected.
06. UNANSWERED QUESTIONS
The question that looms large in this paper is why faculty members in these history departments are not creating a web presence for their classes. There are scattered examples of web sites over the span of several semesters, but not the kind of ubiquitous adoption that might be expected.
This question necessarily leads to future research that needs to be done in order to understand the motivation that causes history faculty members to use or not use the World Wide Web in their teaching. In fact, during the 2000 American Association for History and Computing conference in Waco, Texas, the following questions generated a wealth of discussion, some summarized here, about what might be the answers to these questions. As an example, Asian scholars suggested that the seemingly large number of syllabi for Asian course materials could be a function of the newness of the field (post wars), isolated scholarship that leads to small pockets of published information, and the subsequent lack of information available though normal library channels. If a larger sample of syllabi were collected across U.S. history departments, it would be interesting to study if there were other subject specialties that, like the Asian materials, lend themselves to web-based information dissemination.
Culture
The cultural issues of information dissemination can have to do with motivation (or lack of motivation) for broadcasting materials. Conference participants suggested that some faculty attribute economic value to their teaching materials, and therefore do not want to make them available on the web. Conversely, another conference participant noted that historians are laterally loyal to their field, and thus would want to make materials public. This cultural discussion lends itself to a series of future research questions about organizational culture and how it affects electronic dissemination of information.
Are there gender, rank, age or training differences in using the web for disseminating syllabus information?
Is the type of course web site created (standard versus original format, internal versus external links) a cultural phenomenon at the departmental level?
Does this cultural phenomenon also include adjunct faculty who appear, according to this study, to be distributing course materials over the web?
Is there a web gatekeeper or guru in each department who influences the kind of information that appears for each department?
Policy
Information dissemination policies can greatly influence the materials that appear on the web. If there are policies set by the university or department, one would expect these to be reflected in web syllabi. Copyright and the whole area of intellectual property are at odds with the ease of transmission and editing of materials gleaned from web sites. Additionally, authorship of the site, by a faculty member versus a graduate student, can change the way the site looks, the ease of access, and the materials it contains. Thus, there are future research questions about who controls the intellectual contents of a site.
Are there departmental, school, or university policies that influence the kind of web presence that departments have?
Where is the locus of control for creating these sites, and does it change their content, style, and impact?
Alternate Dissemination of Information
Conference participants discussed the purpose of a course syllabus, stipulating that the purpose could greatly change the presentation, and how willing a professor might be to make the site public. There is a difference between a one-semester syllabus and one which will be available (say in a required course) for a series of semesters. The second would be more likely to appear on the web. One professor stated that a syllabus was a contract between himself and his students, was therefore immutable, and could not have the fluidity of web information. Finally, discussion centered on the private faculty/student relationship that exists in the classroom. In this case the professor has intellectual freedom to pursue subject materials and might not want international public scrutiny of his efforts. Additional research questions concern the use of web sites outside the context of a web syllabus, and the possibility of password protected sites.
Are faculty giving students examples of web sites in their paper syllabi so that they do not appear on public sites?
Are faculty giving students access to private sites and not linking them to the history department home page?
Are these private sites making use of copyrighted materials that require password protection or other forms of limited access?
Academic Productivity, Promotion, and Tenure
There is no question but that the creation of a web-based syllabus is additional effort. It is possible that senior faculty members are in the best position professionally to exert this extra effort since they are not under pressure to produce peer-reviewed articles for tenure and promotion. They also might feel the most confident about their teaching materials and therefore the least concerned about public scrutiny. Additional questions about the products of digital scholarship concern the barriers to creation as well as how this scholarship is viewed in the tenure and promotion process in history departments.
Are there specific barriers to making syllabi available on the web, and could these barriers be overcome through the application of funding, education, or additional technical support?
Are history departments using information technology products as evidence of professional productivity in the tenure and review process?
Will this low use continue as this researcher longitudinally tracts these historians?
07. THE HISTORIAN AS ENTREPRENEUR
In the world of information professionals there has been a sea change brought about by the World Wide Web. Starting in 1996 it became apparent to librarians and other information specialists that they were going to have to add to their information processing skills if they were to be the information providers of the future. The creation of the World Wide Web threatened the existence of information professionals. If users could get it all on the web, then what would librarians do? That question was answered by a number of information professionals who saw new jobs for librarians, "the new information professionals," that included management, product packaging, "pushing" information, and generally adopting behaviors that had been seen in the private sector of the economy. [11] Are historians starting to be motivated by these same forces?
An additional, interesting research question would be whether history department job announcements ever talk about technical skills. In the field of information science technology skills are a critical prerequisite. Job announcements abound with needs for web masters, network administrators, or individuals with knowledge of CD-ROM databases and online search engines. The job announcements that this researcher has seen in the American Historical Association's bulletin Perspectives do not list technology competencies for history faculty members. The technology culture of history department does not appear to be changing—at least to someone outside the field. Perhaps until this happens faculties will not make full use of the World Wide Web nor will they be judged on their use of information technology for the tenure and review process.
08. NOTES
1. Deborah Lines Andersen. 1996. User-driven technologies: Assessing the information needs of history faculty as a special user population. Ph.D. dissertation. Information Science Ph.D. Program. Nelson A. Rockefeller College of Public Affairs and Policy. University at Albany. State University of New York.
2. Deborah Lines Andersen. 1998. Academic historians, electronic information access technologies, and the World Wide Web: A longitudinal study of factors affecting use and barriers to use. Journal of the Association for History and Computing 1(1) available at http://hdl.handle.net/2027/spo.3310410.0001.101
3. As of June 2000 the four schools could be located at the following addresses:
4. Everett M. Rogers. 1962. Diffusion of Innovations. New York: The Free Press.
5. Lee Gomes. 2000. "Napster Alters its Software in a Bid to Appease Colleges." The Wall Street Journal. March 23. Section B, page 4.
6. Peter F. Drucker. 1999. "Beyond the Information Revolution." Atlantic Monthly 284(4):47-57.
7. The University at Albany's Center for Excellence in Teaching and Learning, and Stony Brook's Center for Excellence in Education both offer assistance for faculty members who wish to put class materials on the web.
8. Thomas J. Davenport. 1997. Information Ecology: Mastering the Information and Knowledge Environment. New York: Oxford University Press, p. 69.
9. See Center for Technology in Government. University at Albany. State University of New York. 1997. Tying a Sensible Knot: A Practical Guide to State-Local Information Systems (available at http://www.ctg.albany.edu ) for a discussion of ideal information systems.
10. See Deborah Lines Andersen. 1998. Is the System Dynamics Society ready for virtual proceedings: some empirical findings and recommendations for action. System Dynamics Review 14(4):367-380 for a discussion of why academics and computer specialists did not put their conference papers up on web sites.
11. See a series of articles that started to appear in 1998, and dealt with changing the image of the information professional. Mary Ellen Bates. 1998. The newly minted MLS: What do we need to know today? Searcher 6(5):33; Marissa Melton. 1999. The modern MLS degree: Library schools today are turning out webmasters. US News, available at http://www.usnews.com/usnews/edu/beyond/grad/gbmls.htm ; Jose Marie Griffiths. 1998. The new information professional. Bulletin of the American Society for Information Science 24(3):8-12; and Sheila Webber. 1999. Competencies for information professionals. Bulletin of the American Society for Information Science 26(1): 28-29.
APPENDIX
Notes on Tables 3, 4, and 5: All active sites had links to the e-mail address of the professor.
Inactive or password sites are listed in italics.
Link counts are only from the home page of the web site and do not include secondary or tertiary links.
Key:
SF is standard format, a web page form developed by the department.
S indicates the page contained a syllabus for the course.
R indicates there were readings listed for the course
A indicates there were assignments listed for the course.
M means there was a message board for the course (n = 1)


Deborah Lines Andersen
School of Information Science and Policy
University at Albany