Add to bookbag
Author:

Daniel J. Pfeifer

Title:

Bibliography Applications: ProCite ver 4.0

Publication info:

Ann Arbor, MI: MPublishing, University of Michigan Library
April 1999

Availability:

This work is protected by copyright and may be linked to without seeking permission. Permission must be received for subsequent distribution in print or electronically. Please contact mpub-help@umich.edu for more information.

Source:

Bibliography Applications: ProCite ver 4.0
Daniel J. Pfeifer

vol. 2, no. 1, April 1999

Article Type:

Software Review

URL:

http://hdl.handle.net/2027/spo.3310410.0002.122

PDF:

Download full PDF [24kb ]
ProCite ver 4.0
ProCite ver 4.0, by Research Information Systems, (www.risinc.com)1997.
| | |
| --- | --- |
| Win 3.x to Win 4 | $69.95 |
| DOS 2.x or Mac 2.x to Win 4 | $129.95 |
| New | $395.95 |
Most writers have visions of organization when they start a work — so sure that this time will be different — but their cited sources can quickly grow into a large disorganized mass of notecards. At some point, the multitude must be catalogued into a bibliographic form.  ProCite attempts to relieve writers of the painful process of producing a bibliography.
Although the concept sounds appealing, automating the production of a bibliography is no easy task. ProCite requires a time investment to learn its idiosyncrasies. Of course, Turabian also requires much time and effort to master! Most users will find that it takes less time to learn ProCite than English style manuals — around one hour to get the basics. Users familiar with database concepts will have an easier time adjusting to the software than those not accustomed to terms like "record" and "field" or to actions like record group sorts and field searches.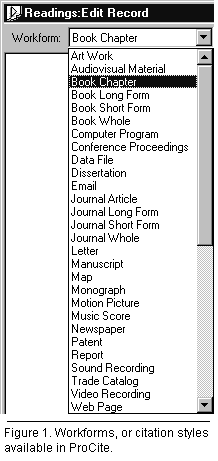 As a bibliographical tool for historians, ProCite has functions that the writer will find immediately helpful. For example, ProCite offers more than 20 reference templates for cataloguing sources including conference proceedings, dissertation, monograph, web page, book, journal, etc. The reference templates are customizable, and the user can add more. When entering citations, the user is able to apply any font available on his or her computer including Greek, Hebrew, Cyrillic, Japanese, etc., although the process can be cumbersome. Creating a bibliography is almost as easy as clicking the "Save" button and selecting among the formats available including Chicago, MLA, and Turabian as well as others. With the BiblioLink software, users can download bibliographic data from the web, CD-ROM or library citations directly into a database. Corel WordPerfect and Microsoft Word users will be pleased to know that ProCite allows for automated bibliography creation in the word processors. The bibliography is appended to the active document and most importantly, it can be edited.
Inserting citations into a Word or WordPerfect file requires linking to a ProCite database where the entries reside. Back in the document, when the user creates a bibliography, ProCite inserts full references and appends the works cited to the end of the paper. Although this sounds good in concept, the software does not abbreviate repeated citations. Therefore, the task of managing successive citations and Ibids falls back onto the writer.
The user will need to perfect the insertion process through trial and error. Because citation formats vary even among historical fields, it is hardly possible for a software package to meet all demands. Any bibliographic tool, including those mentioned here, requires the user to learn how to modify the software to meet his or her requirements. ProCite allows the user to customize citations, or workforms as they are called, and reference styles like MLA or Chicago.
Along with the bibliographic functions, ProCite is a tool for research. Note fields allow the researcher to place summary information about a source within the database. In addition to notes, keywords defining a work can be input. The keywords and notes are then searchable through the software's query functionality. In order to search effectively, more learning is required, but anyone familiar with searching the Internet should have no trouble with ProCite.
Keyboard-inclined users will be happy to know that function keys are available for most of the major actions. Mouse-inclined users will find the toolbars rather cryptic initially but helpful in the long run. Both types of users will need to familiarize themselves with the file menu for optimum use of the program. The help manual for ProCite is commendable in that it is both comprehensive and readable.
Although an initial investment of time is required to take advantage of a bibliographic tool like ProCite, most writers will find it to be very helpful and even essential to their work. For organizing sources, ProCite provides great benefits over note cards. However, $395.95, the price for a new version, will buy a lot of note cards. The cost requires a high level of commitment to technology from an academic user.
Daniel Pfeifer
Wake Forest University