Add to bookbag
Author:

Dennis A. Trinkle

Title:

History and the Computer Revolutions A Survey of Current Practices

Publication info:

Ann Arbor, MI: MPublishing, University of Michigan Library
April 1999

Availability:

This work is protected by copyright and may be linked to without seeking permission. Permission must be received for subsequent distribution in print or electronically. Please contact mpub-help@umich.edu for more information.

Source:

History and the Computer Revolutions A Survey of Current Practices
Dennis A. Trinkle

vol. 2, no. 1, April 1999

Article Type:

Article

URL:

http://hdl.handle.net/2027/spo.3310410.0002.107

PDF:

Download full PDF [23kb ]
History and the Computer Revolutions A Survey of Current Practices
Executive Director
American Association for History and Computing
DePauw University
Amidst the widespread hyperbole about a global Computer Revolution, forceful claims for and against the union of computer technology and history are being made. These claims often overlook the significant roles computer technology has played in history study and research over the last four decades, creating a sense that historians are merely naive neophytes of the digital world. They also often rest on little real understanding of how computer technology is currently being used in the practices of history. To help answer these questions and foster a more informed and productive discussion about the practices of history in the electronic age, the American Association for History and Computing (AAHC) conducted a survey of computer usage among American college and university history professors during the summer and fall of 1998. The survey was distributed through H-Net and other historical discussion lists and was mailed to the chairs of the approximately 660 departments listed in the American Historical Association's Directory of History Departments and Organizations in the United States and Canada. 485 history instructors from 101 American colleges and universities responded. Replies were evenly distributed across rank and degree of technical proficiency. This essay surveys the results of the survey and provides the tabulated data.
Sven Birkerts begins his recent book The Gutenberg Elegies with a belletristic cri de coeur:
Over the past few decades, in the blink of the eye of history, our culture has begun to go through what promises to be a total metamorphosis. The influx of electronic communications and information processing technologies, abetted by the steady improvement of the microprocessor, has rapidly brought a condition of critical mass. The slower world that many of us grew up with dwindles in the rearview mirror. The stable hierarchies of the printed page—one of the defining norms of that world—are being superceded by the rush of impulses through freshly minted circuits. [1]
As a literary critic, Birkerts laments the changing landscape of print culture. His concerns are not connected solely to literature, however. They are intensely interdisciplinary. Faculty in history departments are pondering the same transitions posed in The Gutenberg Elegies. The problem with Birkerts' jeremiad and many coffee break conversations is that they are impressionistically prophetic. History faculty include their Pollyannas with their Jeremiahs, of course, but much of the discussion remains anecdotal. While the end of the world is decried and the dawn of a new age is proclaimed, few attempts have been made to chart what changes are actually occurring.
In order to help foster a more informed and productive discussion about the practices of history in the electronic age, the American Association for History and Computing (AAHC) conducted a survey of computer usage among American college and university history professors during the summer and fall of 1998. [2] The survey was distributed through H-Net and other historical discussion lists and was mailed to the chairs of the approximately 660 departments listed in the American Historical Association Directory of History Departments and Organizations in the United States and Canada. 485 history instructors from 101 American colleges and universities responded. Replies were evenly distributed across rank and degree of technical proficiency. (See data below)
As the full results of the survey reveal, computer technology has gained an established place in the practices of history. Every history instructor who returned the survey is using electronic mail for scholarly communication, and ninety-three percent of the respondents report using computers for research. Problems of access for faculty also appear to be lessening. Every respondent indicated that they can now use the Internet from work. Ninety-eight percent of full-time faculty reported having a computer in their office, with ninety-one percent of those instructors stating that their office computer is connected to the Internet. It must be noted, however, that access for students remains problematic, and community college faculty, adjuncts, and part-time instructors still lag far behind.
The survey also reveals the danger in using unitary metaphors like "the electronic revolution" to describe the process of change occurring in American colleges and universities. Respondents' remarks show that there is great individual and institutional variation in how technology is being applied to the practices of history. The detailed comments following each of the survey questions clearly demonstrate that neither the dangers nor the promise of computer technology can be adequately addressed through broad comments about general trends affecting the profession. To invert Georges Lefebvre's famous injunction about the French Revolution—the computer revolution is not a block.
There are, of course, some shared experiences that are reflected across the entire range of surveys. Experimentation with technology in the history classroom, albeit in widely divergent forms, is a central theme. Eighty percent of those surveyed reported using technology in teaching, and forty-six percent state that they are now requiring their students to use email for course purposes. Forty-four percent also have begun requiring students to use the Internet for research exercises, papers, and seminars, though twenty-three percent of this later group expressed concerns about the reliability of information on the Internet.
To address the problem of quality many faculty report trying a variety of pro-active experiments. Fifty-four percent of the respondents have begun devoting class sessions to technical instruction and workshops. Many are offering students specific instruction on how to find and evaluate materials on the Internet. Respondents are also turning to printed scholarly guides to Internet resources, such as The History Highway, and to on-line guides, such as The Argus Clearinghouse, the OCLC Internet Cataloging Project, and the Encyclopedia Britannica's E-Blast to direct students to reliable materials. [3]
Instructors are also creating their own web sites to help guide students to dependable on-line materials and provide other useful resources. Forty-seven percent of the respondents stated that they have developed their own course sites. This measure masks great variety, however. For most of the faculty in this group, the creation of a web site means primarily making a copy of their syllabus and schedule available on the web and directing students to several web sites relevant to the course. A smaller group of faculty (who report greater technical support at their university or some training in computer technology) is producing more complex web resources for their students. The materials mentioned traverse a wide technical range from annotated course readings to interactive tutorials and sophisticated historical databases.
A significant number of faculty are also requiring students to create as well as use on-line multimedia materials. Twenty-seven percent have begun asking students to produce individual web sites for their courses, and twenty-one percent require or encourage students to develop group web projects. Many courses are now meeting at least occasionally in computer labs to work with or on multimedia materials. These projects are most frequently mentioned as part of upper-level history courses, but a number of faculty are encouraging students to create multimedia projects even at the introductory level.
Anecdotal comments indicate that there are still many history instructors across all ranks and institutional types who are uncomfortable with the use of multimedia projects in teaching history. The rationale most often given is that requiring multimedia projects necessitates greater student preparation. The other side of this complaint is the second most repeated explanation: "teaching technical skills at the expense of historical content and methodology is a calculus of dubious value." Similarly, a number of respondents question the benefits of adopting technology relative to the high costs in purely economic terms. One representative respondent poses the question: Which leads more directly to good history teaching—"a new computer lab or a new full-time history professor?"
Importantly, a number of those already actively using multimedia projects and materials in their courses also question the benefits to learning outcomes. These complaints come primarily from faculty at community colleges and state universities, especially from those at schools moving aggressively to develop distance learning programs. These instructors echo concerns about students being poorly prepared to use computers in the classroom. They raise fundamental questions about the success of distance learning for early undergraduates in history. More than twenty instructors anecdotally claimed that participation and enthusiasm dropped in direct correlation to the amount of hours spent on-line in a course. One professor who has conducted a quantitative comparative study of his distance and traditional versions of an otherwise identical course, reported that use of the Internet and multimedia projects negatively affected student interest, communication with the instructor, and performance.
Reflecting these anxieties, seventy-three percent of faculty worry that their present use of technology is inadequate or poorly conceived. They express concerns about outdated technology, insufficient training, lack of release time, student resistance, negative impact upon tenure and promotion decisions, and unforeseen or negative effects upon the quality of their teaching. A number of faculty also reiterate deep concerns, already being widely heard, about how technology is being implemented and used on their campuses. Thirty-five percent of the respondents claimed that they were required by their institutions to use the Internet for their courses. Some of the mandatory uses indicated included offering state-required "technology across the curriculum" courses, putting syllabi on the Internet, making course enrollment and grade records available on-line, and even using technology provided by a specific corporation as mandated by a partnership agreement. Eleven percent of the respondents specifically noted as their central concern the lack of faculty involvement in planning and policy making. More generally, sixty-five percent claimed to be dissatisfied with their institutions' technology policies, initiatives, and plans for the future. The most common complaint is that "the administration is imposing technology without consulting faculty" and with "little regard for its impact upon teaching or learning." Others worry that the human dimensions of the profession are being devalued and disregarded. They argue that the union of technology and history will exacerbate the job crisis, further commercialize and dehumanize the profession, and increase the use of adjuncts, part-time instructors, and graduate students. Collectively, these complaints illustrate many of the central issues which the profession must continue to address if technology is to be sensibly and productively incorporated into the practices of history.
Overall, however, the spirit of the surveys is not pessimistic. As the fuller figures and selected comments indicate, there is an alert recognition throughout the profession that the Internet and World Wide Web are changing, or hold the potential to change, every dimension of history—from the structures of historical knowledge to the paradigms of pedagogy. The criticisms which resonate in the responses demonstrate a pervasive desire by faculty to actively direct the courses these changes will follow. The current state of history reflected in the surveys can, perhaps, be best described as cautiously optimistic experimentation.
As appropriate for such a period of uncertain transition, there is no consensus about where the discipline is headed. The experiments do suggest the development of new modes of historical interpretation, explanation, and instruction, but the story will likely be one of increased options. Just as television has not replaced radio, and modern scientific thought has not supplanted metaphysics, well-established practices of history will not disappear, rather they will most likely find novel and productive supplements through evolving computer technologies. The American Association for History and Computing, the American Historical Association, the Organization of American Historians, and other professional bodies must not stand idly by and allow market forces or ironic detachment to determine future disciplinary practices. Historians must take advantage of the Internet's power to foster community so that we may collectively shape the forms history will take in the next millennium.
Notes
1. Sven Birkerts, The Gutenberg Elegies: The Fate of Reading in the Electronic Age (New York: Fawcett Columbine, 1994) p. 3.
2. Portions of this summary appeared previously in Dennis A. Trinkle, "Computers and the Practice of History: Where Are We? Where Are We Headed?," Perspectives 37:2 (February 1999): 31-4.
3. Dennis Trinkle et al., The History Highway (New York: M.E. Sharpe, 1998). The Argus Clearinghouse: http://www.clearinghouse.net/index.html; The OCLC Internet Cataloging Project: http://orc.rsch.oclc.org:6990; and the Encyclopedia Britannica's E-Blast: http://www.ebig.com.
Dennis A. Trinkle <dtrinkle@depauw.edu>
Executive Director, American Association for History and Computing
DePauw University
Survey Results
A Note on Methodology:
The survey was distributed through H-Net and other historical discussion lists and was mailed via the United States Post Office to the chairs of the approximately 660 departments listed in the American Historical Association Directory of History Departments and Organizations in the United States and Canada. 485 history instructors from 101 American colleges and universities responded. Replies were representatively distributed across rank and degree of technical proficiency. In addition, to a simple yes or no answer, respondents were asked to provide extended explanations relating to each question. Representative remarks illustrating themes that appeared repeatedly in the surveys are listed below.
Institutions Represented:
Allegheny College
Allegheny University of Health Science
Amarillo College
American University
Appalachian State University
Assumption College
Ball State University
Bates College
Bowling Green State University
Brock University
California State University, Los Angeles
California State University, Fullerton
Carnegie Mellon University
Case Western Reserve University
Christian Brothers University
Cleveland State University
College Misericordia
Concordia University
DePauw University
Elon College
Emory University, Carroll College
Essex Community College
Florida International University
George Mason University
George Washington University
Georgia Southern University
Georgia Technical University
Hagerstown Community College
Harvard College
Humboldt State University
Indiana University
Indiana University-Purdue University, Indianapolis
Kettering University
Kingwood College
LeTourneau University
Levinsky College
Lincoln University of Missouri
Louisiana State University-Shreveport
Marymount University
Mercy College
Messiah College
Miami University
Michigan State University
Massachusetts Institute of Technology
Montana State University-Billings
Morehead State University
New Mexico State University
Northern Kentucky University
Northwestern University
Oakland University
Oberlin College
Ohio University
Ohio State University
Oklahoma State University
Pacific University
Rose Hulman University
San Francisco State University
Sarah Lawrence College
Southwestern University
Spelman College
Stanford University
Stephen F. Austin State University
SUNY/Empire State College
Tennessee Technological University
Texas A&M University-Kingsville
Texas Technical University
Wake Forest University
Whitman College
Wichita State University
Winthrop University
Wittenburg University
William Tyndale College
Woodbury University
Wright State University
The Union Institute
University of Alabama
University of Alaska-Fairbanks
University of Arizona
University of California-Davis
University of California-Los Angeles
University of California-Berkeley
University of California-Riverside
University of Chicago
University of Cincinnati
University of Colorado-Denver
University of Connecticut
University of Dayton
University of Illinois-Chicago
University of Illinois-Urbana
University of Iowa
University of Kentucky
University of Massachusetts-Amherst
University of Minnesota-Duluth
University of Oklahoma-Norman
University of Richmond
University of South Carolina-Sumter
University of Tennessee
University of Toledo
University of Virginia
University of Wisconsin-Madison
Xavier University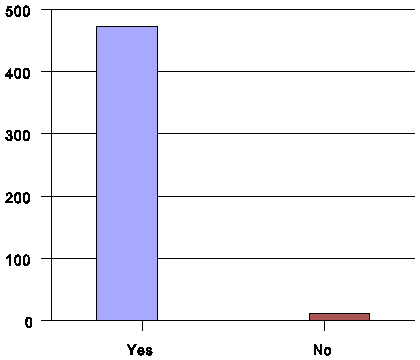 1a. Do you have a computer in your office?
YES: 472
NO: 12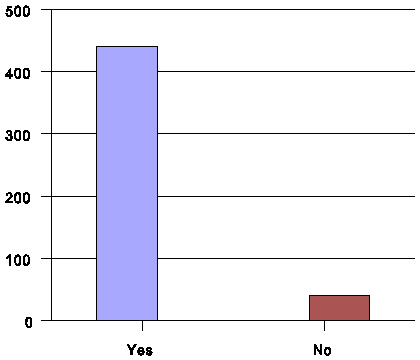 1b. Do you have Internet access from your office?
YES: 440
NO: 40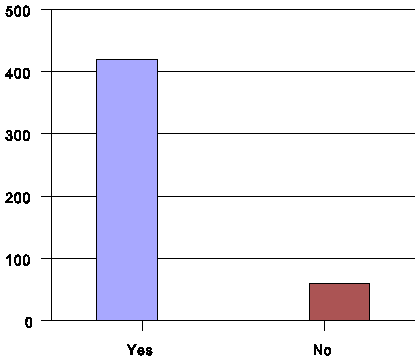 1c. Do you have Internet access from your home?
YES: 420
NO: 60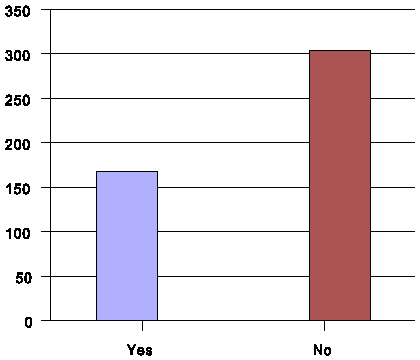 2. Does your university require you to use computer technology in any way?
YES: 168
NO: 304
Representative Remarks:
Required to send and receive e-mail
There are state requirements for technology competency that must be met by students 
Record keeping must be done using a database
Required ATeaching and Learning with Technology@ program
Instructors required to post syllabi on Internet and are encouraged to use computers in class
Library catalog only accessible electronically
Course enrollment data sent by computer
Registration/scheduling information done via computer
Grades recorded on-line
On-line graduate thesis/dissertation program
Access to student files through on-line database
Word Processing
Use of IBM technology strongly encouraged because of partnership
Instructor of on-line course
3. Do you currently use computer technology in your research?
YES: 448
NO: 36
Representative Remarks:
Access libraries and databases
Use self-programmed prosopographical database (relational database)
Use statistical programs
Literature searches of secondary writings on various topics
Access archives on-line
Access historical reviews on-line
Use FileMaker Pro 4.0, NUD*IST, (and other packages) to categorize and analyze data
Access on-line library and archive catalogs 
Word processing
E-mail
Discussion lists
Download manuscripts
Use note-taking and bibliographic software
Locate sources on CD or web
Read electronic newsletters
Use hand-held scanner
Access census data on the Net
Publish e-journals
Use spreadsheets
Use SPSS to process data, run statistical tests
Use GIS for mapping
Run programs for content analysis
Host web site to collect data on electric car drivers and owners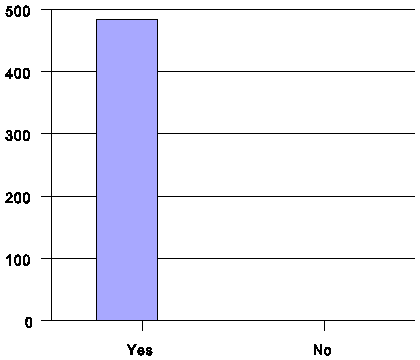 4. Do you currently use computer technology for scholarly communication?
YES: 484
NO: 0
Representative Remarks:
E-mail
E-Conferences
Discussion groups
Send papers to colleagues or conference organizers
Exchange draft manuscripts with local and distant co-authors
Edit on-line historical reviews
Read electronic reviews
Subscribe to H-Net lists
Collaborative editing
Referee articles
Purchase books
ILL
Fax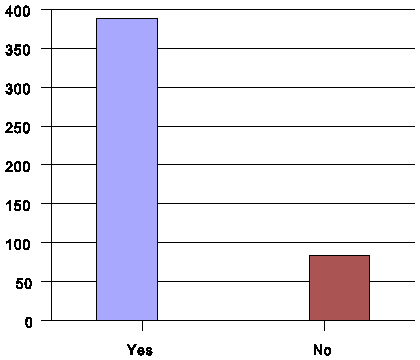 5. Do you currently use computer technology in your teaching?
YES: 388
NO: 8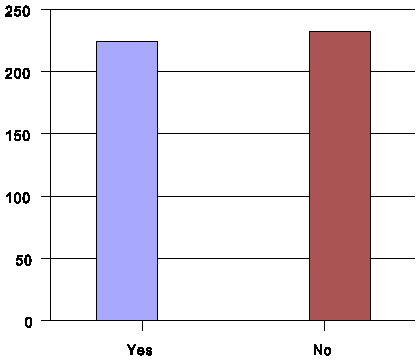 6. Do you offer on-line courses?
YES: 108
NO: 344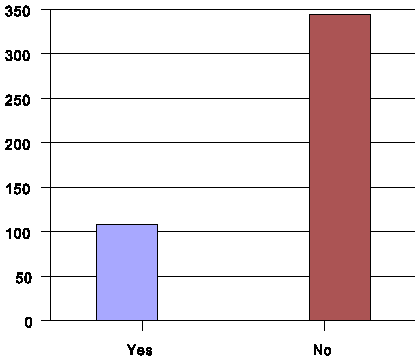 7. Do you require students to use e-mail in your courses?
YES: 224
NO: 232
Representative Remarks:
Used in informatics course
Mailing list established for student communication, discussions
Web site established with information on classes and links to sites relevant for classes
Syllabi posted on web
Not required because college serves older students, most of whom do not have computers!
Students required to know how to use e-mail
Assignments submitted via e-mail
Web bulletin boards used
Lotus cabinet used to post discussion questions and answers
E-mail not required because it is not a free service to students, so not all students can afford it
Course organized as on-line conference
Course listserv available, weekly papers submitted via e-mail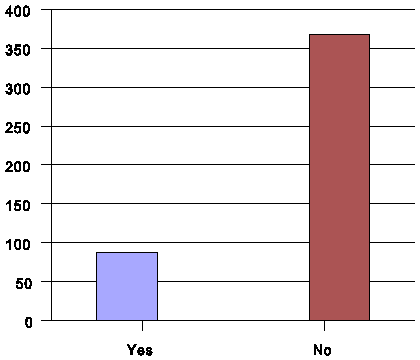 8. Do you require students to use any software packages in your courses?
YES: 88
NO: 368
Representative Remarks:
Use browser-based tools
Web interface
Chat rooms
Simulations
Use Excel
Students required to use word processors, e-mail software
Netscape Communicator used to view and develop web pages
Hypertext conferencing
Use statistical and content analysis programs
Use graphics manipulation software (Paintshop/Photoshop)
Use PowerPoint and Presentations (presentation software)
Use SPSS
Use GIS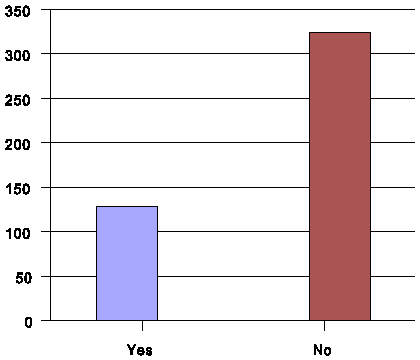 9. Do you require students to use discussion groups, chat rooms, or web bulletin boards in your courses?
YES: 128
NO: 324
Representative Remarks:
Use Front Page 98 and its features for on-line discussions
Students required to post on bulletin boards
Use Discussion groups 
Use Netscape Collabra Software 
Use of Lotus cabinet
Do not use above technology because "students are not matureenough to handle the responsibility it entails"
Use Lotus Notes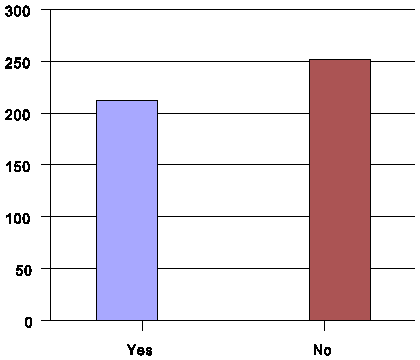 10. Do you require students to use the Internet for research in your courses?
YES: 212
NO: 252
Representative Remarks:
Use of Medline and DXPlain
Library Catalogs
Introduction to Internet use
Used in Methods of History Research class
Students asked to find news articles, current events information for course
Students required to use on-line course pages, visit web sites, and report findings on bulletin board
Students required to write abstracts of seven Internet sources related to the class
Students write reviews of web sites
Internet used to locate sources
Students create web page which includes original research
Students post reading assignments and a research paper on the web
Internet used for library searches and to locate and order books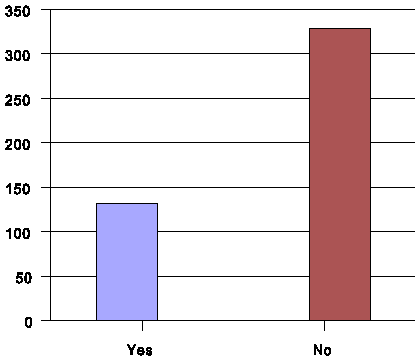 11. Do you require/encourage students to create individual multimedia presentations or web sites as an assignment in your courses?
YES: 132
NO: 328
Representative Remarks:
Students enrolled in informatics course do web project
Multimedia projects abandoned due to lack of response from students
Students encouraged to design web pages
Not required because of lack of knowledge on part of instructor
Students may choose to do PowerPoint presentation
No.  These presentations would detract from the teaching of history
Term papers done on multimedia web format
Students review and write about web pages and present their findings
Students do research project, share results
Instructor prefers writing (the pen-and-paper kind)
Instructor has enough trouble getting students to write at all
Seminar project involves creation of web page
12. Do you require/encourage students to create group multimedia presentations or web sites as an assignment in your courses?
YES: 100
NO: 348
Representative Remarks:
Students enrolled in informatics course do web project
Projects abandoned because students unresponsive
Students encouraged to include links to web sites in their own required group postings
Students create group web pages
Students use PowerPoint, Hypercard studios
Web page is done as class group project
Students evaluate resources available on the web and create annotated web sites in groups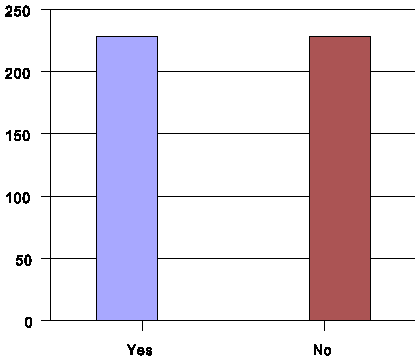 13. Do you create a web site for students in your courses?
YES: 228
NO: 228
Representative Remarks:
Course pages with class information are available
Course page includes course outline and tips on writing essays
Web site with syllabi and links to other relevant web sites
Web site would not be useful since most students do not have computers
Hand-outs available on web
Use Visual Classroom
Use IntraNet
Instructor lacks knowledge as to how to develop a web page
Web page created to which students attach assignments
Pages created by former students
Electronic reserves and reading list available on web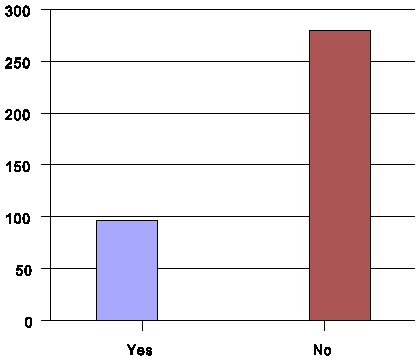 14. Do you use the Internet to offer students interactive or self-directed opportunities to learn?
YES: 96
NO: 280
Representative Remarks:
Weekly assignments require web site visits
Distance education students hold virtual discussions on a virtual bulletin board
Would like to do so but technological support not available
Do not want to do this because of concern about plagiarism
Offered as extra credit
Presented as research opportunity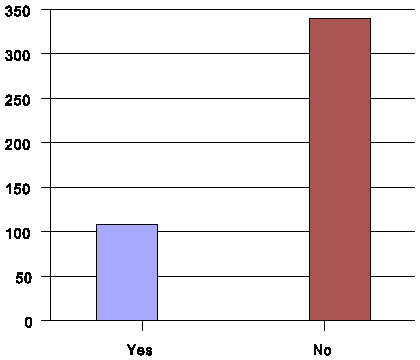 15. Do you use computers for assessment purposes?
YES: 108
NO: 340
16. Please describe any additional ways in which you use computer technology in your teaching?
Representative Remarks:
Used to create syllabi, exams, handouts, overheads
Use LCD panel with CLARIS IMPACT "slides" as outlines during lecture
Use desktop interactive video
Use e-mail to communicate with TA's, doctoral candidates
Students submit assignments via e-mail
Used for multimedia classroom presentations, PowerPoint presentations
Use web board with chat capabilities
Use access newspaper archives, distribute outprints
Use re-create primary source documents
Used for grading
Word processing
Used for writing and editing workshop files
Used for paradigm drilling and grammar analysis in foreign language skills
Used to create graphics
Extra information posted on-line, used to augment lecture
Demonstrates web sites in class
17. Do you provide students in your courses with any specific technological training (either personally or through computing support services)?
YES: 260
NO: 196
Representative Remarks:
Initial orientation to laptops provided
Training in library and Internet use
Research Methods class meets weekly in computer lab
All history honors students provided with training in first year
Database construction taught to history honor students in second year
Graduate student available for assistance
Training session for Lotus Notes cabinet
Training in use of web for research
HTML introduction
Workshop on the creation of web pages
Course on critical use of information available on the web
Nota Bene/SPSS workshops
Students taught how to use computers to register, use e-mail
Lab director helps interested students learn high-level program 
Expert students teach HTML and basic web page design
18. Does your institution provide technology training for you?
YES: 429
NO: 36
Representative Remarks:
Humanities Computing Center available for faculty
University Computing Center available, although fee required
Reference librarians provide instruction
Technological support and training available: classes, helpline, software library, computer labs
Help available, but tech specialists do not convey information well (inadequate teachers)
Internet connections and training on software and hardware provided
Computer literacy course required
Given computers, then left to fend for oneself
Computer center available, but help limited
Support available, but no training
Workshops available for faculty regarding use of programs and software (PageMill, Photoshop)
Grant support available for multimedia classes
Hotline available
Training and support only for tenure-track faculty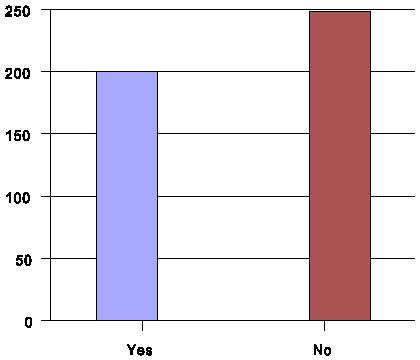 19. Do you consider your institution's support adequate?
YES: 200
NO: 248
How could it specifically be improved? Representative Remarks:
Improvement needed at departmental level
Improve support, get faculty more willing to devote time and energy
Hire technicians who are better teachers
Update machines and software
Establish regular and mandatory training on basic software
Hire more technicians
Establish more labs
Establish more advanced courses
Need more printers in department
Need consultant and more sophisticated library catalogs
Need more discussion among faculty and those learning
Better and more equipment needed
Need more web tools for less sophisticated users
Need more money
Need to convert to Windows format
More time necessary to develop methods of teaching technology
Need faster upgrades
Need better access to Internet
Need better maintenance, more consideration for MAC users
Training needs to be more specific
Take care not to let technology overshadow more traditional materials
Technicians need to work with each discipline specifically
More lines for modem access are needed
Need on-line tutorials
Need training on Internet as a research tool
More support is necessary for older users
Long-term grants necessary for the purchase of materials      such as laptops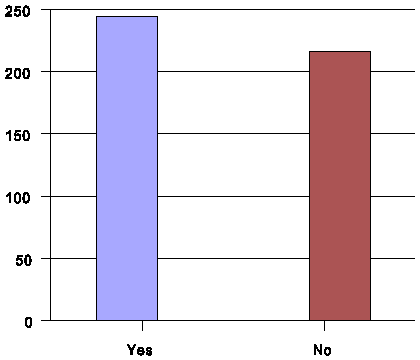 20. Does your department have any special technological facilities?
YES: 244
NO: 216
Representative Remarks:
"Wired" departmental office
T1 line
Center for undergraduates in history: two terminals, full range of programs, local net only, library access, microprocessing
Multimedia machines available
No facilities: old-fashioned ideas predominate in department
Separate computer lab for history department
Professors given money to purchase computer
Faculty offices connected to 10baseT Ethernet
Laser discs available
Proposal for teaching lab denied
While available, lab not good because requests for upgrades denied
Scanner available
Faculty provided with laptops
Laser printers available
Smart classroom (linked to LAN/WAN intranet)
Computer pool for students
Student seats and podium in classrooms have network connections 
Classes have web access
Adobe Photoshop available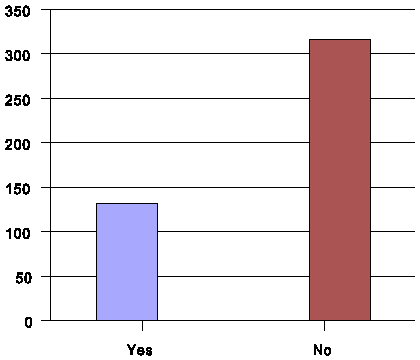 21. Are you satisfied with your present use of technology in your teaching?
YES: 132
NO: 316
Representative Remarks:
More development requires institutional support, task not yet recognized universally as valuable
Could use more history courseware
Need more instruction on part of professor
Need to research more to determine how to best use technology 
Would like to use web more for providing resources tostudents
Needs more technical advisors to help in use of new technology
Exploring more ways to bring technology into classroom
Wants to establish electronic discussion sections and course home page
Worried that equipment will not function properly
Discussions with students not always fruitful
Wants students to have basic computer knowledge, but text more interesting than computer programs has been able to find
Access to computers too limited, funding not available forexpansion
Wants to work more with multimedia
Needs laptop and computer projection unit
Wants students to feel more comfortable with technology
Needs more time to learn what is available
Feels use of technology does not improve teaching
Not satisfied with information gaps on web
Interested in using computer to replace overheads
Wants to incorporate slides and music into unified computer format, but has no time and does not feel comfortable with the technology
Wants more systematic us of Internet for student discussion
22. Are you satisfied with your present use of technology in your research?
YES: 328
NO: 144
Representative Remarks:
Needs more training
Wishes more archives had finding aids on-line
Would like more sharing of information among academics
Wants more information to be available and would like toa ccess it faster
Feels scholars and research institutions are not prominent enough on the web.
Would like to create on-line archive
Feels that keeping up with changing technology takes too much time
Wants to keep programs geared to personal needs
Feels daunted by idea of searching through "junk" on web
Feels too many security barriers exist in government research
Feels more archives need to be available on-line
Needs more specialized information available on the web
Need more subject-oriented software 
Wants increased sophistication in statistical analyses
Wants to put case study on-line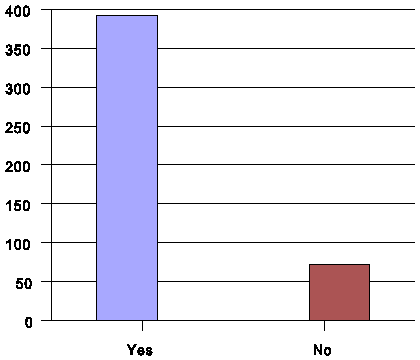 23. Are you satisfied with your present use of technology for scholarly communication?
YES: 392
NO: 72
Representative Remarks:
Communication abundant, almost too much of it
Unsatisfied because other team members do not use e-mail
Unsatisfied because feels there exists lack of involvement in scholarly communication
Wants to see use of video as part of listservs
Happy with listservs and e-mail
Feels schools should be LAN/WAN intranet integrated
Unsatisfied because hardware for realtime conferencing is unavailable
Pleased with networks and H-Net
Feels that more researchers should use available technology, communication restricted at this point in time
Unsatisfied because wants to create own web page but is unable to do so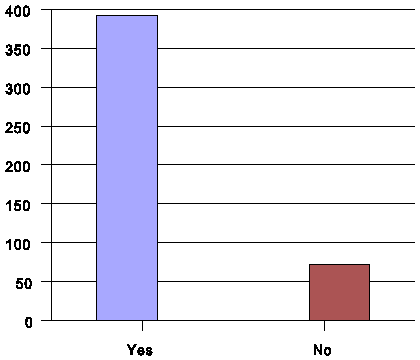 24. Do you feel that your institution has an appropriate plan for present and future purchase and use of technology?
YES: 168
NO: 144
Representative Remarks:
Funding does not exist to institute plans
Not satisfied because there never seems to be enoughtechnological support and colleagues are not interested in obtaining more because learning curve is too great
Satisfied because willingness exists to use technology forpurposes beyond administrative applications
Satisfied because institution invested in hardware, personnel, and is incorporating distance learning, support and time are given to allow faculty to develop web-based instruction
Unsatisfied because promised technology has notmaterialized
Upgrades and establishment of campus network are planned
Long-distance learning program expected to be expanded
Planning to buy computers for faculty, expanding number ofavailable programs
Satisfied because faculty continually supplied with updatedhardware
Unsatisfied because institution is eliminating studentuniversity accounts, eradicating student access to the network
Unsatisfied because given so much new technology so quicklythat does not have time to decide how to use it sensibly and effectively
Unsatisfied because repair is uncertain
Feels more emphasis needs to be placed on the use ofcomputers in the humanities. Sciences are receiving disproportionate funding
Unsatisfied because so much money put into computingfacilities that library is suffering, "computer bureaucracy" is consuming financial resources
25. What would you like to be able to do with technology that you are presently unable to accomplish?
Representative Remarks:
Create a web site
Teach more e-history
Create and experiment with self-directed program, provided that financial and technological support are available
Give students access to wider range of material
Database programming
Establish class bulletin board
Use web and CD-ROM technology in classroom
See more reliability and compatibility in software and hardware
Connect students with other students taking same course at a different university
Explore more ways to post primary documents on the web and create interactive maps
Would like basic instruction course to be available for students 
Develop programs for interactive exercises
Free access to Lexis/Nexis
Search more digitalized collections
Get less expensive CD-ROMs
Use videos on-line
Improve projection equipment
Incorporate multimedia in the classroom
See specialized books become machine-readable
Have more cooperation from colleagues
Have French spell checker that includes thesaurus and gender checker
Establish more computer labs
Have faster access to historical data and files, more efficient communication
Wants 3-D didactic creations
Present streaming video into student rooms
Exams on computers
Have students turn in papers on-line
Develop better graphics
Full-text retrieval
Use spatial analysis in historical files
Be subjected to less e-mail
Solve problems with Hebrew letters on Internet
Have interactive web-based classes
Make basic hardware available for those without large incomes
Get all students on-line
Better scanning programs to create course files and ease cost of course reading packets
International collaboration in forming databases
Learn more about non-linear statistical analysis
Have access to more archives, search collections with      greater ease
26. What problems do you presently see or foresee with your use of technology?
Representative Remarks:
Bandwidth
Insufficient funds
Administrative obstacles
Not all faculty/staff have access to hardware/software
Keeping up with changing technology is difficult
Problems with web-plagiarism 
Lack of time to learn about new technology
Lack of skill to use technology effectively
Difficulty in connecting technology with effective teaching     and learning
Not all students have computer access
Equipment and training not always available
Problems with intercompatibility and reliability
Learning about new technology takes time away from scholarly pursuits, teaching, and administrative duties
Present structure of merit pay and promotion criterial discourages devoting time to developing technology
Technology tends to distance faculty from students
Lack of familiarity of colleagues poses problem in team-oriented exercises
Too much e-mail devalues any single message
Technology often used inappropriately
Lack of organization of web resources
Doubt credibility of web resources
When students are busy trying to learn software, they aredistracted from course content 
Technology problematic when it becomes central interest andnot a tool
Technology scares students
Technology generates problems with commercialism and copyright issues
Constant need to update
Ownership disputes over future on-line courses
Too much pornography and not enough dedication to solvingproblems
Technology used like books and paper, new possibilities seldom explored
Inequality among wealthy and not-so-wealthy studentsexacerbated by availability (or lack) of technology
Computers being "pushed" for wrong reasons (politics, etc.)
Crashes interrupt work
Problems with guiding students in appropriate use of web
27. What problems do you presently see or foresee with your institution's use of technology?
Representative Remarks:
Bandwidth
Lack of money
Administrative obstacles
Fear of long distance learning
Fear of the degradation of the learning environment
Difficulty in keeping up with rapid changes
Difficult to find time to devote to new technology
Difficulty finding skilled users of new technology
Unrealistic promises when funds are short
Present system discourages professors from devoting time to understanding technology
Inadequate infrastructure to support classroom use oftechnology
Cannot agree on what is important
Over-reliance on technology detrimental to classroom teaching: technology can help but not replace personal interactions
"Everything becomes less important"
Technology scares women students away
Technology used inappropriately
Rush to cancel print resources means that quality of digitalized resources must improve
Departments fighting for scarce lab resources
Inequality in access to resources
Lack of training resources
Despite the "hype", students are not interested
Programs need to be more user friendly
Inadequate support for users
Catering to students wealthy enough to afford the equipment puts poor students at disadvantage
Difficulty finding software to match needs of user
Need protection from hackers
Bureaucracy a problem
Resources diverted from other areas, such as the library
Few people are willing to experiment with quantitative research in the humanities
Planning not coming from faculty or students but rather driven by available technologies