Health through Accompaniment in Rural Liberia

Skip other details (including permanent urls, DOI, citation information)
International Institute Journal
This work is licensed under a Creative Commons Attribution-NonCommercial-NoDerivatives 3.0 License. Please contact mpub-help@umich.edu to use this work in a way not covered by the license. :
For more information, read Michigan Publishing's access and usage policy.
Since the conclusion of its 14-year civil war, Liberia has been rebuilding its government, infrastructure, and health delivery system. Serious deficiencies in any of these areas impose significant impediments to health, especially for those living in the rural areas of Liberia. The country was left with 51 governmental doctors for four million people, and an even sparser health delivery system. Broad structural changes (such as policymaking and infrastructure improvements) have helped to improve the country's capacity for providing basic health and social services. However, these changes are slow to manifest themselves in the country's rural communities, where they are most needed. Conventional health care models relying heavily on well-staffed and well-funded hospitals have thus far failed to reach rural Liberians, 60% of whom still lack access to health care. Through an International Institute Individual Fellowship, I was able to complete a summer internship in 2011 with Tiyatien Health in Zwedru, Liberia conducting research on its community health worker ("accompanier") program. The goal of the internship was to increase the capacity and support of this innovative community-based program, and conduct qualitative research on the home visits and services provided by accompaniers to rural patients.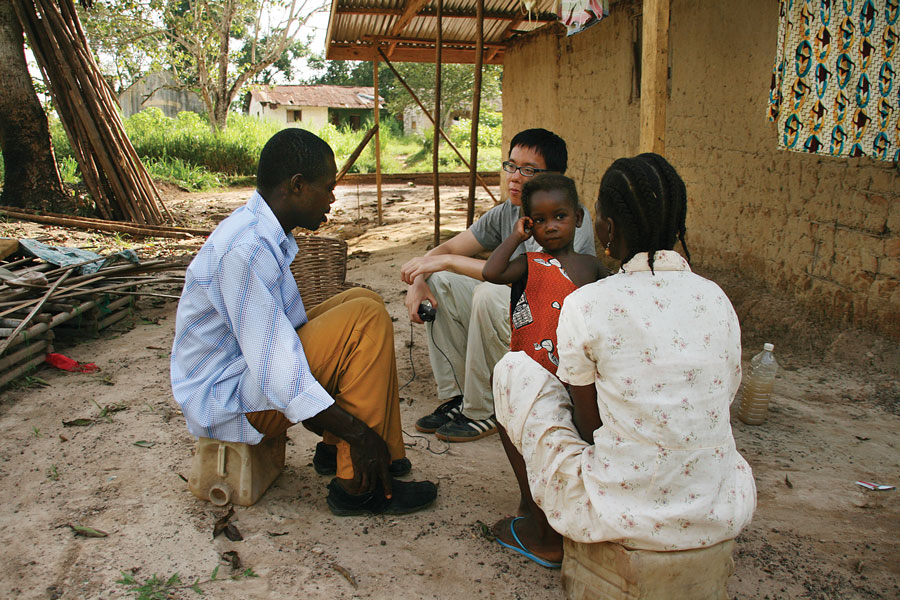 Figure 2.
A home visit attended by the author with accompanier Sam, to a rural home in Zwedru, Liberia.
Field Site and Organization Background
The Liberian town of Zwedru is located in Grand Gedeh County of Southeast Liberia, near the country's border with the Ivory Coast. Tiyatien Health (TH) is a community-based health organization that was founded in Zwedru by survivors of Liberia's civil war in 2007. Since then, TH has been working diligently to extend basic health and social services to communities across Southeast Liberia. In the months leading up to my internship, political turmoil in the Ivory Coast led to widespread violence, which inevitably made its way across the Liberian border. Southeast Liberia was dealing with a massive influx of Ivorian refugees by the time my internship began, and their numbers were increasing every day. Grand Gedeh County was dealing with the addition of over 75,000 refugees, while its neighbor to the north, Nimba County, received over 100,000 refugees. The population of Grand Gedeh County before the refugee crisis was nearly 120,000 people, and this population increase of over 50% exacerbated the numerous strains on an already over-stretched health delivery system.
Project Methodology
Qualitative research and narrative collecting requires a great deal of trust and familiarity between the members of both parties in order to be successful. Therefore, the initial stages of my internship largely consisted of making general observations of the organization and community, as well as establishing relationships with the staff of Tiyatien Health (TH). We used various techniques to assess the accompanier program. Formal interviews were performed with many of TH's accompaniers. These interviews elucidated many aspects of the accompanier role within TH, as well as the program's areas of excellence, and areas needing improvement. Informal discussions were also held to delve further into the personal lives of TH's accompaniers to gain perspective on the broader context in which these individuals live and work. As I developed friendships and trust with the accompaniers, I began to attend patient home visits with them, where I was able to observe exactly how the accompaniers interact with their patients and the role that the accompaniers play in their lives.
Outcomes
Through the research conducted during my summer internship with Tiyatien Health, aspects of TH's innovative accompanier program were uncovered that may aid in the program's further development and improvement. Interviews and discussions with the accompaniers and their patients helped to clearly articulate the areas of constraint for the program. Although the accompaniers were optimistic about the progress of their work, they raised numerous concerns with the existing program, including the size of the monthly stipends and deficiencies in transportation, training, and communication. The stipend issue was the most talked-about concern. The accompaniers stated that they receive too little money for their work because they expend extensive amounts of time and effort to visit their patients, and often need to use their own money to provide various patient services (such as food and transportation to the hospital). They also advocated for motorbikes, instead of bicycles or walking, to help them reach their patients faster and easier, along with better training in health care, including training manuals and quarterly training sessions.
The collection of personal accounts of the program and of accompaniers will help TH advocate for their workers and aid in shaping the future direction of the program. Having an accurate lens on the day-to-day work and personal lives of accompaniers helps funding entities and supporters understand the program beyond statistics and figures. This is especially critical since, contrary to the more common voluntary community health worker programs, TH pays its community health workers a salary for what is essentially a full-time position. It has also been shown that health outcomes for patients are drastically improved with the presence of a paid community health worker (by 60%). However, the monthly stipend that TH is currently able to provide is inadequate for many accompaniers to support themselves and their families, requiring them to find supplemental forms of income.
Future Implications
In the coming years, Tiyatien Health will continue to develop and improve its accompanier program. My 2011 summer internship helped provide important information and perspectives for this process and will shed more light on this relatively uncommon community health worker system. Additionally, the internship is a model for the role future undergraduate university students can play within a burgeoning, grassroots health organization.
My summer internship with Tiyatien Health enhanced my own personal and professional development, and deepened my passion for and commitment to global health and social justice. I was able to experience the challenges of addressing global health delivery systems from various perspectives: on-the-ground experience with patients and community health workers, grassroots community organizing, local NGO collaboration, and policymaking. I hope to continue working with organizations like Tiyatien Health, who engage in the broad movement for global health equity and social justice.
About the Author
Colin Yee is a graduating senior majoring in Anthropology and Cellular and Molecular Biology at the University of Michigan. He was the recipient of an International Institute Individual Fellowship, a Raoul Wallenberg International Summer Travel Fellowship, a LSA Global Opportunity Scholarship, and a Department of Anthropology Fellowship for an Internship with NGO Tiyatien Health in Zwedru, 
Liberia in the summer of 2011.
Top of page