New Media and the Middle East: Thinking Allowed

Skip other details (including permanent urls, DOI, citation information)
International Institute Journal
This work is licensed under a Creative Commons Attribution-NonCommercial-NoDerivatives 3.0 License. Please contact mpub-help@umich.edu to use this work in a way not covered by the license. :
For more information, read Michigan Publishing's access and usage policy.
The joke goes that Mubarak dies and meets Nasser and Sadat in the afterlife. They ask him "were you poisoned or shot?" since that is how each of them perished. Mubarak shrugs and answers "Facebook!" An Egyptian family did recently name their newborn daughter Facebook.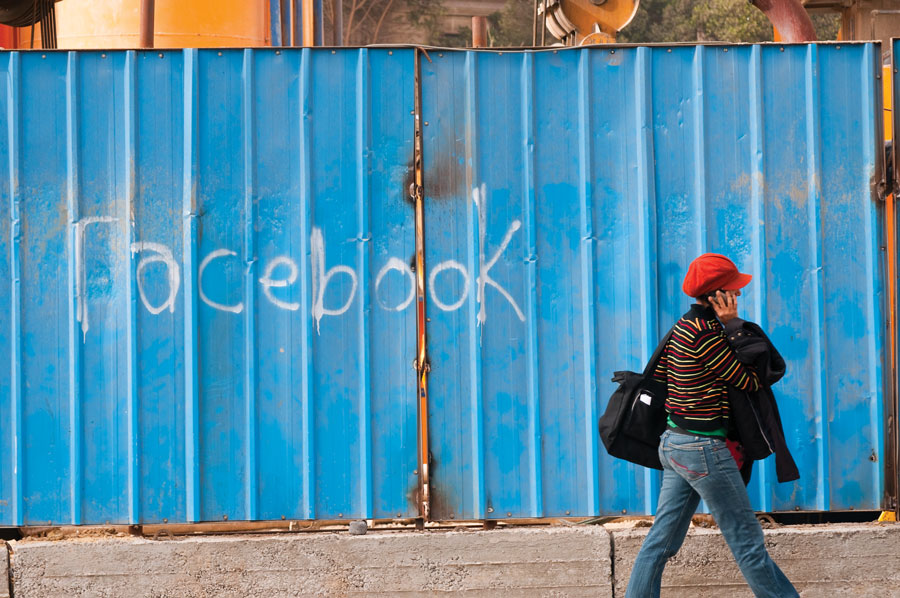 Figure 1.
Cairo, Egypt - February 25, 2011: An Egyptian woman walks past a wall with the word Facebook spray painted on it. Facebook was an important communications tool Egyptians used to organize the anti-government demonstrations that brought down the regime of Hosni Mubarak on February 11, 2011.
There is no doubt that 2011 was a world-historical year. The insurrec-tionary wave that started in Tunis in December 2010 and is still unfolding across the Maghreb and Middle East has raised important questions about the role of new media technologies and platforms in contemporary political mobilizations. There has quite possibly never been such a dramatic set of political changes in contiguous nations ever before. If the revolutions of 1848 in Europe were supposed to be inspired by each other, how much more might that be the case in a 24-hour transnational news environment and world-encircling Internet?
Suddenly it seemed, as if no one had been looking, there was the "Arab Spring"—which seems to be an Al Jazeera nominalization—a wave of socio-political unrest that moved across the region. And for all the money, the regional specialists, the research, no one saw this coming! The first approach to events by experts and media alike was open-mouthed astonishment.
Democracy Deficit?
Evidently, not all of the Arab World is involved, yet. The monarchies of Saudi Arabia and the UAE are trying to regroup. One oil-rich society, Bahrain, is in turmoil and its regime has behaved brutally, supported when necessary by Saudi tanks; so too is the poorest country in the region, Yemen. And in the rest of the region, the non-Arab countries are dealing with their home-grown dissent (the camps on Israeli streets; the ongoing tensions in Iran; while Turkey parlays a new regional role as 'honest broker' in some of these issues).
If oil and Islam were too limited foci for adequate regional analysis, the other lurking third term was "authoritarianism"or the "Middle Eastern democracy deficit." This was always understood as internal lacks and deficiencies and rarely to do with Western arm-trades, political support for conservative regimes to protect oil supplies, or skewed notions of what counts as development. Suddenly, the region has revealed its deep demand for democracy and rights, its populations have risked life and limb for such freedoms, and the "democracy deficit" is returned to the West, where surveillance and limits to dissent have increased while falling voting numbers and distrust of politicians is at an all-time high. But we are also learning that there are different kinds of authoritarian systems and different relations between state and society. The issue of repression and authoritarianism is one where serious areas studies can usefully challenge the taken-for-granted verities of disciplinary approaches—where it does seem to me that "politics" is undergoing the biggest challenge.
Twitter Revolution?
It is evident that both new and old media have played significant and fascinating roles in the recent insurrections to topple autocratic regimes from Tunis to Cairo and beyond. New media cannot be considered the epiphenomena of political movements but are rather significant tools of political mobilization. This is not to repeat the fatuous claim that Tunisia was a "Twitter revolution," as had been claimed for the Green Movement in Iran after the June 2009 election, nor to argue that such tools are indispensible for political change. Clearly people have made revolution before without such tools. But in repressive regimes where face-to-face public politics is extremely curtailed, a platform such as Facebook provides a space where silence and fear are overcome and trust can be built, where social networks can turn political, and where home and diaspora can act together. The Islamic Republic "allowed" the use of Facebook in the run-up to the June 2009 presidential election, and Iranians embraced it with relish, sharing family photos and linking with friends around the world. After the election result that gave Ahmadinejad 68% of the vote, it was fascinating to watch Facebook literally turn green, individual photos replaced with signs asking "where is my vote?" and the development of a considerable number of "green-inflected" pages with news, video, and art.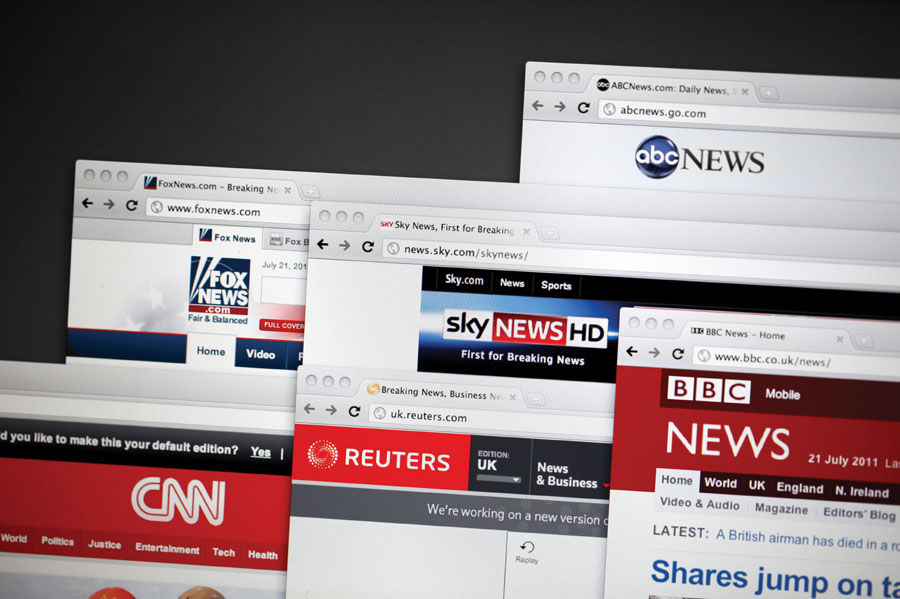 Figure 2.
London, United Kingdom - July 21, 2011: World news websites, including BBC, Reuters, CNN, FOX, abc and Sky.
Citizen journalists as self-appointed contemporary historians are photographing and filming events and uploading them to You-Tube for an interested globalised audience to find; and indeed, much of this content has been picked up and re-broadcast by "old" media. Whatever the intentions of their corporate developers, social media in many countries are being used to provide news and information hard to come by from regime channels; to develop alternate narratives; to plan and coordinate action; and to tell each other and the world what is going on.
Mixed Media
But we must not forget that the Middle East movements have all been a mix of face-to-face politics and use of contemporary small media, from social networks to mobile telephony and email. The technologistic reduction of political movements to "Twitter revolutions" has little explanatory value and only serves to inflate American corporate sensibility of contributing to the global spread of democracy. The Internet is used in ways that differ from society to society. Insurrectionary movements have grown in countries with Internet penetration ranging from less than 2% (Yemen) to 6% (Libya), 21–34% (Egypt and Tunisia) and 88% (Bahrain). These countries have responded in different ways to popular dissent, including capitulation, negotiation, and violent repression. The political actors who matter—those on the ground in authoritarian regimes—have not been cyber-utopians but have been trying to protect themselves from regime surveillance with a range of Internet tools, from TOR to encryption. Iranians were teaching each other about security and sharing proxies and filters long before hubristic projects such as Haystack—software designed by an American non-profit organization to combat Iranian Internet censorship—were dreamed up.
There is an important link between face-to-face politics and more technologically-mediated communication. There are different forms of repressive states, different histories of political action, and differentiated access to new forms of communication, from internet platforms to mobile telephony. So one-size/one-solution doesn't fit all. The conditions and mix of platforms differs from country to country. This is not based on rational choice in the face of a range of available tools, as Western commentators seem to think. Tunisians faced a more pervasive police state than the Egyptians, with less latitude for blogging or press freedom, but their trade unions were stronger and more independent. The Kefaya movement had been blogging for many years in Egypt and numerous You-Tube videos were in circulation showing police torture and previous bread riots. Libyans had limited internet access but mobile telephony was widespread. The Syrians are functioning in a very difficult environment and many internet activists have set themselves up in Beirut, only a few hundreds miles across the border. The Egyptian Facebook pages We are All Khaled Said, set up by Wael Ghonim, and 6th of April Youth Movement became important nodes in a growing movement, with over 100,000 followers, while new information sources such as Rasd News and Egypt News Network function mainly through Facebook.
A Mix of Places and Spaces
These platforms provide instantaneity, the immediate diffusion of and access to information, and extensivity, ignoring national borders and addressing domestic and diasporic populations and foreigners alike. But such internet practices also intersect with intense face-to-face discussions in private spaces, amongst old and new collectivities. There is NO sense in which digital activities alone could have produced such social mobilization. Indeed, there is a renewed significance of place, marked by the squares of Tahrir, Benghazi, Zuccotti, and St. Pauls. Face-to-face engagement with strangers together on a political mission is exhilarating, no matter what other tools are used in the process.
And as significant as the new social media platforms has been the role of broadcasting, especially Al Jazeera Arabic and BBC Arabic which played a multiplier role in articulating the diverse events across the region, often relying on eye-witness materials sent in by citizen journalists and disseminating news of events in Tunis to Tripoli, Cairo and Manama. Al Jazeera English kept the rest of the world enthralled, with strong on-the-ground coverage and moments of brilliant television direction, including the use of split-screen to broadcast Mubarak's last speech live whilst showing the response in Tahrir Square, the scores of shoes being thrown in the air an unmistakable sign that his end was fast approaching. Anecdotal evidence suggests that both Al Jazeera Arabic and BBC Arabic were shown on the big screens set up in Tahrir Square and in Benghazi. A sympathetic global public opinion may have played a role in the unanimous U.N. resolution to instigate the no-fly zone over Libya. In the U.S., Hillary Clinton berated the U.S. media for its poor coverage which was delivering audiences to Al Jazeera.
National Youth Movements
We know that the demographic across the region is youthful and, as everywhere else, where possible they have embraced new technologies to download music and film and keep abreast of events around the world. These movements are about the rising expectations and rising frustrations of unemployed young men and the social obstacles encountered by increasingly better educated young women, and ring with an optimistic universalism for human rights and economic opportunities. Or at least so far. And the recent rapid diffusion of mobile telephony and cheap digital cameras are pushing a more image-based culture and the internet-savvy generation are quick to upload the evidence of the day onto platforms beyond the control of the Mohabarat and viewed by a globalised audience.
There is evidently more to come, in Bahrain, in Yemen, in Syria where the Facebook page The Syrian Revolution had 87,000 followers in March 2011 but 360,000 at the turn of 2012. And new policies to support a free press and internet access have to be written in to the new constitutions in Egypt and Tunisia.
Clearly small, alternative media (neither controlled by states nor by big business) are not a simple answer to political repression as Clay Shirky-style cultural optimists and Jared Cohen would have the Washington beltway believe. But neither are they so controlled and monitored by strong states that nothing can be achieved, as the pessimists like Evgeny Morozov would argue. When used creatively within a rich mix of local face-to-face politics, configured in the languages and symbols of national traditions, and in contexts where the older generation simply doesn't want to give up power, it is evident that the new digital small media can punch way above their weight.
New Political Formations
Crucially, the Arab Springs have revealed the ongoing significance of national politics. Visually, in news coverage, audiences have seen the important symbolism of flags used in each country, and there was little invocation of either the umma or of pan-Arabism. But neither has there been much evidence of concentrated social media use across regional borders, as distinct from reconnecting exiles and diasporas with their home politics. There have been messages of solidarity, including to Wisconsin and Madrid, and some information has been spread—Tunisians instructing Egyptians on how to avoid the effects of teargas.
New media seem to offer development of new forms of political activism beyond the now old "new social movement" type. We have seen the emergence of new kinds of political actors and not only in the Middle East. Witness the rapid emergence of the indignados in Madrid, aganaktismenoi in Syntagma Square in Athens, UKuncut or the "occupy" movements in New York and London, all of which are linked in some manner to the current global financial crisis. It remains to be seen whether and how such "spontaneous" forms of collective action endure and what, if any, their long-term impact on national and international politics will be. It does seem that place and space, used together, might forge interesting new political processes.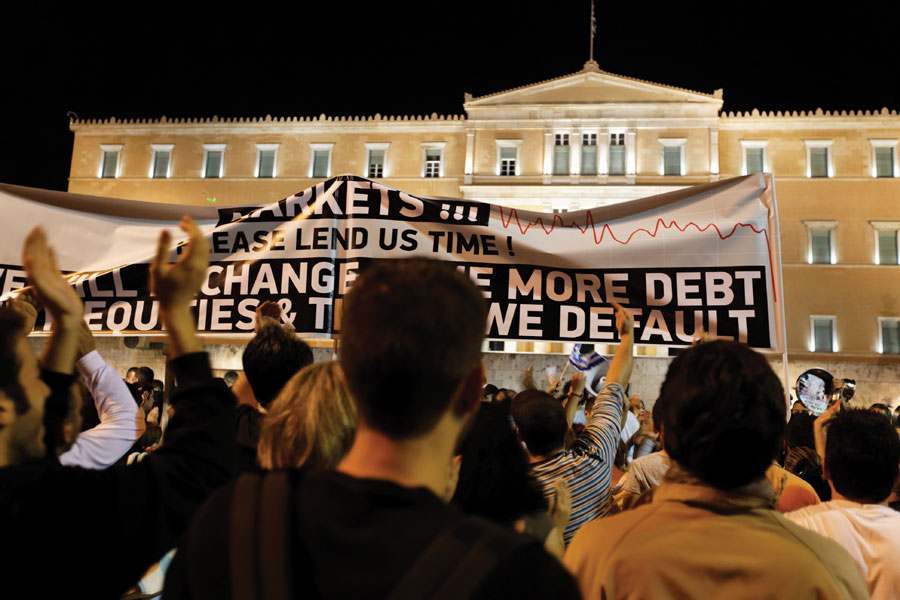 Figure 2.
Athens, Greece - May, 28th 2011: Although it is almost midnight, hundreds of people of all ages are gathered in Syntagma Square. They are the 'Indignant' citizens and demonstrate against the austerity measures announced by the government. The protests were organized via Facebook, Twitter and other social media, without the involvement of political parties or trade unions, and were inspired by Spain's 'Los Indignados' movement.
About the Author
Annabelle Sreberny is Professor of Global Media and Communications in the Centre for Media and Film Studies and Chair of the Centre for Iranian Studies at the School of Oriental and African Studies in London. She is the President of the International Association for Media and Communication Research. Her research focuses primarily on the field of international communication, increasingly on globalization, with foci on international news, questions of diaspora, and with a strong feminist orientation. For over 30 years, her work on Iran has examined the nexus of politics and communications, from the process of the 1979 revolution (Small Media, Big Revolution) to the emergence of a contemporary dynamic Persian-language presence on the net (Blogistan).
Top of page