Latest Issue: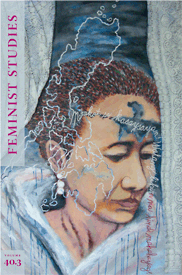 About
Feminist Studies publishes research and criticism that address theoretical issues and offer analyses of interest to feminist scholars across disciplines. Feminist Studies features theoretically sophisticated essays that make an original contribution and advance interdisciplinary scholarship regarding women and/or gender. In publication since 1972, Feminist Studies also publishes creative writing (poetry, fiction, memoirs), art work and art essays, book review essays, political and social commentaries, interviews and activist reports.
For more information about Feminist Studies, please visit the primary website for the journal at http://www.feministstudies.org/.
Subscribe
Feminist Studies offers discount subscriptions to students and National Women's Studies Association members. more...
If your institution subscribes to the print version of the journal and you are trying arrange access to the online version or need to update your institution's IP range, please contact the Feminist Studies business manager.
Submissions
Feminist Studies publishes an interdisciplinary body of research and criticism that sees intersections of gender with racial identity, sexual orientation, economic means, geographic location, and physical ability as the touchstone for analysis. Feminist Studies also publishes a variety of creative work, art essays that showcase feminist artists, book review essays, and political and social commentary. more...
Editorial Board
Nicola Beisel
Judith Kegan Gardiner
Karla Mantilla
Leisa D. Meyer
Uta Poiger
Minnie Bruce Pratt (Creative Writing Editor)
Suzanne Raitt
Matt Richardson
Michelle Rowley
Ashwini Tambe (Editorial Director)
Millie Thayer
Permissions
To reprint articles for academic course packs, contact the Copyright Clearance Center. To reprint articles for other purposes, contact the business manager. more...
Contact
Feminist Studies
0103 Taliaferro Hall
University of Maryland
College Park, MD 20742

Phone: 301.405.7415
Fax: 301.405.8395
e-mail: info@feministstudies.org
Top of page