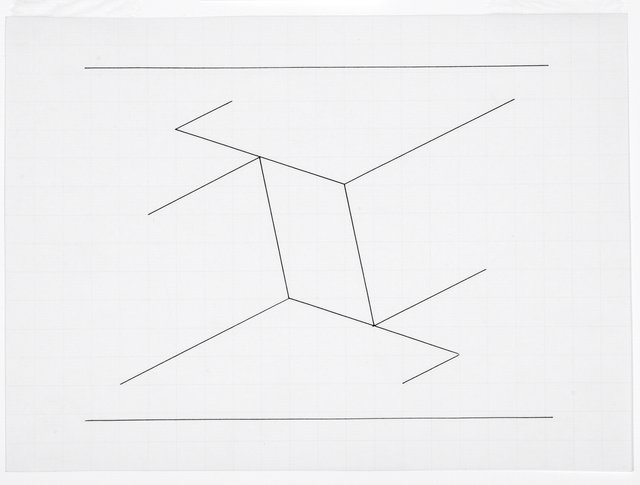 Josef Albers, German-born American, 1888-1976. Untitled, (Structural Constellations drawing), ca. 1955, pen and ink on half-inch grid paper ruled in blue, 20.5 x 27.9 cm. Gift of the Josef and Anni Albers Foundation in memory of Charles H. Sawyer, 2007/2.5.
In 1920, already trained as a public schoolteacher, Josef Albers enrolled as a student at the recently opened Bauhaus. As a faculty member from 1923 until 1933, Albers redefined the school's legendary foundation courses. Joining numerous other European émigrés in the United States, he taught at Black Mountain College from 1933 to 1949 and the Department of Design at Yale University from 1950 to 1958. As a teacher, Albers developed methods for teaching design principles and color relationships that remain influential today; as an artist, he dedicated himself to a demonstration of the depth of creative activity possible within even the narrowest of parameters.
Although students occasionally bristled at Albers's emphasis on fundamentals, he always insisted that the exercises were not, in themselves, art-making but preparation for the freedom to follow later. The example he set outside the classroom, however, offered the complementary lesson that complete freedom was not a necessary condition for creativity: his own work—particularly that after 1950, when his practice narrowed dramatically in scope—was generated from within guidelines as strict as those given to his students.
Albers's late work, beginning about the time of his appointment to Yale, was structured around the elaboration of two key series: his well-known Homage to the Square series, which explores the endless mutability of color, and his Structural Constellations. While the two series might be seen as parallel investigations of color and line, each engages with the two key principles underlying all of Albers's practice: economy, or the achievement of "maximum effect through minimum means"; and perceptual ambiguity, described as the conflict between "actual facts and factual facts."
In the Structural Constellations series Albers undertook an exhaustive exploration of a highly restrictive set of parameters. Each Structural Constellation is a rotationally symmetric configuration of straight lines, centered within a 12 × 16 grid, which can be viewed as a two-dimensional rendering of a three-dimensional object.[1] He designed these floating forms to produce contradictory readings, however. We seem to view them from multiple positions simultaneously, while often discovering, as we trace the lines of the construction, that the object they define could not exist in real space. His orchestration of these effects sets the constellations into a kind of perpetual motion—and demands the constant reassessment of what one really sees that Albers so cherished.
During Albers's lifetime, he presented the series only in other media—including prints, machine-engraved vinylite panels, and public sculptures—but his private drawings far outnumber these translations while giving greater insight into Albers's endless search for new variations and configurations (what he called "my madness" or "my nonsense") (Weber 1995, 98). During the 1950s, particularly during his travels, he constantly worked on the Structural Constellations in a series of small graph-paper notebooks; he would then render certain of these ideas in more finished drawings at larger scales, from 8 × 10 inches up to 18 × 22 inches.
On the opening page of one of these Structural Constellation notebooks, Albers wrote:
eighty pesos
for this book
bought in Santiago de Chile
for the constructions
which I developed there
and in Peru (summer 1953)
(most of those up to page 40).
[2]
A sketch for the sparse, open UMMA Structural Constellation appears on page 35 of this notebook, so Albers's initial concept for the design probably emerged during that summer's travels. In some of the preceding sketches, more typical configurations of closed forms, he heavily marked certain diagonal lines. This centrifugal emphasis may have inspired his departure toward the UMMA design, which is nearly unprecedented in its lack of closed forms and in its extension to the corners of the frame, eschewing the ovoid contour more typical of the series.
The drawing is one of the most economical entries in an already-economical series. It consists only of ten finely drawn lines, plus two marking the frame, on half-inch ruled, letter-sized paper. The angles of the lines are based on the diagonals of 1 × 2, 1 × 3, or 5 × 1 groups of grid units: the first two types intersect at 45- and 135-degree angles—often used to represent rectangular shapes in depth—and are found in combination throughout the Structural Constellations; the third is more atypical for the series.
We can give a simplified account of Albers's design decisions in three steps: he centers the initial parallelogram; he doubles the length of its upper and lower edges; and from the endpoints and centers of each of those edges, he projects three lines in alternating directions. These projecting lines are based on a 2:4:6 progression across the upper and lower edges—the middle line, though reversed in direction, derives its length from the distance to the edge of the frame—but they also form a similar progression along the left and right edges. Centered on implicit vertical axes, these alternate groupings capture the central parallelogram in a kind of tectonic folding within the picture plane.
Viewed as a three-dimensional object, the configuration presents us with two surprises. Unlike most of the Structural Constellations, the drawing contains no structural contradictions: we can regard it as a perfectly coherent depiction of two L-beams placed end-to-end. And yet it is one of the most unstable designs in the series: we have our choice of two viewpoints (above and to the left of the parallelogram or below and to the right) but few formal relationships that allow us to sustain one position or the other. Where other Structural Constellations force us to adopt one viewpoint for a given form and the opposite viewpoint for the adjacent form, this drawing oscillates wildly—the more so the more we try to fix a given view. We might best understand it, together with its one close variant, as a limit case that tests and clarifies the terms of Albers's project.[3]
Adolphs, V. 1998. Josef Albers: Werke auf Papier. Cologne: Wienand.
Auerbach, A. 2003. "Structural Constellations: Excursus on the Drawings of Josef Albers c. 1950–1960." PhD diss., Slade School of Fine Art, University College London.
Weber, N. 1995. "Josef Albers's Drawings: The Linear Obsessions of a Color Theorist." Drawing 16.5 (January-February): 97–101.
---
This constant proportion derives from the 12 × 16 frames Albers would prepare in advance in the pages of his small gridded notebooks. In finished drawings, as with the UMMA work, he often reproduces this field as an internal frame within the larger support.

Structural Constellation Notebook #4 (SC766-843), p.1, in the collection of the Josef and Anni Albers Foundation, Bethany, CT. By permission of the Josef and Anni Albers Foundation. "SC" numbers are those assigned by Anthony Auerbach in his catalogue of the Structural Constellations; see Auerbach 2003.

The variant (see pl. 82 in Adolphs 1998, 138) adds four additional line segments to the configuration but seems to test the converse effect—it is difficult to sustain a three-dimensional reading of the form at all; the two related designs were drawn at the same modest scale, and neither was produced as a print.
Top of page