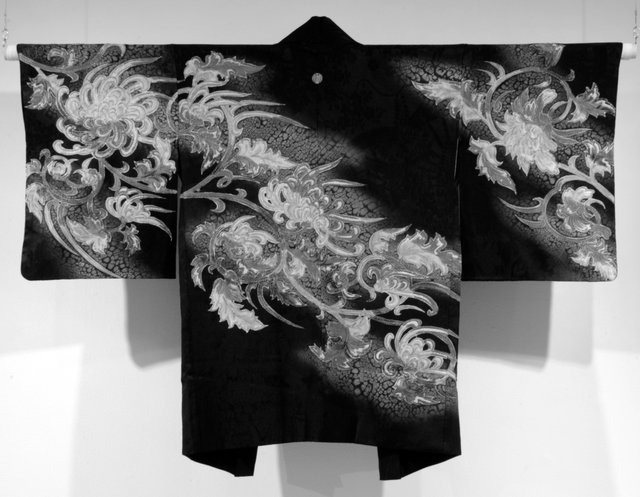 Minagawa Gekka. Japanese, 1892-1987. Haori with flaming chrysanthemum design, ca. 1945–1950. Black damask silk with wax-resist patterns, hand-painted designs, and metallic thread embroidery. Gift of Howard and Patricia Yamaguchi, 2005/1.351
This colorful haori (a short jacket for the kimono) is a work by one of the most innovative textile artists of modern Japan, Minagawa Gekka (1892–1987). Although best known for large woven hangings for public buildings and sacred architecture, Gekka also designed traditional Japanese costumes, including kimono (full-length wrapped robes), haori, and obi (sashes). The vivid rendering of chrysanthemums and the technical complexity seen in this haori testify to his extraordinary mastery of the medium. At the same time, we gain some insight into the persona of the individual for whom this work was commissioned, a young married woman who successfully operated a real estate business in mid-twentieth-century Tokyo.
Born into a family of physicians, Gekka embarked on a career as a textile designer as part of a generation that created a revolution in the role of the maker for traditional Japanese crafts.[1] Just as the studio potters in his age cohort, such as Hamada Shôji and Kawai Kanjirô, were redefining themselves as artists on an international scale, Gekka too aspired to the status of "artist" (sakka) rather than "craftsman."[2] Gekka was originally trained in the yûzen technique of dyeing fabric, a specialty of his native Kyoto that involved painting directly on fabric. Seeking a fresh perspective, he became a student of Tsuji Kakô, a famed Kyoto painter who worked in traditional styles. At the same time, he studied oil painting at the Kansai Art Institute, a well-known painting school in the Kyoto area.[3] From his painting studies, he developed a unique repertoire of motifs quite outside the traditional mold. Instead of the delicate cherry and plum blossoms associated with Kyoto silks, he favored bold themes and tropical flowers, such as orchids and birds-of-paradise.
Gekka also departed from traditional yûzen dyeing by approaching technique in an inventive way. Based on personal observation of ancient Chinese textiles, he reintroduced a complex wax-resist dyeing technique.[4] He borrowed the use of gold thread from Kyoto's Nishijin brocade industry and applied it in embroidery, along with newly developed synthetic metallic threads and sequins. His name first became widely known in 1927, when he exhibited his work at the Imperial Academy of Fine Arts Exhibition (Teiten), the most prestigious competition of the day. Until his death in 1987, Gekka searched tirelessly for new means of expression and formats for textile art: his works include screen panels (byôbu), decorative hangings for the ceremonial carts used in Kyoto's Gion Festival, and ceiling panels for a Buddhist temple, all of which were traditionally created by painters. Gekka played a central role in elevating the status of textiles as an art in modern Japan.
The haori shown here is one of the works by Gekka recently donated to the Museum of Art by Patricia and Howard Yamaguchi, as part of a much larger gift of twentieth-century Japanese garments. These kimono, haori, and accessories originally belonged to Howard Yamaguchi's mother or maternal grandmother, who worked together in a real estate office in Tokyo. Mother and daughter (and another four daughters as well) ordered their kimono directly from various prestigious shops in Tokyo that dealt with Kyoto manufacturers, and all six women often had matching Gekka outfits.
As usual with Gekka's work, this haori dazzles the eye with its brilliant color and bold patterns. Close examination reveals that it is an intricate work, built up patiently with many layers of craftsmanship. The silk fabric itself has been woven in a twill pattern of palace carts and flower baskets, a traditional auspicious theme for women's wear. These patterns would only be visible in a raking light and thus operate as very subtle background for the whole composition. (Gekka probably commissioned the fabric; he was not a weaver.) His first step was to draw the chrysanthemum designs and the family crest (visible at the back of the collar) in paste and then dye the fabric black, leaving these areas in reserve. Next, he added large swaths of a pinkish orange scale pattern in diagonal sweeps from upper left to lower right, using the wax-resist technique. Then, after the paste was washed away to expose the white silk, he hand-painted the chrysanthemums in shades of red, yellow, blue, and white, in animated strokes that suggest flickering flames. Finally he added embroidery in various metallic threads or thick silk around the contours of the chrysanthemum petals and leaves, providing volume and texture. The details are almost too much for the eye to take in yet contribute an overall effect of richness and depth to the dynamic design.
The haori was originally part of a man's formal attire, but in the nineteenth century, female entertainers in Edo (modern Tokyo) adopted it as a cloak for outdoor wear in mild weather. By the end of the century, married women of the upper class adopted black crepe silk haori with family crests (such as that seen here, at the back of the collar) for formal, public occasions. For much of the twentieth century, the haori has been the standard outerwear for a woman who dresses in a kimono outside the home.[5] The owner of the haori, Shizuko Iwata, was a pioneering female executive in mid-twentieth-century Japan, running a successful real estate business. Just as modern businesswomen buy power suits to express their authority and wealth, so did Shizuko Iwata: she owned dozens of kimono, haori, and obi of the very finest quality, custom made for many different occasions, all in exquisite taste. This elaborate haori by Gekka would ensure that she was noticed in the male-dominated business world.
Works Cited
Dalby, L. C. 1993. Kimono: Fashioning Culture. New Haven and London: Yale University Press.
Kawakami, S., and Fujii K. 1999. Ori to some no rekishi: Nihon hen (History of weaving and dyeing art in Japan). Kyoto: Shôwadô.
Kitamura, T. 2000. Nihon no somemono (Dyeing art of Japan). Tokyo: Genryûsha.
Minagawa, G. 1979. Sengei: Minagawa Gekka (Art of dyeing: Minagawa Gekka). Kyoto: Kyoto Shoin.
Morioka, M., and P. Berry. 1999. Modern Masters of Kyoto: The Transformation of Japanese Painting Traditions. Seattle: University of Washington Press.
Satô, D. 1999. Meiji kokka to kindai bijutstu: Bi no seijigaku (Meiji state and modern art: the politics of beauty). Tokyo: Yoshikawa Kôbunkan.
Notes
Top of page