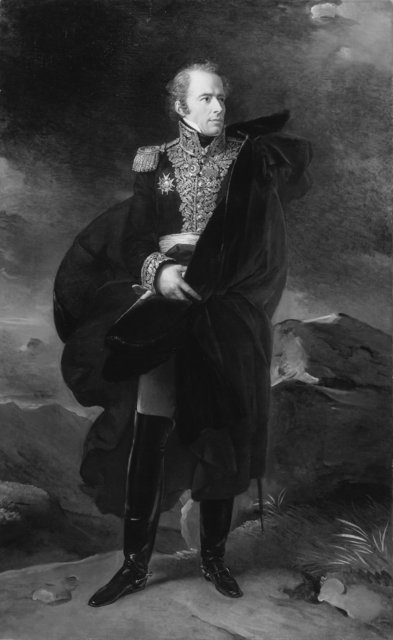 François Gérard. French, 1770–1837. Detail of
Portrait of Maximilien-Sébastian Foy
, 1826. Oil on canvas, 229 × 141 cm. Museum purchase made possible by the W. Hawkins Ferry Fund, 2004/2.8
The University of Michigan Museum of Art has recently acquired an impressive full-length portrait of the distinguished military leader and statesman General Maximilien-Sébastian Foy, painted in 1826 by Baron François Gérard. A wonderful example of grand-scale French painting in the wake of leading neoclassical painter Jacques-Louis David, this work will give students access to an example of monumental portraiture most often found in major European collections.
In Gerard's portrait, General Foy is pictured standing in a dynamic landscape, surrounded by rolling hills and steep mountains. The figure anchors the composition, appearing as a solid presence against a swirling background of dark blue sky and rose-colored horizon that fades into green hills and brown, sharp-edged mountains. Foy's cape stirs with the wind, but his body resists reaction to such forces. Although the landscape is rendered in a looser, broader facture, meticulous painterly attention has been paid to Foy's face as well as his prominently displayed medals. Here the handling is tighter and more insistent on the kinds of small details that serve to depict Foy's status as both an accomplished military leader and orator: the furrowed brow, shiny medals, and focused gaze are presented to the viewer as the signs of Foy's eminence.
This portrait shares many similarities with other full-length portraits that Gérard painted of royal and military figures during his long career spent working for several heads of the French state, starting with Napoleon and culminating in commissions for Louis-Philippe under the July Monarchy.[1] This work, commissioned by Foy's widow, was created under the conservative Bourbon government (1815–1830) led by Charles X, another monarch whom Gérard represented in monumental portrait form. Gérard's successful career under the reigning Bourbons was threatened by accusations that he had served on a revolutionary committee during the Terror and had voted for the execution of Louis XVIII's sister-in-law, Marie Antoinette. Staying in the favor of the Bourbons, and appearing to be on the side of the restored monarchy rather than the Republicans, was crucial for Gérard. In a letter to Louis XVIII, Gérard defended himself and offered an explanation about the circumstances that forced him to join the Revolutionary Tribunal. He explains that his true desire was to join the military, but owing to the death of his mother and father, he was obliged to remain in Paris as the sole caretaker of his two younger siblings and was subsequently forced to join the Tribunal. In his letter, Gérard states: "I am accused of having contributed to the judgment of the queen, and I understand that slander propagates this odious accusation. . . . I formally declare that I played no role, neither direct nor indirect, in the death of the queen, nor in the death of any person in the royal family" (Lenormant 1847, 42-45).[2]
Gérard's subject rose to prominence during the Napoleonic campaigns in Spain, and after Napoleon's exile in 1815, he served Napoleon's successor, the restored Bourbon king Louis XVIII. In 1821 he became a legislator in the Chambre des Députés, where he was elected to lead the opposition party against Louis XVIII's conservative government. Foy quickly gained a reputation as a powerful orator who rallied against the interests of the ruling Bourbons and was widely viewed by his peers in the opposition as the most potent champion of Republican ideals in the legislature. His funeral in November 1825 attracted tens of thousands of mourners, and the event took on the character of a liberal demonstration against the values of the Bourbon government (Pantano 1997, 30). Impassioned eulogies were given by mourners, a monument in Père Lachaise Cemetery was later erected, and books were published in memoriam. The notion that Foy had given his life for the sake of the Republic was frequently invoked, as it is here, shortly after his death: "He knew the consequences of his devotion and his enthusiasm for the cause of the people; he voluntarily sacrificed himself on the altar of the country" (Tissot 1826, lxxviii).[3] Foy's status as an emblem of Republican idealism could not have been entirely lost on Gérard when he undertook the portrait for Foy's widow. It is worth noting that Gérard chose not to take any money from the commission, suggesting that he had other motivations for executing it (Christie's 2004, 118).
While it may not have been an overt jab at the Bourbons, Gérard's execution of a portrait of General Foy most likely betrays the artist's political sympathies and his respect for a man who came to embody a set of Republican values in opposition to the ruling party. This monumental portrait can therefore be seen as a potential site of negotiation for Gérard, offering a means of paying tribute to Republican values without offending the Bourbon establishment, which frequently supported him.
Notes
Other similarly composed full-length portraits can be found in Cantarel-Besson, Constans, and Foucart 2001, 71–90.

"On a osé dire que j'avais eu part au jugement de la reine, et j'apprends que la calomnie propage cette odieuse imputation . . . je déclare formellement que je n'ai pris aucune part, soit directe, soit indirecte, à la morte de la reine, ni à celle d'aucune personne de la famille royale." Translations are my own.

"Il a connu toutes les conséquences de son dévouement et de son zèle pour la cause des peuples; il s'est volontairement immolé lui même sur l'autel de la patrie."
Works Cited
Cantarel-Besson, Y., C. Constans, and B. Foucart. 2001. Napoléon: images et histoire: peintures du château de Versailles. Paris: Réunion des Musées Nationaux.
Christie's. 2004. Tableaux anciens et du XIXe siècle, Thursday, 24 June. Paris: Christie's.
Lenormant, C. 1847. François Gérard, peintre d'histoire: essai de biographie et de critique. Paris: Imprimerie d'A. René et Compagnie.
Pantano, N. A. 1997. "Liberal Politics and the Parisian Cemetery: David d'Angers and Léon Vaudroyer's Monument to General Foy." Oxford Art Journal 20.1:23–34.
Tissot, P. F. 1826. "Notice biographique sur la vie du Général Foy." In M. S. Foy, Discours du Général Foy, vol. 1, lvi–lxxxviii. Paris: P. A. Moutardier.
Top of page